An exclusive photo tour of Viking Octantis, the first expedition ship in the Viking fleet
I'm always dazzled by new cruise ship launches because, in addition to the ships looking sharp, advances in engineering and technology tend to translate into exciting bells and whistles. 
Viking Octantis: Something old and something new
This is the 25th anniversary of Viking cruises, the line beloved for its fleet of more than 80 river and ocean-going vessels for intellectually curious adults. Viking Octantis—the cruise line's first foray into expedition cruising isn't likely to be described as a "glitzy" cruise ship. That term is usually reserved for the mega-ships that carry thousands of passengers of all ages. 
But when it comes to cruising, small can, indeed, be very beautiful. The adult-only Viking Octantis is right-sized for just 378 guests in 189 double-occupancy staterooms. Along with the same features that helped the line develop a fiercely loyal customer base, the new ship has a number of pretty spectacular features that might even be called jaw-dropping.
I haven't made it to Antarctica, The Arctic or the Great Lakes yet but I was delighted to tour the ship in New York with a small group of journalists when it made a stop here. Although I wrote about the ship for Forbes, I think a photo tour, combing my own photos with ones provided by Viking, best tell the story of this fascinating vessel.
Ready to board
The ship was docked at Pier 88 in Manhattan. Although the cruise terminal was renovated in 2011, it was first built in 1935 and shows its age. Thus, try to ignore some of the grimy background images that appear outside photos of the ship.
Before boarding, I was happy to take a COVID saliva PCR test at the terminal. Viking requires all guests and crew to present proof of vaccination to take daily non-invasive saliva PCR tests. It is the only cruise line with dedicated onboard PCR laboratories on its ocean and expedition ships. Masking after the PCR test is not required.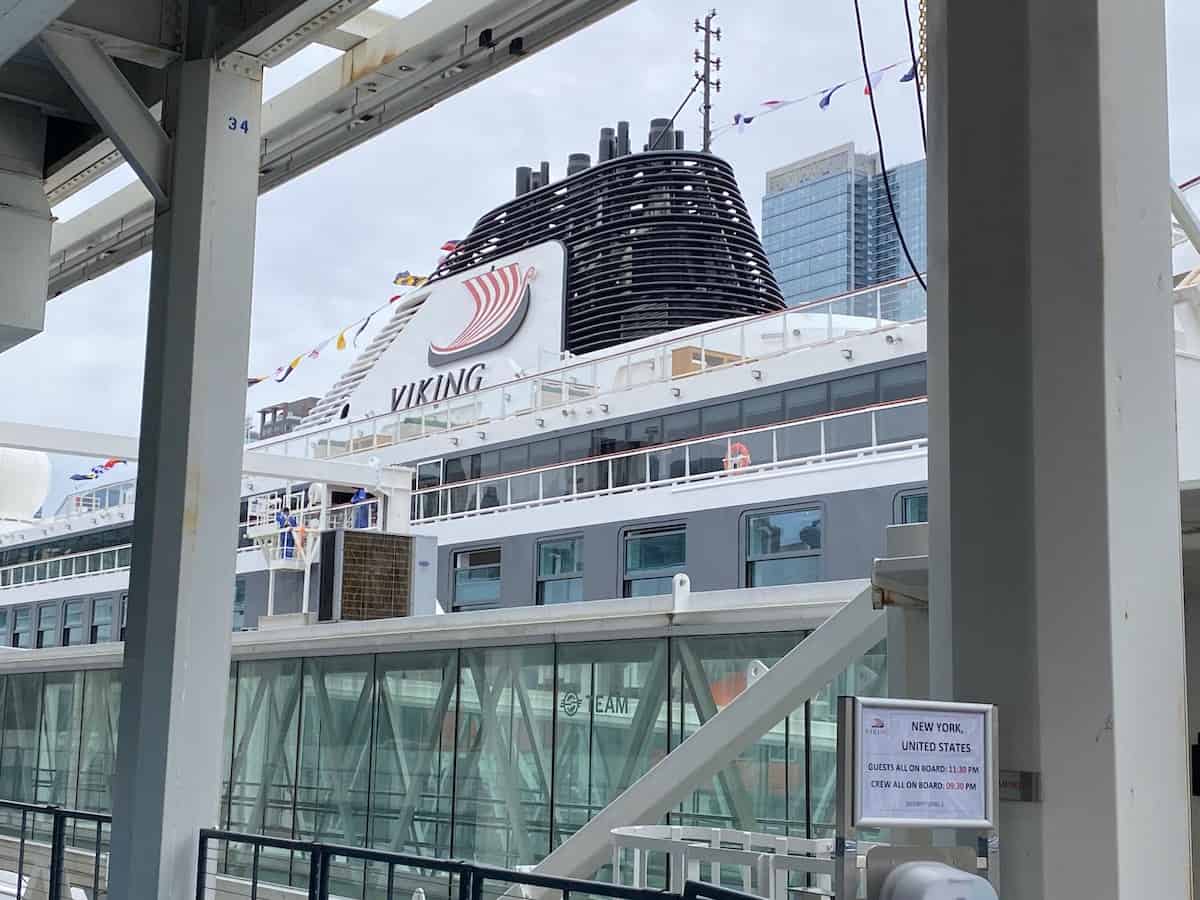 This is the entrance from the terminal to the ship's gangway, which winds back and forth much like an airport jetway. For those with limited mobility, it's quite a few steps to make your entrance from the terminal to the ship.
Education and enrichment from stem to stern
I entered the two-story light-filled Atrium of the ship, which gives a hint of its Nordic theme with the stainless steel sculpture in the photo. There's already a bookcase there, a hint of what's to come in terms of the educational experience to be offered.
Expedition Central is the place where guests can book expeditions and ask questions about future cruises. Note all the map drawers. 
Elevators are available throughout the ship with a bank of four in the Atrium.
The photo above is a portion of a display wall of indigenous birds in the Atrium. Granted my vision isn't perfect but they appear so life-like that I had to approach them to make sure they weren't taxidermy. I later found out these scaled-to-size felt sculptures are changed to represent the birds at each port of call. 
Apart from the nature-laden itineraries that transport guests to Antarctica, the Arctic, and the Great Lakes and Canada, the ship combines many aspects of a natural history museum with that of a working science laboratory. With a 36-person Viking Expedition Team on each journey, passengers have the opportunity to interact with, converse, and work beside permanent and visiting scientists, as well as other experts, across various settings on the ship. The team includes an expedition leader, photographer, field research scientists, general naturalists, mountain guides, kayak guides, submarine pilots, and other specialists and support staff. The cruise line also has working partnerships with the Scott Polar Research Institute at Cambridge University, The Cornell Lab of Ornithology, and the National Oceanic and Atmospheric Administration (NOAA).
In the onboard Science Lab, guests can work beside bench scientists who collect water samples on the voyages and analyze them for microplastics.
The Aula Auditorium is the theater named after the ceremonial hall at the University of Oslo that was once a venue for the Nobel Peace Prize ceremony. With floor-to-ceiling views and a 4K laser-projected screen, lectures, briefings, and films that ground and round out their adventures are hosted here.
Just outside the Auditorium is the Finse Terrace, an outdoor lounge. Guests can gather around the firepits (with heated lava rocks) and observe the outdoors from comfortable sofas. 
Viking Octantis: Purpose-built for expedition cruising
Viking Octantis is 665 feet long with a 77-foot beam and six passenger decks that can accommodate 378 guests in 189 double-occupancy staterooms. This new expedition ship and its to-be-launched sister ship, Viking Polaris, are right-sized: They were specifically designed and engineered to be large enough to safely carry guests and crew to remote polar destinations and inland canals. Moreover, these ships are fully equipped so guests can comfortably explore these unique destinations, both on the ship and onshore.
A first among expedition ships, each vessel has a protected in-ship marina (called The Hangar), with an 85-foot slipway that makes it easy for guests to embark and disembark Special Operations Boats from a flat, stable surface inside the ship shielded from wind and waves. The expedition fleet also includes kayaks, Zodiacs, and two six-seat, piloted submarines with 270° spherical windows.
The two military-grade Special Operations Boats seat 12 guests each in individually suspended seats are able to convert the open seating into an enclosed cabin.
The two-seater Hobie Mirage 180 kayaks offer excellent stability, comfortable seating and are easy to operate.
The two U-Boat WorX Submarines each can accommodate six guests, offering an experience of a lifetime. Weather and environmental conditions permitting, these piloted submarines can submerge undersea to a depth of 1,000 feet. With nearly 270-degree windows, each guest has excellent views of aquatic life. 
With these new vessels, Viking hopes to raise the bar for sustainable travel and energy efficiency with an integrated bow system creating a longer waterline, engines with heat recovery systems, and electric propulsion designed to minimize underwater noise pollution.
The dining experience on Viking Octantis
The dining and bar options on the expedition ships will be familiar to those who have cruised with Viking before. All of the venues are subdivided into smaller areas that do not feel cavernous; in addition, the tables are nicely spaced.
These include The Restaurant (shown above), which serves regional and Scandinavian dishes; Manfredi's, an elegant Italian eatery (shown below, with no extra charge for specialty dining); The World Cafe, a food hall-like setting offering a wide of international cuisine, with a popular seafood and sushi bar.
A small private area in The Restaurant is perfect for small celebrations with family or new friends.
Bakers and pastry chefs work 24 hours a day to create fresh breads, rolls and other bakery products. In the photo above, one of the bakers is cutting fresh focaccia.
Mamsen's pays homage to the mother of Viking Founder and Chairman Torstein Hagen. Light Norwegian fare and snacks are served from early morning to late night in a homelike setting. The boards above the counter display some of the original recipes she used. Even the bespoke dinnerware is a reproduction of the dishes that the family used at home.
For special events, business or pleasure, guests can book a private dining room that seats 12.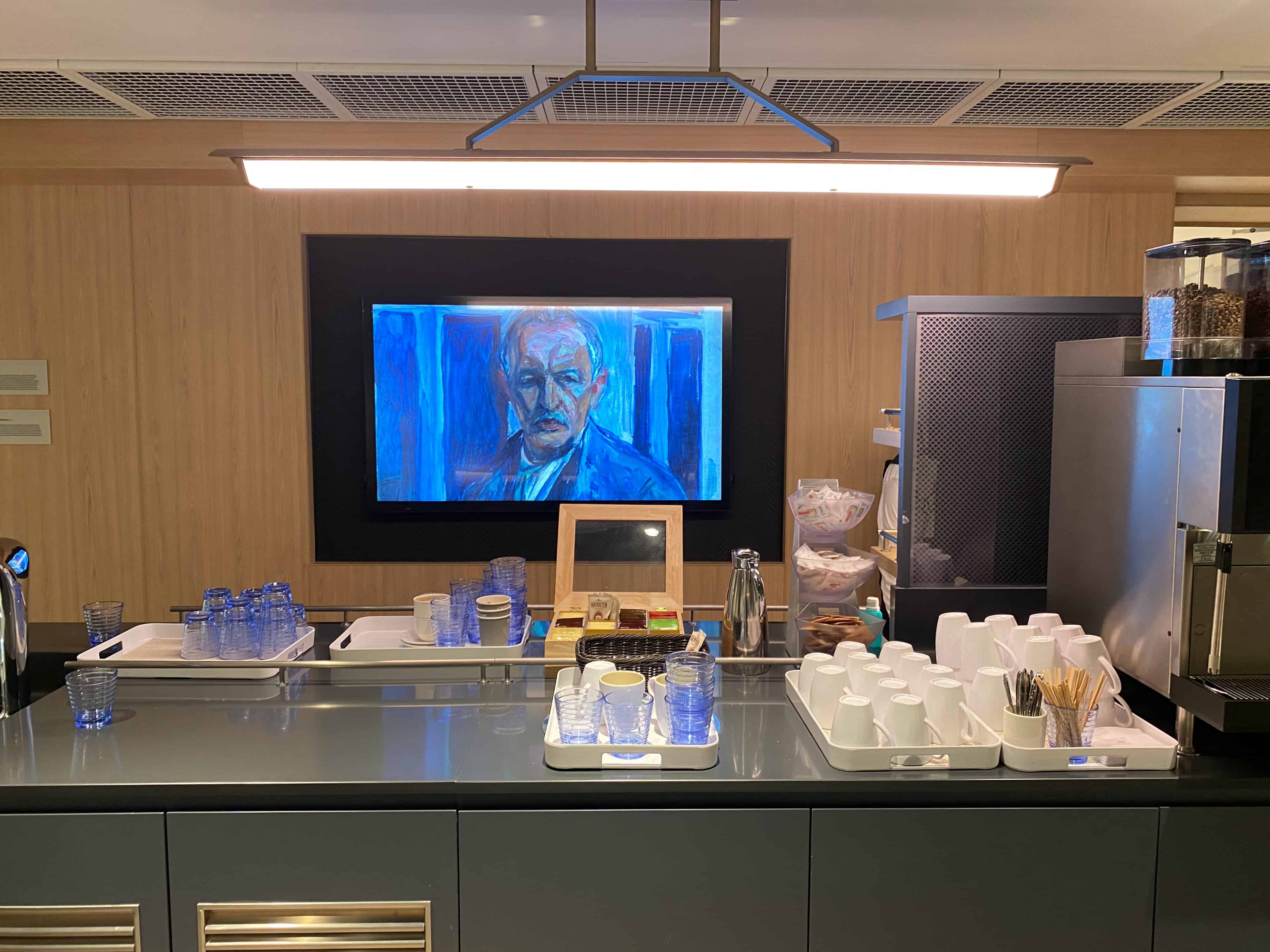 Above is one of a number of self-service coffee bars on the ship. Specialty coffees, teas, and bottled water are always complimentary. Guests can also take advantage of 24-hour room service.
Six categories of comfortable staterooms
All six categories of staterooms and suites have Nordic balconies with retractable windows that serve as in-room alfresco observation platforms. Pictures below is a junior Nordic suite with a sunroom that opens to the outdoors.
The Norwegian saying on the luggage protector reads: Only one who wanders finds new paths.
The decor and design of the staterooms is contemporary, upholstered with relaxing neutral tones. The night tables are equipped with 110/220-volt outlets and USB ports. The bathroom has a spacious glass-enclosed shower with a heated floor. The 55″ OLED flat-screen TV features CNN, CBC, and other channels. Information about all the inclusions for each room category is posted on the Viking website. (Excuse the Pier 88 view!)
The stateroom has a full-size closet, personal security safe, in-room coffeemaker, and mini-bar with soft drinks, water, and snacks. Binoculars help guests see the natural surroundings from the comfort of their cabins.
Places to hone the art of relaxation
Although there is an abundance of stimulation, both mental and physical aboard Viking Octantis, guests also find places to relax. Because there are so many of these spaces, the ship always feels uncrowded. The Living Room is the largest area for chatting with others or simply watching the scenery. There are also numerous bars and a library with both new and vintage holdings for book-lovers.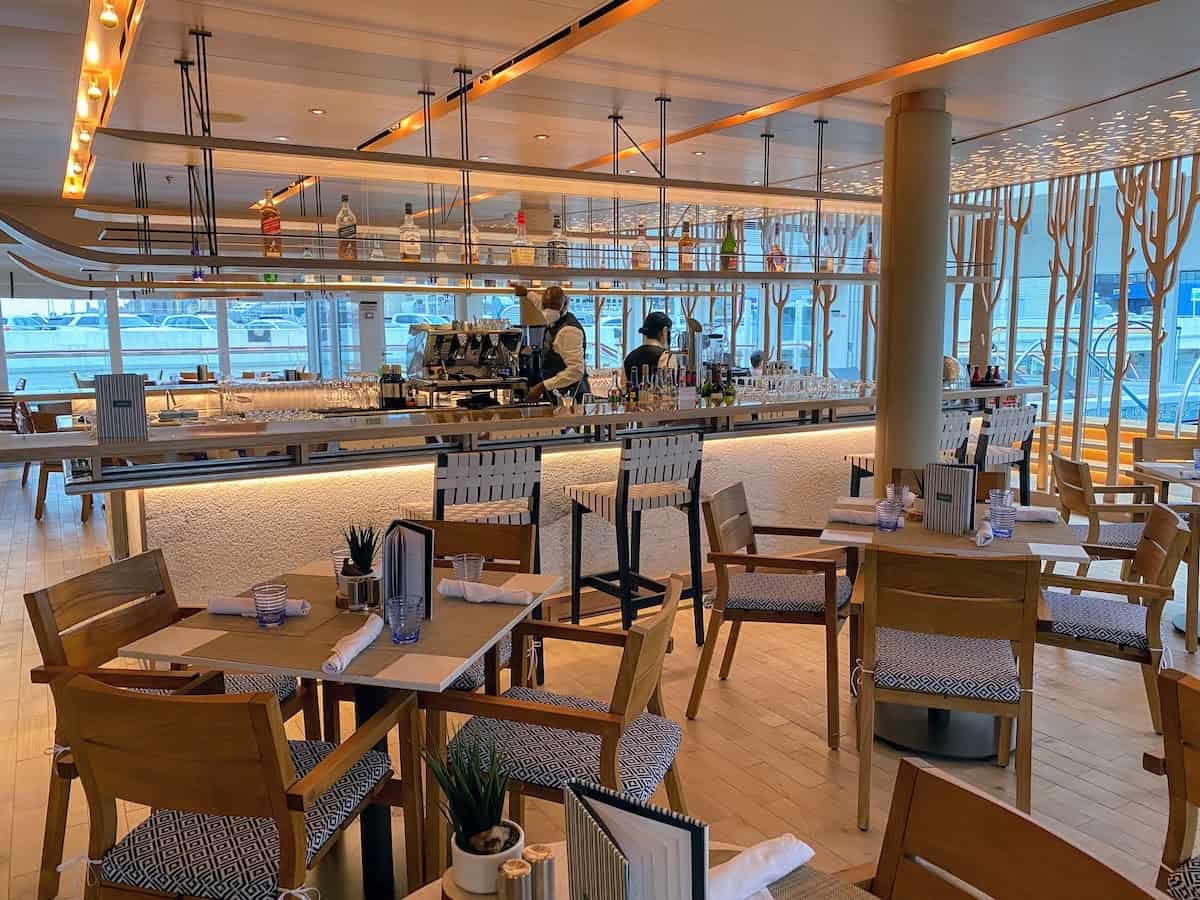 One hidden spot on the ship that many discover is The Hide, well-hidden at the bow of the boat. Evenings, this sanctuary turns into a speakeasy specializing in whiskey and Aquavit. It's also a great place to watch the waves at eye level.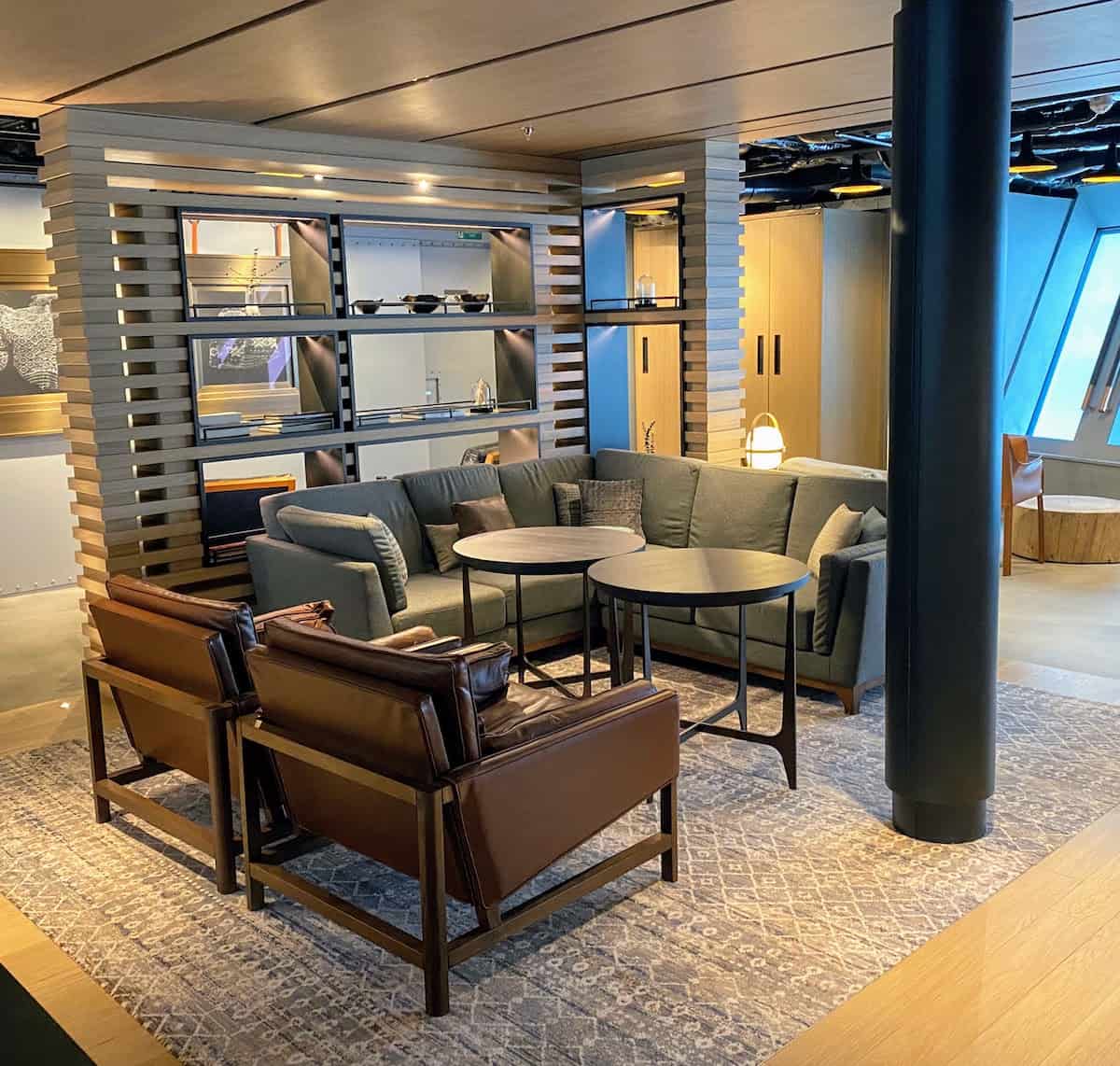 The Nordic recipe for wellness
This ship, like the other ones in the Viking fleet, has a Nordic spa with no entrance fee.
Here you'll find saunas, a snow grotto, hydrotherapy pool, and massage rooms. I so wanted to lay down on one of these beautiful heated stone beds beside the pool.
Want to work off some calories? Spend some time at the small but well-equipped fitness center, also light-filled with spectacular floor-to-ceiling views (preferably after you've left the port in New York) and no entrance fee.
Next to the gym is a full-service beauty salon. Another lovely feature of the ship is the heated indoor-outdoor swimming area with a retractable dome at the stern. Guests can swim out to pools with three different temperatures (Caldarium, Tepidarium, Frigidarium), all with views of nature.
Viking Octantis fills a unique niche in the industry
Viking Expedition Ships fills a unique niche in the cruise industry 
"I even hate to use the term 'cruise ship' to describe this vessel because it's so different from any other ship," Chairman Torstein Hagen told the small group of journalists touring the ship. "I used to say that Viking cruises were designed for people just like me. That was 25 years ago when I was 55, but the statement still holds today," he said.
Polaris, the sister ship to Viking Octantis, is expected to launch in August 2022, with journeys to Antarctica and The Arctic and to the Great Lakes starting in 2023. This will mark yet another auspicious milestone for the 25-year-old company that's carved a unique niche in the cruise industry.
---
All photo credits: Irene S. Levine (unless otherwise noted)
Disclosure: This post includes affiliate links. If you make a purchase through one of these links, I may earn a small commission at no additional cost to you. As an Amazon Associate, I earn from qualifying purchases
---
---
Also on MoreTimeToTravel:
One of my most popular blog posts explains what NOT to pack on a Viking Ocean Cruise; when I reviewed the post, the same recommendations hold for expedition cruising on Viking:
Viking Ocean Cruises Carves Out A Special Niche for Over-50 Travelers
---
Save to Pinterest!!