US River Cruises: 10 Reasons People Love Them
The popularity of US river cruises is soaring, especially since the pandemic.
Viking, American Cruise Lines, and American Queen Voyages are three large cruise lines offering domestic itineraries.
Where do US river cruises sail?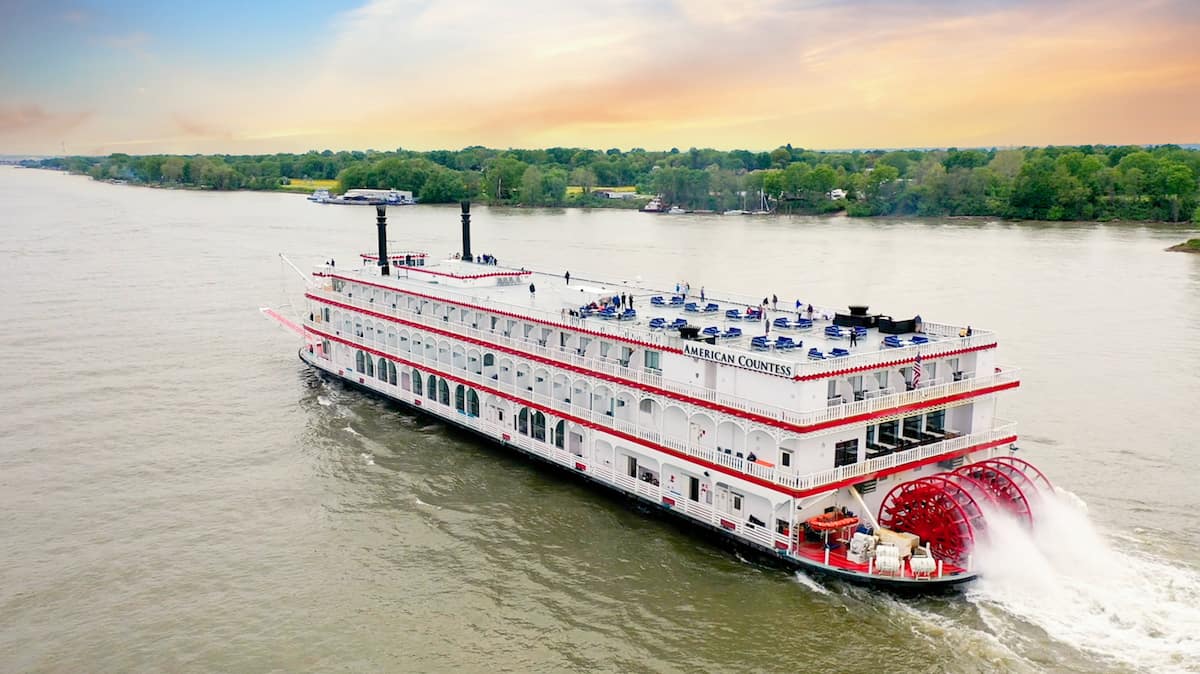 Each cruise line offers numerous itineraries with different riverboat departure dates from cities nationwide.
Some riverboats travel along inland waterways, like the Mississippi, Columbia and Snake, and Hudson Rivers. Others sail on the Great Lakes or in the coastal waters of Alaska, New England, and the southeast United States.
American Cruise Lines just announced a 60-day riverboat itinerary, the longest domestic route ever, that takes passengers to 20 states along four rivers.
Perennial appeals of river cruising
Many first-time river cruisers have already put their proverbial toes in the water on river cruises in Europe and Asia. People enjoy river cruising and become serial river cruisers for a multitude of reasons:
1- Convenience
River cruising has always been a favorite of mature travelers. The boats serve as virtual floating hotels that allow guests to travel from city to city or town to town without the hassles of arranging ground transportation, booking accommodations, planning excursions, and packing and unpacking multiple times.
2- Exceptional views
Riverboats offer unbeatable, constantly changing views of landscapes and historical landmarks. It's common to have unobstructed views of both shorelines as the boat slowly makes its way along the river.
Over time, more cruise lines have amplified these magnificent views with cabin configurations featuring floor-to-ceiling windows and balconies.
3- Ease at ports
Once at a port, riverboats often dock close enough to the hearts of city centers and small towns that passengers can walk off the boat instead of taking long bus rides.
Embarkation and disembarkation are also easier than on ocean-going vessels (never a tender in sight!).
4- Convivial ambiance
Because river ships are much smaller than ocean-going vessels, there are fewer passengers. As a result, the ambiance on river cruises tends to be intimate and relaxing.
Without the bells and whistles of large ocean-going vessels (large production shows, waterslides, etc.), there is a greater emphasis on history and culture than entertainment.
5- Calmer waters
Even seasoned travelers can get seasick when cruising. However, if someone is concerned about getting seasick, rivers have fewer waves and swells.
Thus, rivers are more forgiving than oceans, and the odds of getting seasick are greatly reduced.
6- Mostly inclusive pricing
Finally, river cruising is a mostly-inclusive way of traveling that allows guests to know the cost of their trip, except for personal extras or meals and entertainment off the ship.
Fares usually include meals with wine at lunch and dinner, evening entertainment, enrichment activities throughout the cruise, and complimentary Wi-Fi and shore excursions. Some cruise lines also include pre-cruise hotel stays.
Unique appeals of US River Cruises
In addition to the generic appeals of river cruising, US river cruises offer many unique attractions of their own.
7- Even greater convenience
On top of all the conveniences of river cruises listed above, getting to a ship in the U.S. is more convenient (and usually more economical) than flying abroad for a river cruise departure.
No passports, foreign currency, or foreign language fluency is required.
8- An immersive experience in your own country
The U.S. is a large and diverse country—geographically and in terms of regional differences—from north to south and east to west.
Domestic cruising offers opportunities for U.S. residents to learn more about their own country. They (as well as foreign visitors) can experience the culture, traditions, and cuisine of different regions.
For history buffs, shore excursions and onboard enrichment activities offer unique opportunities to learn American and local history at stops along the way. Many river cruises have their own historians or "rivelorians."
9- Sense of safety and security
Especially since the pandemic, many travelers want to stay closer to home. They may be hesitant to travel abroad and worry about contracting COVID or some other illness while far away from home and U.S. medical care.
10- More choices than ever
"U.S. river cruising has definitely experienced a feverish wave of popularity with our 2022 departures currently up by 84 percent versus the same time in 2019," Michelle Fee, founder and CEO of Cruise Planners told travel industry publication, TravelAgent.com.
With the popularity of US river cruises has come an expanded choice of state-of-the-art ships, intriguing destinations, and exciting itineraries that are only likely to grow.
---
Photo credits: As noted, lead picture of sundeck courtesy of American Cruise Lines
---
Save to Pinterest!!