11 Great Vacations For Readers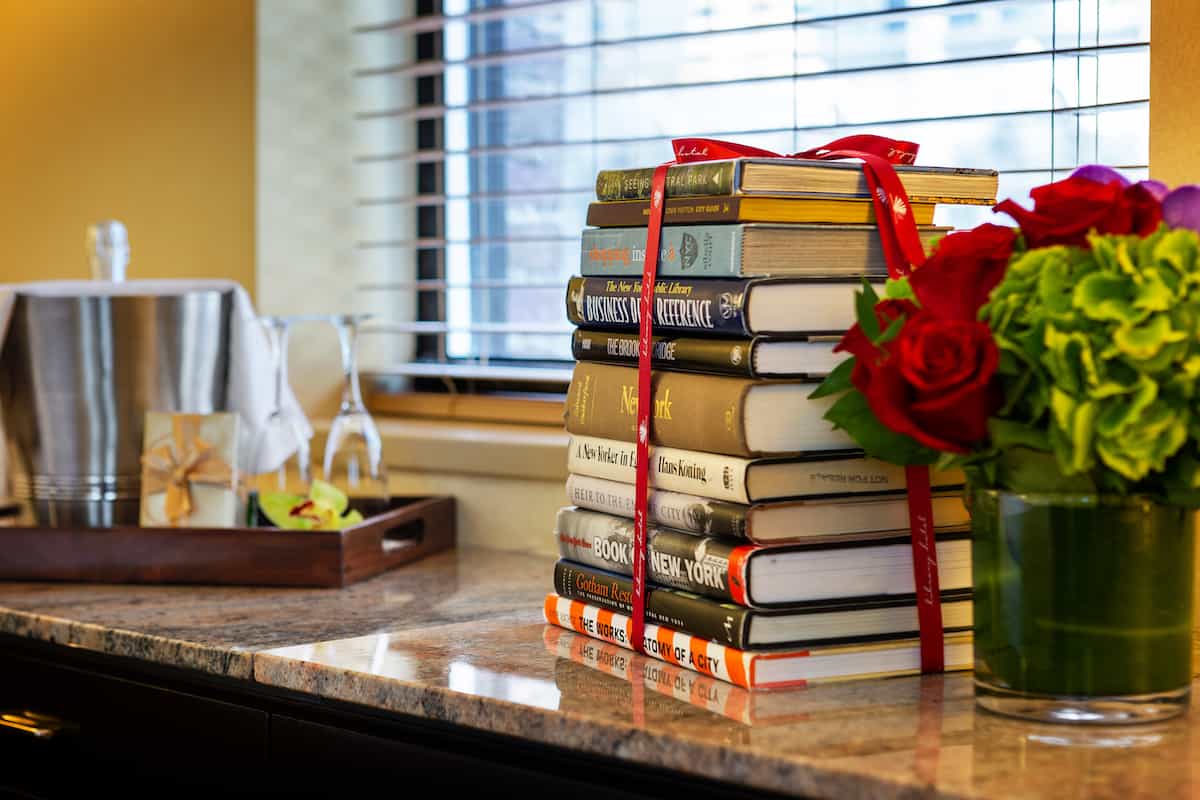 If you are a book lover, these great vacations for readers are likely to be appealing. Each one is conducive to catching up on the books piled on your nightstand or the ones you've downloaded on your e-reader.
In a wonderful post in Salon entitled "Reading Retreats: Paradise for Book Lovers," literary critic Laura Miller explains how reading retreats allow book lovers to unwind and get lost in their books. She mentions that even Bill Gates schedules getaways twice a year to catch up on reading.
Miller's personal preference for a reading retreat is more social:
"The ideal reading retreat to my mind would involve four or five friends renting a big country house for a long weekend (at least three full days)," she writes. "They ought to be people who know each other well enough that they won't be tempted to spend all their time getting acquainted or catching up. Everyone agrees that the rooms with the comfiest chairs are strict quiet zones."
If you are a book lover, the venues below will make for a great vacation for readers.
Each one is conducive to catching up on the books piled on your nightstand or the ones you've downloaded on your e-reader.
The privacy of a villa rental also lends itself to a relaxed time for reading.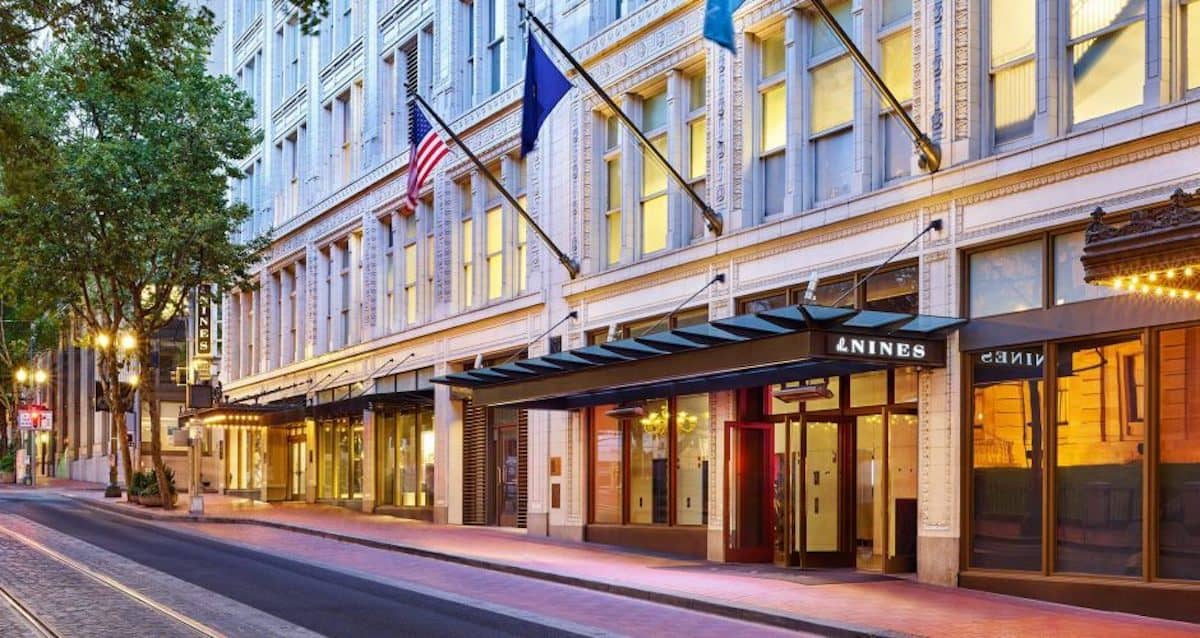 This is a place where you don't even have to bring your own (books). Located in the downtown area of one of America's most walkable cities,
The Nines is a luxury hotel with a floor-to-ceiling collection of books in the Library Room, curated by the iconic Powell's Books (the world's largest Indie bookstore).
Sited on top of a Macy's Department Store in the landmark Meier & Frank building, the totally refurbished hotel opened in 2008. The inviting library has cozy seating and a custom pool table amidst rich photography and artwork. Another allure: Guests are within walking distance of the four-story Powell's Books, which fills a city block and boasts more than a million new, used, and out-of-print titles.
ALSO – The boutique Oxford Hotel in downtown Denver has a library and partnership with The Tattered Cover Bookstore.
2) The Library on Oceania Marina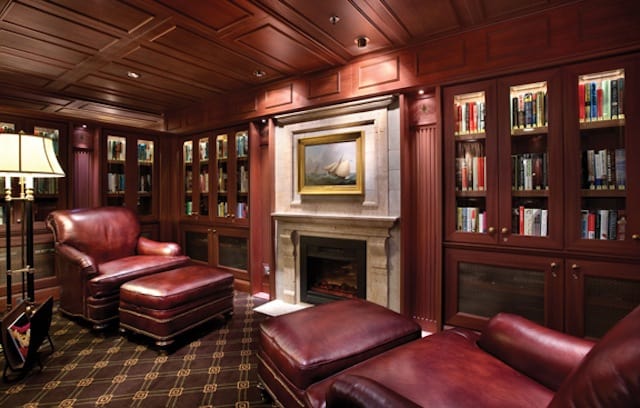 Libraries are commonplace on most cruise ships although some are more enticing than others.
For example, on Deck 14 of Oceania Marina, the "library" is a series of comfortable, carpeted alcoves with oversized leather chairs, and paneled mahogany walls and bookcases – each one reminiscent of a small home library—offering readers a feeling of privacy. More than 2000 books and periodicals, ranging from best-selling mysteries to classics, fill the shelves.
There's also a wonderful collection of travel books so guests can read about the ports they'll be visiting and other places on their bucket lists. One of the nicest parts of using a cruise ship library is that you can also take the book to your cabin and snuggle up with it at bedtime.
The succession of sea days on a transatlantic crossing can be a godsend for avid readers.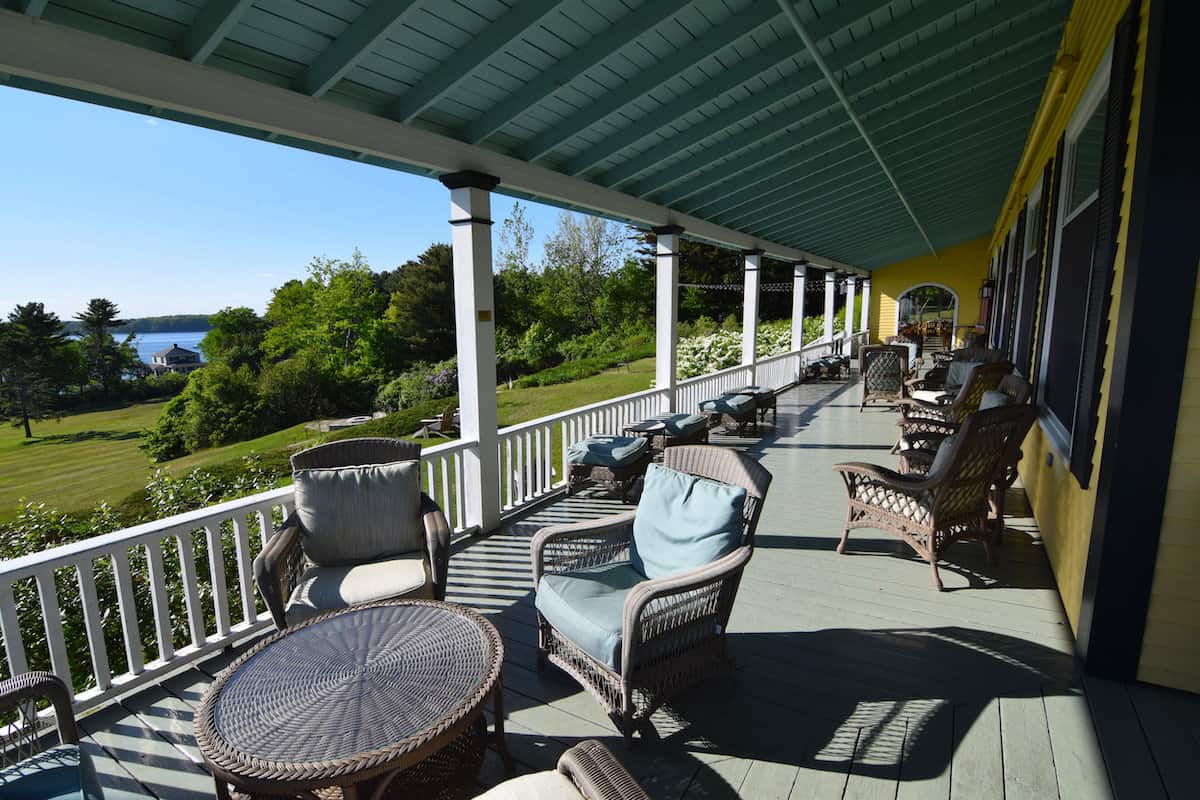 If you're the type who needs to unplug from technology to focus, the Chebeague Island Inn might be the
perfect place f or reading.
Originally built in the 1920s, this tastefully restored luxury property is situated on an island in Casco Bay — a leisurely ferry or water taxi ride from Portland. The oversized wicker chairs on the wraparound porch offer breathtaking water views between chapters.
The 21-rooms have no TVs or phones (although there's a wireless connection throughout for those who aren't able to go cold turkey). No two rooms are alike, but all the beds are made with fine Italian linens; many have ocean views. Homemade snacks are served throughout the day.
Located in midtown, only a stone's throw from the majestic New York City Public Library (at 42nd Street and
Fifth Avenue), this boutique hotel is a mecca for book lovers and one of the most unique themed hotels in the world.
Each of the hotel's ten floors is dedicated to one of the ten Dewey Decimal System categories: social sciences, literature, languages, history, math & science, general knowledge, technology, philosophy, and arts and religion.
Each of the 60 luxury rooms has a collection of books relating to the room's unique theme. Whether your reading interests lean to astronomy, fairy tales, or erotica, you can hand-pick the floor you'll stay on. The hotel offers 24-hour refreshments, including an espresso/cappuccino machine, fresh coffee, fruit, and other snacks, making this one of the most unforgettable reading retreats around.
If your vacation fantasy includes traveling to Mexico and reading your favorite author's latest book on a comfortable lounge beside an infinity pool overlooking the peaceful Sea of Cortez —while you're sipping a drink served by a pool butler – you may want to take advantage of the "Hot Type" program offered for book lovers at Las Ventanas al Paraiso in Los Cabos.
This posh resort has arranged with various publishing houses so their guests can read advance copies of best-selling books six weeks to six months before they're on the shelves at bookstores. The resort also arranges gourmet dinners where guests can meet and speak with authors.
ALSO – Other Rosewood properties offering the Hot Type program include: San Ysidro Ranch (Santa Barbara, CA) CordeValle (San Martin, CA), Rosewood Little Dix Bay (Virgin Gorda, BVI), Rosewood Mayakobá(Riviera Maya, Mexico), Caneel Bay (St. John, USVI), Jumby Bay (Antigua), and King Pacific Lodge (Princess Royal Island, BC, Canada)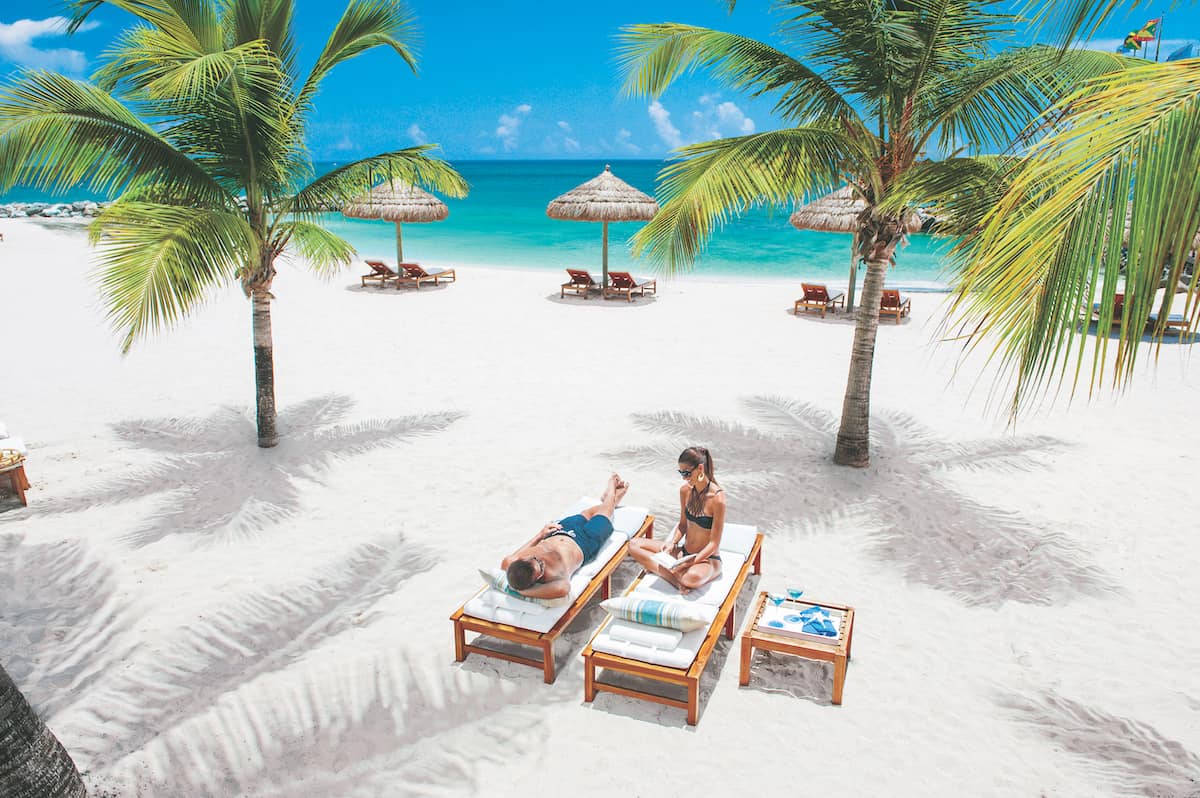 For those who love romance novels, Sandals Resorts and its Institute of Romance is turning up the heat.
Guests at Sandals Grenada—an all-inclusive, couples-only resort—are able to choose from a "romance library" of titles curated by the experts at Avon Books (the romance division of HarperCollins Publishers). Together, couples can read romance novels by authors Tessa Bailey, Julia Quinn (Bridgerton), Talia Hibbert, Olivia Dade, and more.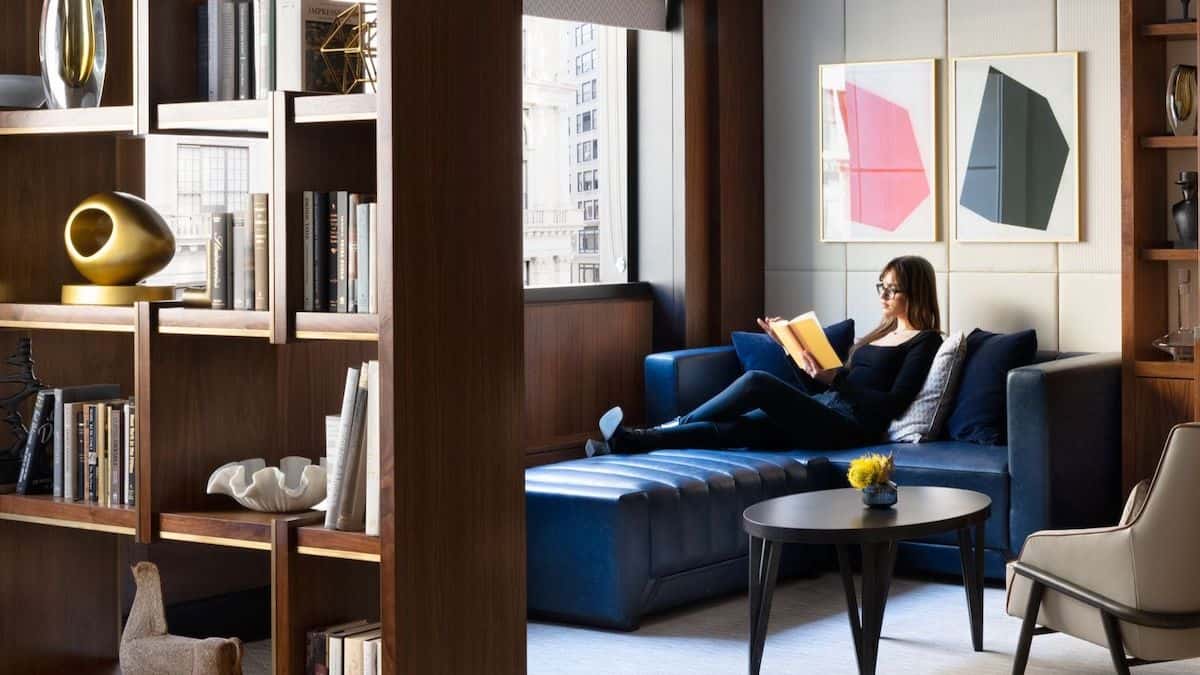 For those who live in the New York metro area, The Langham is a perfect choice for a city staycation.
This luxury suite hotel is located in midtown, not far from Bryant Park, also an ideal location for out-of-town visitors who want to explore the Big Apple. Hotel guests who book Club Room accommodations have access to the Langham Club where they'll find a cozy corner to relax and catch up on reading.
Any vacation can be turned into a reading vacation. A case in point: Cruisers (both on oceans and rivers) often seek out a quiet spot where they can curl up with a good book, eager to read about the next port of call.
On the new expedition ship from Viking, Viking Octantis (as well as its sister ship, Viking Polaris), there is an intimate library in the corner of a public space called The Living Room on Deck 2 that's lined with bookshelves..
The library holdings are curated by Heywood Hill, one of the leading bookshops in London as well as by the Cambridge University Scott Polar Research Institute. The latter assures that readers can learn about the scientific aspects of their adventure. Guests on the ship can borrow the books to read in their staterooms or anywhere else on the ship.
This gracious property in Washington, D.C. was first built as a Beaux-Arts style residential apartment building in 1923. In 2009, it was reborn as an intimate boutique hotel with just 99 spacious rooms and suites.
The property is a ten-minute walk from the White House and is nestled among the District's historical monuments and architecture. It is known for its personalized service.
The elegant library, also called The Book Room, was inspired by its namesake, Thomas Jefferson's love of literature. It is filled with leather-bound books and a hardcover collection of the President's writings. What a cozy place to curl up with a book!
10) Sylvia Beach Hotel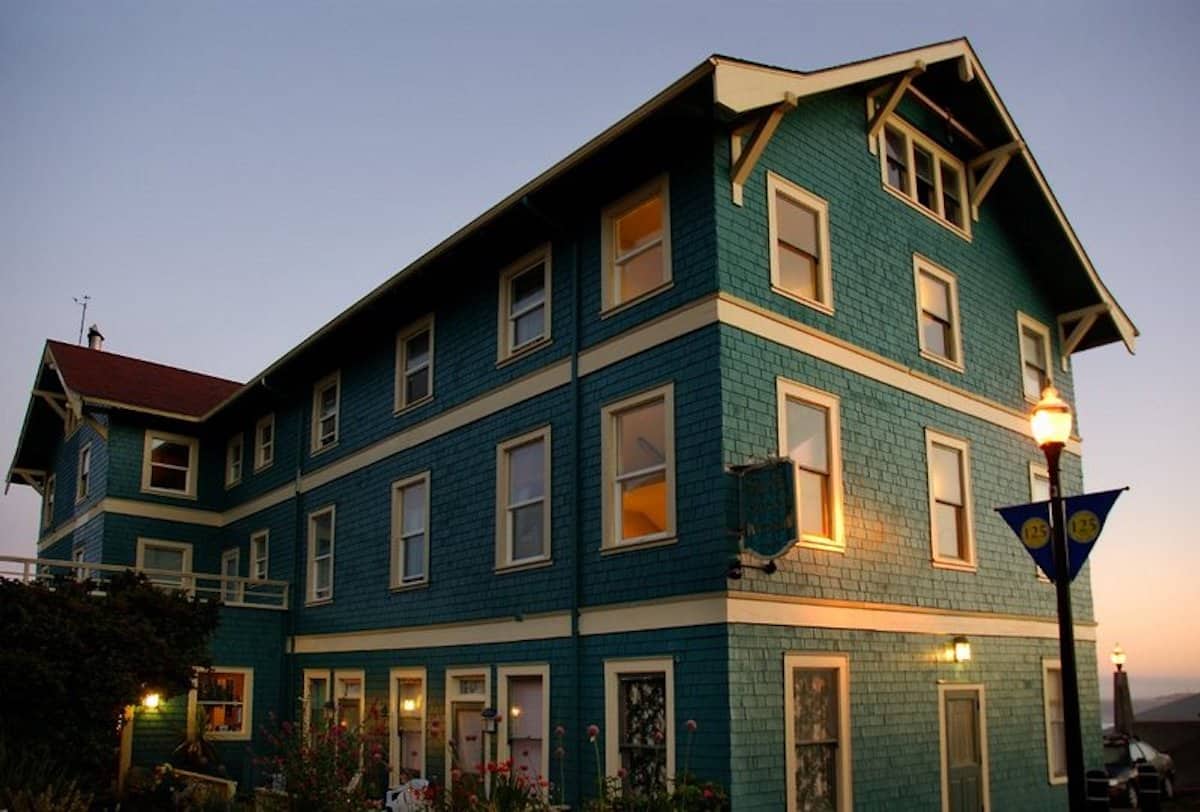 Its motto: "Truly a hotel for book-lovers."
Built in 1912, the Sylvia Beach Hotel is located in Newport, Oregon. Listed on the National Register of Historic Places, it is named after Sylvia Beach, the American ex-pat bookseller who opened the Shakespeare and Company bookstore in Paris in 1919.
Twenty-one literary-themed rooms each feature the books and writings of 21 different authors. There is also an oceanfront library and a restaurant called Table of Contents. There are no telephones, televisions, or Wi-Fi in rooms to facilitate reading and thinking.
11) The Ben West Palm
Part of the Autograph Collection, The Ben West Palm is the only waterfront hotel in downtown West Palm Beach. This new boutique property blends contemporary design with a storied history.
Through an innovative partnership with the Palm Beach Book Store, hotel guests can connect to a Book Butler by dialing "o" from their room. Book lovers can select a book from a curated menu and the butler will hand deliver their selection to their guest room, along with a custom designed bookmark.
Another nice touch for book lovers: After check-out, the books can be taken home or donated to the West Palm Beach Library Foundation.
---
Pay it forward
And remember to pay it forward: After you've read the books you've brought from home, leave them for the next book lover at your hotel, resort, cruise ship, or airport lounge.
Some tips to enhance your reading pleasure while on vacation:
Before you go:
Give some thought to the books you want to read in the weeks before your next vacation. I find it especially enjoyable to read novels (especially historical ones) set in the locations I'm visiting. Travel guides and other non-fiction books also enhance a traveler's sense of place.
Resist the temptation to overload your suitcase with too many heavy books. Instead, load your e-reader. If you do take hardcovers with you, leave them behind for the next guest.
Give your travel companions a heads-up by suggesting they bring a book or two along as well. If you have kids in tow, help them choose books they'll enjoy reading.
While you're there
Find one or more comfy places to sit, free of noise and distraction.
Ask about books that might be available for loan at the property (e.g., in a lounge or library) and whether there are independent bookstores nearby.
If a favorite or notable author lived or spent time at your vacation destination, trace their footsteps to learn about their history and writing influences.
While reading can enrich a vacation, don't allow it to consume too much time. Even book nerds should balance the urge to read with immersive experiences at a destination.
---
Save to Pinterest!!