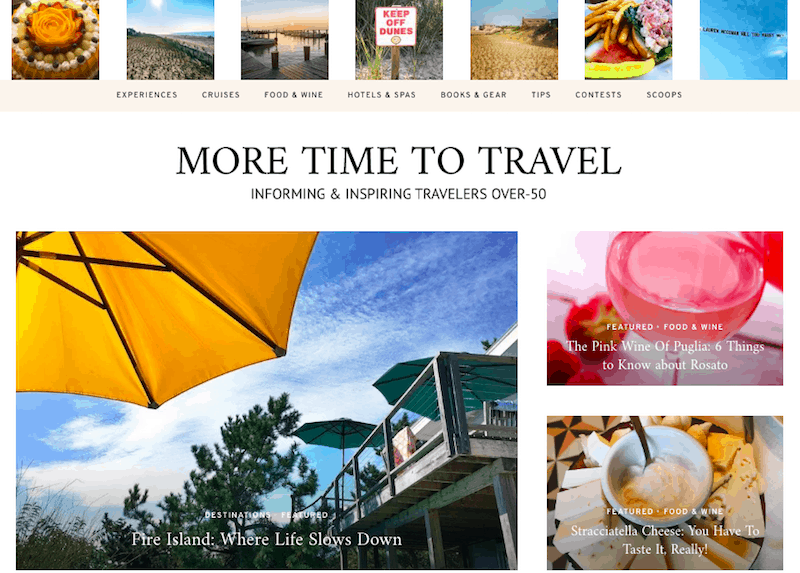 We welcome submissions from travel writers and bloggers who want to expand their writing portfolio by adding their byline to our award-winning travel blog.
More Time To Travel has received many accolades and awards. This year, it ranked #39 among the Top Travel Blogs for 2019 with a DA of 56, the only ranking using a standardized metric. More than five years old, it has an archive of close to 1000 posts.
Because we've spent a great deal of time building a unique, high-quality site for the over-50 traveler—we hope you'll understand why we are a bit fussy about our requirements.
Guess posts are strictly limited to writers and bloggers. If you are a commercial website or SEO business interested in promoting a brand, destination, product or service, please contact see our guidelines for sponsored content.
Here are some questions and answers regarding the guest post policies for More Time To Travel to help you know if we're a good match:
What should I know before drafting a post?
We only publish original content that hasn't been published elsewhere (now or in the future).
Please be sure that your content is geared to the over-50 luxury traveler (Although we've reached the stage of life when we don't backpack or sleep in hostels, we do appreciate value.)
Posts must be at least 750 words in length. Depending on the story you need to tell, posts can run up to 2000 words. Make sure your post is spell-checked, grammatically correct, and that all proper names (e.g. name of a hotel or city) have been double-checked).
We generally like sub-headers, particularly for longer posts, when they make for easier reading.
Submissions as a Word document (as opposed to PDF) preferred.
What do I need to know about submitting photos?
Photography brings prose to life. To accompany your article, please submit 4-7 high-quality photos that are at least 800 px wide (with brief captions).
All photographs must be your own. By submitting them for publication, you guarantee that you own the copyright and indemnify MoreTimeToTravel from any copyright claims that may arise.
The numbers of photos published will vary based on the length of the submission. We may supplement your images with high-quality stock photos.
Except for one or two photos that might be appropriate for a Pinterest pin, we prefer that all images be landscape (horizontal) rather than vertical (portrait) orientation.
What is your policy regarding links?
Any links to websites other than your own blog are subject to our approval.
You are welcome to include two or three external links if they are authoritative, and will be helpful and relevant to our readers.
What else do I need to know?
All submissions are subject to our approval and editing.
We may edit the post title and content so they are optimized for SEO ranking on Google but we will always try to preserve your voice.
We do not pay contributors but will add a link from your post to your blog or website, and will promote your submission across our social media channels.
How do I get started?
Take a look at some of the guest posts below.
Send us a paragraph or two explaining what you want to write about.
In addition, please provide a brief bio (no more than 3 sentences) and links to at least three of your writing samples.
Sample Guest Posts
Destination Jamestown, N.Y.: Go for the Comedy, Stay for the Recreation
Hotel Walloon: A Sparkling New Michigan Lakeside Boutique Hotel
If you've already read the guest policies for More Time To Travel, and are ready to go…
Use the Contact Form here.
---