Holland America Rotterdam: Innovative Port to Table Dining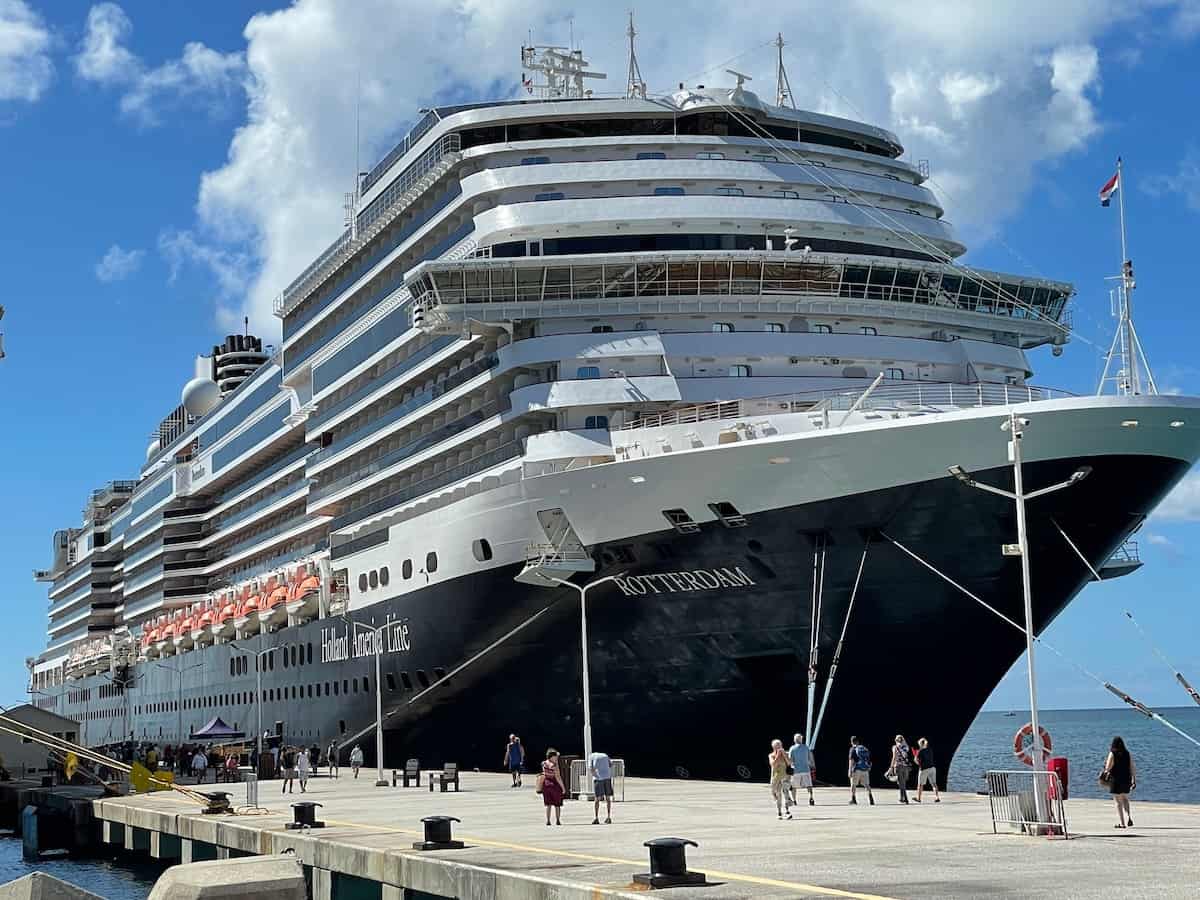 Guest contributors John and Sandra Nowlan cruise on Holland America Rotterdam, their first chance to experience Port To Table dining.
On land, farm-to-table dining usually denotes a special relationship between the chef and the local agriculture community. At sea, Holland America Line's (HAL) new "Port to Table" concept is similar.
Onboard chefs work with food producers in various ports to bring local recipes, local guest chefs and, most importantly, local fish and other fresh products aboard for the enjoyment of guests.
This means the culinary traditions of a seaside town or city can become as important as the historic and cultural highlights.
The "Port to Table" initiative is just one of many HAL culinary innovations over the decades. And we're told it will be expanded in 2023 to include special cooking demonstrations and tastings. Some will replace America's Test Kitchen programs, which were previously on almost all HAL ships.
Cruising the Caribbean on Holland America Rotterdam
We were fortunate to sail on Holland America's flagship, Rotterdam, on a Caribbean cruise in December as the line was preparing to celebrate its 150th Anniversary.
A bit of the backstory of the cruise line: In 1873, the Netherlands-American Steamship Company was founded and became a major carrier of immigrants to the New World followed by decades of trans-Atlantic sailings (more than 60 in 1964). In 1926, the line started its first Caribbean cruise and focused entirely on vacation cruising in 1971.
Our cruise from Fort Lauderdale was on the Pinnacle Class Rotterdam, just over a year old, and the seventh ship in the historic Holland America fleet to have the same name.
The ship is almost a thousand feet in length and holds a maximum of 2600 guests. Yet, except at embarkation and occasionally at the buffet, it's spacious enough to never feel crowded.
It has an excellent library, some fascinating and unusual art (including paintings of the former six Rotterdam ships) and, in keeping with Holland America tradition, many floral displays.
Our uber- comfortable stateroom
Our accommodation was a standard balcony stateroom. Compared to other cruises we've taken, it was extremely comfortable with a spacious balcony, a queen size bed, a sofa, a huge TV (but with only MSNBC and Fox as news channels), great lighting and plenty of storage space. Internet reception (extra cost) was good.
Most impressive, though, was the generously sized bathroom. It had excellent water pressure, plenty of large fluffy towels and an unusually large shower stall. Two guests told us it was the best bathroom they've ever experienced in 250 days at sea. "Like a five star hotel," they said.
Holland America Rotterdam: Life onboard
Holland America continues to attract older, usually retired passengers who have little interest in water parks, belly flop contests, or loud music around the pool. They still like gambling, however, judging by the large casino, usually crowded and smoky.
A guest from Saratoga Springs, New York, was on his sixth Holland America cruise. "I love it because it's quiet and tuned down," he told us. "Few people use the gym but I go there every day."
The spa area includes an excellent hydrotherapy pool.
The entertainment offerings have changed in recent years with the introduction of the Music Walk, four distinct areas on the second deck with venues for BB King's Blues Club, Billboard Onboard (dueling pianos with hits through the decades) and the Rolling Stones Rock Room.
Our favorite, however, was the Lincoln Center Stage, with a string trio and piano accompaniment which performed several 45 minute classical concerts each day.
They were brilliant young musicians chosen in partnership with the Lincoln Center in New York City.
The large main stage on Rotterdam, like its older sister ships, is used for high tech production shows featuring six talented dancers some nights, a quartet of male singers on others plus a comedian one evening and a hilarious Rubik's Cube nerd/magician on two nights.
The Lincoln Center musicians also perform on stage for two nights accompanying stunning BBC Earth visuals about our planet, its natural wonders and unusual flora and fauna. Some people told us they miss the Broadway-style song and dance productions with a live band on other cruise lines but the emphasis has changed, for the better we believe, on Holland America.
Port-to-table dining on Rotterdam
The "Port to Table" concept mentioned earlier was our introduction to the stunning culinary offerings on Rotterdam.
Living in Nova Scotia we're very fussy about seafood. Normally frozen and only mediocre on many cruise lines, the fish on Rotterdam was usually outstanding. The fresh halibut, grouper and Mahi Mahi were among the best we've ever enjoyed.
The Dover Sole, prepared tableside, was also excellent.
Food and Beverage Director Christiaan Criens confirmed what the Hotel General Manager had told us. Along our Fort Lauderdale to Barbados southern Caribbean route, the line has found several trusted and certified vendors that can provide up to 300 pounds of very fresh seafood. When brought aboard, it's identified in the main dining room as Port to Table.
Likewise, on New England-Canada cruises, fresh Atlantic seafood is procured at several ports. The F&B manager remembered with fondness visiting a large mussel farm on Prince Edward Island to stock up on those tasty mollusks.
He also told us that Holland America was the first cruise line certified sustainable for Alaska seafood.
Dining venues on Holland American Rotterdam
Since the COVID pandemic interruption of virtually all cruising, Holland America has changed some of its menus (as have several other cruise lines). No longer are there four appetizer, soup/salad, entree and dessert offerings in the main dining room. The first two are combined with fewer choices. According to the Hotel General Manager, it helps maintain the quality while cutting down on waste.
On every HAL sailing, the provisions department now looks at the makeup of guests – age, nationality, time of year and weather – and stocks up the galley based on demographics. Europeans eat more fish while Americans eat more red meat.
To minimize waste, new food products have to be tested first to assure quality and suitability. We were told that the watermelons brought aboard now have thinner skins than before and give much better yield.
The main dining room was generally excellent with attentive service and good food. Holland America's Master Chef Rudi Sodamin works with a Culinary Council of other top chefs to advise the line about cuisine.
We did try the other eight dining venues on Rotterdam but especially enjoyed the extra-cost pan-Asian cuisine at Tamarind, the Italian food at Canaletto and the French influenced seafood at Rudi's Sel de Mer. The buffet area, called Lido Market on Deck 9, always had a wide variety of tempting main courses and desserts. The breads, pastries, muffins and sweet rolls were especially good.
Breakfast at the Lido was often crowded so we discovered the New York Deli and Pizza. It had everything we needed to start the day. At lunch, its made-to-order pizza was also excellent but the pre-made slices we tried one day were lackluster.
The large burgers at the Dive-In corner were also very good but not quite as tasty as those at Guy's on Carnival ships. For specialty pastries and coffees with a Netherlands touch, we loved the Grand Dutch Café on Deck 3. It featured pannenkoek (Dutch pancake) and bossche bol (a giant chocolate covered creampuff).
The Holland America wine list was organized by renowned wine critic James Suckling. The prices seemed very fair for the wide variety of vintages.
Going ashore in the Caribbean
Many veteran cruisers stayed on board Holland America Rotterdam to relax when the ship stopped at the southern Caribbean ports on its itinerary.
But we love to tour and especially enjoyed our beach visit to Barbados, swimming in its calm, turquoise waters; St. Martin and its dual Dutch/French heritage; St. Thomas with its scores of huge yachts (including one called Kaos, valued at $300 million and owned by a Walmart heiress), and St Kitts for souvenirs (best prices in the Caribbean).
Our last stop at Half Moon Cay, Holland America's private island in the Bahamas, was chaotic because another HAL ship was there at the same time making beach chairs very scarce. But the swimming was excellent.
Making history
In April of 2023, Holland America Rotterdam, will be a key player in the 150th Anniversary celebrations. A special cruise on the flagship will sail from Fort Lauderdale to New York, then on to Rotterdam in the Netherlands.
Ship historians have been busy collecting stories from that era (plus menus from early crossings) that will be featured at the restaurants on Rotterdam. That trans-Atlantic sailing, in fact the whole year, will be full of fascinating cuisine, culture, music and Holland America history.
---
All photo credits: John and Sandra Nowlan
---
Disclosure: The Nowlans were guests of Holland American Line but any opinions expressed in this post are their own.
---
Save to Pinterest!!
---
flexoffers