A Scenic River Cruise through Bordeaux Wine Country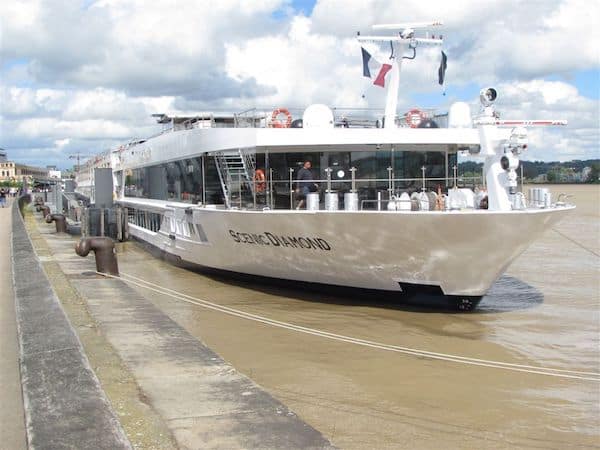 Guest bloggers John and Sandra Nowlan take a Scenic River Cruise through Bordeaux wine country, exploring vineyards deeply rooted in the history of the region.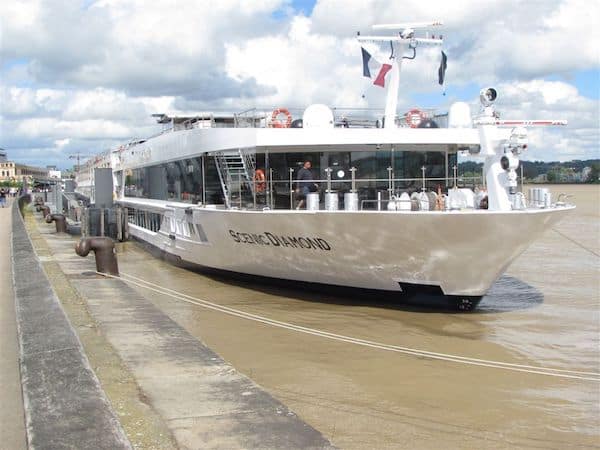 In France, the best wines are served with the cheese course, just before dessert. In our case, we were at Chateau Giscours, a huge wine-growing estate in the Margaux region of Bordeaux for a gala dinner organized by the staff of our river cruise ship, Scenic Diamond.
As we cruised along the Garonne and Gironde Rivers in Southwestern France, our 120 fellow guests had been pampered for several days by fine service and excellent complimentary wines at both lunch and dinner on the ship. But the outstanding French wines and wonderful cuisine served at this dress-up affair were particularly tasty. The cheese course included Ossau-Iraty, named the best cheese in the world, accompanied by a superb Chateau Giscours 2001 Grand Cru.
Meeting the Scenic Diamond in Bordeaux
Our week-long adventure began in Bordeaux, an historic UNESCO World Heritage city of a quarter million, second only to Paris in the number of preserved buildings from the 18th century. We stayed in one of them – The Intercontinental Bordeaux Grand Hotel. This opulent hotel, with its 86 rooms and 44 suites, overlooks the central Place de la Comédie and the remarkable Opera House, dating from 1780.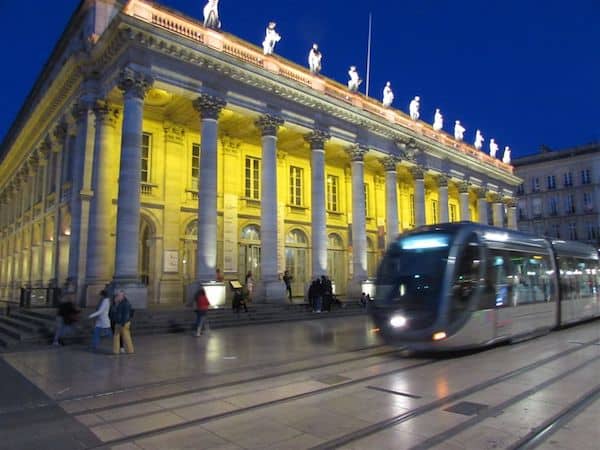 Famed Scottish chef Gordon Ramsay runs a two-star Michelin restaurant at the hotel but, sadly, it wasn't open when we were there. But the celebrity chef also supervises a second restaurant. Brasserie Le Bordeaux Gordon Ramsay emphasizing fresh and local ingredients. His lamb shank, accompanied by onion rings the size of donuts and creative lemon meringue pie were special treats.
The next morning our ship, the Scenic Diamond, awaited us along the tidal Garonne River (it even has a tidal bore, like Moncton's). Scenic, an Australian company with a reputation for luxury now has 16 river boats covering much of Europe and Asia.
Truly all-inclusive
River cruising in Europe is now highly competitive but Scenic prides itself on having fewer guests (about 150 compared with 180 on other similar sized ships) and a total all-inclusive policy.
As they told is, "Once you step on board, everything is included."
Our room had a very comfortable bed, a small "sun lounge" balcony (most river ships have only a French balcony) with two chairs, a mini-fridge with pop, water, wine and spirits, and snacks replenished daily. A personal butler is available for any request; ours, named Bora, was wonderful.
Free laundry is included and there's free W-Fi throughout the ship. The high-res TV has many channels and movies, and every guest has a Scenic Tailormade GPS unit for guided tours. (Most river ships now have a QuietVox for their tours and we found the Scenic unit to be a bit large and cumbersome as well as difficult to charge.)
All tours and gratuities are included with Scenic and even electric-assisted bicycles are available at no cost.
Fine wines on ship and shore
If you like fine wines, this region of France is ideal for touring. The Bordeaux region, with 10,000 wine producing chateaux, includes famous names like Médoc, Saint-Émilion, Graves, Pomerol, Entre-Deux-Mers and, for superb sweet wines, Sauternes. Its 120,000 hectares of vineyards produce over 800 million bottles of wine annually, accounting for a quarter of total French production.
All meals on Scenic Diamond were accompanied by impressive French wines (even Moet Champagne for mimosas at breakfast). This was the first cruise of the spring season and service was a bit chaotic the first evening but the food and service improved as the week progressed.
The lamb, beef, chicken and pork dishes were wonderful but all the fish was frozen and varied in quality. Salad choices and imaginative vegetables with French cheeses at the noon buffet were superb. The chef did bring in fresh produce at several stops. Scenic Diamond also has a small, specialty restaurant at the front of the ship called L'Amour. We enjoyed the six-course set menu with perfect wine pairings. The truffle honey with cheese course was especially memorable.
Exploring the banks of the rivers
Every day a choice of tours was available and almost all of them were wine-oriented. As we saw, on foot, and from the three dedicated Scenic buses, almost every square mile was filled with vineyards alongside impressive and historic chateaux. We visited numerous wineries, some of which were on properties dating back to Roman times. At all of them, we had a chance to sample many outstanding vintages that gave us new appreciation for the variety and quality of French wine.
We particularly enjoyed our visits to St. Emilion, known for its full-bodied red wines, especially Merlot. The UNESCO protected town, which now boasts of a wine shop for every eight residents, was named for a miracle-working monk who lived in a nearby cave around 750 AD. Those massive limestone caves, with their consistent temperatures, have been used for wine storage for centuries. There's even a 12th Century church in the village, St. Emilion Monolithic, which is carved out of the limestone.
With the wonderful, rich red wines of Bordeaux, it was surprising to learn that the world's most famous sweet wines are also produced here, around the small village of Sauternes in the Graves section of Bordeaux. Endless vineyards and huge chateaux cover the landscape including Chateau d'Yquem whose exquisite sweet Sauterne can sell for thousands of dollars a bottle.
Grapevines and history are interwoven throughout the Bordeaux region and we visited some remarkable towns (Cadillac, a walled village founded in 1280, was particularly impressive) and castles (the massive Chateau de Roquetaillade, dating from about 1306, has been lived in by the same family for over 700 years).
Committed cruisers
Scenic guests are very loyal with many on our ship who have done multi-cruises. Most are middle aged to senior (Australian, American and Canadian) with a love of travel combined with an appreciation of good food and wine. As one guest told us, "I've learned a lot on this cruise. I don't ever want to go on vacation where I don't learn something every day."
---
*John and Sandra Nowlan are travel and food writers based in Halifax, Nova Scotia. All photo credits: John and Sandra Nowlan
---
Disclosure: The Nowlans trip was hosted by Scenic Cruises.
---
IF YOU GO
---