Viking Rhine River Cruise: Visit 3 Countries On A Floating Hotel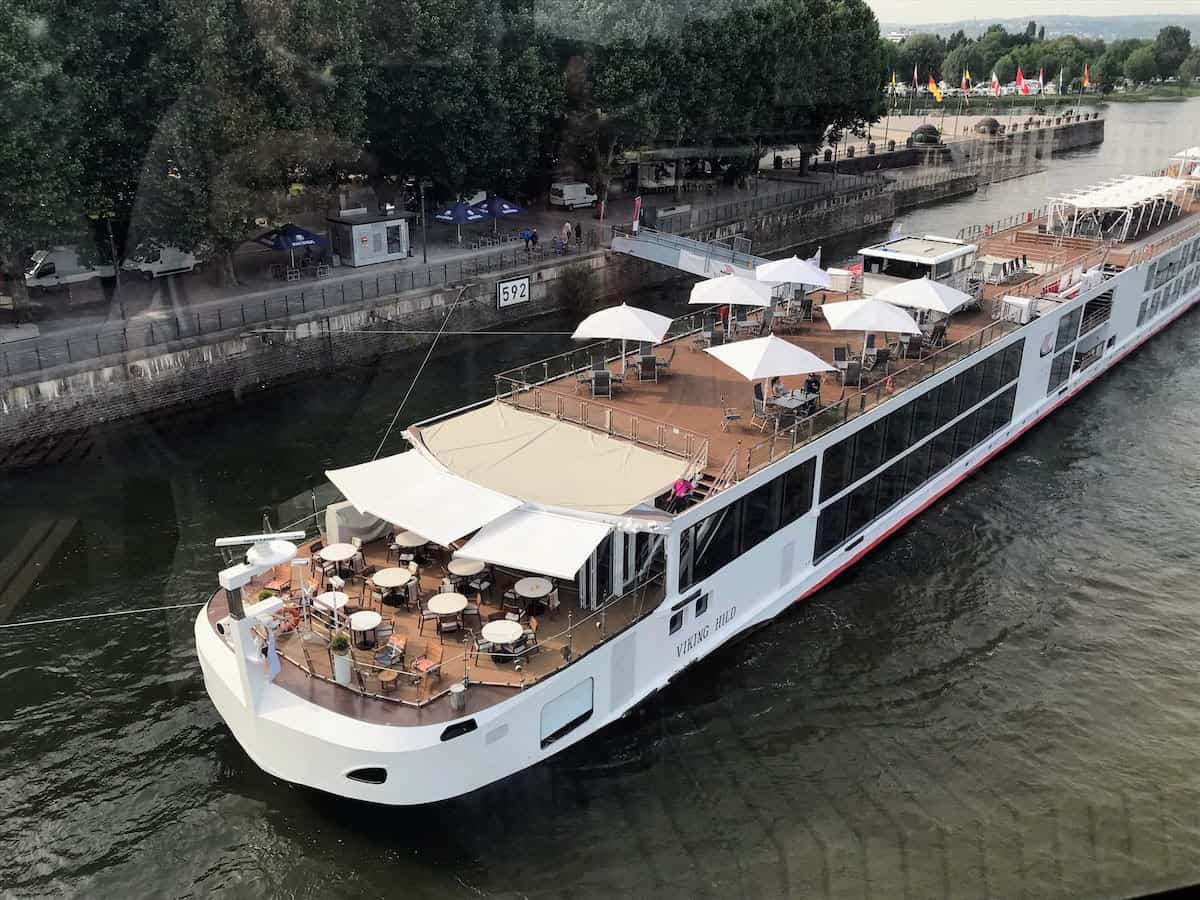 When we sailed on a Viking Rhine River cruise on the Rhine and Moselle Rivers, we were unsure of what to expect. Although the itinerary included some fabulous cities, many of the port stops on the itinerary were in smaller cities, towns, and villages with new-to-us names.
We soon came to realize why Rhine River cruises are so wildly popular:
Reasons to take a Viking Rhine River Cruise
1) Scenic Beauty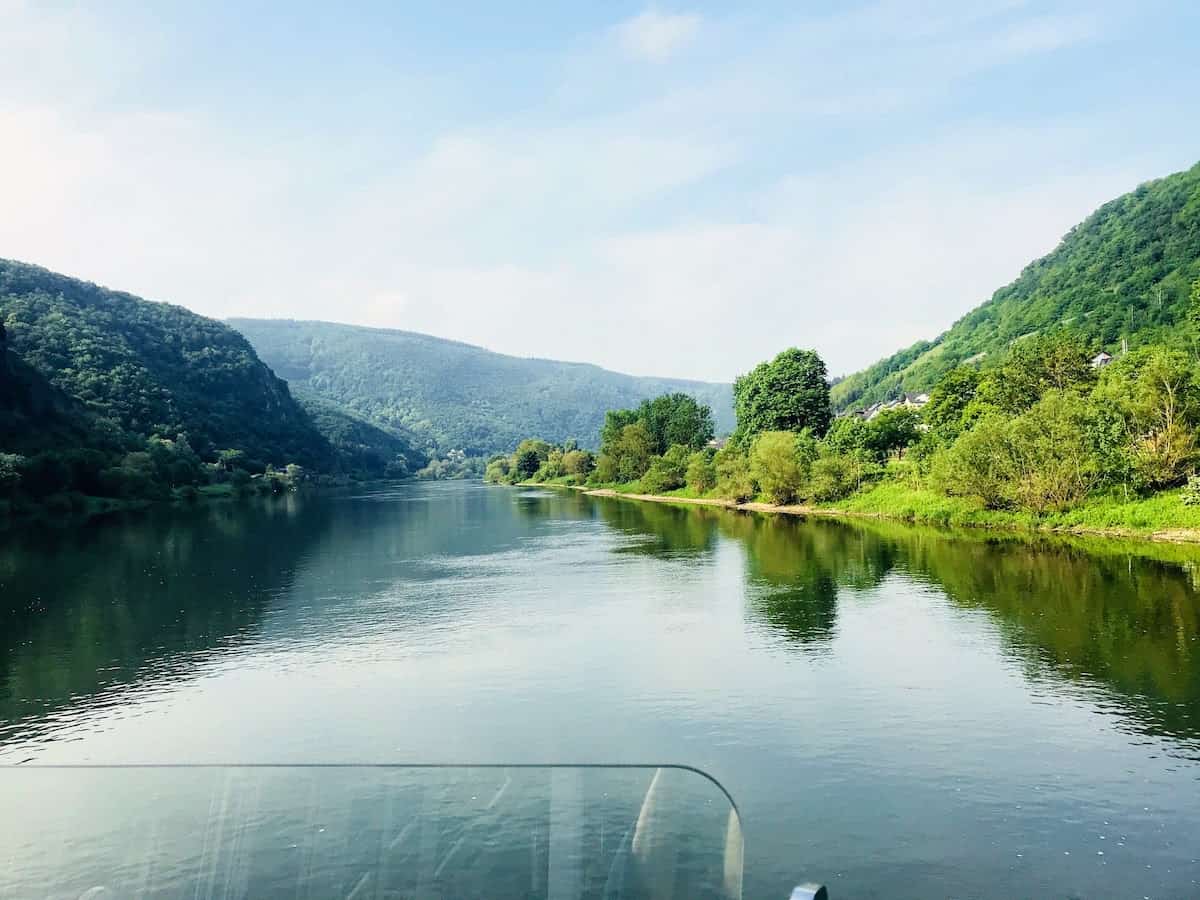 Our Viking Rhine River Cruise passed through three counties— Switzerland, France and Germany—where the banks of the rivers are lush and green in springtime.
With beautiful scenery and fresh mountain air, it's not surprising that the region is so popular with hikers, bicyclists and campers.
As the ship meandered the rivers, the spacious, glass-doored balcony of our stateroom on Viking Hild (as well as public areas on the ship) offered "box seats" to view the ever-changing spectacle of verdant hillsides dotted with medieval castles, and ornate church spires and steeples. The right-sized longship held a maximum of 190 guests.
Sitting on the balcony, we could often hear church bells ringing.
One of the prettiest and most spellbinding portions of the cruise is along the Middle Rhine, also called the Rhine Gorge. With more than 23 picturesque castles, it was designated a UNESCO World Heritage Site.
We found spectacular vantage points on the shores, too, whether from the top of a church or castle window.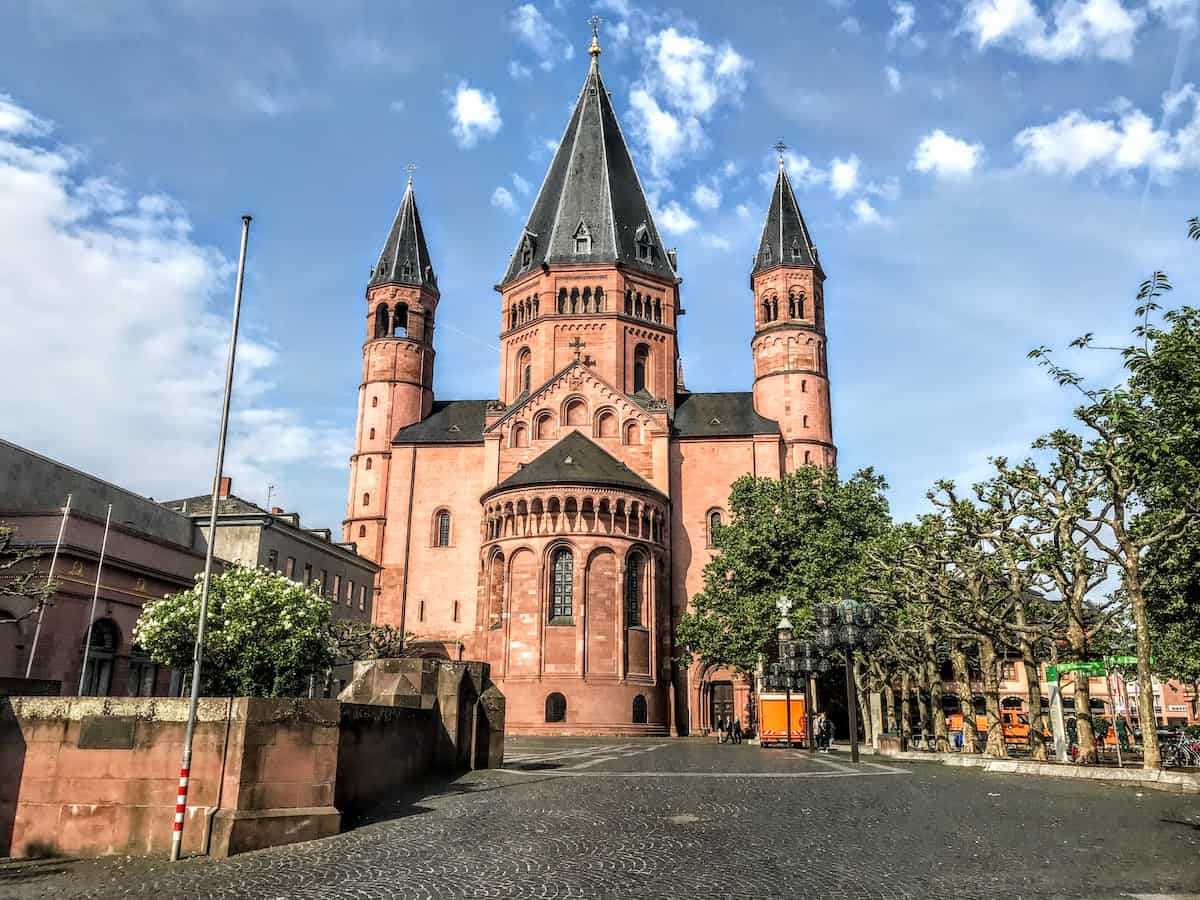 One of the most thrilling views was from a cable car in Koblenz suspended over the confluence of the Rhine and Moselle rivers. (The view of our ship above was taken from the cable car.)
2) Engaging Ports
Although many cities on the Rhine suffered bombing during World War II, many have well-preserved or reconstructed "old towns" brimming with history.
Their small streets and cobblestone alleys lined with half-timbered houses and different architectural styles reflect the long and diverse multicultural history of Western Europe.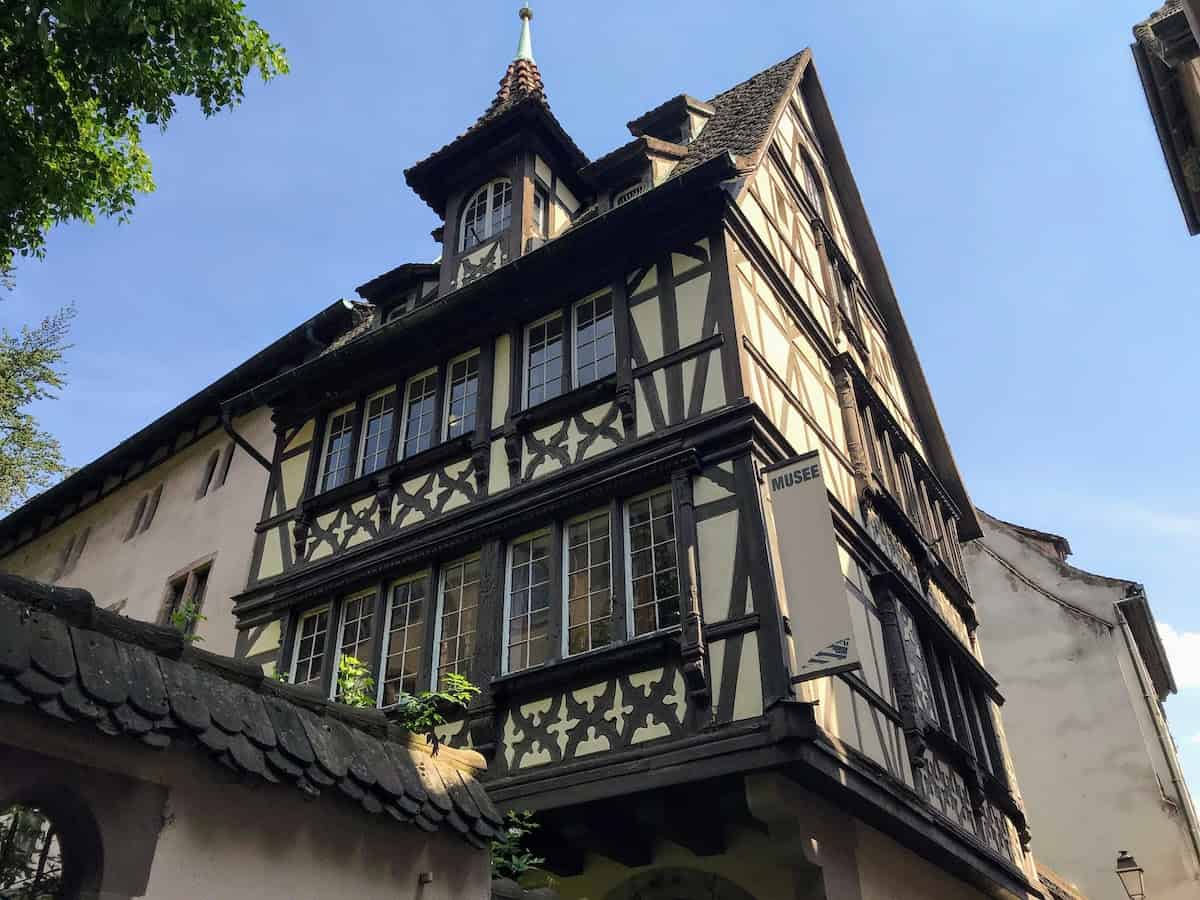 We fell in love with the winding streets of Koblenz, one of Germany's oldest and most beautiful cities with one of Europe's biggest aerial tramways.
3) Wine Country
Our route on the Rhine and Moselle rivers passed through some of Germany's most spectacular wine-growing regions (much like the river cruise itineraries do on the Douro River in Portugal).
Onboard, the wine steward pairs complimentary local wines with both lunch and dinner. Other premium wines and spirits can be ordered, at cost, at the ship's bar.
Shore excursions include visits to vineyards, wine tastings, and ample opportunities to savor a glass of local Riesling at a bar.
Of course, Germany is also known for its beers, often best enjoyed in one of the ubiquitous beer gardens.
4) Wonders of Navigation
If you've never traveled through canal or river locks, this is an opportunity to witness this fascinating technology.
Viking Hild traveled through 18 locks over the course of our cruise, some of them at nigh). They remind travelers of the importance of the European waterways, once used primarily for trade and transport of goods from city to city and country to country.
Locks enable vessels to move smoothly on a river or canal even while water levels on both sides of the lock vary. Ships enter a closed compartment, where it is locked between two doors, as the water level is adjusted up or down.
Warning: Don't stick your hands out the balcony. From your Viking stateroom, you can see that there isn't much clearance between your ship and the high encasement, requiring expert navigation skills on the part of the captain.
To this day, the Rhine continues to be one of the most essential waterways in Europe. In addition to other riverboats, you'll still find many interesting container ships and working barges along the way.
5) A Feast for Foodies
A Viking Rhine River Cruise is a feast for foodies. Food lovers will revel in all the opportunities to taste local specialties both on the ship and off.
Viking has been making great strides to incorporate local food products and recipes into its menus.
During our Viking Rhine River Cruise, the crew organized a delightful "German Night" with an all-German buffet dinner, local beers and wines and festive music.
On land, kiosks, food trucks and quaint restaurants lure you to savor new tastes.
For example, you can sample hearty dishes like raclette and fondue in Switzerland or taste Alsatian specialties like kougelhopf (a delicious, yeasty cake made in a Bundt mold) or a tarte flambée (a flatbread-like dough topped with crème-fraîche, cheese and thinly-sliced onions).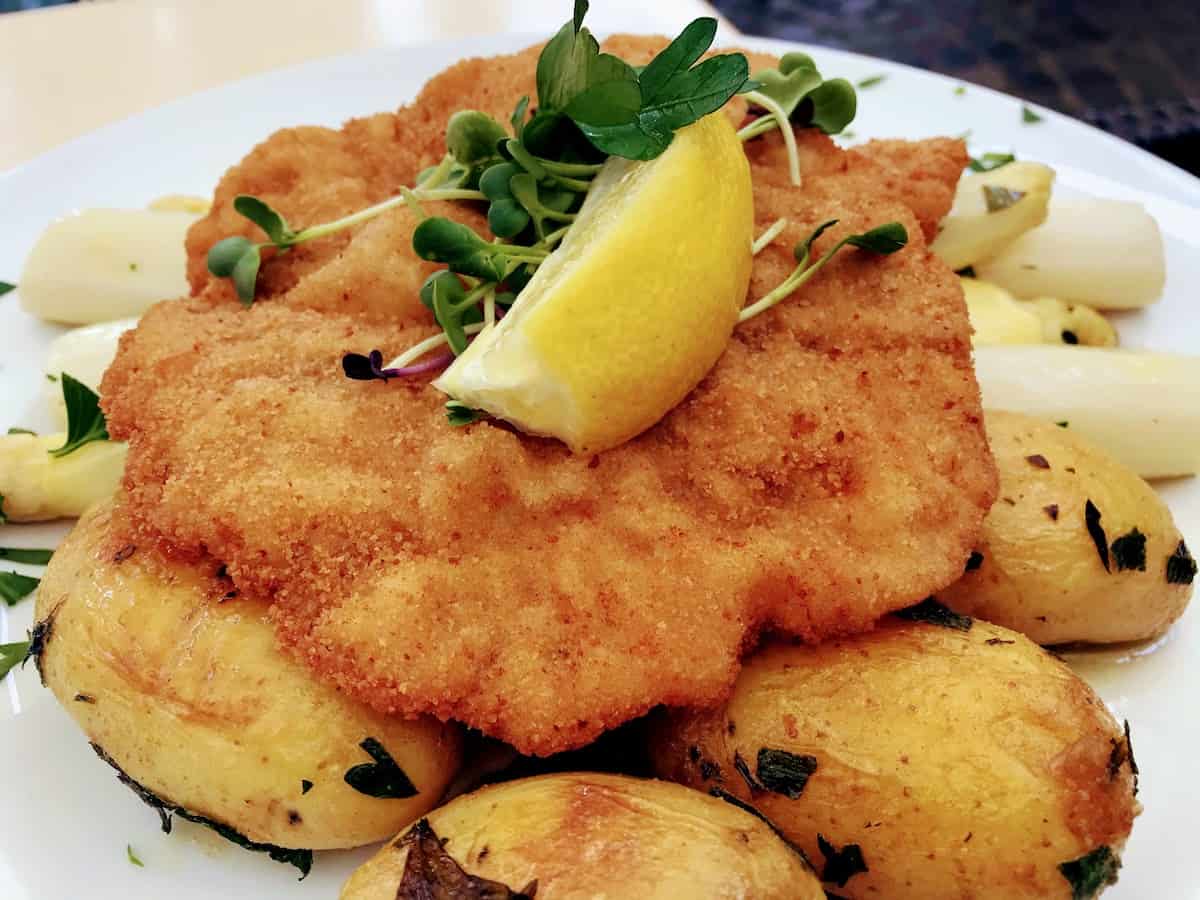 Or you may stop for a warm pretzel or grilled wurst (sausage) at a kiosk on one of many town squares, or simply rest your feet and people-watch over coffee at an outdoor café.
Opportunities for tasting local cheeses are endless—and who can resist Swiss chocolates?
Worried about calories? Most river cruise guests walk an average of 3-5 miles per day during shore excursions.
6) Welcoming tourism Infrastructure
Of course, river cruises offer the convenience of only packing and unpacking once!
But there are other reasons why our Viking Rhine River cruise was hassle-free. Because Western Europe has a well-developed tourism infrastructure, local guides are English-speaking and tend to be quite knowledgeable about history, customs and culture. (Viking provides free, guided excursions at every port.)
Cities and towns are conveniently close to the rivers. And many tours include free time to wander at your own pace, stop for a snack, peek into small boutiques, and/or talk to townsfolk who are generally eager to engage with Americans.
…and one more reason
There's something very peaceful and hassle-free about the slow pace of cruising the Rhine on a floating hotel.
Both on land and on water, you pass relaxed locals sitting on park benches, tending their flower and vegetable gardens, or riding bicycles by the river banks.
You'll soon feel at one with the tranquility and authenticity of the river.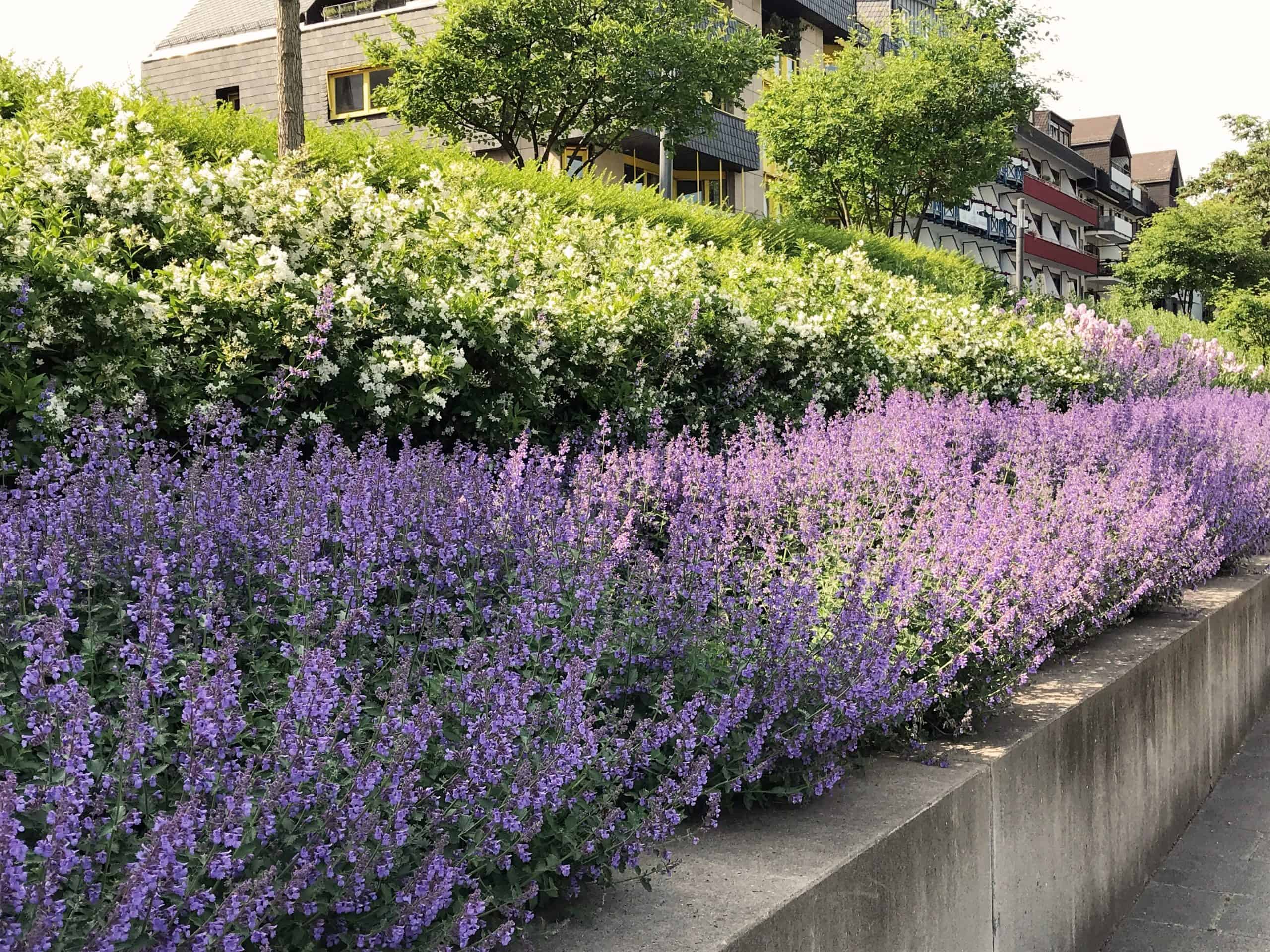 ---
What's appealing to the over-50 luxury traveler?
You'll get to visit France, Germany, Switzerland and Luxembourg (briefly) and get a feel for the diversity of Western Europe. This "sampler" will help you find destinations to which you'll want to return.
The best time to take a Rhine River Cruise is during the spring and fall shoulder seasons, which are less touristed.
The Viking crew is extremely nurturing and professional; they make sure you feel well taken care of from the time you land at the airport abroad until your departure for home.
With a no-kids onboard policy, you'll be among other mature, mostly over-50, intellectually curious people who love to travel.
Except for such things as optional excursions, specialty drinks, and gifts and souvenirs, the trip is mostly inclusive so you'll know your costs before you leave home.
---
All photo credits: Jerome Levine
---
Disclosure: We were guests of Viking River Cruises but any opinions expressed in this post are our own.
An earlier version of this post previously appeared on GettingOnTravel.
---
IF YOU GO
---
READ MORE
---
Save to Pinterest!!