Strasbourg Airport: What You Should Know Before You Go
Strasbourg Airport (SXB), located in Ertzheim, France (about six miles from the metro area) is an international airport, although not a very large one. As the seat of the European Parliament, Strasbourg (the capital of Alsace) and its airport are frequented by many dignitaries who arrive there from throughout Europe. In 2017, 1,207,291 passengers passed through the airport.
Major carriers operating there include Air France, KLM, Ryanair, Tunisair, Volotea (a low-cost Spanish airline) and Brussels Airlines. These flights connect to larger international hubs in Europe, like Amsterdam Schiphol Airport and Paris-Charles de Gaulle.
Easy in, easy out
On a recent visit to the provinces of Alsace and Lorraine, we flew in and out of the Strasbourg Airport on Hop!, a regional carrier operated by Air France that makes short hops within Europe.
Upon our arrival, we arranged an Uber pick-up. Fluency in English is somewhat limited in the region so one advantage of using the Uber app is that it obviates the need for much spoken communication.
Our driver met us in front of the terminal within 15 minutes of our call; the ride to our hotel in the city center in a clean Infinity sedan took about 25 minutes and cost 30 euros. There was also a taxi line with several waiting cars that probably would have been just as convenient.
Travelers who have mastered the art of traveling lighter than we do can also get to and from the airport by train. Trains leave up to four times an hour and, remarkably, the ride between the airport and the Strasbourg Gare Centrale railway station (located on the western side of the city) takes only seven minutes.
Visitors could also consider driving themselves although parking might turn out to be a hassle. Several major car rental agencies, including Avis, Budget, Enterprise and Sixt, have desks right inside the terminal.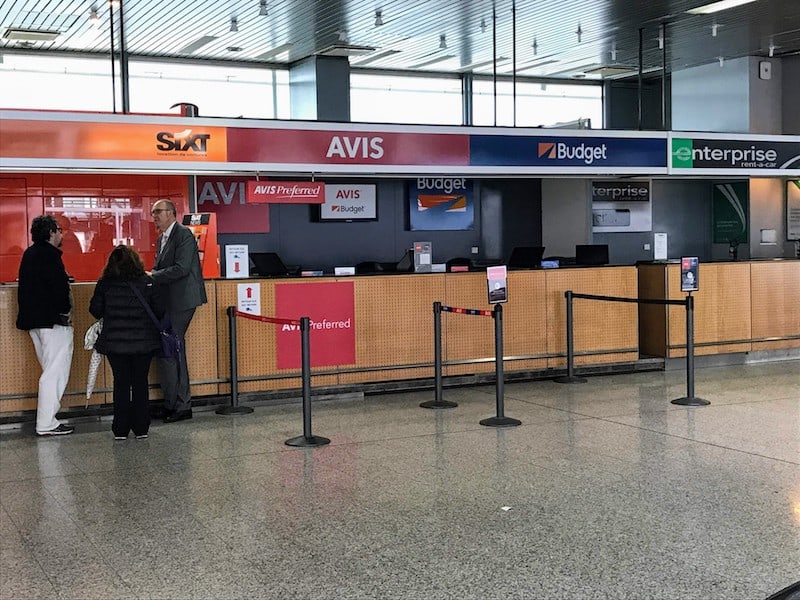 The terminal at Strasbourg Airport
When we arrived at the terminal from Amsterdam on a weekday morning, we were surprised to see four soldiers poised with machine guns inside. In comparison, we didn't notice any visible security presence at Schiphol, a much more highly trafficked airport. Our driver told us that airport security in Strasbourg had been tightened after the terrorist attacks in Paris. However, one virtue of the airport's small size: Getting our luggage after the flight was a breeze.
When we returned to Strasbourg Airport, we were dropped off a few hours before our return flight to JFK was scheduled to depart so we had an opportunity to spend a much longer period of time at the airport.
Although clean and spacious, the two-story passenger terminal appears quite dated and doesn't have any lounges. Once a military base, the airport was converted for civil aviation in the 1990s. We were able to find a comfortable sitting area at a café, Le Comptoir des Saveurs (not far from the check-in counter) before going through airport security.
Free Wi-Fi connection was available throughout the airport, making time pass rather quickly.
The shops at Strasbourg Airport
There are two sets of shops inside the airport that carry regular airport fare (books, snacks, souvenirs, etc.) and also a line of Alsatian foods (even French bread!) and beers, and handicrafts. In addition, there are small cafes/bistros on both floors.
Only the ones inside the gates are duty-free. Another caveat: if you purchase liquids or certain food items (for example, jars of jam) and are transferring through another airport, you will likely have to relinquish your purchases to airport security.
Strasbourg is known as the birthplace of foie gras. The shop inside the gate carries both preserved foie gras in tins and a fresh product in the refrigerator.
Miniature Kugelhopf cakes, another specialty of the area, make a nice gift. If we didn't have to pass through security at our next airport, I would have purchased a jar of Mirabelle jam. Made from yellow plums, the adjacent province of Lorraine is the only place in the world where they are grown.
Bottom line
Strasbourg is also accessible from some areas of France, like Paris and Lyon, via high-speed rail service (the ride from Paris, for example, is less than two hours). But for those visiting Strasbourg or some of the other cities and charming villages in Alsace, the Strasbourg Airport is rather convenient and easy to use.
---
Check the Strasbourg Airport website for updated health and safety measures.
---
IF YOU GO
---
Also on MoreTimeToTravel: