A Spontaneous staycation in New York City
Whether your visit to NYC is planned or a spontaneous staycation (like ours), there's no such thing as boredom in the Big Apple.
As part of the Hampton by Hilton #Seekender team, Jerry and I love to make the most of our weekends. Although we enjoy traveling afar, our recent whirlwind staycation in NYC hit the spot!
New York is an easy city to visit without much planning. After packing an overnight bag, you only need to prearrange is a hotel room. Why? The destination is so rich and vibrant that with smartphone in hand and a wallet in your pocket, the possibilities of finding things to see and do are virtually limitless.
During a busy period preparing for getting our house ready for sale before downsizing, we had no time to plan our upcoming New York Seekender weekend. So, we opted for a spontaneous staycation!
The only thing preset was our two-night stay at the centrally located Hampton Inn Manhattan/Times Square Central—and then we winged it! We had confidence we would be in good hands because our millennial son, Andrew, a NYC denizen would be our de facto city guide (and expert NYC subway system navigator).
It's still hard for us to believe that we did all that we did in less than two days!
---
DAY ONE
---
On our way to Coffeemania
We arrived in the city at noon, lucky to secure an early check-in at the hotel. Soon after hitting the street, we noticed the perfumes of various ethnic food carts wafting in the air. While on our way to Bryant Park, just two blocks from our hotel, we decided to start out with a mid-day snack.
Spontaneity often breeds impulsiveness. So before we did that, we made an unplanned stop at the box office of the Nederlander Theatre, right next door to the Hampton Inn (story of this unexpected stop to be continued later).
We had heard about Coffeemania, which recently opened across from the park. Known for its coffee, of course, this contemporary American eatery (with French, Russian and Asian influences) also serves artisanal cocktails. We got our adrenalin fix with an excellent pour-over Ethiopian coffee that didn't even require cream or sugar—and couldn't resist one of the sweet temptations.
Next stop: Bryant Park
Bryant Park is just across Sixth Avenue on the same street (41st St.) as the Hampton Inn. The green space at the park was greener than green because our arrival happened to coincide with the first day of the season when the green space opens to the public as a lawn and picnic area (It's used as an ice skating rink in the winter).
The park is a delightful place to wander, meet a friend, or simply relax surrounded by graceful trees, colorful flowerbeds, kiosks for coffee and snacks, an alfresco bar, a sit-down restaurant and eight monuments, including one of poet William Cullen Bryant, after whom the park is named.
Bryant Park is probably most notable as a virtual "bookend "to the New York Public Library, which is just next door. Once a potter's field, the park is now a jewel showcasing the success of public-private park collaboration. One interesting curiosity: After a recent $300,000 renovation, Bryant Park is noted for having the most luxurious public restroom (I guess anywhere).
Visiting the mothership: The New York Public Library
The flagship building of the New York Public Library, adjacent to the park, is a stunning Beaux-Arts building that first opened in 1911. Its architecture and collections inside are so diverse and massive that we could spend months inside and not get bored. Its proportions are that of a small city.
Our timing was fortuitous, again. We were lucky to catch a small but beautifully curated exhibit called Love in Venice, a collection of the library's etchings, watercolors, letters and more—that portray Venice as a cultural nexus of love, romance and passion.
Always one protest or another
On our way to Central Park, we found ourselves "in line" with anti-Trump protestors who seem to permanently occupy the space across from Trump Tower.
Dinner at Jungsik, a touch of Korea
Slowed down by the protestors, we made a beeline to Tribeca (downtown) via taxi when we found out we could get a table at Jungsik. This two Michelin-star restaurant offers a contemporary twist on Korean cuisine. The fusion menu relies upon traditional ingredients and preparations but takes them elsewhere. Beautifully presented and tasty! Worth the trip!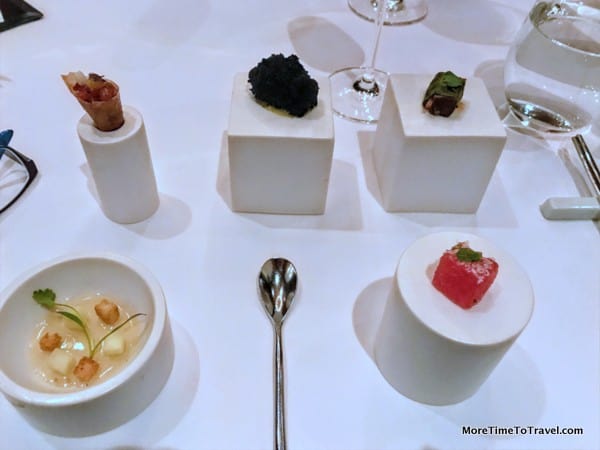 ---
DAY TWO
---
Always a parade
Before we descended the subway station on our way downtown, a parade with hundreds of colorful marchers dressed in yellow and blue were heading down 42St. We learned (after the fact) that this was the 25th annual Falun Dafa Parade, which drew 10,000 practitioners of this Chinese spiritual practice to the city.
Orchard Street on the Lower East Side
Via the M train we headed to the Lower East Side (LES) to introduce Andrew to our familial roots. Like other waves of immigrants, our grandparents first came here after arriving from Europe. When I was a child, my own parents used to take me shopping here on Sundays. The old-time vendors pioneered discounts before the big box stores.
Russ & Daughters
This venerable appetizing store has experienced a renaissance, adding two new locations: one at the Jewish Museum of Fifth Avenue and another at the Russ & Daughters Café on Orchard Street.
To avoid the lunchtime queues that stretch into the street, we arrived for brunch and indulged in a sinfully delicious platter of smoked fishes and pickled vegetables served on an oversized wooden platter, washed down by old-fashioned egg creams.
Eldridge Street Museum
We didn't have time for the one-hour tour so we opted for a self-guided one. Jerry's now-deceased mom had told us stories about her own single mom who observed holidays at the Eldridge Street Synagogue, now a museum and National Historic Landmark.
We imagined what the neighborhood was like then. Now the synagogue is located plum in the center of Chinatown. Built in 1887, this is an off-the-beaten path architectural gem, historically significant as the first house of worship built in America by eastern European Jews.
The Tenement Museum
The Tenement Museum tells the story of the waves of successive immigrants who made the Lower East Side their home and created one of the greatest melting pots in the world. We toured a preserved tenement building and learned about the lives of its once-inhabitants.
Pylos, a touch of Greece
When Andrew's colleague at work (who hails from Cypress) entertains Mediterranean visitors, he brings them to Pylos Restaurant in the East Village. Andrew brought us here before and we returned again to savor a dinner of fresh fish under an atmospheric ceiling of clay pots.
The Grand Finale: War Paint
Remember that ticket booth I told you about? When we popped into the theater box office, we were able to snag fourth-row tickets to see Broadway legends Patti Lupone and Christine Ebersole in War Paint, the musical. The play tells the story of the rivalry between cosmetic giants Helena Rubenstein and Elizabeth Arden.
I'd been searching online for tickets for a couple of months only to find that the prices were exorbitant, the seats were bad, or both. When these great tickets were available and far more affordable than online, we were thrilled! After running up to our room to freshen up before the show, the line to enter the theater was just steps away from our hotel door.
We loved the music, the set, the costumes, a perfect ending for a perfect Seekender weekend!
A shout-out for spontaneity
The next morning, we drove home exhausted but exhilarated. We loved the richness of a city that has been continuously shaped by waves of immigrants. We're convinced that for travelers, there's a close relationship between spontaneity and serendipity.
---
IF YOU GO
What we love about the Hampton Inn Times Square Central:
Great mid-town location accessible to Bryant Park, Broadway, and public transportation
Well-managed property with friendly staff that knew our names after a two-day stay
City view rooms offer views of the Empire State Building
An observation deck on the roof at the 32nd floor from where you can see forever
---
Disclosure: As a member of the Ultimate Seekender team (the only empty nester Seekender), our weekend getaway in NYC was sponsored by Hampton by Hilton but all opinions expressed in this post are our own.
On YouTube