New to the Napa Valley? Five reasons to fall in love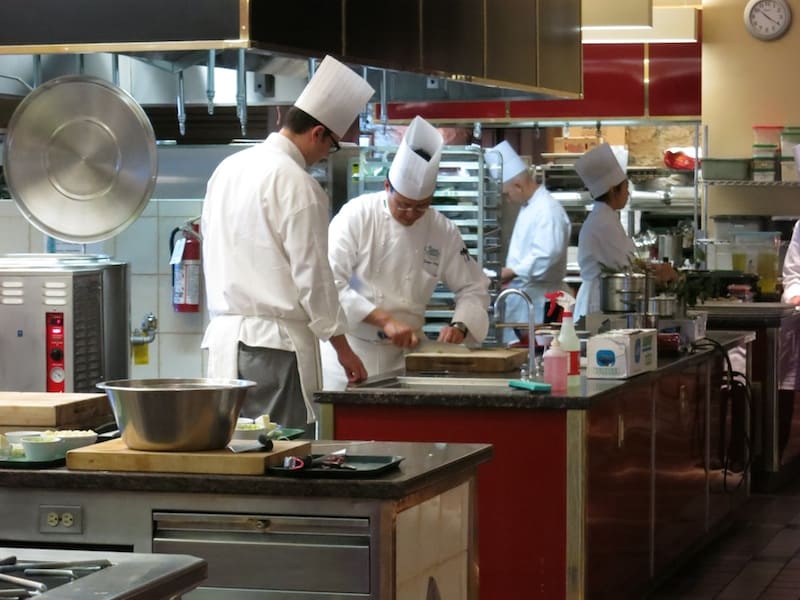 With its Mediterranean climate, Napa Valley in California is a congenial home to some 400 wineries. But the fertile vineyards and memorable wines of this region often overshadow its reputation as a mecca for sustainable foods and farm-to-table cuisine. The nation's first agricultural preserve was established here in 1968, and farmers, ranchers and other local food advocates remain strongly committed to preserving the land and its plentiful culinary bounty.
As a first-time visitor to Napa, I didn't know what to expect beyond wine tastings. When my husband and I began to explore the small towns and villages dotting the 30-mile stretch of California Route 29 — the major thoroughfare extending from American Canyon in the south to Calistoga in the north — we found that a week isn't enough time to savor the diversity of Napa's tastes and flavors. Here are five must-dos if you get there.
Visit a Michelin-starred restaurant (or two)
Per capita, Napa has more Michelin star-rated restaurants than any other wine region in the world, which gives you plenty of opportunity to experience the finest in dining. The 2012 list boasts two three-star Michelin restaurants: Thomas Keller's French Laundry and Christopher Kostow's The Restaurant at Meadowood.
There are eight one-star restaurants: Etoile at Domaine Chandon, Ken Frank's La Toque, Solbar in the Solage Calistoga Resort, Ubuntu (which is strictly vegetarian), The Restaurant at Auberge du Soleil, Thomas Keller's Bouchon, Richard Reddington's Redd, and Lissa Doumani's and Hiro Sone's Terra.
Experience the CIA at Greystone
Whether you're a cook or a lover of fine foods, arriving at the Greystone campus of the renowned Culinary Institute of America feels akin to visiting a culinary shrine. Listed on the National Registry of Historic Places, the impressive stone building houses the St. Helena campus of the school (there are other U.S. campuses in New York and Texas). With 22-inch thick walls, it opened in 1889 as a cooperative winery serving area grape growers. Dine at the Wine Spectator Restaurant, sign up for a class or tour the building that is architecturally interesting and rich with history.
On the first floor, check out the collection of more than 1,000 corkscrews that belonged to Brother Timothy, who presided over the Christian Brothers Winery, which operated the building in the 1950s. We attended an informative and fun olive oil tasting and were seduced by the contemporary, glass-walled store that sells kitchen goods, more than 1,000 cook- book titles and unique specialty foods.
Attend a food festival
Our raison d'etre for this visit was the annual Napa Truffle Festival, which takes place each January. Black truffles are showcased, with didactic sessions for farmers on how to grow them, and cooking demos, sumptuous meals and tastings. This is but one of a series of seasonal food, art and wine festivals that take place in Napa throughout the year.
Tickets for the popular Flavor! Napa Valley, a celebration of food and wine held Nov. 14-18, go on sale in June. Festival attendees learn about food from CIA-trained experts, meet celebrated chefs and participate in tastings and hands-on activities with representatives of wineries, restaurants, farms, and sustainable food purveyors.
Stop by the Oxbow Public Market
At the Oxbow Public Market, tourists and locals gather to shop for fresh vegetables and produce, artisanal cheese, bakery goods, chocolate, fair-trade coffee and tea and more. In downtown Napa, the 40,000-square-foot marketplace does not disappoint. Food stands allow visitors to sample everything from gourmet tacos and ceviche from C Casa Taqueria to oysters from the Hog Island Oyster Company.
The Fatted Calf offers a whole hog butchery class, teaching participants how to use all of the useful parts of a pig to make roasts and homemade sausages.
Eat some more
In Napa, the true celebrities are the chefs. If you dine at Morimoto Napa, you may be able to spot Iron Chef Masaharu Morimoto. The Food Network's Tyler Florence over sees the kitchen at Rotisserie & Wine and also operates a charming kitchen shop, both in down town Napa. Chef Ken Frank of La Toque has been dubbed the godfather of "California cuisine." Emmy award-winning chef and cookbook author Michael Chiarello, a longtime resident of the Valley, shows off his Mediterranean-style cooking at Bottega in Yountville.
Many eateries, including the two more casual Thomas Keller establishments, Ad Hoc and the bistro Bouchon (both in Yountville), have their own gardens. The resident gardener at The Farm at Carneros Inn is available to answer questions from diners about the farm's fresh herbs and produce. For al fresco dining on an outdoor patio with breathtaking views of the valley below, don't miss lunch at the luxurious Auberge du Soleil in Rutherford.
Another hotel restaurant worth trying for its food-to-table cooking is Lucy at the Bardessono Hotel in Yountville. If you want something different, try La Condesa, a vibrant south-of-the-border inspired restaurant that recently opened in the former Keller Brothers Meats building on Main Street in St. Helena. Dining is casual with the bar offering more than 200 types of blue agave tequilas and awesome Margaritas.
For more information about the Napa Valley, visit Legendary Napa Valley.
[This article was published in the Chicago Tribune on April 29, 2012.]