Ostuni, Italy: White City on the Adriatic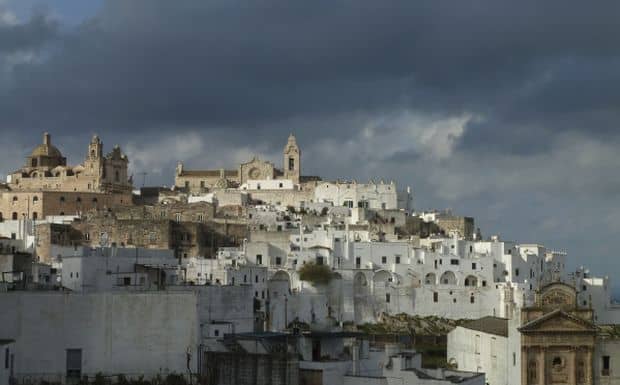 OSTUNI, Italy — With pencil and paper, Croci Sisinni sketches street scenes during his walks. Then the sculptor returns to his studio and chops off chunks from a large slab of limestone, their shape suggesting the landscape or streetscape to be carved.
"You might call them pieces of Ostuni," he told us.
His tools appear primitive: a dental pick, a surgeon's knife and files. Most carvings are black and white. Occasionally, he applies deep green paint to accent an olive tree or blue to highlight the clear sky.
With weight limitations on airline baggage, you have to be really smitten to carry stone across the Atlantic. My husband and I were.
Located at the heel of Italy's boot in Puglia, Ostuni is one of the loveliest medieval walled cities in southern Italy. Still, we hadn't intended to go there. Our visit was serendipitous. Brindisi was a scheduled port of call on the Adriatic during our cruise on the Seabourn Spirit. On an earlier visit, we had seen the cathedral and monuments of Brindisi, which was briefly the capital of Italy. This time, we arrived on All Saint's Day, when virtually everything was closed, so we stopped at the local tourism office for suggestions.
"Why don't you take a ride to Ostuni? It's one of my favorite cities," said Maria, the enthusiastic woman standing in front of a wall blanketed with posters of the region. "It's so beautiful, and the center is quite small and easy to walk around. I know a wonderful place for lunch that's very typical. There's nothing like it, and you really shouldn't miss it."
Maria was so likable that we took her at her word. We asked if she could help us find a taxi, and within minutes, we were speeding through the verdant countryside on a beautiful autumn day. We passed farms with seemingly endless rows of olive trees flourishing in this warm coastal climate. Less than a half-hour later, we spotted a city perched dramatically atop a hillside and lit by the sun. Ostuni is called the White City because of its whitewashed buildings and walls. Each year, the city is refreshed with a new coat of limestone paint.
Two Ostunis
There are two Ostunis, the Terra, the old town we were visiting, and the Marina, the modern portion closer to the Adriatic, which is just five miles away. The starting point of our walking tour was at the bottom of the hill. There, a baroque column nearly six stories tall and topped with a statue of Ostuni's patron saint, St. Oronzo, dominates the square. According to legend, the saint found refuge in a cave in Ostuni after he saved the population of the nearby coastal town of Salento from the plague that began in Naples.
We entered the ancient portion of Ostuni from a busy street coming off the square. While much of Italy seemed closed that day because of the holiday, this city was bustling with young Italian families and day-trippers like us, but from other parts of the region, all roaming the streets with baby strollers and cameras in hand. There were few non-Italians.
As we poked in and out of picturesque craft shops and art galleries on the main street, via Cattedrale, we found the Bottega d'Arte di Croci Sisinni. Without any formal training, Sisinni had developed his technique for carving scenes of Ostuni (most depicting its architecture and olive trees). His gallery's walls were filled with pieces of various sizes that seemed a veritable photo album of the town. We scanned them all, then decided on a small stone carved with a narrow street paved with stone and winding beneath a stone arch. We paid $60, later wishing we could have afforded and carried something larger.
From the shop, we continued our walk through the labyrinth of alleys, staircases and curved footpaths that led us to small squares on multiple levels. Fortunately, all streets led to the top. We stopped to photograph stone arches, ancient buildings that leaned on one another, olive orchards in the valley below and the shimmering waters of the Adriatic visible in the distance. We passed the Bishop's Palace and several palazzi that once housed the city's aristocracy. Every vantage point was worth a picture.
The cathedral
At the top, we stopped at the Gothic-style Cathedral of Ostuni, with its delicate rose window. It's one of the few buildings that isn't painted, but it's still beautiful because of the way light reflects from its stone façade. In the piazza in front of the cathedral was the elegant arcade Arch of Incalzi, linking the Palazzo del Seminario and the Palazzo Vescovile.
Our legs began to tire, and we realized the old town wasn't quite as small as Maria had suggested. She had told us to eat lunch at Osteria Del Tempo Perso on Via G. Tanzarella Vitale. We finally reached an alley that looked like restaurant row and spotted the door of the osteria. Peeking inside, we saw a cavelike room decorated with old kitchen implements. We later learned the structure actually was created from a cave of the 1500s.
Today, however, it was closed for a private party. The owner suggested that we head back toward the cathedral and try Osteria Piazzetta Cattedrale, just on the other side of the arch. Once part of a castle, the sophisticated, modern dining room seats about 20. White walls led to interior arches. The menu was in Italian only, but the kind waiter described local dishes we hadn't seen previously.
After a relaxing and delicious lunch with wine, local cheeses and meats, plus homemade pastas, it was difficult to leave Ostuni. But ships never wait for tardy passengers. En route to the port, I looked out the rear window at the receding vision of Ostuni and tried to chisel the image into my memory. But just in case that failed, I clutched my own piece of Ostuni tightly in my hands.
---
IF YOU GO
Getting there
Ostuni is an easy half-hour by car or taxi from the port of Brindisi. Our taxi driver charged us about $65 each way for a comfortable ride in an air-conditioned Mercedes. Brindisi is a major port that can also be reached by air, train or car and is a frequent stop on Mediterranean cruises.
Where to stay
The Ostuni Palace is a four-star, 37-room hotel in the center of the historic district. Depending on season and type of room, rates range from about $78 to $156 per person, breakfast included. The beach is seven minutes away by car.
Where to eat
Carver's gallery
La Bottega d'Arte di Croci Sisinni, Via Cattedrale, 8/7, Centro Storico, Ostuni, Italy.
Resources
READ MORE
---
[This article was previously published in the Dallas Morning News on March 31, 2011. It received the North American Travel Journalist Association (NATJA) Gold Award for Best Destination Feature in a publication with readership exceeding 250,000.]
---