Visit Chianti Rufina: Taste The Most Elegant Wines of Chianti
Chianti Rufina is likely to be a new term for many wine enthusiasts, like us, who aren't professionals. But this historic wine region in Tuscany has been producing wines dating back to the 15th century.
Its neighbor, Chianti Classico, is far better known in both Italy and the U.S. and is, in fact, one of the most popular wines in the world. Food-friendly Chianti Classico wine is often described as "made for food" because its tannins bring out rich flavors, especially when paired with many Italian-American food favorites such as pizza, spaghetti and meatballs, lasagna, and chicken parmesan.
The wines of the Chianti region
The Chianti wine region in Tuscany actually has seven different DOCG subzones covering some 30,000 acres, the smallest of which is Chianti Rufina.
Compared to the other Chianti subzones, Chianti Rufina is distinguished by its high elevation and location farthest away from the sea. Protected by the Apennines mountains surrounding it, its position affords the vineyards significant variation in temperature between day and night, which enhances the freshness and intensity of the wine and its fruity aromas. The grapes also have thicker skin, helping create the wine's deep red color and coarse tannins.
The subzone, located about one-half hour east of Florence, is also known for its diminutive size.
Despite there being only 25 producers of Chianti Rufina, it is considered one of the most highly regarded Chianti wines. Twenty-one of these producers are members of the Consorzio Chianti Rufina, organized to promote these premium wines and uphold their quality.
Writing in the latest edition of The Wine Bible, wine expert Karen MacNeil writes: The best wines from these zones [Chianti] are very fine and, in particular, wines from Chianti Rufina can be stunning."
A wine with a storied history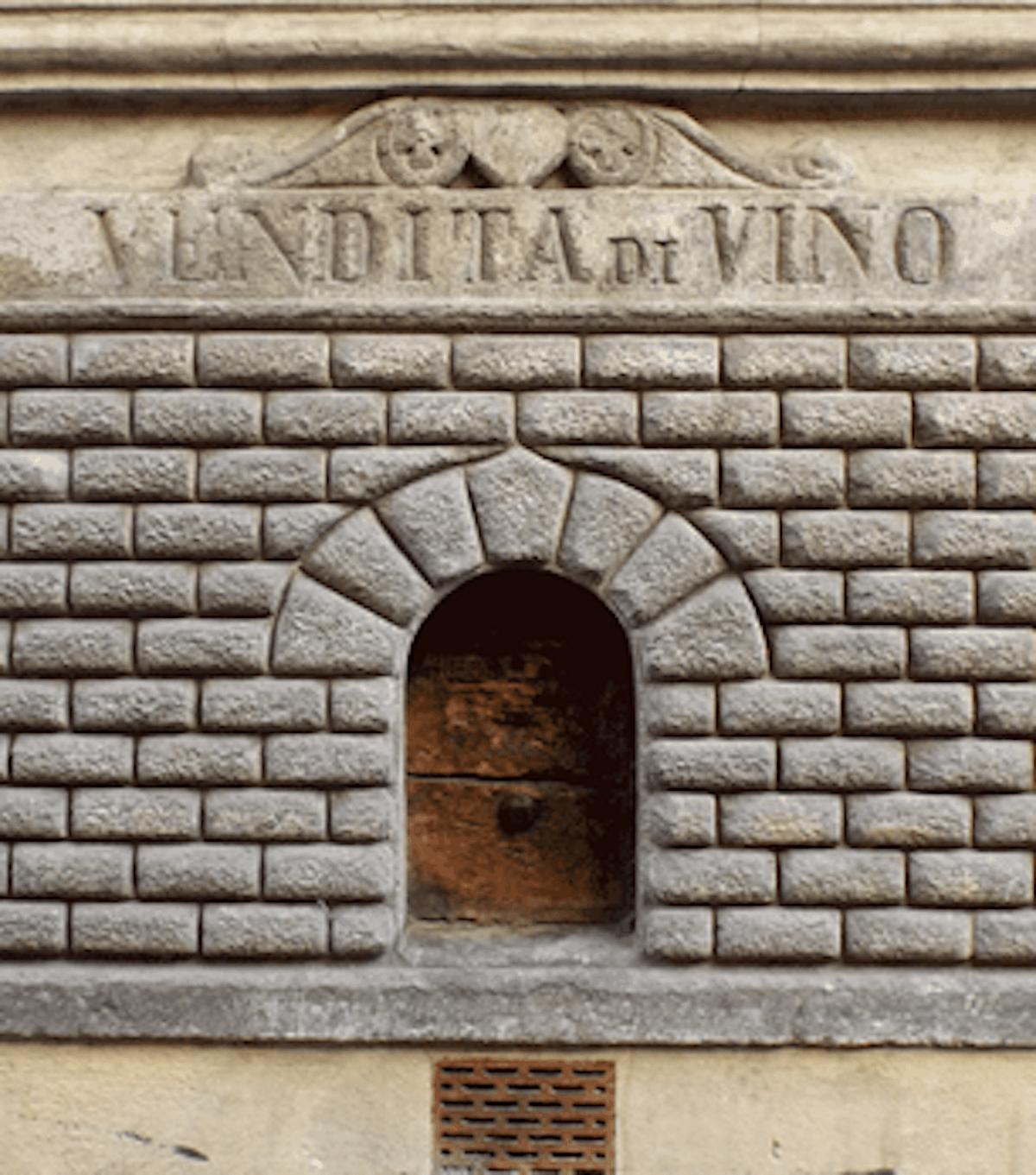 Because of its proximity to the historic center of Florence, Chianti Rufina has always been considered the wine "drunk by the Florentines."
Its traditions date back centuries to the Italian Plague of the 1600s when the wine was served at the little wine holes or wine windows (buchette del vino) carved into the walls of the stone buildings.
Person-to-person contact was feared during successive waves of the bubonic plague (AKA known as the Black Death). So, the wine windows helped patrons avoid purchasing wine in taverns. Instead, sellers poured wine directly into the buyer's flask or bottle placed in the little window and used a metal scoop (disinfected with vinegar between transactions) to collect payment.
Rich and poor townspeople could refill their bottles with wine, sourced from wealthy landowners of countryside vineyards, without paying taxes. A recently found manuscript dating back to 1634 documents their existence.
What's behind the Chianti Rufina label
Chianti Rufina is a historic wine-producing area in Chianti.
For a wine to be labeled as Chianti Rufina DOCG (Denominazione di Origine Controllata e Garantita), the highest level of Italian wine classification, the wines must contain at least 70 percent indigenous Sangiovese grapes. The wines must be aged a minimum of two years and can be aged as long as thirty.
In addition, Chianti Rufina must contain a minimum of 12.5% alcohol concentration.
Chianti Rufina's identity problem: Chianti Classico vs: Chianti Rufina
Because the production area of Chianti Classico and the number of bottles of wine produced in the subzone are so much larger than that of Chianti Rufina, Chianti Classico wines have far greater name recognition.
Also, Chianti Rufina wine has another identity problem: It is often confused with the wines of the Ruffino brand (spelled with two fs), a major producer of Tuscan wines now owned by Constellation Brands.
Our introduction to Chianti Rufina wines
We first learned about these wines through an online wine tasting sponsored by I Veroni wines.
The four-generation I Veroni Winery began in 1897, when the current owner Lorenzo Mariani's great-grandfather purchased an ancient estate.
Using sustainable viticulture practices and traditional methods for aging, the winery now produces a range of organic wines. Lorenzo wanted to continue and build upon the family's deep roots in Rufina.
After studying law in Florence, he returned to work alongside his father. When he began working at the winery in 1996, it produced only 1000 bottles a year. Since then, his technical and entrepreneurial expertise has enabled the winery to boost production to more than 150,000 bottles of organic wines.
The I Veroni winery stretches over 70 hectares (more than 170 acres) of land. The hilly terrain is ideal for the production of Sangiovese grapes because it sits between two rivers (the Arno and the Sieve) with a unique microclimate that offers cooler temperatures at night and higher elevation.
The soils are composed primarily of clay and limestone and the wines produced there offer a true expression of the terroir. In addition to grape growing, some 4000 olive trees are also cultivated on the property.
I Veroni has become the market leader in Florence, where I Veroni Chianti Rufina can be found in most bars, trattorias, and restaurants. Mariani attributes this success, in part, to his bond with a childhood friend and I Veroni sales director, Luca Innocenti, who traveled through Florence on a Vespa representing the winery to business owners.
In addition, the wines are exported to more than 30 other countries, including the U.S., which receives 45 percent of these exports.
Tasting Chianti Rufina in its terroir
Of course, the best place to taste wine is usually in its terroir since shipping can sometimes affect quality, especially during very hot and cool months.
Many wineries in this unique and often overlooked corner of Tuscany offer tastings, winery visits and overnight (or longer) stays in various types of accommodations so visitors can better understand and taste Chianti Rufina wines.
For example, at I Veroni, visitors can take a one-hour guided tour of the cellar (cantina) to learn the winery's history and the different facets of winemaking. At the end of the tour, they can participate in tastings of Chianti Rufina wine and EVO olive oil.
The winery also offers vineyard tours in off-road vehicles. This immersive experience includes opportunities to learn about the different wines and methods of cultivation.
In addition, visitors can arrange stays in one of eight refined, country-style apartments at Podere Pianottoli, a restored 17th-century farmhouse in the middle of the winery's I Domi Vineyard. A blend of old and new, the apartments offer modern amenities, including air-conditioning, satellite TV, a swimming pool, and an on-site farm-to-table restaurant that sources local foods.
Getting to Chianti Rufina
Rufina is a short drive from Florence by car or visitors can also take a 20-minute train ride to the historic village of Pontassieve, followed by a brief taxi ride to their destination. In addition, many tour companies pick up guests at their hotels in Florence and provide a guided tour of wineries in the subzone.
Whether it's a day trip or a lengthier stay, visitors to Chianti Rufina will be charmed by the region's scenic beauty coupled with Tuscan hospitality. A day trip or overnight stay will also offer a welcome respite from the hordes of tourists in Florence.
Visitors will be wowed by the local cuisine and sip a wine they may have never tasted or even heard about before.
---
IF YOU GO
Rufina
Getting from Florence to Rufina
---
*An earlier version of my story on Chianti Rufina was previously published on Forbes.com
---
Save to Pinterest!!