Wine Tasting in Italy: Sip and Savor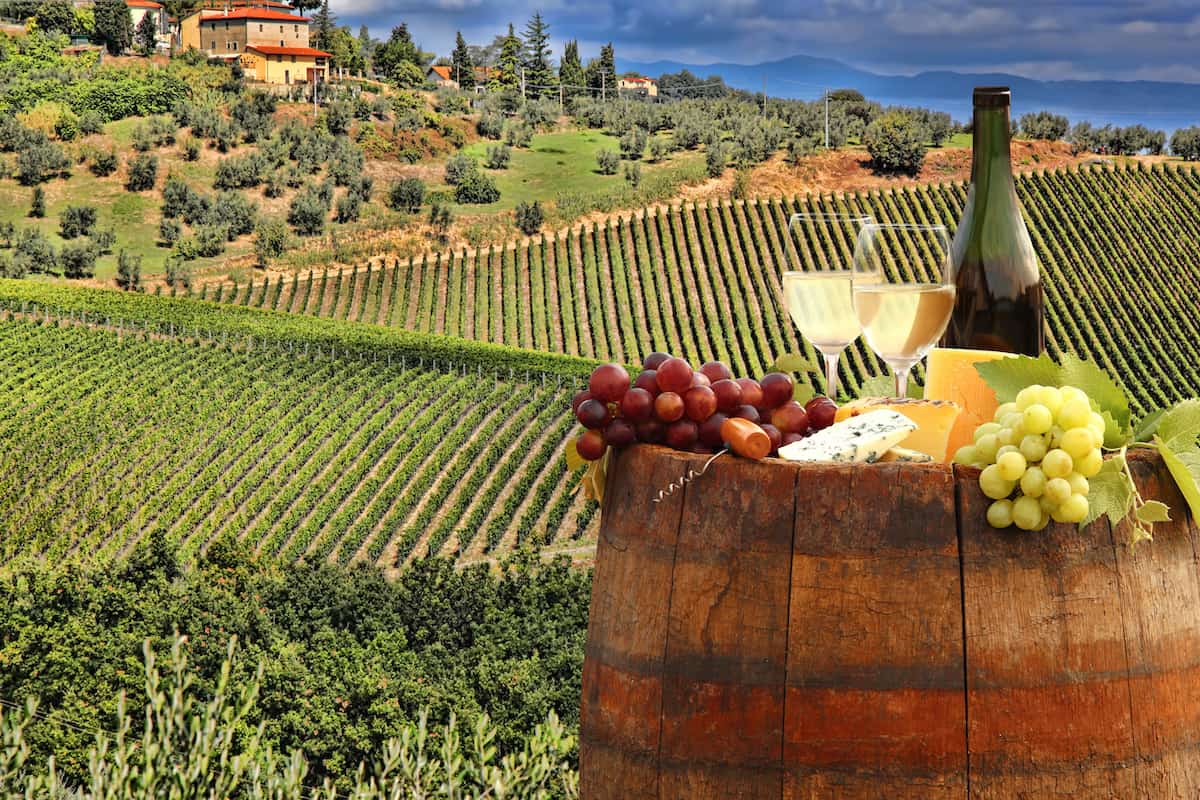 Wine tasting in Italy is one of the cultural allures of the Bel Paese that drives so many tourists to the country.
This isn't surprising because Italy is the largest wine-producing country in the world and is known for its diverse variety of wines, including reds, whites, and sparkling wines.
Tourists from the U.S. are already familiar with many Italian wines because they are perennial favorites on restaurant and bar wine lists and are popular for home consumption.
Wine is produced in every one of the country's 20 regions, dating back to Roman times, and, like food, is an integral element of Italian culture.
Each region offers different wines, landscapes, foods, and other historical and cultural attractions.
Why are wine tourism and wine tastings in Italy so popular?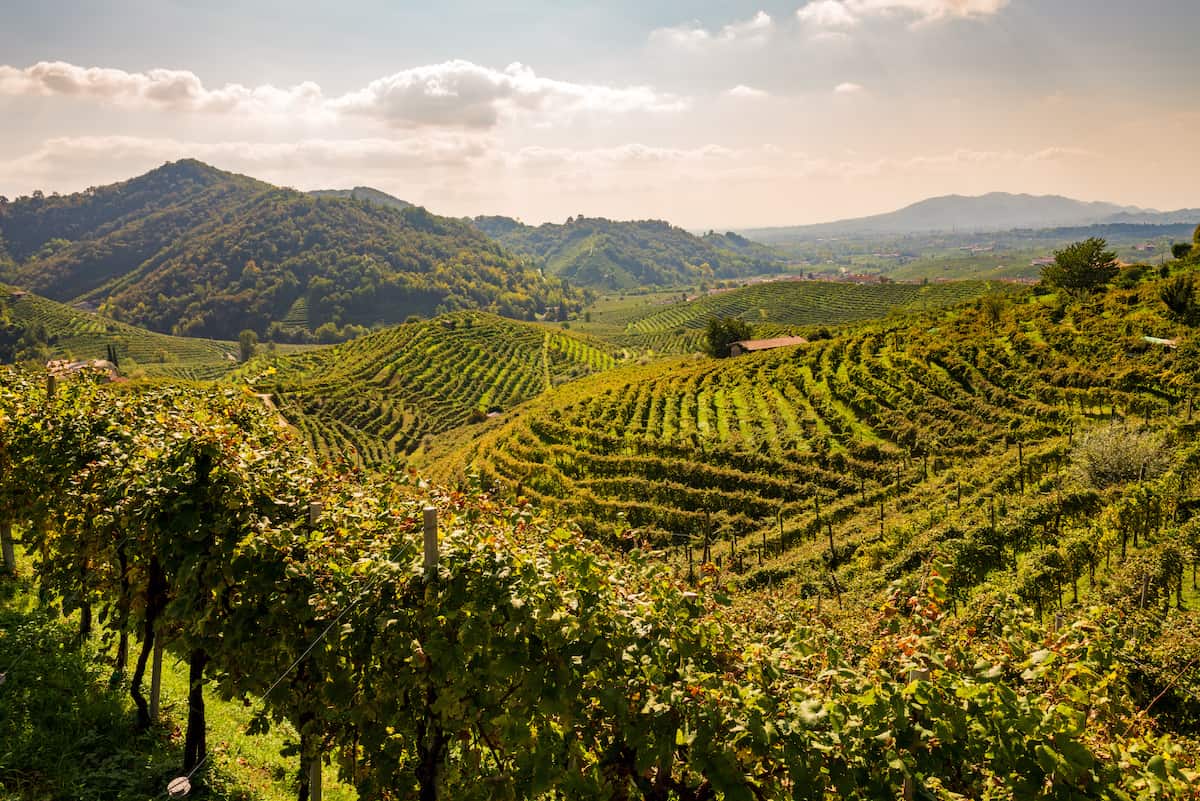 Many wine enthusiasts shape entire travel itineraries around wine tours, tastings, and vineyard stays in Italy. They are eager to learn about the nuances of Italian wines and immerse themselves in Italy's wine culture, including:
Being able to see the production process (including grape harvesting)
Tracing the history of a winery
Tasting different varieties of wines (guided by experts who help explain the aromas and flavors they are experiencing)
Meeting local winemakers to learn their personal stories and winemaking techniques
Walking the vineyards to learn about agriculture and the effect of soil types and climate
Experiencing pairings of wines with local food specialties and discovering the wines that bring out their best flavors of ingredients and dishes
Touring a wine-producing area and its picturesque towns and villages, especially during wine festivals and events
Purchasing wine at its source in winery

cantinas

(wine shops)
Meeting kindred spirits (pardon the pun) with similar interests
Wine tours vary in length and emphasis, lasting from a few hours to several days, depending on your interests, time availability, and pocketbook.
But in addition to intensive guided tours, wine lovers can follow self-guided wine routes and itineraries or simply arrange to visit one particular winery that interests them.
Most tourists, especially first-timers, mistakenly tend to only visit the great cities of Italy (e.g., Rome, Florence, Milan, Venice) because of their rich histories, architecture, art and other attractions. During the high seasons, they find themselves immersed with other tourists. But it can be equally enjoyable to get off the beaten path and visit some of the small towns and villages where amazing wines are produced.
Italy Wine Tours and Tastings: Where to go
Here are some destinations and best places for wine tasting in Italy to consider. The list is only a sampling based on some of the wine regions, wineries and wines we have been introduced to.
Wine tasting in Tuscany
Tuscany is perhaps the most visited wine region, known for its Chianti, Brunello di Montalcino and Montepulciano.
If your cruise ship stops in the port of Livorno and you want to avoid the long bus trip to Florence, you may want to visit the medieval town of Suvereto, one of Italy's most beautiful villages.
The Bulichella Winery, with a unique romantic backstory, arranges tastings, tours, and farm stays.
The Chianti Rufina wine region is just one half-hour from Florence by car but a world away. Here you can taste one of the most highly regarded Chianti wines, the prestigious Chianti Rufina.
The I Veroni Winery uses sustainable viticulture practices and traditional methods for aging to produce a range of delightful organic wines. In addition to wine and olive oil tastings, the winery offers vineyard tours in off-road vehicles and stays in an on-site farmhouse.
---
Wine tasting in Veneto
Asolo is only one hour from Venice and about 90 miles from Verona.
The medieval town, one of the most beautiful borghi of Italy, is well worth a visit for its natural beauty, art, history and architecture. It's called the "City of a Hundred Horizons" for its striking panoramas. On a clear day, you can even see Venice.
For those who like sparkling wines, Asolo is the epicenter of the lesser-known Asolo Prosecco DOCG area. Compared to other sparklers like Champagne and Franciacorta, Asolo Prosecco couples high quality along with affordability.
Wine tourists can choose from more than 90 large and small producers scattered across 18 municipalities in the province of Treviso.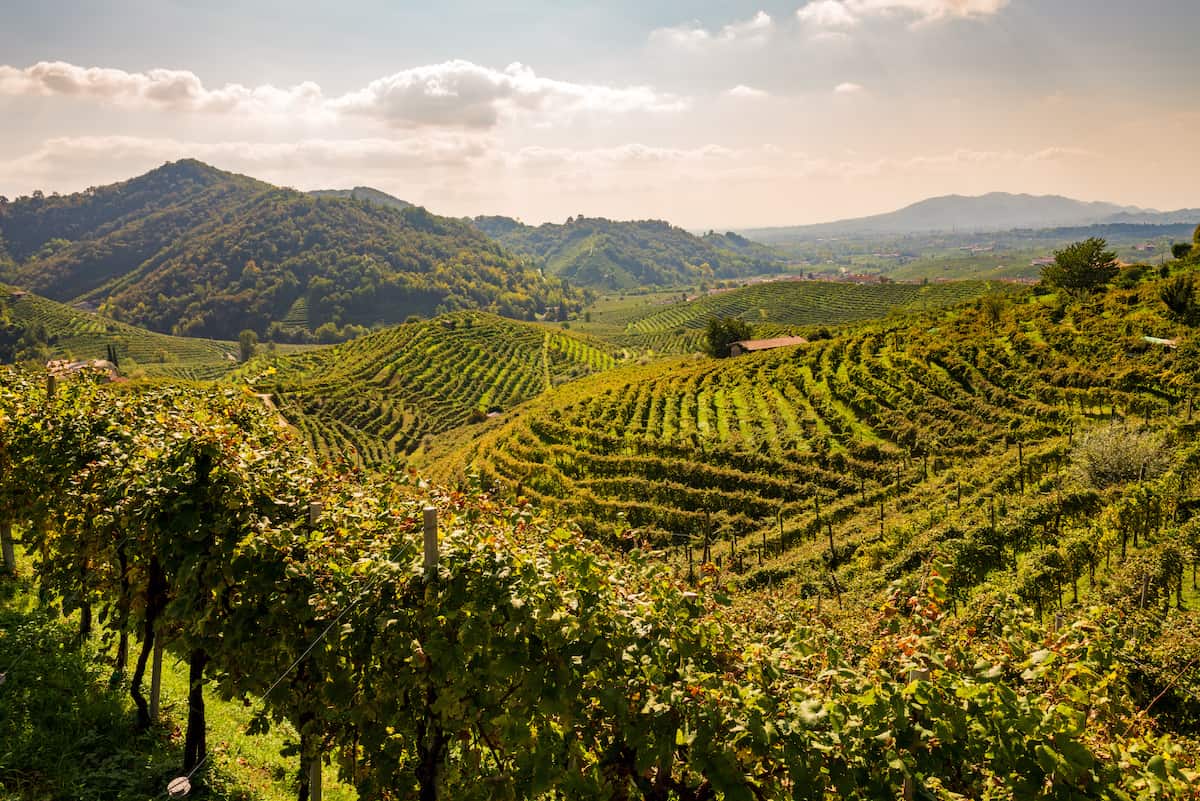 If you love Prosecco, you'll want to explore the 50-mile Prosecco Wine Road (La Strada del Prosecco) in the Veneto region of Italy. The road connects the two towns of Valdobbiadene and Conegliano.
To safeguard this unique cultural landscape, in 2019, the hills and valleys of the Conegliano and Valdobbiadene wine region were designated a UNESCO World Heritage Site.
Covered with vineyards, the area offers breathtaking landscape views that look like they were painted in a checkerboard-like mosaic in varying shades of green.
Custoza, another lesser known than most Italian white wine, is grown in the appellation of the same name in the hills southeast of Lake Garda.
The area is only a half-hour by car from Verona, one of Italy's most popular tourist destinations because of its ties to the romantic story of Romeo and Juliet. It's also one hour away from the southern end of Lake Garda, a popular summer playground for Europeans.
Monte del Fra is a three-generation, family-owned winery that is one of the largest producers in the area. Should you visit this four-season winery, be prepared to meet the family.
Cugina Silvia organizes picnics in the vineyards, blind and vertical wine tastings, and cooking classes showcasing local recipes for handmade Tortellini di Valeggio, Amarone Risotto, and Sfogliatine from Villafranca (a donut-shaped pastry). The winery also organizes events that pair wine with music, art, or yoga for small groups.
---
Wine tasting in the Aosta Valley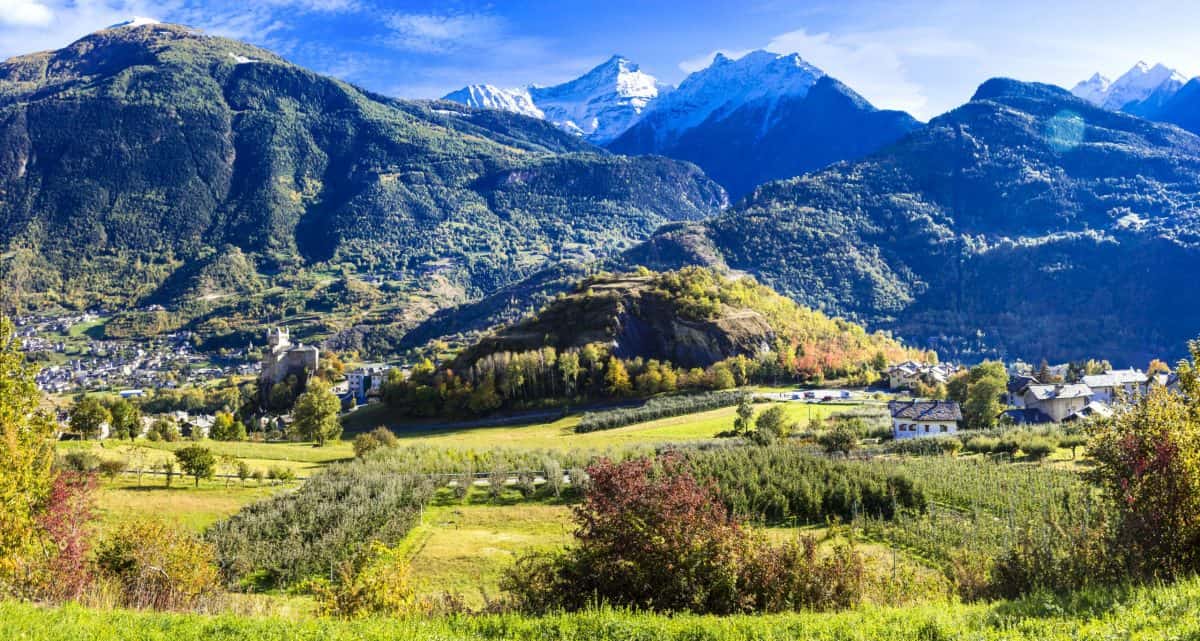 The Aosta Valley is the smallest of Italy's regions and also the smallest wine appellation in Italy.
But it is also one of its most interesting regions because it reflects the multicultural influences of being located in northwest Italy between France, Switzerland, and Piedmont.
Winemaking on these steep rocky slopes with Alpine weather conditions is often called "heroic."
---
Wine tasting in Umbria
Called the Green Heart of Italy because it is so fertile agriculturally, Umbria is less touristed than its neighbor, Tuscany, and its wine is less well-known.
However, the region has many wine estates and vineyards where visitors can learn about the region's wine heritage and traditions. Two of the most popular Umbrian wines are Orvieto (sharing the same name as the city) and Montefalco Sagrantino.
The Madrevite Winery is well worth a visit. While there, don't forget to pick up a package of their Fagiolina del Trasimeno (beans), a heritage food with Etruscan origins.
Umbria also has a truly unique, contemporary wine resort: Altarocca Wine Resort. Located about 15 minutes away from the center of Orvieto, the resort can be a great base for exploring the region's foods and wines.
---
Wine tasting in Abruzzo
The Abruzzo region is in central Italy, tucked between the Apennine Mountains and the Adriatic coast.
The 40-year-old, three-generation Masciarelli Winery is located in a tiny town in the province of Chieti, about 20 minutes from the sea. This woman-owned winery has been raising the bar and improving the quality of Montepulciano wine.
Visitors to the winery—which offers outdoor wine tastings, picnics, guided tours of the vineyards, and cooking classes—can stay at Castello di Semivicoli, the family's 11-room boutique wine resort. The castle is surrounded by vineyards and olive groves and has a pool.
---
Wine tasting in Trentino-Alto Adige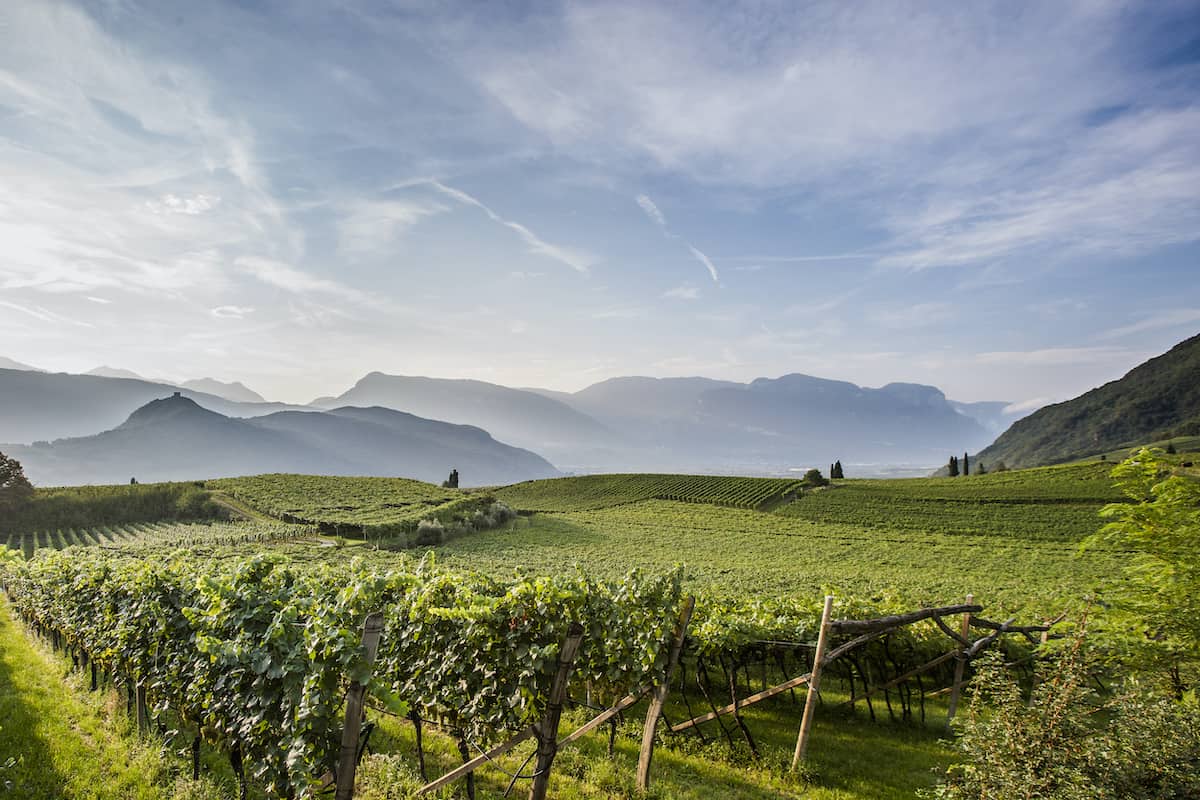 Located in northern Italy, Alto Adige borders Switzerland and Austria with 65% of the population considering German their native language.
The region is best known for its high-quality white wines, Pinot Grigio and Pinot Blanco and also offers Italy's most favorable growing conditions.
---
Wine tasting in Friuli Venezia Giulia
Friuli Venezia Giulia is the fifth smallest region located in the northeasternmost corner of Italy that shares a border with Slovenia, halfway between the Alps and the Adriatic Sea. Trieste is the region's capital.
The official Friuli Venezia Giulia tourism website offers a range of itineraries across the Strada del Vino e dei Sapori wine route, along with suggestions for "food hotspots" and places to stay.
We were introduced to the Attems winery, the only Frescobaldi estate outside of Tuscany, which produces wines from both native grapes (such as Ribolla Gialla) as well as Sauvignon Blanc, Chardonnay, Merlot and Pinot Grigio.
---
Wine tasting in Liguria
With 12,000 acres of vineyards, Liguria is Italy's second smallest wine-producing region (after the Aosta Valley). The region starts at the French border on the west and ends in Tuscany on the East, hugging a 220-mile coastline on the Adriatic. Its capital city is Genoa.
Because of its stone walls, mountains, and hills with steep inclines, cultivating vines in Liguria can be challenging and usually needs to be done by hand, which greatly limits production.
The most popular Ligurian wines include Vermentino, Bosco, Albarola, Dolcetto, Sangiovese, Ciliegiolo, Rossese, Pigato, and Sciacchetra.
---
Wine tasting in Puglia
Puglia is located in southern Italy at the heel of the boot, best known for its stunning coastline, baroque architecture, and beautiful villages.
The region is known for its Rosato wine, the Italian equivalent of rosé. Although rosé wines are produced in several regions, including Tuscany, Lombardy, Sicily and Sardinia, it is estimated that 44 percent of Italy's rosés are produced in Puglia.
The region has mapped wine tourism itineraries, which can be visited by car or bicycle, across its six provinces: Bari (BA), Barletta-Andria-Trani (BT), Brindisi (BR), Foggia (FG), Lecce (LE), and Taranto (TA).
---
Wine tasting in Sardinia
The region of Sardinia is an island located off the coast of Italy; its customs and traditions are a fusion of many cultures. Sardinia is considered one of the oldest sites of viniculture in the Mediterranean.
Antonella Gorda, a passionate fifth-generation winemaker, inherited her winery from her mother, along with her respect for the heritage of traditional grape varieties like Vermentino and Cannonau. Her organic-certified winery recognizes the importance of sustainable agricultural practices.
The winery offers vineyard tours and tastings by reservation.
---
When to visit wineries in Italy
Most experts suggest visiting after the winter; in terms of weather, the best time for winery visits in Italy is from March through October. In spring, the weather is ideal for wine tastings (and just about anything else). The landscapes and vineyards can be picture-perfect.
Although weather varies from region to region and from year to year, a visit during September and October usually allows tourists to see the grape harvest.
---
Reminders: Getting from place to place
If you plan to imbibe, it's probably best to arrange for a van and driver to take you from one winery to another. While they can be expensive, it is usually the safest and most convenient option.
Another alternative is to see if your accommodations can provide you with transportation to nearby wineries.
Another reminder, too. The legal drinking age in Italy is 18, irrespective of the region you visit.
---
Save to Pinterest!!