Italian American Foods: An Evolving Fusion Cuisine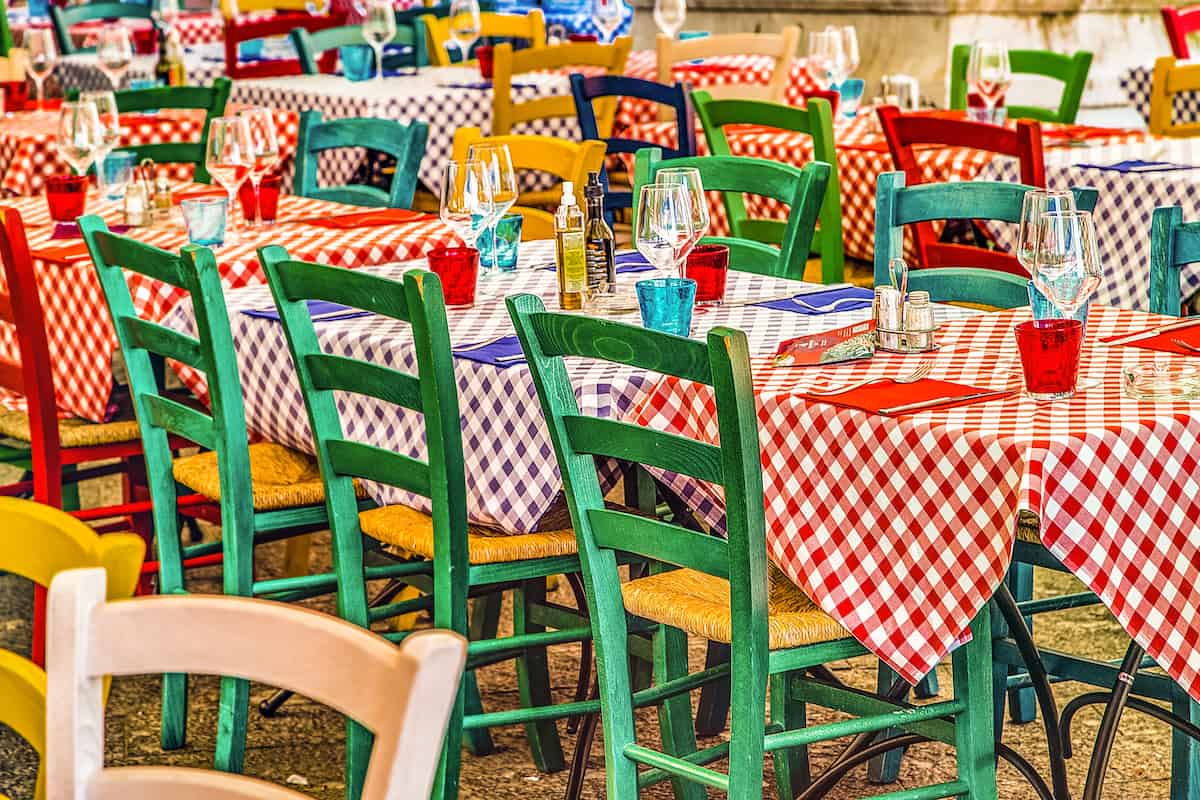 Travelers to Italy often conclude that many Italian American foods aren't very authentic: They might describe these dishes as Italian-wannabees.
Although recipes and traditions in Italy vary across regions (and sometimes cities and towns), both chefs and home cooks, up and down the boot, take pride in using fresh, seasonal, and locally sourced ingredients—whenever available.
The production of certain foods (e.g. PDO balsamic vinegar and Parmigiano Reggiano cheese) is highly regulated, requiring adherence to method and place. Food recipes, too, often follow regional and familial traditions honed over centuries and generations.
Although Italian restaurants outside of Italy often serve dishes that may look and sound Italian, the dishes aren't prepared the same way, served the same way, or have the same ingredients as their forebearers. Many have far more red sauce than dishes made in Italy.
What is Italian American Food?

Italian American food is a fusion cuisine, coupling some of the old world foods and customs of Italy with those of Italian immigrants in the U.S.
Red Sauce: The story of how Italian food became American
In his recently published book, Red Sauce: How Italian Food Became American, author Ian MacAllen traces the roots of Italian American foods and cooking.
He explains the parallels between this "red sauce cuisine" (Italian American) and the immigration patterns of Italians that made their way across the Atlantic.
In telling the story of the dynamic evolution of these recipes and dishes over decades, the author points out that several factors coalesced to create Italian American cuisine:
Ingredients indigenous to Italy weren't available in the U.S. or were too costly to import.
For the sake of economy and efficiency, American cooks (both in restaurants and at home) simplified many Italian recipes.
Commercialization and mass-marketing emphasized quantity rather than quality, as well as preparations with longer shelf lives.
Inside the book, readers also learn details about the long history and commercialization of pasta, the introduction of tomatoes to Italian cuisine, the birth of pizza and its roots in Naples, the history of Italian cookbooks, and more.
The author skillfully examines Italian food and its Americanization in terms of Italian culture and lifestyle. There are colorful stories of the man behind Chef Boyardee, Mama Leone, and Papa John's and the foods depicted in the Sopranos and The Godfather. He tells how cultural icons like Enrico Caruso, Rudolph Valentino, Douglas Fairbanks, and Mary Pickford influenced Italian American food choices.
He paints a portrait of the elements of the "red sauce" Italian American restaurants that predominated Little Italies in cities across the U.S. —with red and white checkered tablecloths, bottles of Chianti wine wrapped in straw, and large murals, often of Venice painted over the walls. All of this help create a decor designed to resemble an Italian villa.
But just as the diaspora of Italians led to acculturation and immigrants lost some part of their ethnicity, so did their foods. In America, they substituted ingredients, simplified their cooking, and altered culinary traditions. They also created new dishes unlike those at home.
More an academic text than a popular one, Red Sauce offers a deep dive into both authentic Italian and Italian-American foods, one that has been meticulously researched and footnoted. MacAllen has curated details that are likely to interest food historians, cooks, food lovers, and Italophiles.
The playful red, white and black cover only hints at the heft of the book and the humor inside. (My only disappointment with the book was that the text doesn't include photographs of all the foods and places described.)
Italian American Foods: Example of Italian Dishes That Aren't Italian
Here are some brief examples of Italian American foods and dishes mentioned in the book:
Lobster Fra Diavolo
This lobster dish with this spicy tomato sauce served over spaghetti or linguine is said to have been introduced at Enrico & Paglieri, an Italian American restaurant in New York City. In its first iteration, the sauce was used for pasta as a first course, and the lobster was the entree. "The preparation of Spaghetti Fra Diavolo as a sauced pasta likely evolved with imitators copying the popular offering, combining tomato sauce and lobster before tossing the pasta," writes MacAllen.
Spaghetti and Meatballs
In Italy, spaghetti isn't eaten with meatballs. Most Italians eat their pasta as a primo and enjoy their meatballs (polpette) as a secondo. (see my article on 10 Italian Food Rules to Follow). The dish was a creation of immigrants in America. The Italian version of the meatball is also typically smaller than that of its American cousin.
Turkey or Chicken Tetrazzini
Especially after Thanksgiving, Turkey Tetrazzini has been a popular Italian American casserole. It's made with noodles, leftover turkey, mushrooms, vegetables, and a creamy cheese sauce, topped with bread crumbs. MacAllen explains that the dish was named after Italian soprano Luisa Tetrazzini.
Eggplant Rollatini
Although Italy has created an untold number of pasta shapes that are enjoyed worldwide today, the rollatini was an American invention with an Italian-sounding name. Eggplant Rollatini is made with thin slices of eggplant that are dusted with flour, and then rolled up and stuffed with ricotta, baked in a tomato sauce, and topped with mozzarella cheese. "The word [rollatini], is unknown in Italy," writes MacAllen.
Veal and Chicken Parmigiana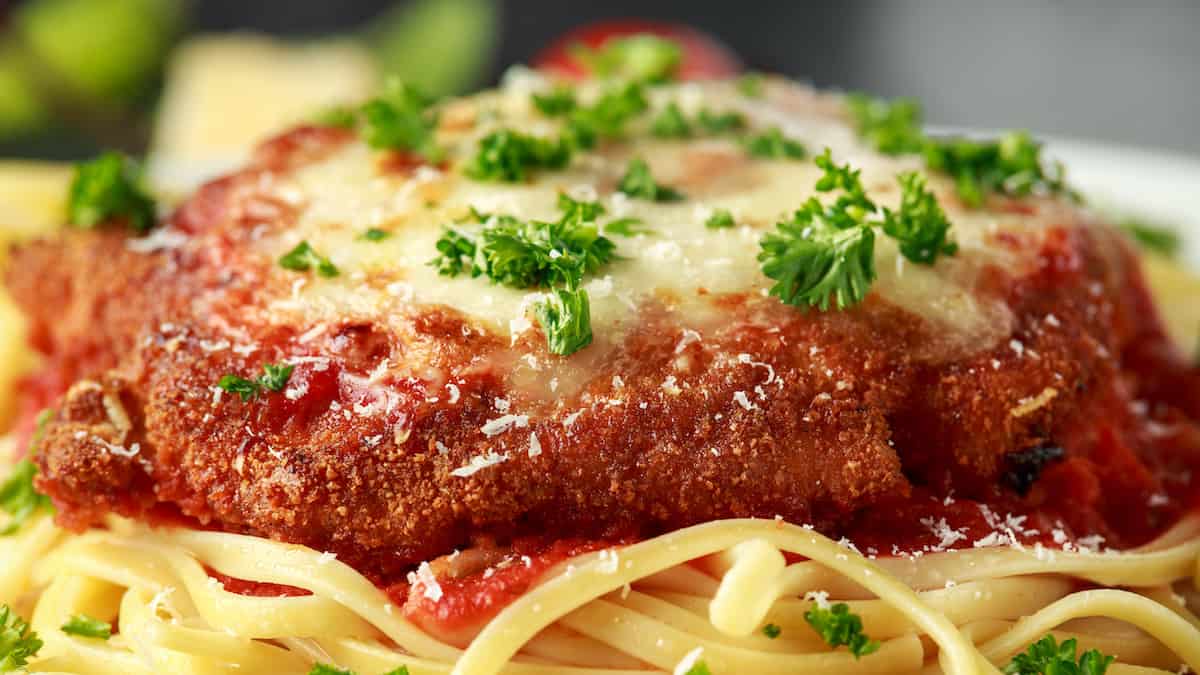 In preparing Veal Parmigiana, thin slices of veal are breaded and fried, and then baked in the oven with tomato sauce and a topping of Parmesan and mozzarella cheese. MacAllen says the genesis of this southern Italian dish was a popular recipe in or around Naples, Melanzane alla Parmigiana (eggplant parmigiana). When Italian immigrants came to the states, they could substitute more expensive meats and poultry for eggplant. Shrimp Parmigiana was the solution to Lent and dinner on Friday nights.
What's in a name? It goes without saying that PDO Parmigiano Reggiano cheese and the faux-Parmesan cheese that dominates supermarket shelves are not the same. They don't taste the same and aren't made the same way. Read more about Parmigiano Reggiano cheese.
Chicken or Veal Francese
Although the northern city of Milan is credited for its own veal dish, Cotoletta alla Milanese, MacAllen suggests that the roots of Veal Francese are more German than Italian. The Italian American dish is made of battered, fried veal cutlets topped with a sauce of butter, lemon, garlic, and parsley. Probably a fusion of German (schnitzel) and Italian cuisine, it's said to be a product of America's melting pot. The same recipe is used to make Chicken Francese.
Manicotti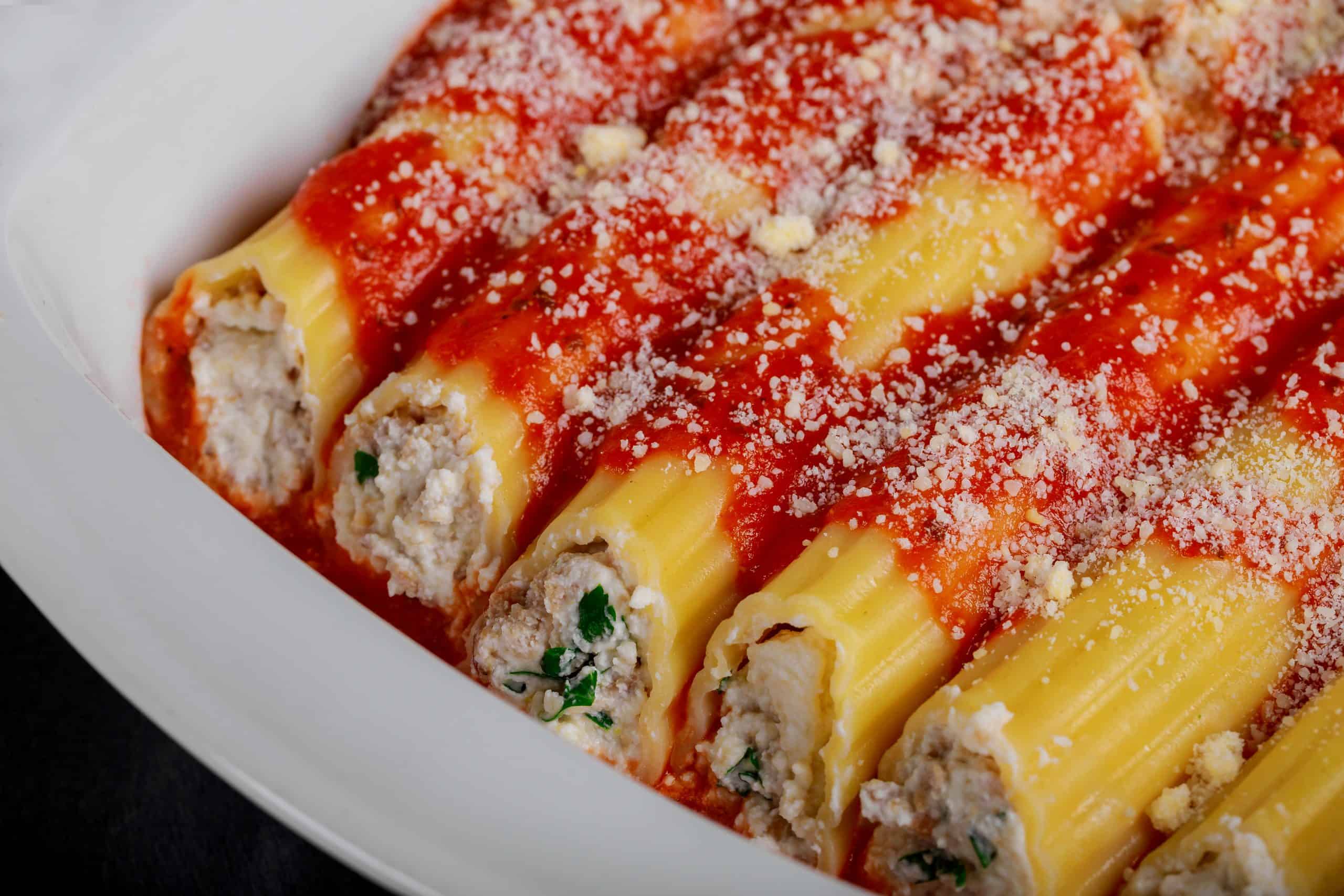 Although Italians make cannelloni (of fresh lasagna noodles cut into squares, then stuffed with filling and covered with tomato sauce), the term manicotti is "strictly American," writes MacAllen. He notes that Baked Ziti is another Italian American dish, although Ziti Al Forno was a popular wedding dish in Naples.
Pasta Primavera
When rich, heavy red sauce meals began to fall out of favor, Le Cirque restaurant in New York City is credited with creating Pasta Primavera. The dish combines pasta with fresh vegetables in a creamy butter sauce.
Italian American cuisine is part of American culture
MacAllen has shown how dynamic "red sauce" cuisine can be.
Not only have many Italian dishes and preparations become an intrinsic part of American culture, but they have also evolved to suit different times and tastes, achieving an authenticity of their own.
---
Read more
Best Italian Gourmet Foods For Travelers Yearning To Be In Italy
---
Save to Pinterest!!