Bocuse on the Hudson: Lunch at the CIA
The Bocuse Restaurant in Hyde Park, New York serves up classic French cooking with a twist.
At The Bocuse Restaurant on the campus of the Culinary Institute of America (CIA) in Hyde Park, New York, students work side-by-side with instructors to master culinary skills and techniques entailed in preparing meals and serving them. As part of this training, they have the in-vivo experience (or you could say, challenge) of operating a restaurant that serves patrons who might be described as food enthusiasts with high expectations.
This unique restaurant/training ground is one of four on the New York campus, which also houses the Ristorante Caterina de/Medici, serving regional Italian cuisine; the American Bounty, serving traditional American fare that emphasizes seasonal and regional products of the Hudson Valley; and the more informal Apple Pie Bakery Café. The CIA operates three more restaurants at its campus in St. Helena, California and another at its campus in San Antonio, Texas. Collectively, these restaurants draw upon the expertise of some 170 chef-instructors from 17 countries.
The Bocuse Restaurant, about an hour from our home, seemed like the perfect meeting place to get together for lunch with foodie friends we had recently met on a Viking Cruise to Bordeaux, France. Admittedly, we look for an excuse (of which there are many) to visit the CIA campus at least once a year because we love its ambiance as well as its scenic 170-acre park-like setting beside the Hudson River. Invariably, we wind down our visit with a spree in the school's "bookstore" that is stuffed with a wide array of interesting cookbooks, specialty foods, and kitchen tools.
However, this was our first time at this particular CIA restaurant. The menu at Bocuse is classic French cuisine but "seen through the lens of ultra-modern cooking techniques." Its presentation is picture-worthy.
The setting is relaxed, minimalist and contemporary with natural light streaming in through the windows at lunchtime. A large dining space has been divided into three more intimate rooms.
You can take a 360-degree tour of the restaurant on Google Street View indoors:
Our waiter briefly explained the French wine list (I opted for a Cotes du Rhone Rose from Bordeaux) and inventive cocktail menu. She then left us with an iPad app that allows guests to explore more in-depth information about wines, spirits and their history. Then we were offered a choice of freshly baked rolls or sliced sourdough bread (which propelled us to visit the campus bakery afterwards to buy some to take home.)
For first courses, Jerry and I both ordered the Gnocchi Parisian with Seared Foie Gras. It was very tasty although the incredibly delicious but diminutive foie gras was the size of a Dove candy square.
For an entrée, I had the Noisette of Veal (veal medallions) served with Foie Gras Butter, Braised Cipollini Onions, Baby Kale Greens and Apricot-Mustard Sauce.
Jerry ordered the Strip Loin of Beef with Oxtail Bordelaise, Marrow-Crusted Endive, Smashed Fingerling Potatoes, Chanterelles, and Gruyére Foam.
Dessert was the pièce de résistance: white coffee ice cream, hand-churned at the table (the motor had been removed from the Mixmaster) with nitrous oxygen. It was served in a sugar waffle cone with a plate of four mini French pastries—Éclair, Pot de crème Frappucino, Caramel Latte Macaron and Coffee Almond Brioche Cake.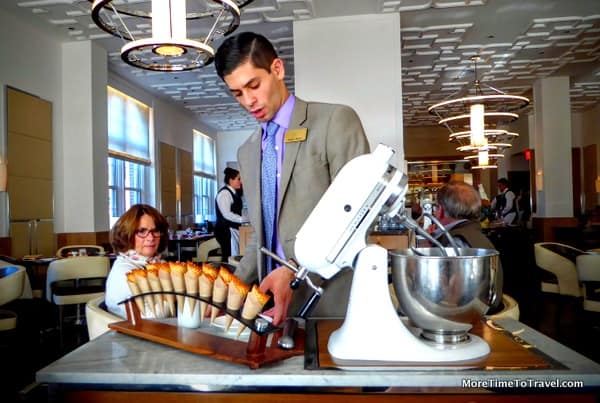 The meal was very good; the student service warm and friendly. Any slight missteps were made up for by the enthusiasm of young people excited to be embarking on culinary careers. Our meal for two with a glass of wine and a cocktail (and a 17% service charge that goes towards scholarships and students activities) cost about $75 per person, an expensive but "feel-good" lunch because restaurant profits contribute to the education of young chefs and hospitality personnel.
About Paul Bocuse
Paul Bocuse is considered one of the most famous French chefs, known for his contributions to both nouvelle cuisine and for inspiring many other chefs. (We had the best meal of our lives at his restaurant outside Lyon, at Auberge du Pont de Collonges).
The legendary chef is also revered for his work as a teacher and educator. The Institute Paul Bocuse in Ecully, France is one of the leading schools for training in hospitality management and culinary arts in Europe. In 2013, the Institute formed a unique collaboration with the Hotel Le Royale Lyon to establish 20 Place Bellcour, a dining room where culinary students work in an open kitchen displaying their knowledge of French gastronomy and hospitality.
When The Bocuse Restaurant first opened at the CIA in October 2013, chefs Daniel Boulud, Thomas Keller, Jean-Georges Vongerichten, Charlie Palmer, and David Burke and others were in attendance to welcome and honor the restaurant's namesake, who visited from France.
---
IF YOU GO
The Bocuse Restaurant
1946 Campus Drive (Route 9), Hyde Park, NY. (located about 1½ hours from New York City, not far from Poughkeepsie)
Lunch is served from 11:30AM–1PM and Dinner from 6–8:30 p.m, Tuesday–Saturday (when classes are in session).
Reservations can be made by phone at 1-845-471-6608 or online at OpenTable.