Holiday brunch at Gotham Bar and Grill: Celebrating a first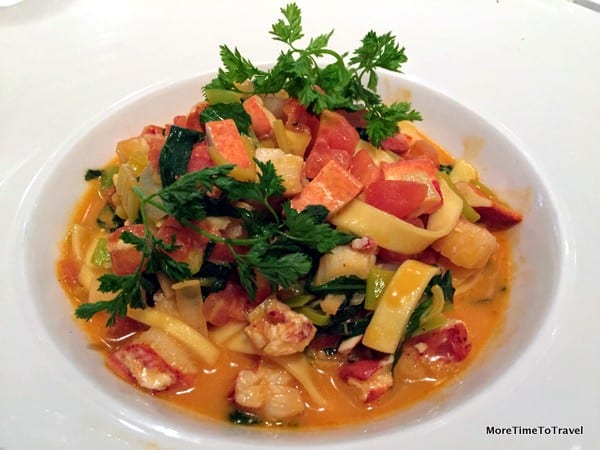 Our fixed price Holiday Brunch at Gotham Bar and Grill on Sunday was memorable for a variety of reasons. It turns out that this was an historic first "holiday brunch" offered by Gotham, one of the most highly acclaimed New American restaurants in the nation—a holiday brunch before Christmas was an experiment of sorts.
Also, this first brunch coincided with our son's milestone 30th birthday, which allowed us to return to the same place where we've enjoyed family celebrations over and over since his college years at New York University.
It's safe to say that Gotham is probably as much a Greenwich Village institution as is NYU on Washington Square, located only a few blocks away.
A penchant for brunch
Whether we're traveling far or close to home, we're avid Sunday brunch lovers, preferring a large mid-day meal to one late in the evening (perhaps a sign of age?)
However, weekend brunch openings at Gotham are rare. (Clearly, culinary and wait staff at this establishment work so hard all week, they deserve a break on Sunday morning.) We were fortunate to find out about another special opening earlier in the year when we enjoyed the restaurant's first Father's Day brunch.
A birthday treat
When December rolled around, we had already made a Saturday night birthday dinner reservation but when an email popped in my inbox announcing a special holiday brunch at Gotham Bar and Grill the same weekend, we couldn't' resist.
The $75 per person fixed price meal included a celebratory cocktail and live jazz. For us, it was a no-brainer to take advantage of the offering. (Foodie tip: If you have a favorite restaurant, join its mailing lists. If we hadn't, we probably wouldn't have learned about this one-time offering.)
The always-appealing menu
Chef Alfred Portale's menu is consistently inventive as well as extensive—and this one was no different.
At Gotham, fixed price doesn't mean limited choices.
There were lighter breakfast offerings (like a Meadow Creek Farm omelet) as well as heartier lunch dishes that might also carry you into dinner. In fact, it was hard choosing among 8 very varied and interesting first courses and 9 second ones.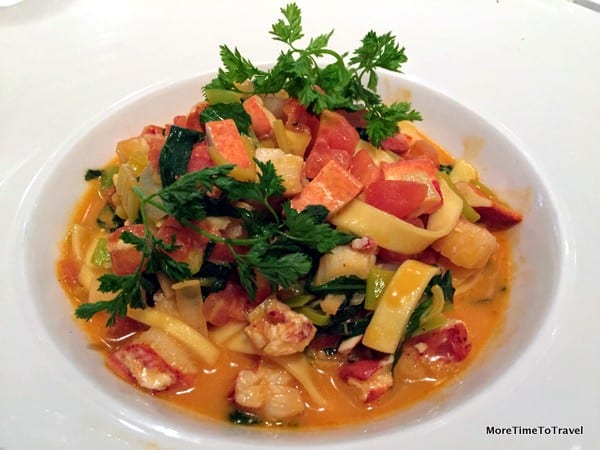 The menu is always seasonal but Gotham devotees are always happy to find some of their favorites are omni-present on the menu. The New York strip and Gotham burgers are legendary. Pastry chef Ron Paprocki's Gotham chocolate lava cake, served with ice cream, is unforgettable.
The creative complimentary cocktails were pure holiday fare:
Under the Mistletoe, made with Boodles British dry gin, cranberry sage, lemon juice and Majolini Franciacorta Rose
Holiday Revelry, made with Stranahan's Colorado whisky, St. Elizabeth allspice dram and Angostura bitters
La Montina "Saten brut" Franciacorta
Perfect for celebrations
We return to Gotham because we are never disappointed by tasty New American cuisine that's beautifully presented, the relaxed but professional service, and the elegant setting that evokes all the charms of New York. It was a great way to celebrate the holidays and Andrew's special day. We toasted to another holiday brunch at Gotham Bar and Grill next year.
Visiting the Christmas market on Union Square (just two blocks away) afterwards was the icing on the birthday cake!
---
Some previous New York Sunday brunch reviews on MoreTimeToTravel.com:
And our review of our Father's Day Brunch at Gotham Bar & Grill:
---
IF YOU GO
The restaurant serves dinner seven nights a week. The weekday fixed price, three-course Greenmarket Lunch, served Monday through Fridays, is a great deal at $38. The restaurant has maintained its Michelin star since 2006.