Brunch at Momofuku Ma Peche
The unusual brunch at Momofuku Ma Peche is likely to defy any expectations.
Located in midtown Manhattan, Momofuku Ma Peche is part of the trendy food kingdom of celebrity chef David Chang. If I counted correctly, the award-winning Korean-American chef and restaurateur has at least four other restaurants in Manhattan, one in Sydney, and four in Toronto.
When you live close to New York City, it's hard to resist the temptation to taste the cooking of the chefs you read about and see on TV when you're in Manhattan so we booked a reservation on Open Table.
Getting there
The setting of Momfuku Ma Peche itself prepares you for what will be an unusual meal. To enter the restaurant (located in the basement of the Chambers Hotel), you pass from the street entrance through an outpost of the popular Momofuku Milk Bar (an unconventional bakery with six NYC locations). Then you descend a flight of steep stairs before you arrive at an unusually shaped subterranean space without windows.
The minimalist room is well lit with a sliver of natural light that comes through a narrow skylight on one side of the room. It beams down on walls that are draped from ceiling to floor with light tan fabric. The fact that the ceilings are at least twenty feet high adds to the feeling you are dining in a cavern.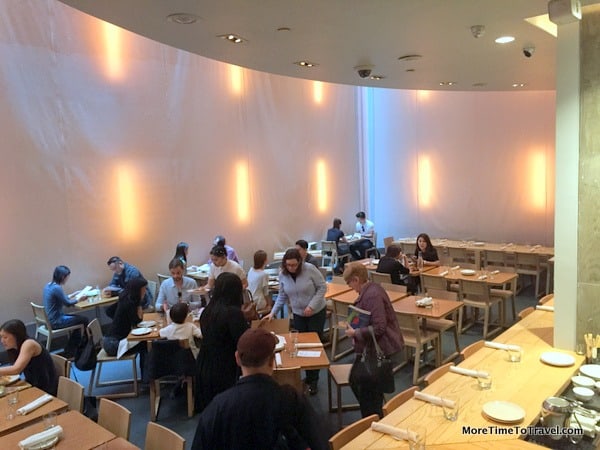 Once you adjust to the environment, the room looks simple, clean and modern: A lunch counter on one side, a communal table on another, and light recycled wood (almost Scandinavian-style) tables in the center of the room. When we arrived for brunch on a Saturday morning just before noon, the room was relatively empty but filled up with customers before we finished our meal. The ambiance was lively with music that probably was a tad too loud for relaxed mid-day dining.
The meal
Ordering was a bit unconventional, too. The brunch menu is printed on two sides of a card. One side has a menu with made-to-order chef's specials you order from your waiter; the other side is a form for ordering "passed selections," small plates that are served tableside from dim-sum-style carts. Our server advised us that we could "mix and match" but to order our chef's specials first.
There were three of us so we ordered three dishes to share: the breakfast noodle dish from the menu (a mix of chorizo, soft egg and queso fresco); a savory, grilled boneless short rib dish (served with salsa verde, boiled egg, and soy butter; and fried trout buns (with a spicy mayonnaise, shredded iceberg lettuce and celery). Our waiter also delivered a very delicious (and complimentary) citrus salad from the kitchen, served with kale and ricotta cheese.
As we were working on our main course, the cart of "passed selections" arrived. We probably would have preferred ordering (and eating) the smaller plates first but we couldn't resist ordering the chef's signature dish, pork belly in buns with hoisin sauce, cucumber and scallion—which made quite a full table of food. The plump sandwich-like buns were a perfect vehicle for this creative takeoff on traditional Peking Duck. We passed on ordering such dishes as sausage gravy biscuits with soft-boiled egg and scallion, and buttery grits.
A spirits cart also came around with cocktails including a zesty Bloody Mary (laced with hoison and siracha), a Michelada, and choice of cherry, apple or orange mimosas.
After brunch, another cart came by with pastries but with the option of also ordering some of the Momofuku Milk Bar specialties. We shared the decadent crack pie® (a thinly sliced pie made with heavy cream, brown sugar, sugar, and corn flour) and rich chocolate cake truffles. Both desserts are delicious if you are a sweets-lover.
Bottom Line
Everything at Momofuku Ma Peche was tasty, inventive, interesting—a cuisine of its own that defies categorization. "Momofuku" is Japanese, "Ma Peche" is French but the ingredients, preparations and tastes of our dishes had elements that were Spanish, American Southern and Chinese. Restaurant guides call this cuisine "New American."
Ordering was a little confusing, because the combination of courses was so non-traditional and also because our waiter didn't seem to have full control over the timing of the women bringing the carts to our table.
The service and setting fell a bit short of our high expectations but we might be lured back by the tastes of those heavenly pork buns and crack pie. We wound up paying about $50 per person, including drinks and tips, for a meal that was memorable because it was so different and out of the ordinary.
---
IF YOU GO
15 West 56th St (between Fifth and Sixth Avenues), New York, NY 10019
Brunch is served on Saturdays and Sundays; reservations can be made on Open Table.