Half Moon Cay: Visiting the Best Cruise Private Island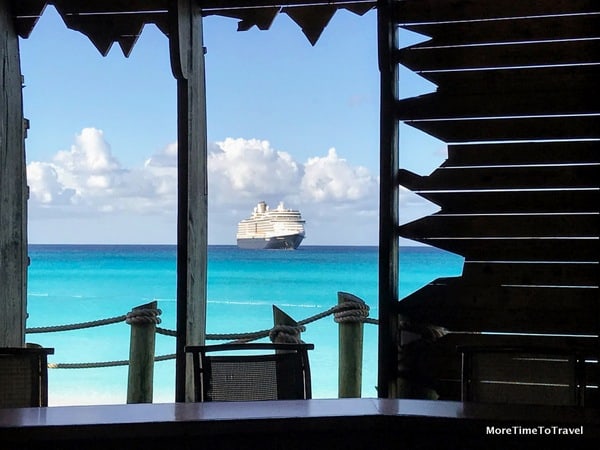 One of the highlights of any Caribbean cruise is visiting a cruise line's private island. These islands are especially idyllic and welcoming because they're largely devoid of the crowds typically encountered at congested ports that greet many different cruise ships, often at once.
Porthole Magazine's 2017 Readers' Choice Awards named Holland America Line's private island the best cruise private island. That alone was sufficient to pique our interest but we later learned that Half Moon Cay received the coveted distinction for 17 consecutive years.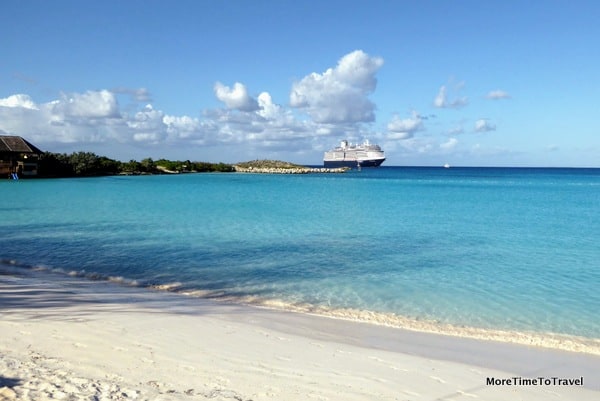 So it shouldn't be surprising that we were excited to sail on Holland America's (HAL) Nieuw Amsterdam and visit Half Moon Cay.
Getting there
Getting from our ship to Half Moon Cay was a breeze. Once it began to anchor we could already spot the island from our stateroom. The shallow warm waters surrounding the shores of the island were a teeth-rattling aquamarine.
Large tenders, which feel like miniature ferries, make continuous runs (less than 15 minutes each way) to and from Half Moon Cay for the entire time a ship is anchored. This means passengers can decide when to go and when to return to the private island—or simply grant themselves another sea day.
The backstory of Half Moon Cay
Some 20 years ago (in 1997), Holland America leased Little San Salvador Island from Bahamian owners at a cost of about $6 million. The cruise line negotiated a 99-year lease and initially invested $16 million to develop about 50 acres of the 2,400-acre island. Over the years that investment has increased significantly to make sure that the island is kept pristine, especially after hurricane season.
Half Moon Cay is located in the Bahamas, 100 miles from Nassau and about 18 miles from Eleuthera. Its new name is derived from its stunning 2.5-mile long, crescent-shaped beach.
Now owned by Carnival Corporation (Holland America's parent company), some Carnival cruise ships also visit Half Moon Cay, usually when a Holland America ship isn't using the island.
On days when ships stop there, approximately 86 staff (mostly locals who commute daily from nearby Eleuthera) work on the island. The cruise line makes great efforts to promote sustainability and maintain the natural environment.
A little piece of paradise
With palm trees, manicured vegetation, a natural 700-acre lagoon, meandering paths and tropical music, the island is immediately conducive to relaxation.
Its natural beauty will appeal to anyone interested in photography, too. Keep an eye out for birds around you; the Bahamas National Trust has designated Half Moon Cay as an "International Wild Bird Preserve."
There are ample lounge chairs (available for free) so you can claim your spot in the sun or alternatively, you can secure some shade by renting one of the clamshells or cabanas. There are bars where you can grab a drink of snack.
Another suggestion: Begin your visit with a tour the island, either by tram or by foot, to get a lay of the land. Signage for a self-guided excursion is excellent.
Some highlights of a visit
Opportunities for water activities
Visitors can engage in almost every type of water activity or sport, including swimming, snorkeling, kayaking, or renting an inner tube or float to stay in the water.
Ever fantasize horseback riding on the beach? You can do that here, too. You can swim with the fish or learn about them and observe through the glass-bottom boat.
---

So many choices with @HALcruises on Half Moon Bay, Bahamas. I snorkeled, others rode horse, swam with stingrays, or enjoyed the beach, #FLConHAL pic.twitter.com/s5k5Lx1Mw9

— Hilary Nangle (@MaineTrvlMaven) December 3, 2017
---
Chance to chow down at the Lobster Shack
This island, like most others, offers a complimentary buffet barbecue but if you have a yearning for fresh lobster, this is the place. You can enjoy grilled lobster tails, conch chowder or sip on a piña colada while soaking in the views.
Options for adding a touch of luxury
Rent a private two-level villa with its own bathroom, hot tub and misting shower. The Holland America Private Oasis – Palm Package includes a number of amenities including the services of a butler and personal chef.
Some tips for first-timers
If you leave the ship early (while others are still sleeping in), you'll be able to enjoy the island when there are few fellow passengers around.
Don't be put off by the very organized Disney-theme-park like perfection of the island. This isn't the place to look for an authentic, local flavor. You'll get that at other port stops. Lay back and enjoy.
Food and drinks can be relatively pricey, especially if you've already purchased a beverage package on board (which can't be used on the island). Decide to splurge and enjoy or opt for the free lunch.
Because the island is private, all shore excursions and activities need to be booked (either in advance or on-stie) through the cruise line (as opposed to private vendors).
Bottom line
Spending a day or even several hours at Half Moon Cay is a delightful way to experience laid-back Caribbean life in one of the most scenic settings imaginable.
The island staff is warm, welcoming and well-trained to help make your experience a memorable one! Many cruisers opt for Caribbean sailings on Holland America so they can return to Half Moon Cay.
---
Read more
---
Disclosure: Our cruise was partially subsidized by Holland America Line, host of the SATW Freelance Council meeting aboard the HAL Nieuw Amsterdam.
NEWS JUST IN: Industry publication Travel Weekly just named Holland America Line Half Moon Cay it's 2017 Readers Choice Best Private Island/Destination.
---
Ever visit a private island on a cruise? What did you think?