Enjoying an Explorer Suite on Viking Star
A Voyage on an Explorer Suite on Viking makes for a memorable milestone celebration.
Having been empty nesters for some years, we decided it was finally time to make a change. So with a mix of nostalgia and anticipation, we spent the good part of a year decluttering and preparing our home of 23 years for sale.
Simultaneously, we purchased a smaller, soon-to-be-built townhouse in a nearby town and unexpectedly discovered along the way that the timing of the sale and purchase wouldn't quite dovetail as planned.
Months of heavy lifting (literally and figuratively) – followed by three weeks of unanticipated temporary moves from a hotel to a friend's house to a hotel – exacted a far greater physical and emotional toll than we could have ever imagined. Foreign travel was, of course, put on hiatus.
So we couldn't wait for our long-awaited September cruise on Viking Star, a vacation that coincided with my birthday. All our cruise documents, including our cabin assignment, were delivered to our old home well in advance of the moving frenzy.
Viking Star is one of the line's ten ocean-going sister vessels. Viking Star was the first in the series; Viking Saturn is the newest.
A "suite" surprise
Our voyage began in Bergen, Norway, where the cruise line whisked us from the airport to the port with our bags pre-tagged for delivery to Cabin 4041, a penthouse stateroom on Viking Star.
Check-in under a tent on the pier was moving quickly and efficiently. Brilliant sunshine and blue skies in Bergen, where it typically rains some 231 days a year, were a very good omen!
When it was our turn to check in, we received our identification cards and were told our luggage would meet us in Cabin 3000. What?
We had never been subject to a last-minute cabin change so we suspected there had been some mix-up and worried when we would be reunited with our bags.
We showed the person at the check-in desk our luggage tags with the correct cabin number, 4041, and wondered whether we would have to dig into our cruise documents to prove our point. We almost began to argue.
Before she – or we – could discern what happened, another officious-looking woman from the cruise line approached us from behind to tell us there had indeed been a change. She would be accompanying us to our newly assigned stateroom on the third deck.
As we boarded the gangway, the crew all greeted me with whispers: "Happy Birthday." I had almost forgotten our travel day was on my birthday.
Checking into an Explorer Suite on the Viking Star
Our jaws dropped when our host used the key card to open the cabin door. We've been on many beautiful ships but never were upgraded to a suite. Inside, a bottle of champagne was chilling on ice. Beside it was a note welcoming us to an Explorer Suite on Viking Star, again wishing me a "Happy Birthday."
We were both stunned at our good fortune!
We spent 15 wonderful days in our Explorer Suite on the Viking Star, traveling to seven different countries. I'm convinced that if you can afford it, a splurge like this is the perfect way to celebrate any milestone birthday or anniversary in an extraordinary way.
There are 14 Explorer Suites on the Viking Star, all of them located on the corners of the ship (on decks 3, 4, 5, 6), both at the fore and aft.
Explorer Suite 3000 is located at the front with a huge balcony that offers incredible views of sea and land, and plenty of space to enjoy them.
The WOW Factor on an Explorer Suite
Our accommodations were so comfortable that, if allowed to remain on board, we would have circumnavigated the globe—perhaps, twice.
Here are some of the reasons we were wowed:
Sprawling space
Most cruise ship cabins offer "just enough space," generally about 200 square feet – give or take a few. (Relatively large cabins are closer to 300 square feet.)
Our Explorer Suite measured about 757 square feet (with the balcony included) and had an L-shaped living/dining room (with a couch, two club chairs, and a desk area) and a separate bedroom and bath.
We felt like we were wrapped in windows with sweeping views on two sides.
The bathroom (described further below) was a suite in itself with a cavernous, well-lit walk-in closet that could fit a whole wardrobe. with a dressing table at the end (a perfect place to blow your hair with three-sided mirrors that allow you to see the back of your head).
An eye-level safe was conveniently placed on one side of the closet, offering easy access.
Indoor-outdoor living
The balcony was roomy enough for a lounge chair, a table, and four chairs; it had a privacy panel on one side and a windbreak panel on the other, offering protection from the wind. It was perfect for reading or using the Viking Star binoculars to scope out the next port.
At times, we felt like we were on our own private yacht.
Our sybaritic bathroom
Light and airy with double sinks and plenty of drawers and shelves for our toiletries, Explorer Suite bathrooms also feature a spa-like separate shower room with a bath.
Once you step on the heated floor and grab a warm bath towel from the heated towel rack, you immediately wonder if there is a way to have these luxuries at home.
An oversized one-way window (with a vanity shade) beside the bathtub looks out over the bow of the ship—but the view has some competition. The mirrored wall also has a TV built into it.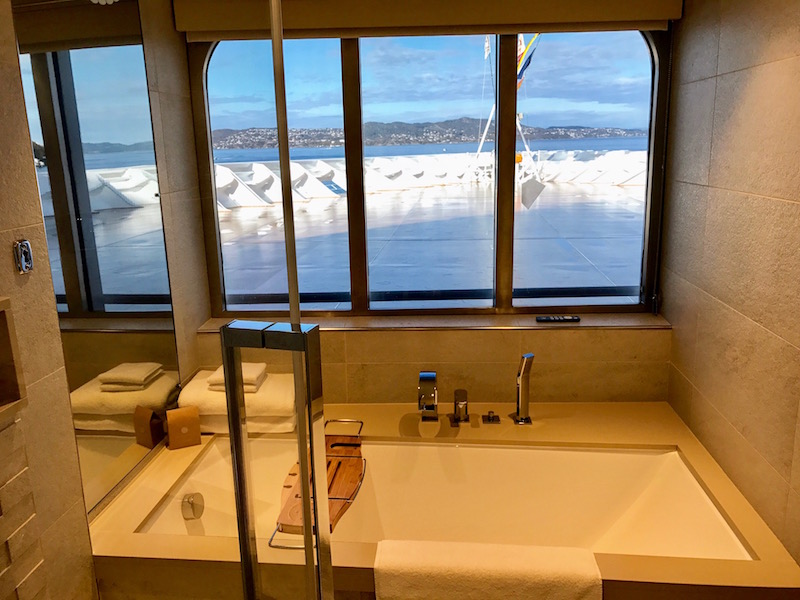 State-of-the-art technology
We've sailed on many river ships and ocean-going vessels and found that the Internet connection in this suite was the most stable one we have ever experienced at sea.
In addition to the bath, our room had two additional flat-screen TVs, one in the bedroom and another in the living area. There were ample outlets throughout the stateroom (220V and 110V) and USB ports.
Top-notch service and amenities
Other perks of the suite: Explorer Suite guests are offered: 11 AM priority access to their suites; priority reservations at the spa, on excursions, and for specialty restaurants; a complimentary minibar with alcoholic beverages, soft drinks and snacks that are replenished daily; plush robes and slippers; and free laundry, dry cleaning, and shoe-shining service.
The only minor disappointment was that Explorer Suites on the Viking Star don't offer conventional butler service—which we've experienced on other luxury lines.
Generally, butlers make reservations for guests at spas, restaurants, excursions, etc. In addition, they offer the continuity of one person who can troubleshoot any problem.
However, we were blessed with two excellent cabin stewards, Elsnore and Augustino, who were always helpful and did a great job of orienting us to "suite life."
Bottom line
Cruising the seas in an Explorer Suite on the Viking Star is a perfect way to mark any milestone! Thank you to the staff and crew of Viking who arranged this unforgettable birthday journey for me. What a way to celebrate!
But I fear that we have been totally spoiled…
---
What's appealing to the over-50 traveler?
I've written previously about how the Viking Star (like its other ocean-going sister ships, Sky, Sea and soon to come, Spirit) has carved out a unique niche for the over-50 traveler. These small ships, holding about 900 passengers each, have been explicitly designed to meet the needs and sensibilities of mature travelers.
When it comes to celebrating milestone birthdays and anniversaries, people over 50 tend to prefer "experiences" over "things." Many of our fellow passengers were marking life passages on the Viking Star. The luxury of cruising in an Explorer Suite certainly ups the ante for the frequent cruiser.
Take note
The configurations of the fore and aft Explorer Suite cabins differ because of their respective positions on the ship, thus posing some tradeoffs: The ones at the fore offer more interior living space; those at the aft offer a larger wraparound balcony.
Because of wind and safety issues, the suite does not offer direct access to the bow of the ship.
Although smaller in size, Penthouse Junior Suites offer many of the same perks and amenities as the larger, more costly Explorer Suite.
Cruise lines generally go out of their way to make a fuss over special events and milestones. (Although I hadn't peeped a word about my birthday, someone at Viking must have looked at my passport). Don't forget to alert the ship if you would like to have a milestone event acknowledged in some way (usually with a cake). Cabin upgrades like ours are rare events!
---
IF YOU GO
---
Disclosure:
The author's cruise was sponsored by Viking Cruises but any opinions expressed in this post are her own.
A previous version of this article appeared on GettingOnTravel.
---
Save to Pinterest!!