Hurtigruten Roald Amundsen: The First Hybrid Cruise Ship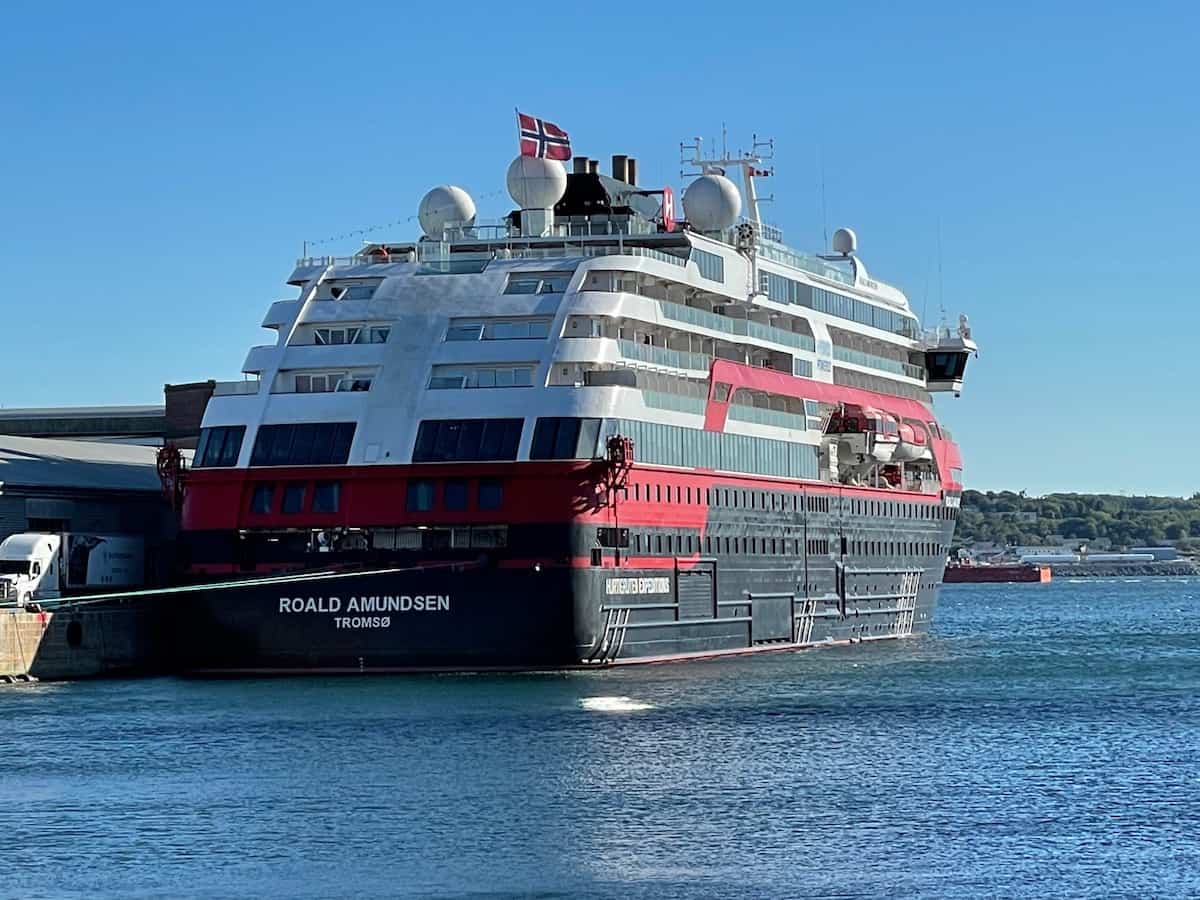 Guest contributors John and Sandra Nowlan set sail on the Hurtigruten Roald Amundsen, the first hybrid expedition cruise ship .
---
Expedition cruising puts an emphasis on smaller ships, visiting isolated and unusual locations. Instead of casinos and entertainers, a team of scientists and historians provide daily briefings and analysis.
Roald Amundsen: A new kind of cruise ship
Hurtigruten, with a long history of Scandinavian coastal service, has now become a significant and innovative player in the growing trend towards exploration in the Arctic, Antarctic and other remote regions..
Launched in Norway in 2019 with a maximum of 530 passengers, Hurtigruten Roald Amundsen is the world's first hybrid powered cruise ship. Named for the intrepid Norwegian explorer of both north and south polar regions, it uses four Rolls Royce designed diesel engines (one is a spare) but is always connected to two large banks of rechargeable batteries. Emissions are lowered and fuel savings can reach 20 percent.
Joining the expedition cruise in Halifax
When we joined the ship in Halifax after its first leg from Nome, Alaska, Roald Amundsen was several weeks into a unique cruise from Alaska and Canada's Arctic all the way south to Antarctica. With just 260 guests, the ship began an unusual seven day cruise to Boston.
All newcomers were given complimentary, bright red waterproof jackets and were fitted for boots. Our itinerary was fascinating – a stop at remote Sable Island, then back to mainland Nova Scotia and the UNESCO World Heritage fishing port of Lunenburg, then visits to three towns in Maine, followed by Cape Cod and finally Boston.
Twenty avid cruisers did not disembark in Halifax but chose to stay on the ship for the complete Arctic to Antarctic itinerary. The 157 crew members (Norwegian officers, naturalists from several countries and most service staff from the Philippines) welcomed the new guests, a mixture of American, German and British cruisers. Announcements were in English and German.
On board: Exploring Roald Amundsen
The Roald Amundsen, with its distinctive black, white and red livery, is impressive. The interiors reflect modern Scandinavian design with an abundance of natural materials—wood, granite, wool and linen—creating stylish and comfortable cabins and public areas. All cabins have ocean views; 83 rooms have balconies and 53 are suites.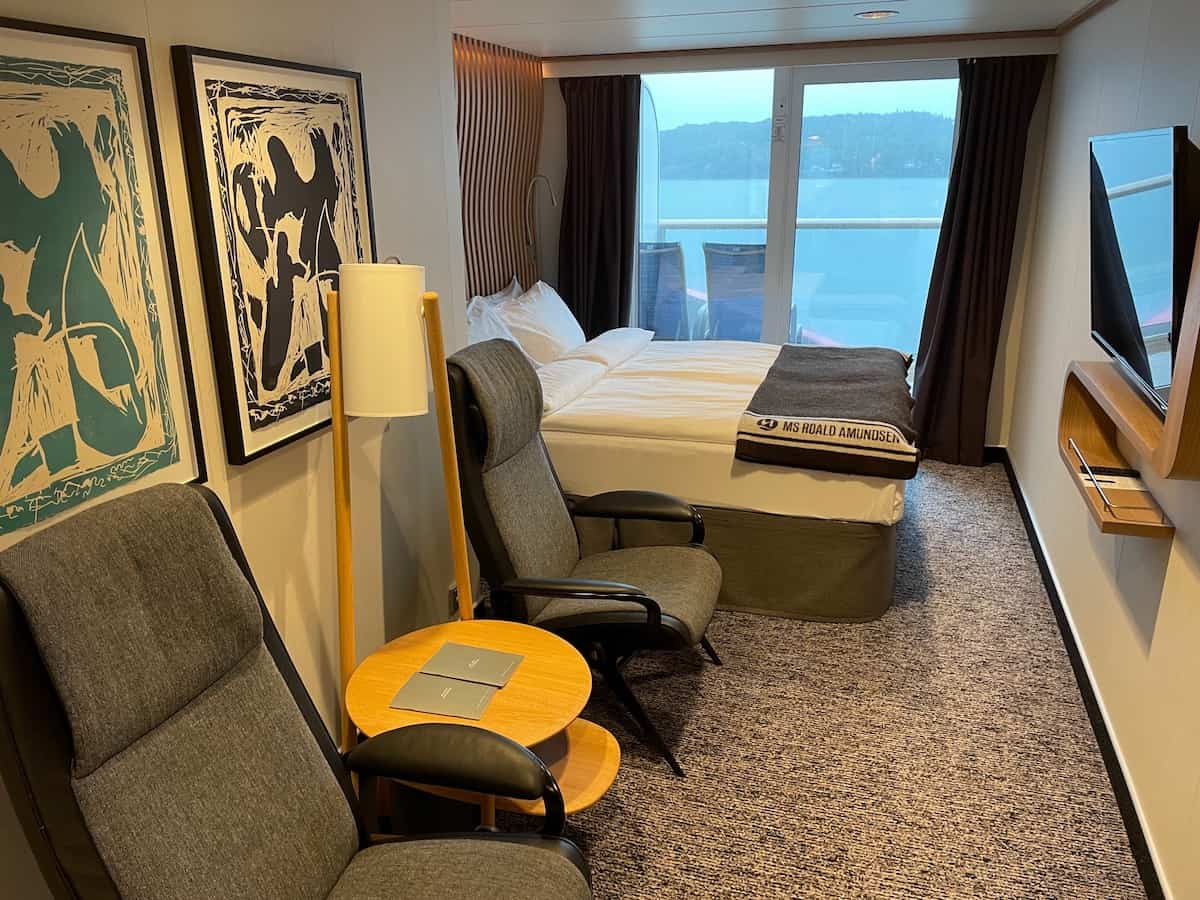 All staterooms are comfortable and well equipped. Our suite had a walk-in closet with plenty of storage space. The King bed was particularly luxurious with twin duvets, silky sheets and excellent lighting. Guests are offered bath robes and slippers in various sizes (a rarity on any but the most high end cruise ships).
The hotel manager told us that Hurtigruten aims to be the most sustainable shipping company in the world. Paper and plastic are virtually eliminated on board and all guests receive complimentary aluminum water bottles with refill stations available on every floor.
There's also a coffee maker and fridge stocked with beer, soft drinks, sparkling water and wine. The complimentary Wi-Fi signal was usually excellent in cabins and throughout the ship.
There are plenty of electric outlets but all are European Style (round prong) so adapters are needed. Our room had an impressive 50 inch, LED television with limited news channels (MSNBC and Fox from the US, and Sky News and BBC from the UK) but the Atrium Lobby had a tall television that hugs a wall for seven full stories with continually changing scenes from nature. The "Boot Room" also had a huge horizontal TV with colorful scenes from Hurtigruten adventures. Impressive!
Traditional Norwegian art (with many woodcuts) is found throughout the ship, much of it chosen by HM, the Queen of Norway, with several from her personal collection.
Three dining venues on board
The British Executive Chef on Roald Amundsen was a former Michelin-starred restaurant owner. David McDonald's cuisine was generally excellent in all three restaurants and the complimentary wine at lunch and dinner was of high quality.
Aune, the main dining venue, seats 240 guests at blond, wooden tables and features many areas for two persons in a bright, attractive setting. For all meals (breakfast and lunch buffets and a la carte dinners), the maitre 'd records your room number and assigns a table upon entering the dining area. Very progressive!
High tech has replaced traditional paper menus and guests are expected to order their meals from the Hurtigruten app. Everyone seemed to be equipped with a smart phone, so there was rarely a problem.
Fredheim is an informal corner for stylish street food. The diner atmosphere works well for an array of burgers, fries and sausages but also Asian dumplings, tortillas, waffles, crepes and a crab roll. Fredheim also offers tall, creamy milkshakes, the best we've ever had at sea.
The full service restaurant is called Lindstrom. Designed for suite guests, others can enjoy the exemplary service and extra perks for 25 Euros a person. The lamb and bison dishes were especially tasty.
The only disappointment with dining during our week on Roald Amundsen was its lack of any East Coast seafood. Even though we started in Halifax and stopped in several important Atlantic fishing ports, the only seafood offered was from Alaska and the West Coast. We were told that this was due to communication problems with the European head office (this was Hurtigruten's first visit to Nova Scotia) but for repeat cruises in 2023 and 2024, the fresh fish problem will be investigated and resolved.
Appealing to a niche cruiser
Hurtigrutan, with its six expedition ships (two of which are now hybrid), may not appeal to everyone. There's no casino and no traditional evening entertainment (there is a piano in Roald Amundsen's main lounge, but no resident pianist).
The emphasis, which we and most guests relished, was on science and learning.
The Amundsen Science Center, taking up major space on Deck Six, is rich in resources with a science library, maps, illustrations, a large, interactive touch table, artifacts like skulls and walrus tusks and the prime attraction, a series of specialized Zeiss binocular microscopes, one of which is connected to a large screen TV.
Seven scientists, covering a wide range of specialties, often gather seashore specimens like tiny copepods and give illustrated lectures each evening in addition to talking about our next port.
Flexibly adapting to weather and sea conditions
Expedition ships, with their non-traditional ports of call need to be flexible. Landings on Sable Island, a Canadian National Park Reserve located 190 miles east of Halifax, have to be made by Zodiacs. Unfortunately, the Atlantic Ocean was just too rough the day we arrived.
Instead, the captain gave us a full circumnavigation of the 27-mile-long sand bar where, with binoculars, we could see the wild horses and thousands of gray seals. The weather the next day was perfect in Lunenburg and most guests visited the large and outstanding Fisheries Museum of the Atlantic.
Maine weather was variable but in spite of the rain, most guests got off the ship when it was docked in tiny Eastport, next to the Canadian border. This easternmost 'city' in the U.S .used to be the sardine capital of the world. Rockland, Maine, required a tender transfer to port but, with bad weather, many guests stayed aboard.
Bar Harbor, a popular stop for traditional cruise ships, gave guests on the Roald Amundsen the opportunity to visit Cadillac Mountain (tallest mountain on the east coast of the US) and the rugged seascapes of Acadia National Park, the first national park east of the Mississippi.
More bad weather made a visit to Cape Cod impossible and, with Hurricane Fiona churning up the Atlantic, the captain made a wise choice to head for Boston early for an extra overnight.
On schedule the next day, most guest headed home from Boston but a couple of dozen of us stayed overnight at Hurtigruten's recommended hotel, the elegant and historic Fairmont Copley Plaza. Now celebrating its 110th anniversary, it was an ideal layover for connecting to our 90-minute morning flight back to Halifax. And, missing Atlantic seafood on the Roald Amundsen, the lobster roll at the Fairmont's Oak Long Bar + Kitchen was fantastic.
A rosy future
With expedition cruising growing in popularity, Hurtigruten is planning to repeat its North-South and unique Halifax to Boston itineraries in 2023 and 2024. As the line refines its excellent product, the route should be a huge hit, especially for those cruisers wanting more than a traditional cruise.
One guest from Houston had started her cruise in Alaska and was delighted. "We have a new appreciation of the diversity in Canada", she told us. "Thanks to the excellent expedition team, we learned a lot about environmental input and indigenous culture. The ship is a great size and we don't miss the casino or Broadway shows one bit."
---
*All photos by Sandra and John Nowlan. Sandra and John Nowlan are travel and food writers based in Halifax, Nova Scotia.
---
Disclosure: The Nowlans were guests of Hurtigruten but any opinions expressed in this post are their own.
---
Other posts on Expedition Cruising:
---
Save to Pinterest!!