Not-To-Be-Missed: Sunday Brunch at Four Seasons Hotel Ritz Lisbon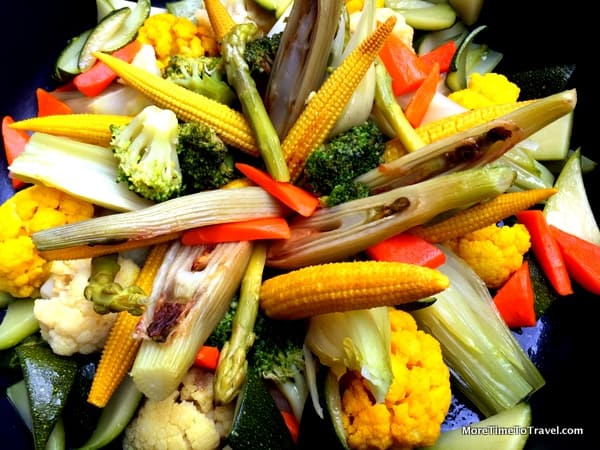 If you have the opportunity, don't miss the elegant Sunday Brunch at the Four Seasons Hotel Ritz.
After three packed days of intense sightseeing (while simultaneously fighting off the effects of jetlag) during our first frenzied visit to Lisbon, we opted for a relaxed Sunday brunch at our hotel, the Four Seasons Hotel Ritz.
Admittedly, we were torn in deciding where to enjoy our last meal in the city. We are usually avoidant of hotel restaurants and there were still so many areas of the city we were yet to explore. But as it turns out, we couldn't have made a better choice for brunch. (It was reassuring to see that the dining room was filled primarily with Lisboans).
The mix of a classic setting, excellent service and wonderful cuisine made for a memorable (and romantic) last meal in Lisbon, and even gave us a chance to sample several local foods that we had previously missed.
The space
Sunday brunch is served in the elegant Varanda Restaurant, which seats 80 and has additional tables on a lovely terrace lined with pink, red and purple blossoms (that looked like impatiens).
The oversized windows inside and expansive balcony outdoors overlook the green treetops of Parque Eduardo VII across the street. We decided to eat indoors after a passing morning rain shower.
All the tables are so nicely spaced that you feel as if you were dining alone. In lieu of a long buffet table, the room offers a variety of stations with servers who helped you make selections and offered to bring your dishes to the table.
Rather than describe the array of offerings, we'll allow you to see some of the dishes.
N.B. If we photographed everything, we probably would have been hanging around the Varanda until breakfast the next day.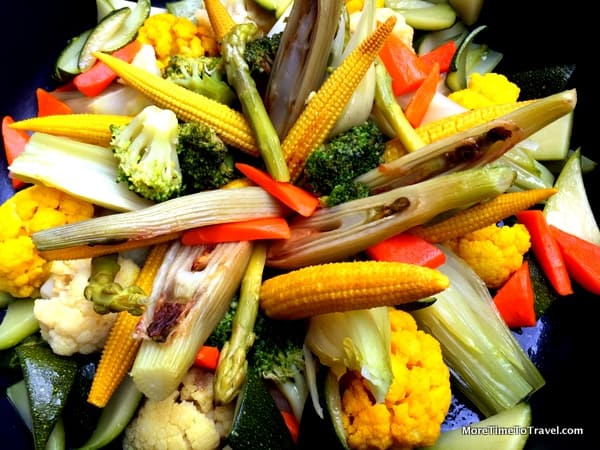 The service
There was always someone around to ask a question, to explain an unfamiliar dish, or to clear a used plate. The wait staff was knowledgeable, gracious and well-trained.
The cuisine
The kitchen is overseen by French-born Executive Chef Pascal Meynard, who has brought his experience working in Michelin-starred restaurants to this classic hotel. Fabian Nguyen is the talented pasty chef who works by his side.
Every dish we tasted was fresh, many emphasizing seasonal ingredients and recipes that showcase the traditional foods and wines of Portugal. Much of the seafood was locally sourced as were cheeses and some of the fruits, such as Madeira bananas and Rocha pears, and the displays were artfully presented.
Two of the most interesting stations were the outdoor pizza oven (where you could order slices of thin-crust pizzas, topped to your liking) and the big gas grill where a barbecue chef cooked Brazilian-style meats (e.g., pichana steak) and chicken on skewers (which are popular in Lisbon).
The hands-down highlight of the dessert table was Mil Folhas de Framboesa (strawberry laced Mille Feuille), a decadent recipe that our server told us had been a perennial favorite in the hotel for some 35 years. The homemade gelato stand with an array of toppings also was a show-stopper.
Nothing pairs better with brunch than sparkling wine. We were introduced to an excellent Raposeira Super Reserva Bruto (from the northern part of the country) that we enjoyed so much, it gave us another reason to put northern Portugal on our bucket list.
Bottom line
Our Sunday brunch (in lieu of breakfast, lunch and dinner) at the Four Seasons Ritz was a great celebratory sendoff from a city known not only for its hospitality but also for its foods and wines.
---
IF YOU GO
Four Seasons Hotel Ritz Lisbon
Brunch is priced at 49 Euros per person, excluding drinks.
Children ages 8-14, 22 Euros each with their parents; children ages 7 and under dine free.