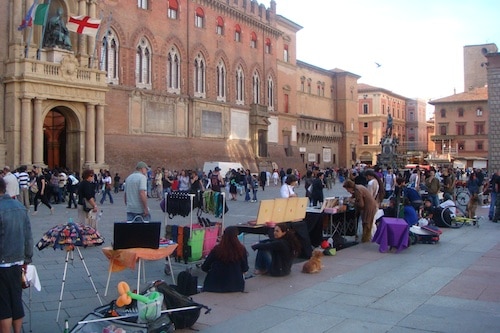 Florence is one of the most beautiful cities in the world, renowned for its history and culture. So why would any visitor plan an early morning day trip from there to Bologna? An Italian phrase says it best, Ad essere sinceri, è più forte di me. In English: To be honest, we simply couldn't resist.
Having visited Bologna two years ago, we were drawn back for many of the same reasons people travel to Florence: jaw-dropping art and architecture; wonderful food and wine; stylish shops; and warm people. And while Bologna is the largest city of the northern Emilia-Romagna region and the fifth-largest city in Italy, it never feels overwhelmed by tourists. People expect long queues at museums and other attractions in Florence; in Bologna, lines and waits are virtually non-existent even though most are free to the public.
Getting to Bologna from Florence couldn't be any easier. We leave Florence's Santa Maria Novella railway station and hop on the government-owned Trenitalia. Since December 2009, the high-speed railway connects the two cities by a stretch of nine long tunnels with above-ground tracks in-between them. We arrive at the Bologna Centrale in a mere 37 minutes (at 24€ per person). The station was targeted by terrorists in 1980 when an explosive device killed 85 people and injured more than 200. While the station has been fully restored, officials left the clock inoperative, fixed at 10:25AM in memory of the victims.
It's a short taxi ride (costing 10€) along the wide via Dell' Indipendenza to the center and medieval heart of town, Piazza Maggiore. Far less ornate than Florence, Bologna's preservation efforts are among the best in Italy, including twelve gates once attached to ancient walls. Stunning porticoes line both sides of the streets, some dating back to the 12th century. The city is kind to pedestrians with many car-free zones and more than 25 miles of covered arcades protect them from too much sun, rain or snow.
The Piazza Maggiore, a lively four-sided pedestrian square, once hosted horse races and tournaments. Now a changing cast of magicians, musicians, and jugglers fill the space. Once home to the powerful guild of lawyers, the Palazzo dei Notai dates back to 1278. Just to its right, the centrally located Hotel Orologio is hosting an outdoor exhibit of contemporary bronze works by Milanese sculptress, Mirella Guasti.
When the Basilica di San Petronio, a gothic cathedral was built on the square, it was intended to be larger than St. Peter's in Rome. But rather than enhance the prestige of the church, Cardinal Legate ordered that the money be used for the University. It is still the fifth largest church in the world.
The Palazzo d'Accursio next to it houses the municipal government as it has for centuries. Anchored by an ancient clock tower built in the 15th century, the main hall of the larger building has Baroque frescoes dating back to the 1600s with five allegorical scenes depicting Bologna's virtues. A second-floor museum showcases more than 200 works that chronicle Giorgio Morandi's career. Oddly, a convenient, 24-hour pharmacy is also located on the street level. The arcaded Palazzo del Podestà, directly across from the church, once the official residence of the town's chief magistrate, now houses the tourist information center, a bank, and several inviting sidewalk cafés.
The much smaller Piazza del Nettuno sprouts off the square. Its spectacular fountain centerpiece, a nude bronze statue of Neptune, the god of the sea (designed by Tommaso Laureti and executed by Giambologna in 1563), has evoked controversy over the years. It is surrounded by cherubs and lactating nymphs with waterspouts coming from their breasts.
La Sala Borsa, the former trade center, now houses a modern, free, multimedia library. With a separate children's room, extensive foreign periodical collection, and Internet access, the library is filled with students studying or doing research. Before we leave, we view the transparent floor display of archeological excavations beneath.
Unable to hold back our appetite any longer, we head for lunch at Eataly, an informal café in a modern, multi-level bookstore at via degli Orefici 19, in the food district. Along the way, we see a man walking on stilts and breathe in the scents from the butcher, fish, fruit and vegetable, chocolate, cheese shops and bakeries that populate the narrow, twisting medieval-style streets. We visit Tamburini, a glittering salumeria at via Caprarie 1, where hams hang from the ceiling; glass cases display hot take-away dishes, salads, and fresh pastas; and the smell of artisanal cheese is seductive. We purchase dried porcini mushrooms and white truffle paste to take home.
To avoid any more tempting foods, we head to the piazzola, a sprawling open-air market (open Fridays and Saturdays only). Here locals hunt for bargains amidst tables piled high with new and vintage clothing, shoes, underwear, and household items (located at Piazza VIII Agosto, adjacent to the large public Parco Della Montagnola, a perfect spot for people-watching).
From there it's a short walk back down the street to via Rizzoli where two towers lean awkwardly in opposite directions: The Torre degli Asinelli and the Torre Garisenda, were built by two rich and powerful families competing with each other to build the tallest tower. Nearby, we stop in one of the three Furla stores in Bologna where I purchase some small leather gifts.
Via Farina is the trendy shopping street that rivals Rodeo Drive in a mix of shops with familiar names and posh boutiques, all with inviting window displays. The Galleria Cavour mall on this street is home to Gucci, Burberry, Louis Vuitton, Versace, Bulgari, Fendi and other designers.
Admittedly, like me, most visitors to Bologna are preoccupied with food, and dinner can't come soon enough after all the walking. We head to Ristorante da Nello (via Montegrappa 2) for tipica cucina emiliana. Claudio and Franco, our friendly and attentive, stripe-vested waiters who look straight out of a 50s movie bring me risotto ai funghi freschi (with a well-worth-it 16€ supplement for tartufo, fresh-shaved white truffles on top). The dish is the best I've ever eaten in Italy. My second course is an insalata caprese. My husband has asparagi alla parmagiana followed by tortellini Montegrappa (with cream and ragu). We order a portion of fiori di zucca fritti (fried zucchini flowers) because we can't resist. With zuppa inglese and panna cotta for dessert, and plenty of wine, the meals costs about 50€ per person, a bargain for food of this quality compared to New York prices.
It's time to head back to the train station and return to Florence. On the way back, we look out the train window and vow, "Next year, in Bologna."
---
IF YOU GO
Bologna Tourism Office
Emilia-Romagna Tourism Office
---
[This article was published in The Huffington Post on July 20, 2010.]