What is it like to fly Air France Premium Economy?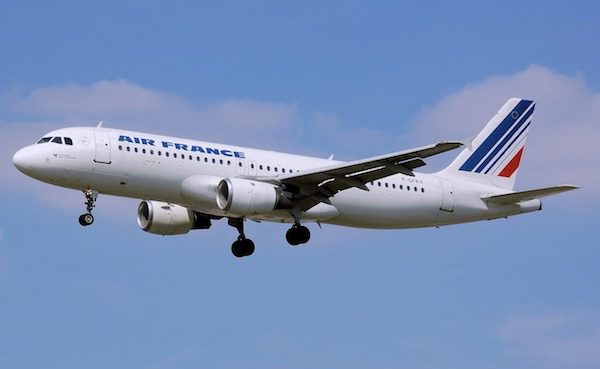 In general, if you want extra legroom on a long flight and aren't able—or don't want to—pay exorbitant first-class or business class fares, flying Premium Economy is a good way to go.
About Air France
Air France is the French flag carrier. In 2003, the airline merged with KLM, renaming it AirFrance-KLM, although it still operates under each of those brand names. In 2007, it established a strategic collaboration with Delta Air Lines, China Eastern Airlines and Virgin Atlantic Airways. Air France also operates flights on its subsidiary regional carrier, Hop!.
Flying Air France Premium Economy from Paris to New York
Returning home from Lyon, France, we booked a short one hour, 10-minute flight to catch our Air France overseas flight (AF6) departing from Charles De Gaulle (CDG) Airport in Paris to John F. Kennedy Airport (JFK) in New York.
We opted for Air France Premium Economy seats because we wanted additional legroom on the long flight across the Atlantic. It also allowed us priority boarding. Our plane was an Airbus A380, double-decker wide-bodied plane, said to be the largest passenger airplane now flying. It is also one of the quietest.
Getting around CDG
Here's an immediate tip based on our experience:
If you have a short layover (less than two hours) and can avoid changing planes at CDG, do so. We had to walk over a mile to get to our connecting flight in another terminal that included waiting for and taking a bus, getting on a very long queue to get our passports checked, and then walking through a vast and busy shopping court before we finally got to the assigned gate.
No airport personnel was available during the long journey to verify that we were even headed in the right direction. We really sweated it, wondering if we would make our connecting flight in time.
Arriving at the gate
Our first impression of Air France wasn't favorable. Once we arrived at gate M44, there were a series of unannounced boarding delays. Three lines for boarding—in Economy, Premium Economy, and Business class—seemed to stretch as far as the eye could see. More frustrating than the wait was that Air France personnel provided no updates about the delays until coaxed to do so by a passenger in the crowd. They explained that they were cleaning the cabin.
Living room (as it's called in the trade)
Our seats, 83 B &C, were on the upper deck of the Airbus behind business class. The Premium Economy seats on this flight did not recline but with a seat width of 19" and pitch of 38" (six inches more than economy seats), they were roomy and comfortable.
The seats were nicely cushioned and had adjustable foot and neck rests. The configuration of the cabin was 2-3-2, with only one middle seat per row in each of the six rows. (The small economy cabin behind us on the upper deck had a 2-4-2 configuration).
We sat in the middle section but window seats had additional storage compartments under a wide armrest. (This also offered extra space beside the seat.) The aisles were larger than usual, making for easy passage. Each seat had USB and electrical outlets.
Another nice touch: There was no space between the seats in the row in front of us, so we and the passengers in front and in back of us were afforded more privacy.
The divider held a compartment with complimentary Evian water bottles. In another twist on the usual, instead of overhead lighting on the ceiling, gooseneck lamps attached to each seat were easier to access and focused light more directly and unobtrusively on reading material. The plane also had soft mood lighting.
At each seat was a full-size velour blanket and pillow. Within minutes, flights attendants handed out small amenity kits, with an eye mask, toothpaste, and brush and socks. Not quite business class-worthy but a nice touch.
Food and service
When you have been feasting in France for more than a week, your taste buds have been heightened and spoiled, perhaps forever. Despite that, we had no complaints about food on Air France.
Lunch was actually quite good. We were offered a choice of a pasta or chicken Florentine entrée. The meal was preceded by beverage service with a salty snack. The complimentary beverage menu offered a range of choices of apertifs (including champagne) and wines.
The lunch tray came with a linen napkin and real glass for wine. It included an appetizer of Norwegian salmon, sliced fresh apples and a chunk of Camembert cheese, a shortbread biscuit with red berries, and a roll and butter.
After lunch, the flight attendant encouraged us to tray a pear digestif.
About an hour and a half before landing, we were served again: A snack with orange juice, a roll and butter, strawberry yogurt, and two galettes with a choice of coffee, tea or soft drinks.
Entertainment and technology
The Airbus 380 has a modern in-flight entertainment system with TV, films, mindfulness exercises, interactive maps, and front, tail and body cameras. Premium Economy seats came with real headphones rather than buds.
Passengers can also view camera images of the front, side and top of the plane. The seatback had a thick and interesting inflight print magazine.
Loo review
While our toilette was shared with the economy cabin, it remained immaculately clean and fully equipped, when checked, five hours into the flight.
Bottom line
Compared to our Delta flight to Europe, for which we also paid for extra legroom, Air France Premium Economy definitely provided a superior experience in-flight.
Generous legroom was complemented by gracious service and a more than decent meal. Truly hospitable, the crew seems genuinely happy to do their job.
By the time we landed after one catnap turned into another, we had almost forgotten about the chaos of Charles De Gaulle Airport and the half-hour boarding delay. Unfortunately, we then learned that the Lufthansa plane at our arrival gate hadn't yet left, so we were forced to spend another ½ hour waiting on the ground. So Air France Premium Economy was great "up in the air" but not so great on the ground.
---
***In case you are wondering:
Should you take the fast train OR a plane between Lyon and Paris?
We've done both. In terms of time, the two-hour train ride wins: It took us 50-minutes to get to the Lyon airport from the center of Lyon. Then we had to check-in and wait for more than an hour and a half to board the 1-hour-10-minute flight.
In terms of cost, a first class seat on the train was about 1/3 the cost of the flight between Paris and Lyon (in addition to taxi fares since the airports in both Lyon and Paris are removed from the city centers.
Our suggestion: Unless the trains are on strike (which often happens in Europe) or you have a great deal of luggage, take the train.
---
This is one of a series of posts about my experiences on new-to-me airlines. Surely, each flight is different but it's always helpful to get general impressions of what to expect before you fly. If you fly Air France and have a very different experience, please feel free to comment below.
Also see:
---
For more information: Air France Website
---