Centurion Lounge at Miami International Airport: Yes, there is a such a thing as a free lunch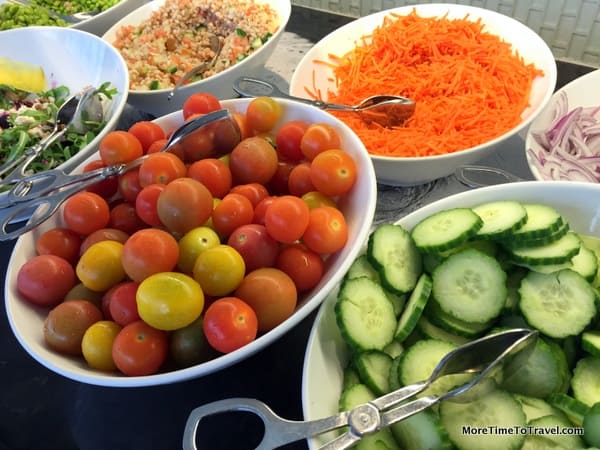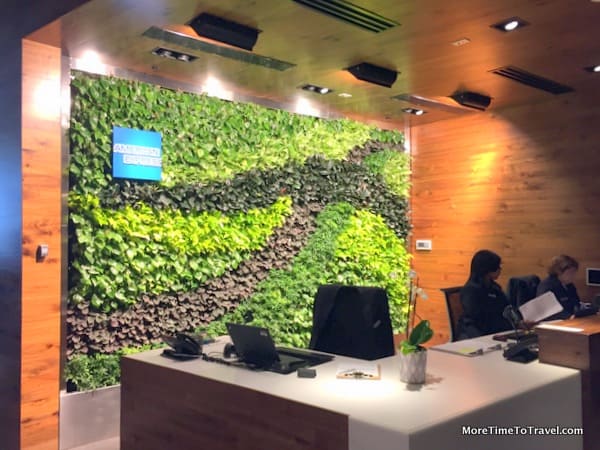 The Centurion Lounge at Miami International Airport offers high-quality food and other perks for eligible Amex members.
The Centurion Lounge at Miami International Airport (MIA), the fourth Centurion Lounge we've visited, offers many of the same benefits and amenities as its sister lounges. There are currently six in this group (at Dallas Fort Worth, Las Vegas, LaGuardia, Miami, Seattle and San Francisco airports) with a seventh scheduled to open in Houston later this year.
But like the one at LaGuardia Airport in New York City, it seems as if the architects were forced to squeeze this one onto a too-small footprint—probably due to expensive airport real estate. During our mid-day visit on a Saturday, it was getting heavy use, which isn't surprising since this lounge is housed in the tenth busiest airport in the U.S.
The Miami lounge has been open since June 2015. Located on the fourth level in the North Terminal on Concourse D (an elevator ride two levels above the departure gates), it is especially convenient if you are flying on American Airlines. An attractive living wall sits behind the welcoming reception/check-in desk.
The layout
The space is comprised of two concentric circles. Just beyond the entrance, the outer circle is light-filled with a number of small seating areas, a work space with computers, a buffet counter with tables, and the bar. The attractive windowed wall provides guests with sweeping views of the runways.
Stepping back from the reception area, the inner circle is a narrower arc-shaped room comprised of quiet seating areas with ample outlets (both USB ports and electrical) facing an architecturally interesting contoured wall. In-between the two is the Exhale spa. Guests can register upon arrival for free 15-minute massages, mini-facials, manicures or use of the showers.
The grub
After departing our downtown hotel, we had no time for breakfast or lunch before a 4PM flight so we were delighted, once again, to find that high-quality complimentary food options were available at the lounge.
The menu at The Centurion Lounge at MIA is overseen by celebrity chef Michelle Bernstein, recognized as the James Beard Best Chef of the South in 2008. Bernstein is well-known regionally and nationally. She is the chef at Crumb on Parchment, a café located in the Miami Design District and at Seagrape, the signature restaurant at the Thompson Hotel Miami Beach. In addition, Bernstein is the author of Cuisine a Latina, and hosts the PBS television series, Check, Please! South Florida. Her cuisine is influenced by both Latin and Jewish roots.
The food offerings at this lounge were more limited than those at San Francisco Airport. At lunch, there was one warm entrée: small plates of zesty braised chicken thighs with pizza spices, served with tomatoes, fennel and confit potatoes.
It was complemented by a buffet with a warm corn-chipotle chowder and a variety of cold salads, vegetables and fresh fruits. We especially enjoyed the barley salad, and arugula with beet and goat cheese.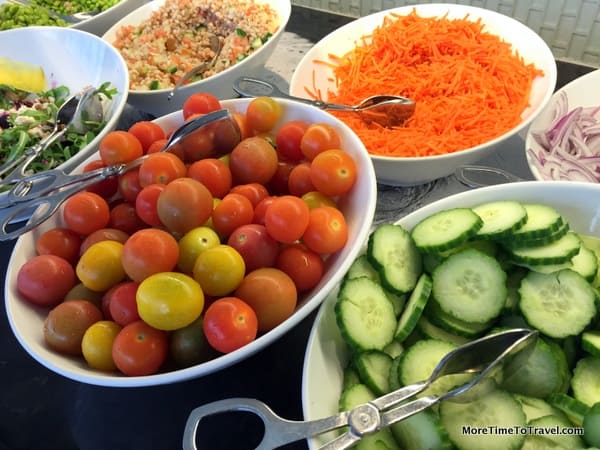 For dessert, the buffet also had an interesting (and delicious) deconstructed key lime pie. The coffee bar had a tray of fresh-baked soft cookies.
The drinks
The bar, overseen by Anthony Giglio (an expert on wines and spirits, who has authored FOOD & WINE's Wine Guide; the Mr. Boston Official Bartender's Guide, and Cocktails in New York) offered complimentary wines, beers on tap, premium spirits, juices and soft drinks. One of the two mixologists on duty prepared one of my favorite drinks, an Italia 77, to perfection.
Recipe for the Italia 77

In case you're curious, this delicious drink is made with:

Ingredients:

3 ounces Prosecco, and
½ ounce fresh lemon juice
1/2 ounce St. Germain (an elderflower liqueur)

Directions:
Other complimentary amenities: high-speed Internet access; L'Occitane toiletries in well-maintained restrooms; and a sound-proof play area for kids.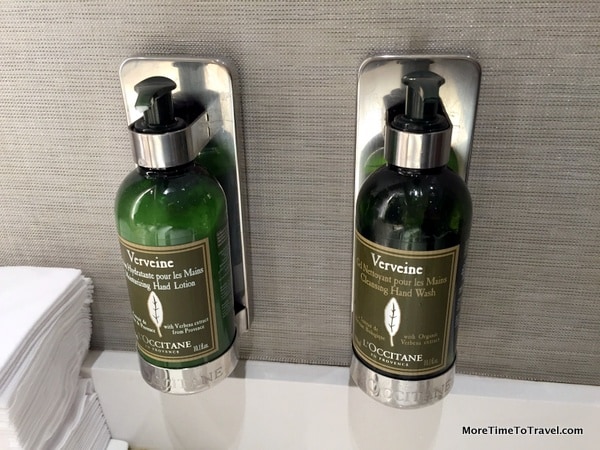 Bottom line
Our visits to Centurion Lounges have spoiled us; they set a new standard for domestic airport lounges. While the one at MIA was a bit crowded, we were able to find seats. (Other travelers report that they weren't as lucky). The gourmet food options, while more limited than other lounges in this class, were fresher, healthier, and tastier than those at almost any other airline or Priority Pass lounge.
The Centurion Lounge, indeed, offers a welcoming oasis for frequent travelers and their guests. It's an especially nice perk to enjoy a free lunch (or breakfast or dinner) with drinks, which would cost a considerable chunk of change at most airport restaurants.
---
IF YOU GO:
Information on access to the Centurion Lounge Network
Tips:
When entering, don't forget to ask for the Wi-Fi password.
Bring singles to tip the expert bartenders (not mandatory, of course).
Massage and manicure appointments can booked quickly so be sure to sign up as soon as you arrive.
The lounge is open from 5AM-11PM daily.
---
Also on More Time To Travel:
Follow Irene S.'s board Best Airport Lounge Food on Pinterest.