Centurion Lounge at LaGuardia Airport: So much better than expected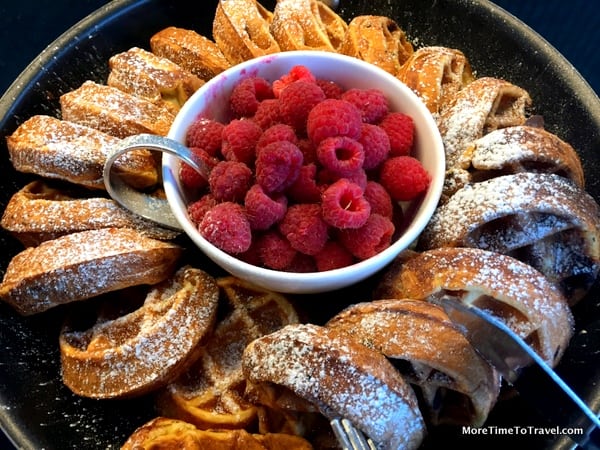 When you enter the Centurion Lounge at LaGuardia Airport (LGA) in New York City, you're met by smiling faces sitting behind a check-in counter in front of an impressive living wall. On first glance, the lounge seems to lack the glitz of the Centurion Lounge in Las Vegas or the expansive space of the one in San Francisco. In fact, it's located off an institutional-looking upstairs corridor in the old airport, which is scheduled for a total redesign.
Yet when we arrived at about 9:30AM on a Saturday, the lounge offered a true oasis that felt just as comfortable and welcoming as other Centurion Lounges we had visited. During the hour we were there before our flight, wait staff and housekeepers were constantly polishing, dusting and cleaning up to keep it sparkling clean.
One Yelp visitor aptly characterized the Centurion Lounge at LGA

as a "First-Class lounge in a Third-World Airport."
The space
The lounge belongs to a family of six "airport retreats" operated nationwide that are complimentary to holders of certain American Express Platinum cards.
Relatively uncrowded on a Saturday morning, the lounge is divided into three spaces: It had a light-filled library/ study/work area with computer monitors, a printer, a wall of magazines and newspapers that would be a welcome find to most business or leisure travelers; a full-service bar and dining room whose menu has been created by CIA-trained Chef Cedric Vongerichten (son of Jean-Georges); and a large connecting corridor with ample lounge space and TV monitors along the wall.
Food
The food options at this lounge (like that at other Centurion Lounges) were fresh, local, and very appetizing. The buffet was replenished continually so it is also appealing. On the day we were there, the breakfast menu included four gourmet dishes: two kinds of eggs, waffles and French toast. With a crisp exterior and moist inside, the French toast was exceptional. The buffet also offered fresh fruits, baked goods, yogurt and oatmeal. Unlimited wines and spirits are also complimentary.
Bottom Line
When you feel as if you probably should have arrived at the airport earlier and are reluctant to leave for your gate when it's flight time, you know that an airport lounge has achieved its purpose.
---
IF YOU GO
Centurion Lounge at LaGuardia Airport
Entry is complimentary for Centurion members and certain Amex Platinum Card holders (who can enter with immediate family members or two guests). Day passes are available for other Amex card members at a cost of $50 per day. (see current entry requirements and guest policy)
Located on the 3d floor (just outside security) between Concourses B & C
Open 5:30 AM to 8PM
---
Previously on More Time To Travel: