How Archange became the #1 restaurant in Lyon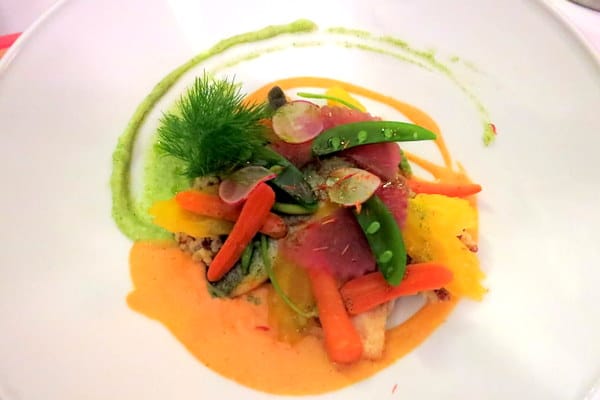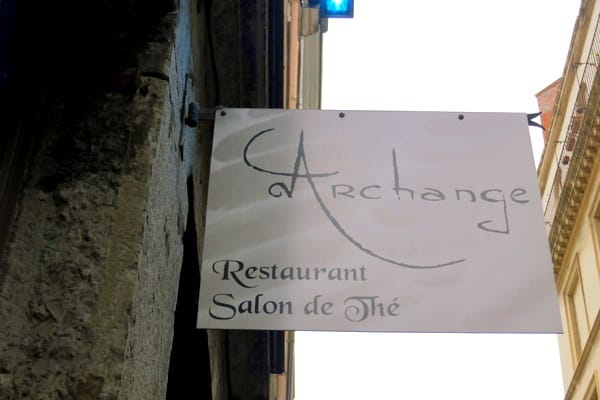 Lyon, home to the legendary chef Paul Bocuse, is the gastronomic capital of France. So we wondered how Archange, a small (12-table), relatively new (three-year-old) restaurant without any Michelin-stars (yet) ranked #1 of more than 1800 restaurants in the city listed on Trip Advisor.
After having had dinner there last evening, it's easy to understand.
A relaxed and welcoming setting
Archange (archangel in English) is located at 6 Rue Hyppolyte Flandrin, a street so narrow that when the taxi dropped us off, it held up traffic behind it. The dining room is so small that it probably could fit into my family room at home. Yet the food, setting and service are nothing short of heavenly.
We were the first to arrive for a 7PM dinner reservation and Sylvain Barbaret, the sole waiter on duty that evening asked us where we would like to sit. As successive diners arrived, a mix of tourists and locals, he warmly greeted them and allowed them to select their preferred tables, too. What a refreshing break with convention.
Our very personable and knowledgeable waiter was fluent in both English and French and made everyone feel at home, never too rushed to answer questions or make suggestions. He later told us that he was one of the co-owners of the restaurant along with his friend, Remi Tseng, the Japanese chef. When Tseng asked Barbaret, a former sound engineer, to join him in business, he made this marked career change.
The restaurant is housed in an elegant 18th century building with stone interior walls and remarkably high ceilings. The lighting and décor is tasteful and romantic: stark white tablecloths, black velvet chairs and graceful black and white striped drapes covering the front windows.
Dramatic uplights illuminate large mirrors on one side of the room and tastefully framed chalkboard menus on the other, repeating the black and white color scheme. The largest table only seats four so there isn't even a threat of being there with a large noisy group. A mix of well-chosen classical and contemporary music complements the intimate setting.
Le menu
When Barbaret arrives at your table, he sets a triangular menu in front of you. The choices are somewhat limited, which actually makes it easy to order. You can choose from one of three entrees (appetizer courses), one of three plats (main courses) and dessert.
The three-course price-fixed menu is very reasonably priced at 29.50 euros per person. The only additional option is to add a cheese course. Wines are also priced fairly. We enjoyed an excellent half bottle of Sancerre for 18 euros.
One option for each of the first two courses is L'Ardoise du Moment: whatever is on the blackboard. The choices for dessert are also offered spontaneously each evening.
For my first course, we both ordered Les Ravioles de Lapin aux Epinards avec Crème de Morilles (spinach ravioli with an exquisite morel mushroom sauce). The delicate pasta was topped with specks of crispy rice making for an interesting texture. It was served with Japanese-style vegetables.
For my main course, I had La Poisson du Moment (sea bass, the fish of the day) avec Quinoa au Combawa Legere Sauce Choron (a delightfully light sauce that is a variation on a classic Bernaise). It was exquisitely prepared and served with a sprig of dill so beautiful I was tempted to replant it..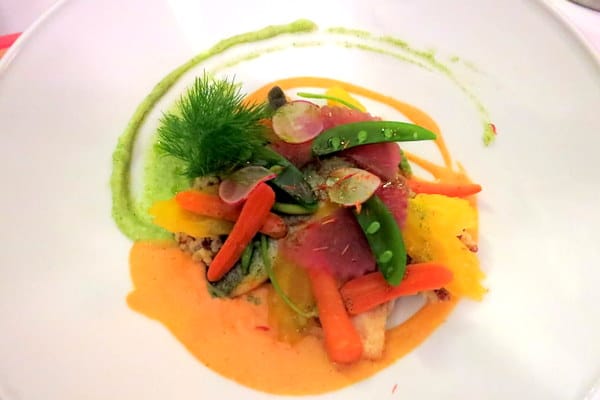 My husband was equally pleased with his Papiette de Porc a la Menthe avec Jambon Cru Serrano en Sauce de Tarmarin and Miel (a pork roulade wrapped in ham with a sweet tamarind and honey sauce). His dish was also topped with fresh, seasonal Asian-style vegetables.
Dessert was a knock-out: We both ordered La Doceur au Chocolate et sa glace a la Noisette, a shell of dark chocolate generously filled with a crunchy ganache filling. Beside it was a scoop of creamy hazelnut ice cream.
Bottom line
Even though Lyon is a temple to gastronomy, Archange stands out among its competitors with more than 200 reviewers on Trip Advisor, and will likely obtain its Michelin stars over time. The menu, a fusion of classical French and Japanese, was creative and interesting. Portions were ample without being heavy. Considering the quality of the food, creativity of the menu, and excellence of its preparation and presentation, we would return weekly if we were Lyonnaise and so lucky to be able to snag a table each time.
---
IF YOU GO
Archange, 6 rue Hippolyte Flandrin, 69001 Lyon
Tel: +33 (0) 4 78 28 32 26
Open evenings only from Tuesday to Sunday from 7PM to 11PM
Reservations for a maximum of 4 people;

[email protected]

Note: Make reservations well in advance because seats are so limited. I was able to email the restaurant from home and receive a confirmation within 24 hours.