Here are ten dishes that help characterize the tastes of Charleston:
During our recent visit to the Charleston area, we found that certain characteristic foods, dishes and preparations pervaded both restaurant menus and home cooking.
They reflect culinary traditions handed down over generations, some brought over by African slaves. They also draw upon the bounty of a region rich in farmland that also possesses an enviable coastline location.
As a result, Charleston has a vibrant food culture: People love to cook, dine out and talk about food. This seems to increase the odds of finding interesting dishes and great places to eat.
Here are some of the dishes we "met" during our stay:
1) Collard Greens
Where tasted: Husk, Charleston
Ingredients are the stars at celebrity chef Sean Brock's restaurant, Husk. Collard greens (a member of the cabbage family) are an African-American tradition. In 2011, Governor Nikki Haley proclaimed them the state vegetable of South Carolina.
2) Shrimp and Grits
Where tasted: Sunrise Bistro, Johns Island
Yes, this was a breakfast plate of crab, shrimp and grits with bacon. The fresh shellfish come from nearby Wadmalaw Island fishermen.
More shrimp and stone-ground Geechie Boy grits: These were made at home, served for dinner by our friends, Linda and Fred.
3) Baked Macaroni and Cheese
Where tasted: Angel Oak Restaurant, Johns Island
This isn't anywhere close to the Mac & Cheese your mom made you out of the blue box. This rich, creamy version is made with a Mornay cheese sauce and comes baked straight out of the oven.
4) Hushpuppies
Where tasted: Lokal, Johns Island
Instead of bread, you'll often find a basket of irresistible, deep-fried hushpuppies on the table. Made of a cornmeal batter, these came with a zesty cocktail sauce. According to legend, during the Civil War, confederate soldiers fed them to their dogs to "hush" them.
5) Steamed oysters
Where tasted: Red's Ice House, Johns Island
Oysters are a Charleston favorite, eaten raw, steamed or baked on the shell. Each January, there's even an Oyster Roast festival. These oysters came from local beds, steamed and served in an almost bottomless bucket.
6) Hoppin' John
Where tasted: The Old Pink House, Savannah
Every culture seems to have its own version of rice and beans. Although these are popular across Lowcountry, we happened to taste them on a day trip to Savannah. In Charleston, they're typically made with tasty black-eyed peas, also an African-American tradition.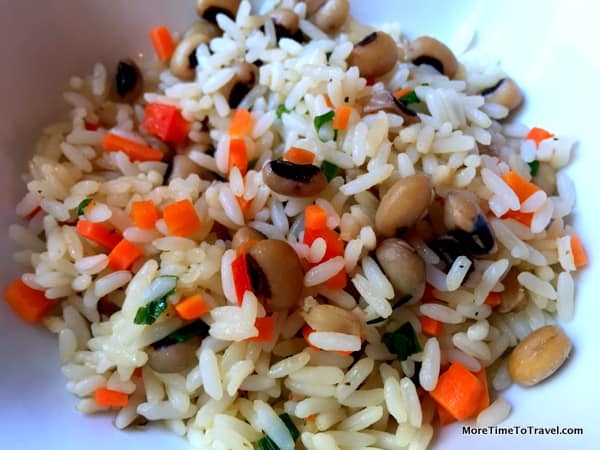 7) Fried Green Tomatoes
Where tasted: Lokal, Johns Island
I loved tomatoes so absolutely fell in love with Charleston's fried green ones. Here, they are served in lieu of bread, as part of a crabcake sandwich.
8) Pickled Everything
Where tasted: Charleston City Market
Pickled cucumbers are pretty ubiquitous in the northeast United States but in Charleston, it seems like everything comes preserved with vinegar or brine in a jar, including watermelon rind, pig's feet and sausage. Southern chow-chow is often made with green tomatoes, green red peppers, sweet onions and cabbage.
9) Barbecue Chicken Wings
Where tasted: Home Team BBQ, West Ashley
You can find virtually every type of barbecued meat and poultry in Charleston. These revisionist chicken wings were dry rubbed with brown sugar, salt, pepper and chili by CIA-trained Chef Aaron Siegel.
10) Pork Belly
Where tasted: The Macintosh, Charleston
The chefs of Charleston aren't shy about serving every part of the pig. Here, Chef Jeremiah Bacon uses pork belly, fatty meat taken from the belly of the pig, to reinterpret the classical Eggs Benedict.
Do you have any Lowcountry favorites that we've missed?
---
On the Web: If you like Southern cooking, check out this article, The Southern Larder, on Tasting Table. It is a list of 13 must-have items for a Southern pantry.