Ten Reasons To Love Miraval
Ever wonder what it would be like to spend a week at Miraval?
Contributing health and spa writer Sheryl Kraft offers a glimpse inside the award-winning destination spa.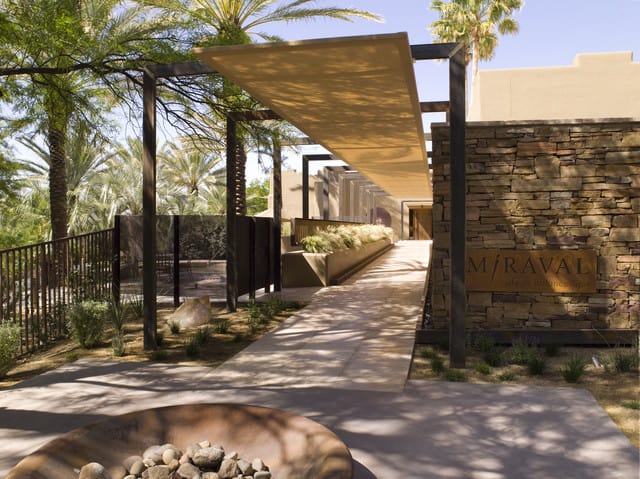 Miraval Arizona Resort & Spa is a destination spa that sits on 400 acres of pristine land near the Santa Catalina Mountains in Tucson, Arizona. It opened its doors in 1995 with the vision that life is more meaningful and enjoyable when the physical, emotional, social, spiritual and intellectual components of a being are in place. It's tough not to melt into its magic.
I'd always heard of Miraval as being Oprah's favorite place. That, as you know, carries a lot of weight for many.
But if I told you it was also my favorite place, would you pay as much attention? I hope so, because it is…and I'll tell you why:
1) Desert setting
It is enchanting. Lush with vegetation, each tree, cactus, wildflower and shrub holds a delightful and unique surprise. My favorite? The Teddybear (cholla) Cactus. Makes you want to reach out and hug it. But don't.
2) Five mountain ranges
They're majestic and magical, and perfect for hiking. And if you're lucky enough to catch the sun setting over any one of them, you're almost guaranteed to get a rush of gratitude (and maybe even some goosebumps) along with the awesome beauty of the scene (which looks like it was painted by a master).
3) Life in Balance Spa with Clarins
Recently rebuilt and redesigned, this 16,000 square foot sanctuary is undeniably soothing and relaxing – you feel it the moment you pass the massive standing stones that mark the entry and enter through its doors. Complete with indoor and outdoor quiet rooms, relaxation lounges and hot tubs, the spa's treatments are unparalleled. (There's even one called Utopia. How fitting). A few that I had: Thai massage, Reflexology, Deep Hot Stone Massage. You've no doubt heard of those.
4) Shamana-Karma treatment at the spa
This is one you probably haven't heard of. Words can't describe it, but I'll try. Lay on table. Inhale lemongrass, mint, nutmeg and clove. Ahhh.
Get rosemary oil massaged into your skin using an authentic South Indian "Vashesh" (deep tissue) technique. Melt into table.
Get massaged some more with steaming, hand-wrapped poultices. Drift into deep meditative state. As muscles become relaxed and slack, receive a warm, aromatic wrap. Let go some more.
Finish off with a gentle hibiscus plant powder scrub followed by a soothing warm shower. Somehow make it out of spa and drift back to reality.
5) Specialists
I didn't get to meet and experience the wisdom of all Miraval's inspiring and caring team of specialists, who are committed to nurture you and help you make positive life changes, but wellness counselor Anne Parker, nurse educator Sheryl Brooks, body therapist Pam Lancaster are not to be missed. And I'm sorry I missed some that I wish I had met, like Wyatt Webb, creator of The Miraval Equine Experience; Tim Frank, naturopathic physician and shamanic healer; and Andrew Wolf, exercise physiologist and the rest of the staff.
6) Cardio drumming
I yearn for a good, fun dance class, but have trouble finding one where I live. Can somebody please bring cardio drumming to Connecticut? I had so much fun beating large exercise balls with drumsticks while dancing. I barely noticed the sweat I worked up and the muscles I was using. Just remembering the fun I had makes me smile, weeks later. (So does the outdoor class, Tread and Shed, a combination of light cardio and strength training, done beneath the blue skies).
7) Floating meditation
I'm of the monkey-brain variety. It's tough to quiet my thoughts, and the more I try, the harder it becomes. But being suspended from the ceiling in a nurturing silk yoga hammock while being gently rocked to the soothing vibrations of crystal bowls? (Are you still with me?) That did the trick. Hope I wasn't snoring.
8) Lectures & workshops
Yes, I go to spas because I love the pampering. And it's an added plus to go somewhere warm, especially in the middle of an unforgivingly harsh winter. But I also love to learn new things. Workshops and lectures like Menopause: What You Need to Know, Are You Sleeping? Grief, Loss and Letting Go, and Master Your Mind to Heal Your Body brought back the willing student in me. And with so many more to choose from, I could easily become a full-time student again.
9) Playing with and learning through horses
I'm not a "horse person;" in fact, although I admire their beauty, I do it from afar. But this opportunity to learn mindfulness, living in the moment, and gain insight into my own personality and the way I deal with personal challenges, was a godsend. Can you easily imagine how you'd feel when given the task of getting the horse to lift its hoof to let you clean its underside (not something horses readily do)? Some choices: frustrated, doubtful, irritable, hesitant, confidant, frightened, agitated. A ranch-hand (who also happens to be extremely skilled and knowledgeable in people's emotions) is at hand to interpret – and explain – if you can't.
Miraval's CEO Michael Tompkins, who experienced the program in-depth, told me, "The horse is a metaphor for bigger things in your life. It can sense your energy. You actually get to see your behavior through the gentleness of an animal."
The horse may not have talked like Mr. Ed, that beloved TV horse of long ago, but it sure seemed to be communicating with me on a whole different level.
10) Outdoor challenges
I wanted to do it – but couldn't work up the nerve until my last day, when I found out the class I wanted wasn't given (I must admit feeling a bit of relief). I'm working up the nerve now for my next visit to try the Zipline, Desert Tightrope, Giant's Ladder, or Swing and a Prayer. It's all about trust and letting go. A bit daring (as you're climbing 30 feet high above the ground), but safety and personal comfort are paramount, and the afterglow of satisfaction and confidence is unparalleled, I'm told. I can do this.
My week at Miraval surpassed my expectations.
The good news: Next year, another Miraval will open in Somerset County, New Jersey (less than an hour from New York City) on the Natirar estate, formerly owned by the King of Morocco.
---
IF YOU GO
Miraval Arizona Resort & Spa, 5000 E. Via Estancia Miraval, Tucson, Arizona 85739
---
Save to Pinterest!
---
Disclosure: Sheryl paid a media rate for her experience at Miraval but any opinions expressed in this post are her own.
---