How Do You Say Cheese in Zurich? Raclette or Fondue?
Have you ever tasted raclette or fondue? Switzerland is known for its large variety of excellent cheeses. The country takes great pride in its AOP (which, in French, stands for Appellation d'Origine Protegée) designated cheeses—ones whose names, like fine wines, are associated with the specific regions where they are produced.
In addition, there are more than 450 other cheeses considered to undeniably be of Swiss origin. Given the abundance of cheese choices, it's not surprising, that Swiss cuisine features many cheese-centric dishes like raclette and fondue.
Exploring Zurich through its cuisine
Our Viking Hild River Cruise began with a two-night stay in Zurich. Not only did it offer us the opportunity to overcome jet lag before boarding the ship, it also allowed us the opportunity to explore Zurich and learn about some of the city's customs and traditions from an expert guide. (Viking River Cruises provides free excursions at all its ports. In Zurich, we signed up for a mix of a walking tour through the historic center of the city as well as a scenic boat tour on Lake Zurich).
Except for breakfasts, meals in Zurich were on our own prior to boarding the ship, so we seized the opportunity to savor one of the most traditional dishes associated with Switzerland, fondue. Although it has lost its caché at home since it was popularized at the 1964 World's Fair—perhaps, because due to its deadly combo of calories and cholesterol—we still fondly remember fondue date nights. Yes, that far back!
We were less familiar with another popular cheese dish favorite in Zurich, called raclette, and couldn't decide which to have for lunch. In a Solomon-like decision, we decided to try them both and put them to the taste test.
Finding Swiss Chuchi
Located on an easy-to-find corner in Zurich's old town, Swiss Chuchi is a traditional restaurant located in the three-star Hotel Adler, which is said to date back to the 16th century. Diners can eat indoors or out, weather permitting. The place is cozy and comfortable. Attractive murals that look as if they were drawn in watercolor line the entry and interior of the restaurant.
The restaurant was recommended by our Viking tour guide and also scored high on Google and TripAdvisor reviews.
Despite many reviews citing long waits, we were comfortably seated right away and immediately began to relax over a couple of glasses of excellent, local rosé wine.
We had checked the menu beforehand to make sure we could order both fondue and raclette here. (Some restaurants only serve one or the other.) The place had the feel of an Alpine ski chalet with warm woods, kitsch décor (including cuckoo clocks), waiters in red-and-white checkered attire and black-and-white placemats.
The challenge: Raclette or Fondue?
We placed orders for both fondue and raclette to share between us.
Raclette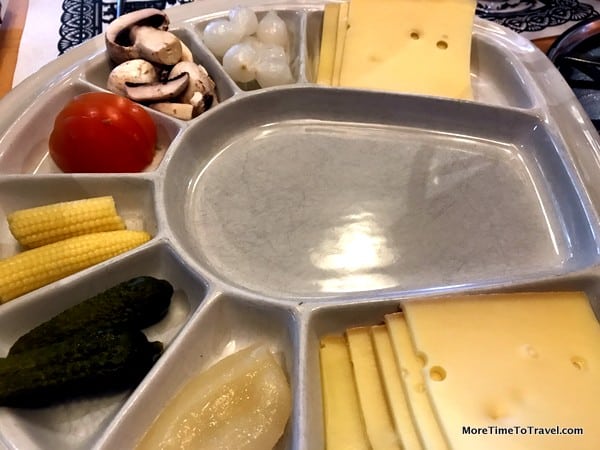 The raclette was served in a horseshoe-shaped divided dish with cheese slices, sliced tomatoes, pickled baby corns, cornichons, and pearl onions accompanied by a pretty red-and-white-lined burlap sack of pommes de terre (small boiled potatoes).
Our waiter brought over a miniature electric grill with a small square pan (called a coupelle) on each side). He showed us how to heat a slice of Swiss cheese on the pan and then scrape it off over the vegetables.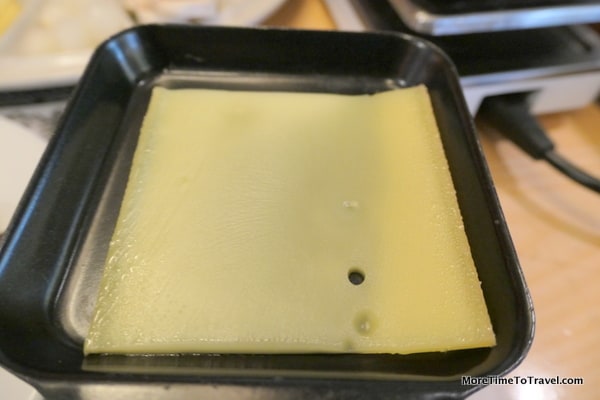 The terms raclette literally means: scraping off, in French. Legend has it that herders in the mountains used to scrape cheese over rocks and melt it over food. (The same term, raclette also refers to the semi-hard cheese after which the dish is named.)
Fondue
We ordered the traditional fondue made with four cheeses, white wine, cherry liqueur and garlic. Other versions add additional ingredients to the mix, such as mushrooms or prosecco and poached pears, for example.
The fondue was served tableside in a red cast iron pot over a flame along with a basket of crusty bread cubes for dipping. The lovely fragrance of the dish foreshadowed its excellent taste. We ate with long three-pronged forks used for dipping the bread and rolling it in the cheese before carefully placing the coated cubes in our mouths. (Our Viking tour guide had told us about a fondue tradition: If someone drops the cheesy cube back into the pot, they are obliged to pay for the entire meal!)
Fondue literally means: to melt. Apparently, poor herders created this dish to make use of old hardened cheese and stale bread. In the 1930s, the Swiss Cheese Union promoted fondues as a way to increase cheese consumption.
Which to order?
Both dishes were delicious and quite hearty, probably best eaten in winter on the slopes, unless opportunities are limited and a traveler is only in Zurich for a couple of days like we were.
Chuchi's portions were large. Cooking at the table made for a relaxing and very sociable meal. If you have children, grandchildren or travel writers with you, they will be forced to put down their smartphones and engage.
Because of the variety of vegetable ingredients, raclette offers a more balanced meal. Because it doesn't call for bread, it's also a better choice for anyone on a gluten-free diet.
But if we were forced to choose between the two cheesy Swiss dishes, we both agreed that we would opt for fondue. We loved the consistency of the melted cheeses, their rich flavor and the fun of cooking over a fire.
But why choose between raclette or fondue when you can have both?
---
So you may be wondering: What exactly is 'Swiss Cheese?' Actually, it is the generic name used in North America to describe yellow, medium-hard cheeses like Emmental cheese—but these Swiss-like cheeses usually are NOT true AOP cheeses from Switzerland.
---
IF YOU GO
Restaurant Swiss Chuchi at the Adler Hotel
Rosengasse 10, 8001 Zürich, Switzerland
The cost of our lunch was about $35 per person in a city where the high cost of everything tends to be shocking.
Viking River Cruises – Swiss Alps to Paris
---
On Google Maps
---
Disclosure:
Our Viking Swiss Alps to Paris River Cruise was hosted by the cruise line but we paid for all meals in Zurich on our own.