Jamaica: Visiting the new Melia Braco Village
Guest bloggers John and Sandra Nowlan report on their visit to Melia Braco Village, a newly rebranded all-inclusive resort in Jamaica. They also enjoyed some excellent island excursions.
With a colorful Bob Marley cocktail and a Red Stripe beer in hand along with a pair of traditional, spicy Jamaican patties to consume, we felt like we'd fully arrived on this delightful Caribbean island.
We were in the spacious, open-air buffet restaurant at the new Melia Braco Village, an all-inclusive resort that is a 45-minute drive along the north coast from the Montego Bay airport. Melia is a huge Spanish-owned hotel and resort company with about 350 properties worldwide (including the Tryp, Sol and Paradisus brands) but this resort is its first in Jamaica.
This property has gone through several operators over the last decades but Melia leased it from the government a couple of years ago, spent several million dollars in renovations and opened it to the public, with limited facilities, in January.
It's a huge, wonderfully landscaped property (including a practice soccer field for the Jamaican national team), secluded from other resorts, with a series of charming two- and three-story Colonial buildings spread along the beachfront.
The hub of the resort is the village center where the reception area, restaurants, shops and entertainment venues are clustered around the village fountain and are designed to copy the flavor and look of nearby Falmouth, the historic capital of the parish of Trelawny. Like Falmouth, the architecture is Jamaican Georgian with replicas of several buildings including the courthouse (the resort's convention center).
The rooms at the resort are modern, spacious and comfortable. All have charming verandahs or balconies with rocking chairs (a lovely touch). When we were there, the "soft" opening meant that a number of kinks had to be worked out ranging from serious (there was nothing but scalding hot water in both taps for a couple of days and then, on two occasions, no water at all) to inconvenient (no list of TV channels available and no daily entertainment and restaurant schedule). An upscale "Level" area (butler service; separate restaurant; premium beach) was still under construction next door. Throughout the resort the staff was well trained, efficient and friendly.
In spite of limited food choices (five a la carte restaurants plus the buffet were advertised, but on one night only the buffet was open), the cuisine was generally quite good. The award-winning Jamaican executive chef told us he's determined that his team of 33 cooks will turn out wonderful meals "to wow our guests." He offered a fine array of Jamaican specialties (including Jerk chicken, of course) and his beef was especially tender and flavorful. The fish was always fresh. The chef admitted that his bread and pastry chef was not up to speed yet (and apologized for the poor, store-bought buns and pizza crust).
The beach and swimming pool (with a swim up bar) are wonderfully warm and clean but the resort still has a problem with rocks and coral in the water. We used beach shoes when swimming. Highly recommended.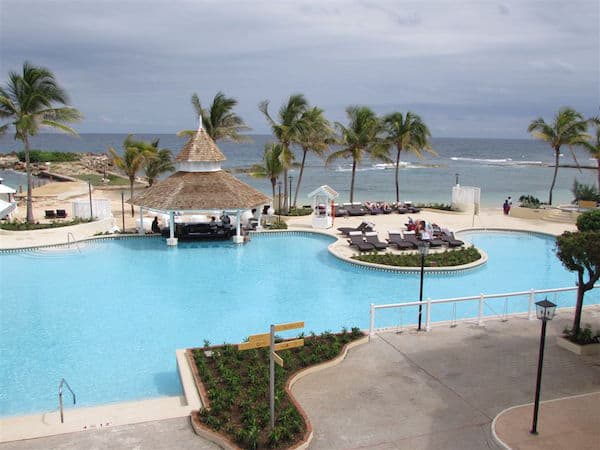 Jamaica Tours Limited (JTL) has a desk near the reception area of the Melia Braco Village and we found the company to be very helpful and efficient in our airport pickup and planning excursions.
On the way to visit Falmouth, our driver pointed out Usain Bolt's former school (he's contributed major dollars to its track facilities), the alligator farm where parts of James Bond's "Live and Let Die" was filmed and the historic town's $180 million cruise port facility.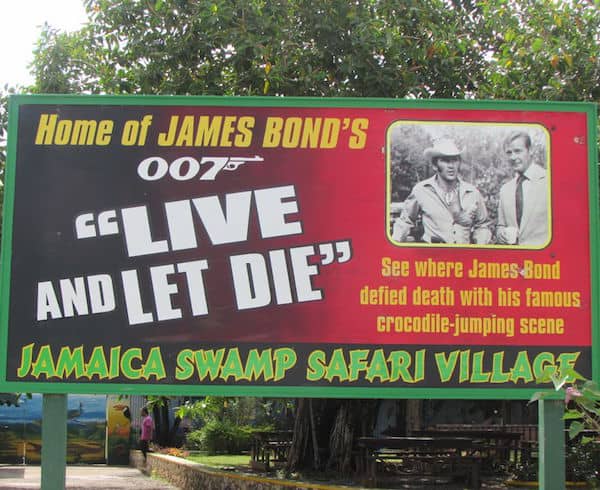 The community, founded in 1769, obviously takes great pride in preserving the Georgian architecture and wide streets including Water Square which boasted of running water before New York City. There's also a thriving fruit and vegetable market with many colorful, tasty displays including home made tonics and potions peddled by a town character known as Dr. Stream.
One of the most popular tours from the resort is the 45-minute drive to Ocho Rios, a thriving community with shopping centers (lots of rum tastings and opportunities for bargaining) and several unique attractions. The most popular is Dunn's River Falls, 600 feet of cascading waterfalls over smooth rock that is easy to climb. It empties into a delightful cove and beach.
Another popular natural attraction that we enjoyed was Green Grotto Caves, a long labyrinth of underground limestone caverns. Running for 1500 yards, the caves are filled with stalactites and stalagmites with steps down to a pristine subterranean lake. The many hanging or swooping bats just add to the fascinating history of the caves which were first used by 6th century Arawak Indians (the island's first inhabitants), then as a hideout for Spaniards escaping the conquering English and finally as a storeroom for rum. The climatic scene of "Live and Let Die" was also shot inside the caves.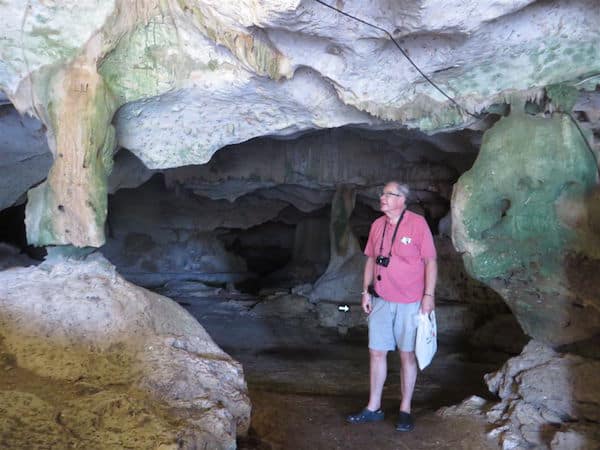 Visitors to Ocho Rios can also visit Dolphin Cove with up close and personal communication with the friendly mammals or visit a working sugar plantation by horse drawn wagon.
Back at the Melia Braco Village, gardeners were busy with final landscaping touches and the sounds of construction echoed from several unfinished buildings (including a spectacular looking steakhouse).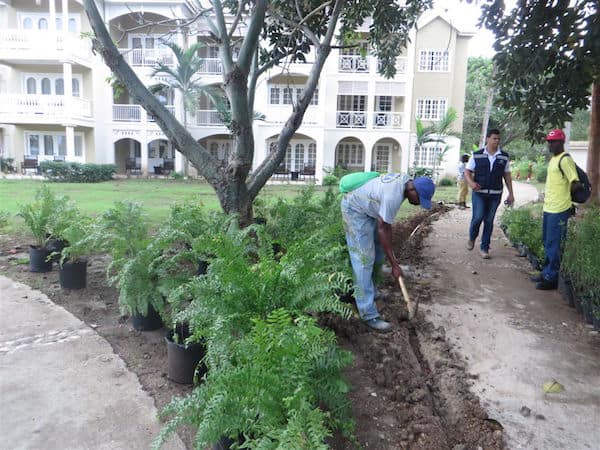 Even with few guests, evening entertainment was of a high standard including an opera singer (who would be at home at the Met) and a synchronized swim team. The guest services manager told us that, when finished, Melia Braco Village will be the flagship of the entire Melia chain. From observing its potential, it's hard to disagree. Yah Mon!
---
IF YOU GO
Melia Braco Village
---
John and Sandra Nowlan are travel and food writers based in Halifax, Nova Scotia.
Disclosure: The Nowlans were guests of Melia Braco Village but any opinions expressed in this post are their own.