What is it like to fly China Eastern Airlines?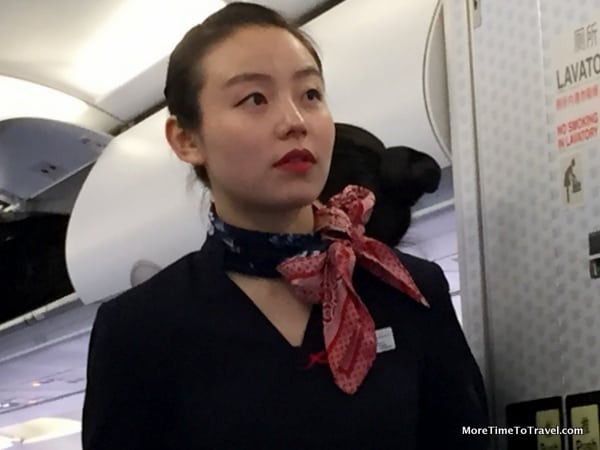 If your travels are within China, there's a good chance you'll fly China Eastern Airlines.
When we recently visited Beijing, we flew out of Terminal 2 from Beijing (PEK) on China Eastern Airlines Flight MU 2106. Our destination: The city of Xian (XIY), home of the terracotta warriors. Because we had no idea what type of aircraft we would be flying and the skies were extremely foggy, I was a bit apprehensive. Yet, except for a very lengthy (four hour) departure delay, the 1-hour, 40-minute flight itself turned out better than expected.
About China Eastern Airlines
Headquartered in Shanghai, China Eastern Airlines is one of the three major state-owned transport companies in China. The carrier flies both domestic and international routes in Asia, North America and Australia, and has had codeshare agreements with WestJet, Ethiad Airways, Japan Airlines, Qantas and Virgin America (as part of the SkyTeam Alliance) since January 2013.
Living Room (as it's called in the trade)
Our Airbus A321 was a much larger plane than I had imagined, with a business class section followed by two large economy cabins configured with three seats on each side of the aisle. We were seated at the back of the plane in Seats 49 A and 49B (a window and middle seat).
The plane looked fairly new and clean but was pretty minimalist in design and decor. Legroom was ample. It would have been nice if the seats had been better padded but for a short haul, they were comfortable enough.
One interesting twist: The colors of contiguous seatbelts alternated between red and blue. Thus, you could readily identify your seatbelt and distinguish it from that of the passenger next to you. What a nice innovation—one that we had never seen before but which makes so much sense.
Service and Food
For lunch, we were served a hot, soggy-looking chicken sandwich wrapped in foil. I guess the meal might have seemed more appealing if we had been desperately hungry. Compared to most carriers in the U.S., we were quite surprised that any food was offered on such a short flight. Contrary to the Western convention, soda, juice and water were served after rather than before the meal.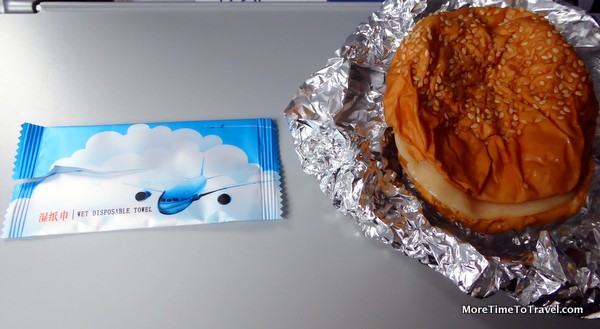 The young flight attendants were dressed in attractive blue uniforms with big red elastic cinch belts, like those popular in the 50s. Although most had only limited English, they were generally responsive to passengers.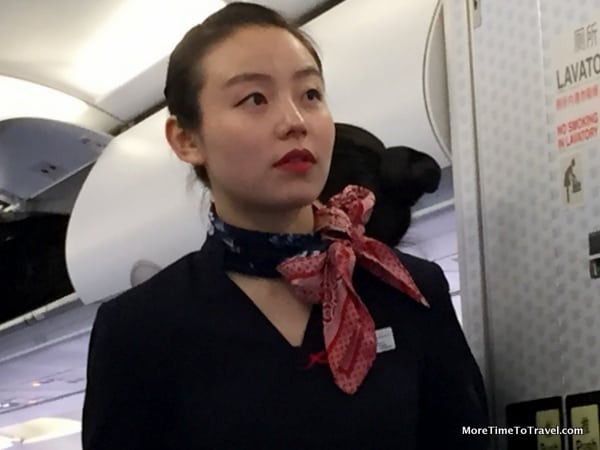 Entertainment and Technology
There were no seatback entertainment systems but a drop-down screen at the front of the cabin provided easy-to-follow, animated air safety instructions, first in Chinese and then in English.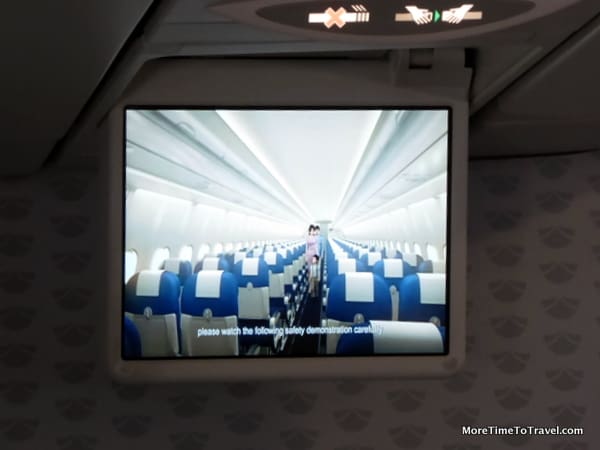 The live instructions (also in Chinese first and then in English) from the flight crew were distinctly Chinese in style. The person speaking on-air welcomed us by saying, "It's great to have you with us, friends." When the skies became a bit choppy, another on-air announcement explained that we were experiencing some turbulence and reassured us repeatedly:
"Please don't worry."
Since we never heard a flight crew say that before, it was somewhat refreshing.
As one might expect, the glossy airline magazine, Aviation Culture, was written entirely in Chinese.
Bottom Line
We arrived safely, having felt comfortable and well taken care of on the flight. However, because the flight took off four hours late, we missed a good chunk of time that we had hoped to spend in Xian.
Just before takeoff, each passenger was given a cash payment of 150 Yuan, about $25, for the inconvenience of the delay. In the U.S., it's more common to get a voucher that you can use for a snack at the airport. The biggest problem (and frustration) with the flight, however, was the lack of any communication explaining the reason for the lengthy delay.
Locals we met warned us that most Chinese airlines routinely delay or cancel flights. A recent article in the China Daily (April 8, 2015) may explain these aviation problems, in part. It noted that the available air passage space for civilian flights in China is only one-third that of the U.S. and that the number of air traffic controllers is about one-half. Fortunately, our return flight back to Beijing left on time.
Although I didn't have any need to use the lavatory on the short flight, I did peek in before we deplaned. In case you're wondering, the plane had Western-style toilets with toilet paper rather than the squat toilets commonly found in public places in China.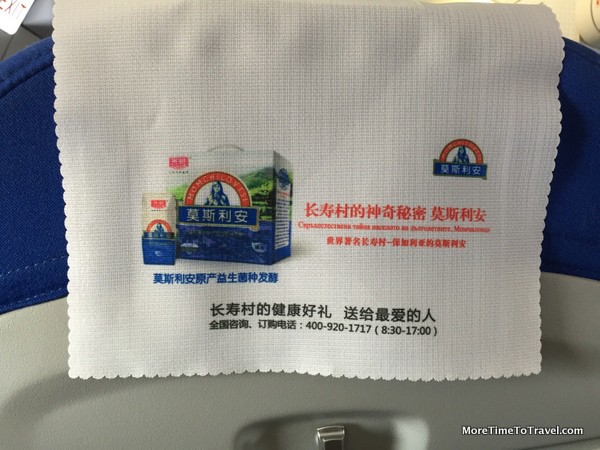 For more information, see the China Eastern Airlines website.
---
Also on More Time to Travel: