What is it like to fly KLM Economy Comfort?
When booking flights in and out of Amsterdam, you might consider KLM Economy Comfort seats.
We arrived at Schiphol Airport to board KLM Flight 641, flying home from Amsterdam to JFK International Airport in New York City. However, it wasn't until mid-flight that we heard that the Royal Family—King Willem-Alexander, Queen Maxima and their three daughters—might be on our plane.
About KLM
Founded in 1919, KLM Royal Dutch Airlines is the oldest airline still operating under its original name. The airline is the flag carrier of the Netherlands although Air France is now the majority shareholder.
KLM is part of the SkyTeam alliance, which operates some 2100 flights daily in partnership with Delta Air Lines and Kenya Airways. It has a fleet of 204 aircraft so as you approach Schiphol Airport you're likely to see a forest of blue and white planes with crown symbols.
A first-time experience with baggage self-ticketing
This was the first time we encountered an airport with mandatory baggage self-ticketing and the long queues associated with it—another transparent attempt by the airline industry to cut back on personnel.
This is how it works:
Once you have your boarding pass (which we were able to print out seamlessly in the cabin of our riverboat), you are obliged to stand on long, winding Disney-esque lines at the airport departure terminal.
Bilingual video monitors overhead explain how to ticket your own baggage. Perhaps the system would work efficiently if the Netherlands was a land of digital natives but for sure, almost everyone ahead of us (and then we) stumbled with the new technology. There was insufficient oversight by the few human troubleshooters dressed in beautiful royal blue attire.
If you ever tried to do a self-checkout at a supermarket for the first time, you probably have a sense of the complexity of self-ticketing baggage at an airport.
In this case, each suitcase, one at a time, had to be placed in a cage to be weighed and aligned with markings to make sure it didn't exceed size limits. The illustrative diagram inside the cage showed the bag to be measured standing up but your bag actually had to be turned on its side.
Next, you scan your boarding pass to retrieve your reservation and wait for a baggage ticket and then a claim stub to print out. After affixing the ticket to your suitcase (inside the cage), you press a button to close the door and pray it arrives at your destination.
Living Room (as its called in the trade)
The configuration on our Boeing 770-200CMU plane was 3-4-3, which means that 4 out of 10 seats in every row are middle seats. Thus, you stand a very good chance of sitting close to people you don't know (which we always find uncomfortable on long-haul flights). We sat in seats 11A and 11C, which meant that the guy in 11B was seated between us.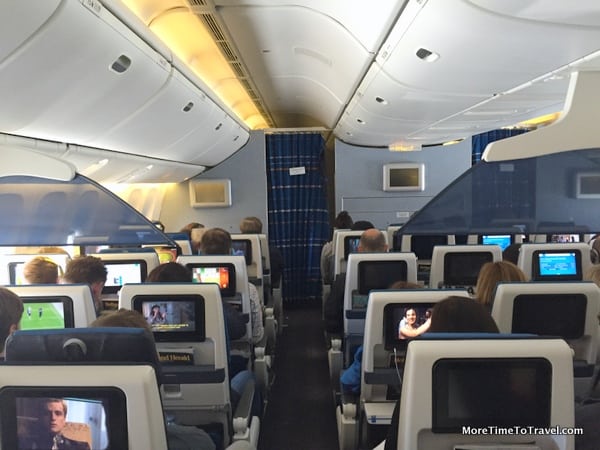 Flying Economy Comfort bought us 4 additional inches of legroom.
When the passenger in front of me fully reclined his seat during dinner, my food nearly landed in my lap. We may have bought extra legroom but there wasn't much space between my seat and his. I actually had to deflate my neck pillow to get another inch of breathing room.
Jerry's "window seat" was primarily solid wall with a partially blocked window. We couldn't find the configuration for our seats on Seat Guru (which we usually check before choosing seats), so we also wound up with electrical boxes on the floor in front of both of our seats.
Our plane departed about 1/2 hour late, supposedly due to a combination of weather-related (rain) and technical problems.
Lavatories
There were two sets of lavatories, one at the rear of the plane and another about three-quarters of the way back. They were impressively clean and even had a note posted on the mirror asking passengers to call the cabin crew if they found anything amiss.
Grub and service
After a complimentary beverage/cocktail service, we were offered a choice of hot meal, either Thai Chicken with rice or vegetarian penne pasta. I opted for the chicken, which was quite good. Most eye-catching, however, was the attractive white and blue plastic wrapping/packaging that looked like Delft pottery. The meal came with a side of chopped salad, a piece of Beemster Dutch cheese with crackers, a roll and butter, and a berry and cream dessert.
The flight attendant simultaneously picked up our meal trays when she offered us a second round of beverages. This isn't the case on most flights we've taken; flight attendants usually wait until the end of the food and beverage service to pick up trash. About an hour later, we were surprised with another round of food service; this time ice cream and water.
Update: OMG, another course—this time a cinnamon bun or chicken-filled pastry in a little blue and white gift box.
Flight attendants were friendly and accommodating. We couldn't judge their fluency in Dutch but they spoke English perfectly. The one serving us happened to speak five different languages.
Best seatback entertainment system we ever met
On transatlantic flights, you're always looking for a way to make time pass quickly. Our plane had a modern touchscreen personal entertainment system definitely worth writing home about. No Wi-Fi but probably every other function you can imagine beyond the usual movies, TV and audio programs.
Among the more cutting- edge options were Berlitz language programs and an online program, called Relaxline, which promises to help you relax. I started off with a 15-question test to measure my level of stress. I was delighted when I read, "Either your life is a pretty calm one or you are a Tibetan monk." So I moved on to check out what else was available.
An excellent mapping function (called My Flight) allowed you to track your flight and follow all the flight data. You could simply touch the screen to expand or shrink the map.
There was a channel that allowed you to read about the major sightseeing attractions at most of the cities served by the airline and watch 8-minute videos.
Seat Chat was something we had never seen before. The program allowed you to identify a passenger by seat number (Presumably, even someone you don't know) and start an e-chat with them on your monitor.
Sky Mall may have gone out of business but this electronic shopping channel had all the bells and whistles. It was extremely appealing with great photos and descriptions. (I was tempted to buy a fragrance I didn't need or like.)
Bottom line
Proximity can either breed contempt or familiarity. We became friendly with the person sitting in the middle, a man from the south of the Netherlands on his way to a medical conference in New Amsterdam (Manhattan). He was the one who told us that his colleagues had overheard a rumor that the Royal family was in the first class cabin, and that their presence was the "technical" problem that held up the flight.
No, they didn't sit in steerage with us and we didn't even catch a glimpse of royalty but it made for an exciting flight.
Based on our first-time experience, we would fly KLM again. Although it was an imperfect flight experience (in terms of comfort), the meal, entertainment and service were really exceptional and we have come to realize you can't expect too much more when flying economy, or in this case economy comfort.
Tip for travelers:
Because we flew Delta from NYC to Amsterdam and KLM is a codeshare partner, we weren't able to book Economy Comfort return seats on KLM until we checked-in in Amsterdam. By that time, the upgrade cost us a whopping $101 per ticket. (We read in the inflight magazine, Holland Herald, that the price increases as your purchase gets closer to the time of the flight so if you have an option to reserve seats early, do so).
---
For more information, including routes, see the KLM website.
---
Also on More Time To Travel: