Maison Dandoy: Searching for the best waffles in Brussels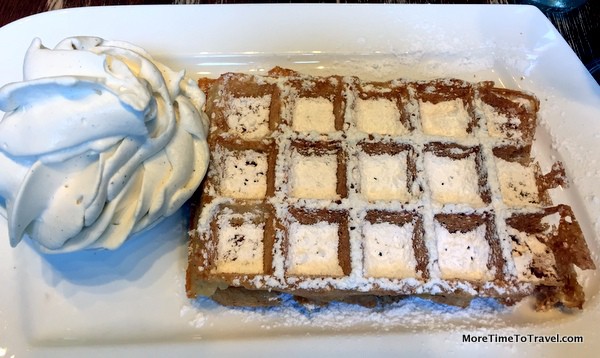 Honestly, we had no time to test them all but Maison Dandoy is rumored to serve the best waffles in Brussels—perhaps, in Belgium.
Turn any street corner in Belgium and you're likely to be tempted by the sweet scent of freshly-baked waffles. While Americans tend to eat these delicacies for breakfast or as an indulgent dessert, Belgians (perhaps, because they tend to burn so much energy bicycling and walking) are just as likely to consume the calorific treats as a quick "pick-me-up" between meals.
The stereotypical tourist walking through the crowded streets of Brussels (Belgium's capital) is often precariously balancing a little paper tray with waffles, usually dripping with strawberry syrup, whipped cream or both, while trying to consume it with a tiny plastic fork that's not built for the job.
After traipsing through the hilly city for hours on foot, we decided to treat ourselves to a snack at a charming second floor tearoom that had been recommended to us as having the best waffles in Brussels, Maison Dandoy.
Visiting Maison Dandoy
Located only steps away from the Grand Palace and the old Bourse (stock exchange) in a three-sided corner building in the historic center of the city, Maison Dandoy is a family-owned business (in operation since 1829) that was started by a baker who was the brother of the then-mayor.
That original store on Rue au Buerre (Butter street) was known for its delicious cookies. Although successful, the business had ups and downs during the 40s when the baker was unable to produce many confectionaries due to shortages of some ingredients during the war. After the business rebounded, the Dandoy family (now in its sixth generation) opened this store in 1984, the second of seven they now own in Belgium (in addition to one opened in Tokyo).
When we arrived, many people were lined up on the street outside the shop, waiting to order homemade ice cream in waffled cones. As we wove our way through the ground floor bakery, it was just as crowded with locals as tourists ordering beautiful biscuits and cookies of every shape, size and flavor, packaged in gold and white boxes and tins.
We finally found the old wooden staircase leading up to our destination, the tearoom on top. It had about ten wooden tables and one VERY efficient waitress. She deftly took orders, picked up steaming hot plated dishes from the dumbwaiter, serving them, and sending the dirty dishes back downstairs.
Two types of Belgian waffles
Two different—but equally delicious—types of waffles are popular in Belgium's capital city, Brussels: Brussels-style or Liège-style (gaufre de Liège-Luikse).
Brussels-style waffles are typically rectangular in shape and reminiscent of the ones we eat at restaurants in the States or perhaps, make in a waffle-maker at home. It's said that a Swiss baker who worked in Brussels first created them. They're usually dusted in confectioner's sugar (not doused in maple syrup) and are often served with strawberries.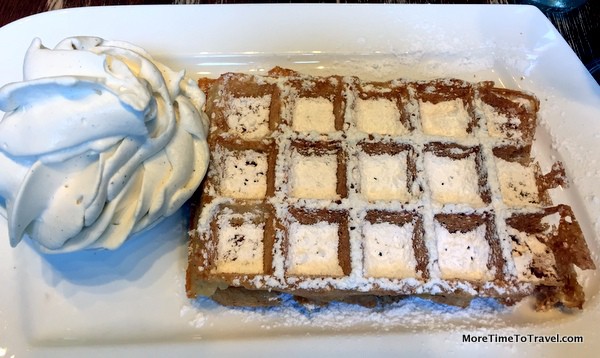 The Liège-style ones are denser in texture, have an irregular shape, and are coated with caramelized sugar.
At the tearoom, I ordered a Brussels-style waffle with confectioner's sugar with a side order of Chantilly cream. It was incredibly light and crispy and its batter delicious, unlike any waffle I had ever eaten before.
Jerry ordered Belgian pancakes (which are paper-thin like crepes) served with brown sugar and butter. He topped off the sugar binge with a hot chocolate that was an excuse for drinking whipped cream.
Discovering speculoos
While we couldn't figure out any way to bring the waffles homes, we did purchase cookies on our way out of the shop. This was our opportunity to sample speculoos, a popular cookie in both Belgium and the Netherlands.
The name of the cookie is derived from the word "mirror" and for centuries, these treats were baked in wooden cookie molds and given to children during the celebration of St. Nicolas as a reward for being well-behaved.
Part of the gingerbread family, the thin, crunchy biscuit is made with cinnamon, brown sugar, clover, butter and other spices. They have images on one side and a flat back; the backs of the ones we purchased were dipped in chocolate.
Wrapping up our sugar fix in Brussels
Maison Dandoy was a delightful respite from the crowded streets in Brussels. Yes, you can buy Brussels-style waffles for 1 euro each on almost any street corner but we enjoyed visiting this quaint shop to taste the local specialties that helped shape its long and storied history.
---
N.B. Brussels was one of the stops on our AmaWaterways Tulip Cruise, which offered a nice mix of tours and free time to explore some charming cities in Belgium and the Netherlands.
---
IF YOU GO
Maison Dandoy, Rue Charles Buls 14, Bruxelles, Belgium
---
Read about another blogger's experience in Brussels on Fashion and Frappes.