What is it like to fly a JetBlue Embraer 190 to Nantucket?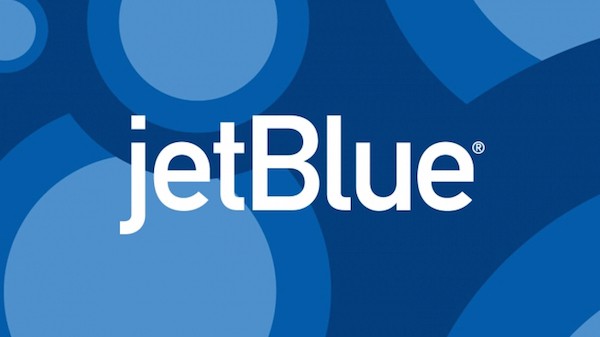 When flying between New York City and Nantucket, you may want to fly on a JetBlue Embraer 190.
Nantucket is about 30 miles off the shore of Massachusetts so most visitors arrive either by air or by boat. (For the traveler arriving by car, the price of transporting a vehicle on one of the ferries is pretty prohibitive: about $400 between Hyannis and Nantucket, round-trip, when space is available).
Two major carriers, Jet Blue and Delta offer non-stop service between John F. Kennedy International Airport (JFK) and Nantucket Memorial Airport (ACK), which is located only about three miles from downtown Nantucket. We opted to fly on a JetBlue Embraer 190.
Having previously experienced the thrill of flying to Martha's Vineyard on a Cape Air Cessna light aircraft during similar stormy weather, I was a bit apprehensive about the flight we booked to Nantucket on this regional jet. I was pleased to find out that an Embraer 190 is much larger and thus, feels more secure.
About JetBlue
JetBlue is a low-cost airline based in New York City. In fact, it calls itself "New York's hometown airline." The airline flies to 84 destinations in 24 states and 12 countries, including flights to the Caribbean, the Bahamas, Barbados, Columbia, Costa Rica the Dominican Republic, Jamaica, Mexico and Puerto Rico. A large number of the flights originate from JFK.
Living room (as its called in the trade)
The twin-jet Embraer 190 we flew (flight #1191) had 25 rows of seats. The middle aisle divides it so there are two on each side without any middle seats. There are rest rooms at both the front and back of the plane. We were seated in Row 11, in seats that didn't recline. Our seats were booked by a travel agent who neglected to check Seat Guru as we usually do.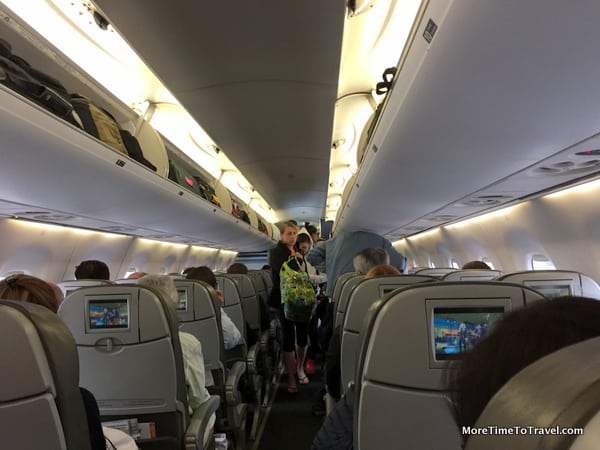 While the plane wasn't plush by any means, it did have reasonably comfortable leather seats with personal televisions offering free DIRECTTV. Legroom was also ample by today's standards, with adequate under seat and overhead space to stow carry-ons. JetBlue's "Even More Space" seats with extra legroom were available at $35 per segment; these included bulkhead as well as three rows of exit row seats.
Amenities and snacks
Since this was a relatively short flight, we were offered snacks of either blue chips or Skeeter nut-free chocolate chip mini cookies and soft drinks and water—totally adequate for the brief flight. The flight attendants were gracious and attentive.
Had we been on a longer flight, we might have been annoyed by JetBlue's menu of "nickel-and-dime extras (listed in the cards in our seat pockets)—$7 for wine; $5 for an Arm & Hammer Blanket; $6 for an anti-allergen Claritin pillow; $5 for a headset; $5 for a movie; $7 for snacks; and meals for $8-$12 each (unless you purchase the $3 Chobani oats).
The bottom line
Although we reached our destination safely, foul weather did "foul up" our schedule. We encountered traffic getting to JFK; lengthy delays in taking off as we waited successively for a plane, then crew, and then a Captain; and spent 1/2 hour taxiing on the runway (totaling about 6 hours from door-to-door) for our 37-minute flight!
We certainly couldn't blame the airline for these delays and would definitely fly the JetBlue Embraer 190 again, hopefully in better weather. It's a great way to get to Nantucket.
P.S. On a flight like this, we would not opt for "Even More Space" extra legroom, which we calculated would have cost us about $1 a minute.
This is one of a series of posts about my experiences on new-to-me airlines. Surely, each flight is different but it's always helpful to get general impressions of what to expect before you fly. If you fly the JetBlue Embraer 190 and have a very different experience, please feel free to comment below.
---
Also on More Time To Travel: