"Daring for a Day" Boomers at a Clothing Optional Resort in Jamaica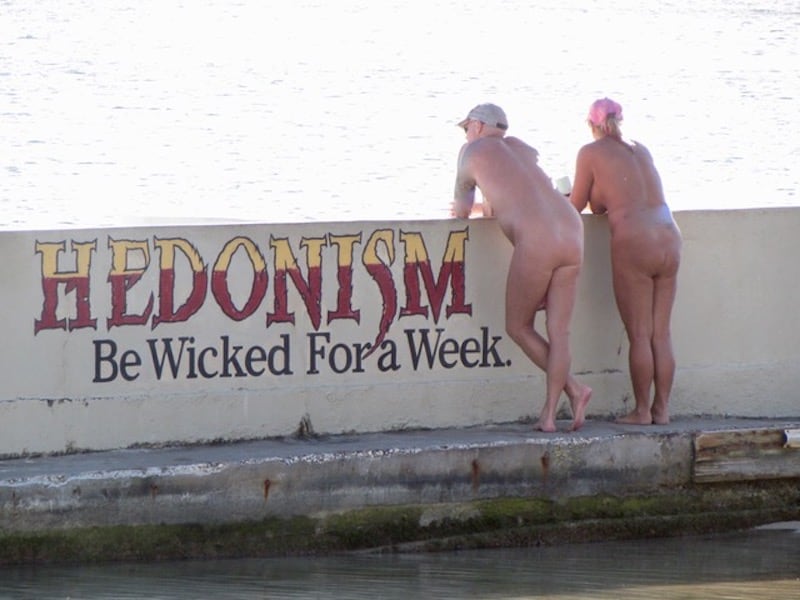 Guest bloggers John and Sandra Nowlan visit Hedonism II, a clothing optional resort in Jamaica, and offer their report from the front.
Wonder what it's like to stay at a clothing optional resort in Jamaica? There was a Prude Side and a Nude Side.
But during our afternoon and evening visit to the Hedonism II Resort, just a few hundred yards from our main hotel, the Hotel Riu Palace Tropical Bay in Negril, Jamaica, very few guests stayed by the white sand beach on the quiet Prude Side. Those who did quickly disrobed.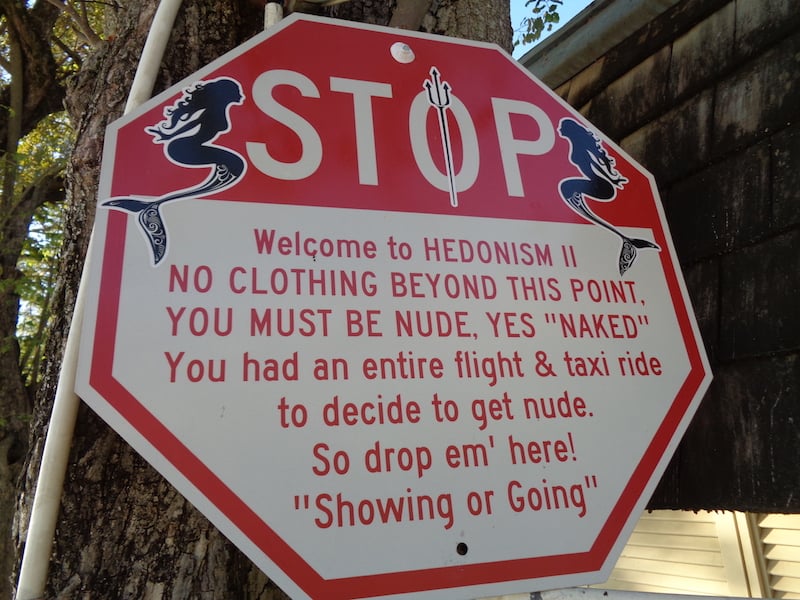 But the Nude Side, especially the pool, was crowded and noisy with everyone required to disrobe. Only newbies had suntan lines.
---
This post may contain affiliate links. This means that I may receive compensation if you click a link, at no additional cost to you. For more information, please read my privacy and disclosure policies at the end of this page.
---
The popular 280-room resort at the extreme west end of the famous Seven Mile Beach is obviously adults-only but we were surprised by the lack of young people. Very few were in their 20s and early 30s. The majority were older, mostly in their 40s and 50s but some well into their 60s and 70s.
The couples were mostly heterosexual but the resort also welcomes singles and gay couples. The scene was definitely not from Playboy as all body shapes and sizes were on display without embarrassment. No one was shocked by the gentleman with a Prince Albert piercing (look it up). The resort prides itself as being non-judgmental.
As one recent guest posted, "Nearly everyone here is decidedly imperfect…and nobody cares."
What's it like to be wicked for a week?
The motto of Hedonism II is "Be Wicked for a Week" and, judging by the pool activity, guests from around the world come here to shed inhibitions (as well as clothing) and to live out their fantasies.
We stayed mostly on the Prude Side (greatly enjoying the freedom and relaxation of swimming in soothing warm water in the altogether) but heard guests talking about the erotic pool games on the Nude Side. One was called "Car Wash" which involved plenty of soap bubbles. We can only imagine!
We quickly got used to nude couples walking back and forth between the two areas of the resort, saying hello and chatting to strangers. Nakedness is also allowed in many other areas of the property but not in the dining rooms.
Dining at the resort
We were invited to stay for the Friday night gala buffet and, with everyone clothed, it was much like buffets at other Jamaica resorts. The Executive Chef at Hedonism II is Anthony Miller, a displaced Texan who seamlessly moved from Bar BQ to jerk chicken and ackee & salt fish.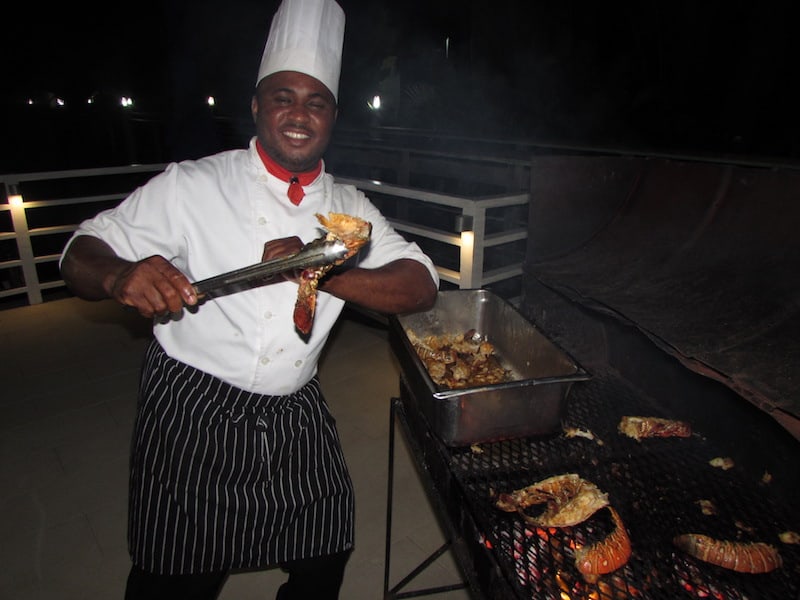 He told us that Jerk is extremely complex and takes his BBQ skills to another level. The food at the buffet was indeed excellent, especially since it included unlimited lobster tails, roasted over coals.
Being curious about these things we were very happy with our short visit to Hedonism II, a clothing optional resort in Jamaica, and consider it to be among our travel adventure highlights. And, since we were asked many times, there was never a Hedonism I.
No one knows why.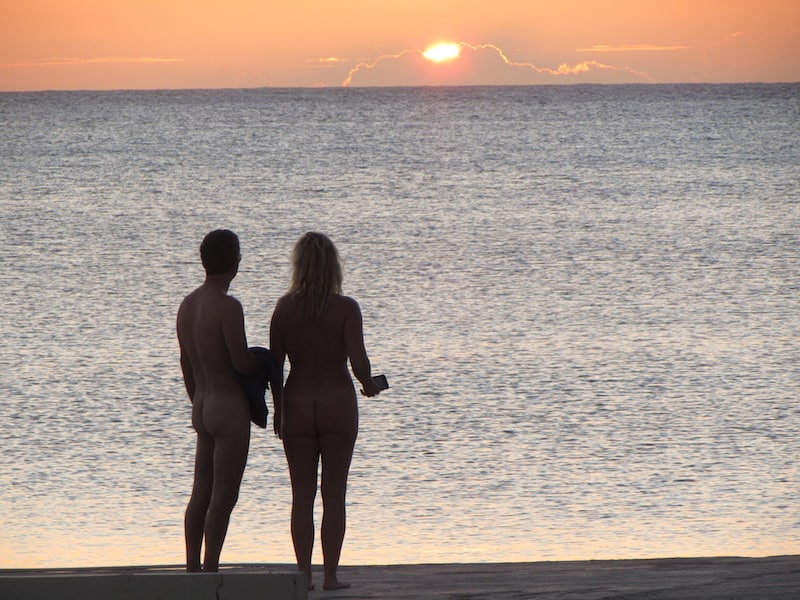 ---
Some other nude and clothing optional resorts in Jamaica
---
John and Sandra Nowlan are travel and food writers based in Halifax, Nova Scotia.
---
IF YOU GO
---
Save to Pinterest!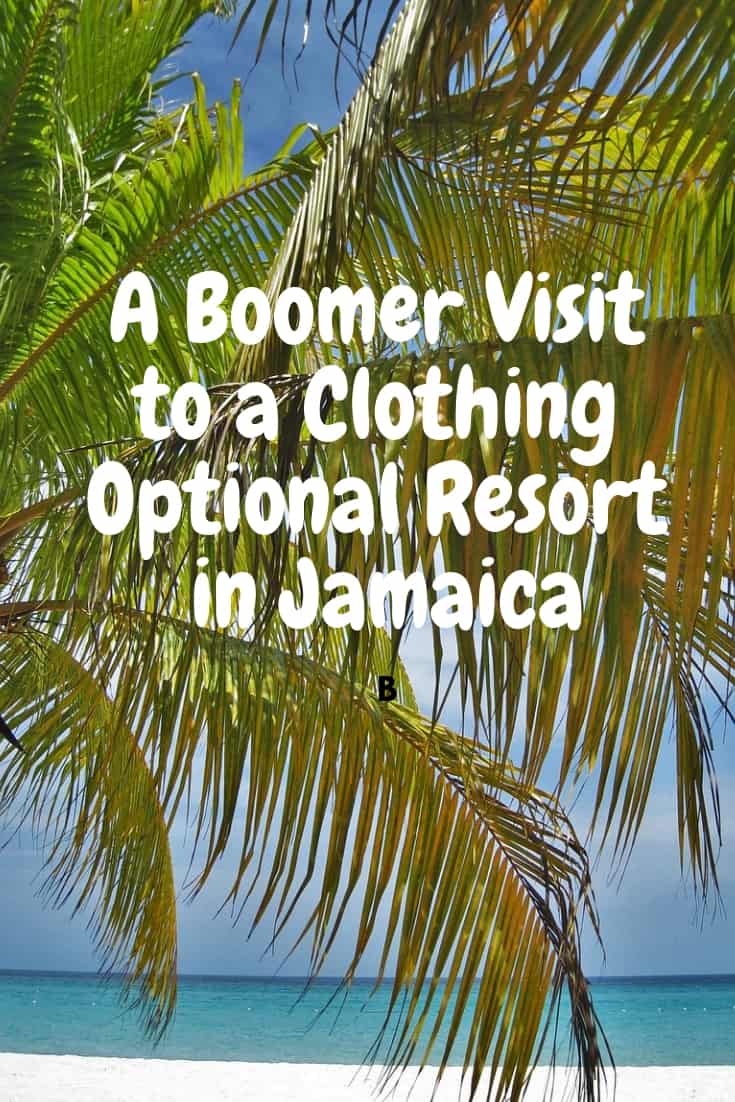 ---