La Posada de Santa Fe Resort: Old-world charm coupled with modern convenience
La Posada de Santa Fe Resort is set on six acres of land nestled in the heart of Santa Fe, within easy walking distance of nearby museums, restaurants, shops, galleries and the historic square. With beautifully landscaped grounds and walking paths, it makes a perfect base to explore this vibrant city. Moreover, with all the amenities of a luxury resort, it's also a great place to relax, unwind and succumb to being pampered.
Backstory
Until the 1900s, a German-Jewish immigrant couple, Abraham and Julia Staab (and their brood of six children) lived in the Victorian mansion that forms the historical centerpiece of the property. After Staab's death in 1913, the landmark home was sold to another family, and served as a private residence for more than a decade. However, in 1936, the house was purchased by a family who turned it into a hotel with a series of casitas (little houses). They called it La Posada, the Spanish name for a little inn. With its central location, it became a popular gathering place for artists, like Georgia O'Keefe and Will Shuster.
Many of the charming adobe-style casitas on the property were built to accommodate these artists who used the hotel walls to showcase their art in the days before any of the galleries sprouted up along nearby Canyon Road. This laid the foundation for the resort's reputation as "The Art Hotel of Santa Fe." Once a RockResort, the property has changed hands over the years.
The property
The beauty of the property is impressive. Its winding paths are graced with fruit trees, indigenous plantings, fountains, bronze sculptures, and kinetic art. More than 600 pieces of art representing 40 artists are on display in guest rooms and public spaces.
Unlike cookie cutter properties that predominate the hotel industry, each of the 157 units, which include 30 suites, is unique in size, design and siting. All are well maintained, offer every modern amenity (including complimentary wireless), and are decorated with authentic Southwestern-style furnishings and architectural details (such as latilla ceilings and kiva fireplaces), Native American pottery, and local art that offer a true sense of place.
The full-service spa includes treatment rooms, eucalyptus steam rooms, locker rooms, a beauty shop, a 24-hour fitness center, a heated, outdoor salt-water pool and a hot tub. If you stay in the same building as the spa, you can walk there in your robe. Being a chocolate lover, I couldn't resist the Chocolate Chile Wrap spa treatment. To begin, my body was smothered in an elixir that smelled and looked like chocolate pudding, then followed by a gentle exfoliation. It was supposed to give me an "altitude adjustment" (to help me adjust to the altitude). I don't know if it did that but I did feel relaxed and dreamy afterwards.
We stayed in Room 237, a spa suite with a king bed, and separate living room and patio. We appreciated the twice-daily turndown service and immaculate housekeeping.
Our room was extremely spacious and light-filled, even on uncharacteristically cloudy days. Carefully curated museum quality paintings (which were for sale could we afford them) were hung over our bed and above the sofa. The one minor annoyance in the room was the long walk from the bedroom to the closet, which was placed at the entry. The marbled bathroom was modern with a stall shower and double sinks.
Culinary offerings
The property offers three comfortable dining alternatives. The AAA Four Diamond Fuego restaurant is located in a lovely room off the lobby. The menu focuses on Global Latin Cuisine, with many of the dishes reflecting a creative fusion of New Mexican, European, Mediterranean, and North African influences. Executive Chef Carmen Rodriquez (who hails from Chicago), named New Mexico Chef of the Year in 2012, presides over the kitchen. We particularly loved the blackened salmon with Jambalaya risotto, and the grilled rib eye steak with yam and plantain that came with a chipotle tamarind sauce.
Because of the high desert climate (and heating lamps), guests can dine at the outdoor restaurant called The Patio between April and October. At lunchtime, colorful red umbrellas shield guests from the warm sun. In autumn, diners may be distracted from their meals by the glowing embers of the kiva fireplace on the patio and the lovely views of golden aspen trees in the mountains.
With the warm patina of age, it's not surprising that Travel and Leisure Magazine chose The Staab House Bar (which also serves light meals at lunch and dinner) as the coziest bar in Santa Fe. Evening entertainment can range from mariachis to jazz bands.
Room service is available between 6:30AM and 10PM. Every Wednesday afternoon at 4PM, the resort offers a complimentary wine and cheese tasting in the lobby. On Thursdays, there's a beers and cheese tasting and on Friday, the resort's in-house art curator gives talks to guests.
Convenience
It was wonderful to be able to install ourselves at the property and barely have to rely on a car for sightseeing. Being only a couple of blocks from Canyon Road, we were able to stroll to the galleries and shops on Canyon Road. We were also within walking distance of the historic square that's circled with shops and museums. Although we didn't have enough time to make a dent, we learned that there are 250 restaurants within a one-mile radius of the property.
If guests tire of walking or want to stray further off the reservation, complimentary shuttle bus transportation is available within a two-mile radius of the hotel. Animal lovers will appreciate that the resort is pet-friendly.
Bottom Line
La Posada de Santa Fe is a great place to stay because it is close enough to the center of town but a bit up the block so it's quiet, sedate and private. Although it has a sense of character and charm, it offers every modern convenience.
---
Tips for Travelers Over 50
Because each room is unique, find out about your room and its location before you book. Many rooms are handicapped accessible; be sure to call ahead if you need one. Even though our room was located up a steep flight of stairs, it could be accessed through the elevator tucked behind the spa. Additionally, the property is somewhat sprawling so the distances between casitas and the main building depend on room location.
Like the rest of Santa Fe, the property is about 7000 feet above sea level so be sure to stay hydrated and lighten up on alcohol intake.
---
IF YOU GO: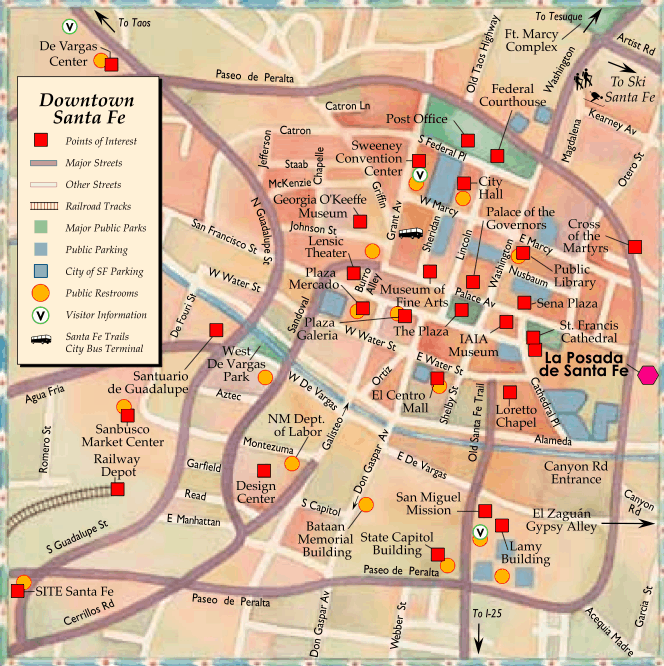 330 East Palace Avenue Santa Fe, NM 87501
Disclosure: Our stay at La Posada de Santa Fe was hosted by the property but any opinions expressed in this post are our own.
---
Also on More Time To Travel:
---
This post is part of a linkup to Marcia Maynes' Inside Journeys blog.