Lunch at Ai Fiori in Midtown
Although Chef Michael White reigns over a restaurant dynasty, Ai Fiori is another winner that doesn't disappoint.
The contemporary dining room of Ai Fiori (located on the second floor of the Langham Place Hotel in midtown Manhattan) feels clubby with rich brown velvet banquettes and black paneled wools. But the heft of the décor is perfectly offset by bursts of yellow color throughout the room. A larger-than-life yellow floral arrangement sits atop the divider separating two sides of the dining room and diminutive yellow sunflowers have been placed in delicate vases atop each of the tables. After all, the literal translation of Ai Fiori is "among the flowers."
And even on a rainy day, the exterior wall of windows lining Fifth Avenue brightens up the room with natural light. Each restaurant in Chef Michael White's Altamarea Group offers a slightly different take on Italian regional cooking: Ai Fiori focuses on the cuisine of the French and Italian Rivera.
I was eager to try this restaurant because I am so fond of others I have visited in the group—Marea and Osteria Morini. And NYC Restaurant Week was a perfect excuse to get together with an old friend and celebrate her birthday in style.
Since the lunch crowd looked like a sea of black suits, I presume that Juliet and I may have been the only ones there who weren't cutting a big financial deal. Yet Gustavo, the impressive Peruvian Maitre d', treated us as if we were the most important people in the room and didn't flinch an eye when we began ordering from the Restaurant Week Menu. The special lunch menu offered three courses, a first and second dish followed by dessert.
First, I chose the Insalata—bibb lettuce, radicchio, and a long crouton topped with a thin slice of manchego cheese dressed with an aged sherry vinegar. It was fresh and beautifully composed.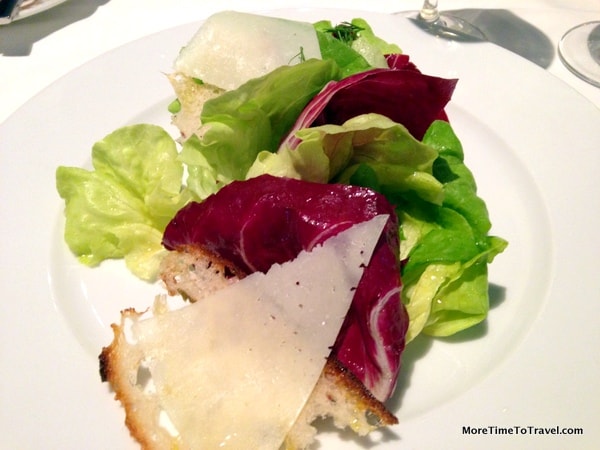 Juliet opted for the Terrina di Maiale—a very generous portion of housemade pate, with frisee lettuce, mustard and cornichons.
For my main course, I ordered the Pollo Arrosto—a constructed slice of pan-roasted chicken that resembled a piece of lasagna served on creamy polenta with a wonderful Cornish Hen sauce.
Juliet ordered the homemade pasta, Taliatelle—perfectly cooked, served with capers and olives in tomato sauce.
There were two choices for dessert and we each ordered a different one so we could taste them both. The Crema di Cioccolato was a to-die-for square of mousse with a mocha flavor served with fior de latte gelato. The equally delicious Panna Cotta was served with almonds and berries.
Wines were reasonably priced at $10 per glass for either a red or white. The service was skilled, attentive and perfectly attuned with our timing.
At $25 per person, the lunch was an absolute steal for the quality of the food and the perfect ambience. (The regular lunch menu is priced at $42 for two courses and offers more choices.)
After lunch, I had plans to catch up with another friend. The lovely bar area just outside the dining room proved to be a perfect meeting spot for conversation over drinks and small plates. Opposite the cocktail bar, an L-shape banquette lines two walls with a line of small cocktail tables. A bit pricey, perhaps, but my friend really enjoyed her $20 roasted beet salad in this oasis above the streets of Midtown. (In case you are wondering—No, I didn't eat again.)
When I received an email from Open Table after I got home asking me to rate my lunch experience at Ai Fiori, I gave it 5-stars across the board. What a wonderful restaurant. I loved every morsel I ate.
I believe I still have more than a half dozen Michael White restaurants left to try, including one that is soon opening in my backyard, Campagna at The Bedford Post Inn. Can't wait!
---
IF YOU GO
Ai Fiori at the Langham Place Hotel (formerly The Setai)
400 Fifth Avenue (between 36th and 37th Streets), New York 10018
Telephone 1-212-613-8660 (Reservations can be made on Open Table)