Guest Post: A Grownup Girlfriend Getaway to the Beverly Hills Hotel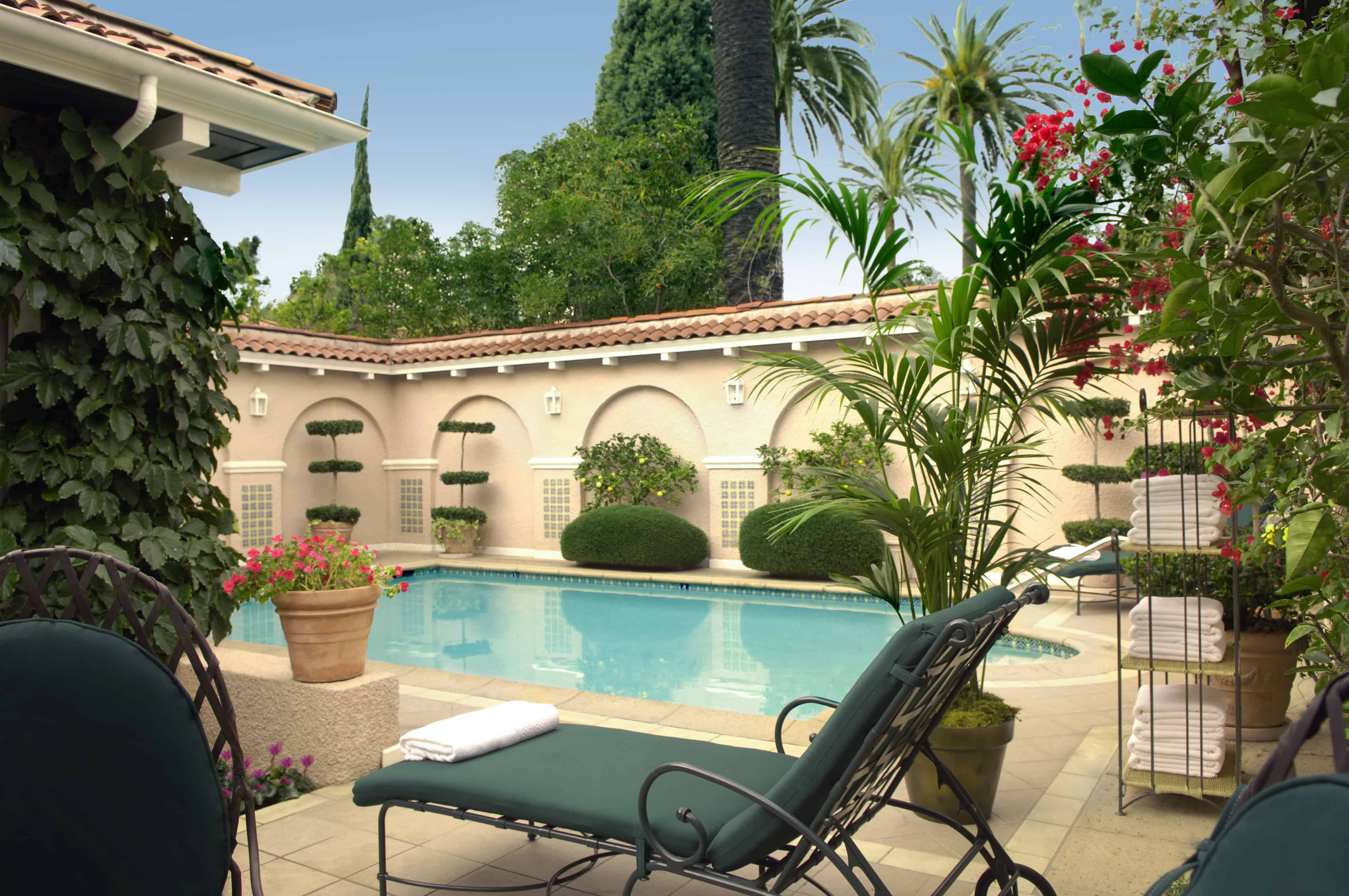 If you are in the vicinity of Los Angeles/Hollywood, go all out for a night or two at the iconic Beverly Hills Hotel. Expensive? Yes. But the service and ambiance make it worth every piece of gold you have to sell to get there. Cut corners on dining and forget spa services, but treat yourself to this A-list experience once in your life.
My friend Gretchen and I wondered if it was a mirage when the taxi pulled up in the porte cochere and deposited us on a red carpet in front of the distinctly pink Beverly Hills Hotel.
Inside, we plopped on a peach velvet pouf like the plush tuffet that Miss Muffet might have sat on – or Kim Kardashian's badonkadonk. It was like sitting on the tip of a pink tea rose petal sprinkled with gold dust and we claimed it as our stargazing station until we remembered it's not polite to stare at this A-list celebrity hotel.
"This place has more curves than Marilyn Monroe had in her little finger," whispered Gretchen as we followed the winding path to our guest room. We would have loved to stay at one of the bungalows where Elizabeth Taylor spent six of her eight honeymoons, or in bungalows 20 and 21, where Marilyn Monroe and Yves Montand stayed while filming Let's Make Love (which they did). But gilt tables, gold chaises, and pleated silk wall coverings are a little much for our taste – and our designer clutches.
Anyway, the décor of our room was just right – the luminous pink of the inside of a seashell, a fitting backdrop as we changed to our swimsuits to loll by the famed pool and cabanas where so much movie business has been transacted. We did a lot of posing, although no one noticed but the pool boys, who kept us hydrated and supplied with chilled towels.
Afterward, although it was tempting to go back to the velvet pouf, to stargaze, we forced ourselves to take advantage of the free limo service to downtown Beverly Hills for some window shopping on Rodeo Drive. But we were back in time for a Beverly Hills Tea in the Polo Lounge, a bargain at $55 with a glass of Piper-Heidsieck champagne (and tea, of course), English cucumber and egg salad and watercress sandwiches, scones with Devonshire cream, and pastries that eliminated the need for dessert with dinner.
After a bubble bath with a 3-foot head, Gretchen set one of the astronomically high thread count Egyptian cotton sheets on fire (a small pop of flame quickly doused) while ironing her blouse on the bed – which the housekeeping staff took in stride.
Polo Lounge dinner prices were manageable sharing an entrée in a green booth at the Polo Lounge. In fact, they have nightly specials like Mary's Fried Organic Chicken on Mondays and Salmon Wellington with mushroom, spinach and scallop mousse and saffron potatoes on Fridays. And BTW, you are treated like returning royalty even if it's your first visit.
The next morning we checked out the Fountain Coffee shop in the lower level, sitting at a curving pink Formica counter in a jungle of banana leaf wallpaper. Mmmm – French toast and a milkshake.
Did we see any stars? Not really (although you will if you are persistent). But we felt like stars. And the more we thought about it, the more Gretchen looked like Gwyneth Paltrow and I was a blend of Meryl Streep and Anjelica Huston.
The only downside to a girlfriend getaway to the Beverly Hills Hotel was I spent the night in the marble bathroom sleeping on the floor with three pillows over my head. I did not know Gretchen snored like a sailor.
Still, it was a great getaway we will never forget.
---
IF YOU GO
Beverly Hills Hotel is celebrating its 100th anniversary in 2012. Ask for their most special price on any of the 210 rooms and 23 bungalows. Tip: a pink Beverly Hills Hotel logo tennis ball makes a nice souvenir.
---
Judy Kirkwood blogs at Spa Spot and has published articles on Third Age as well as in magazines, including National Geographic Traveler and articles for National Geographic books, most recently Walking New York in NG's Cities of a Lifetime series.