Fairmont Heritage Place, El Corazon de Santa Fe: A sense of home away from home
When travelers over the age of 50 go on vacation, check out colleges with their teenage children, or visit relatives or friends out-of-town, they invariably fantasize about what it would be like to live there. After all, many are thinking about eventual retirement or relocation, or about finding a seasonal getaway to escape the harsh weather at home.
One of the nice things about a stay at Fairmont Heritage Place, El Corazon de Santa Fe as opposed to staying at a hotel, per se, is that it offers visitors a taste of what it might be like to actually live in a private residence in a city that is a mecca of art and culture. The two-bedroom units, which only became available for nightly rentals in 2012, offer all the amenities of an upscale home coupled with the personal services of a professional concierge and hotel staff.
About Fairmont Heritage Place
Fairmont Heritage Place is a portfolio of luxury properties spread across some of the most desirable locales around the world, stretching from Acapulco to Zimbali, that offer fractional ownership opportunities in an elite private residence club.
Managed by Fairmont, each property is held to the highest standards of service much like those you might expect to find at a five-star hotel. As an additional benefit, homeowners are able to participate in the VIP tier of the Fairmont President's Club, which entitles them to upgrades and other privileges at Fairmont Hotels & Resorts worldwide throughout the year.
El Corazon de Santa Fe
The Fairmont Heritage property in Santa Fe, called El Corazon de Santa Fe, is located on a quiet residential street in the heart of this city, an easy three-block walk from its charming historic center with museums, shops, galleries, restaurants and cafes. Although parking is ample, you don't necessarily need a car to get around.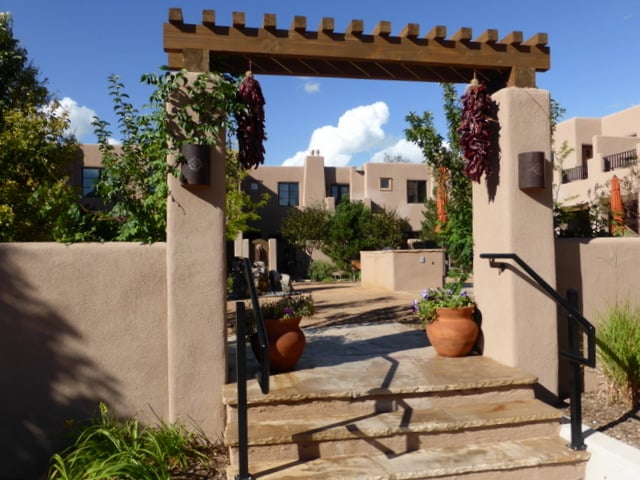 The individual units are beautifully furnished and tastefully decorated in a Southwestern style consistent with the unique setting and Spanish Pueblo exteriors of the project. The ceiling vigas, inviting leather sofas, clay plaster walls, decorative ironwork, local artwork and kiva-style fireplaces are homelike and warm. Fragrant ristras hang outside each doorway entrance.
Our contemporary 1850-square-foot, two-bedroom unit had a full-kitchen, living room with fireplace and half-bath downstairs, with two bedrooms and two baths on the second floor. The master bedroom had an open-air balcony. The bathrooms were large and well-appointed with a large walk-in closet and additional storage space so we could fully unpack. We were traveling with our adult son but the unit afforded ample space and privacy for a family of four or for two couples. The small private courtyard in front of the unit was nice for relaxing in the mid-day sun or sipping coffee after breakfast.
The spectacular setting of El Corazon de Santa Fe
We certainly enjoyed and took advantage of the city and its surroundings during our three-night stay. We were able to cook a light breakfast in the fully equipped kitchen before walking to the nearby Georgia O'Keefe Museum, which houses one of the largest collections of the artist's works. The same day, we wandered through the New Mexico Museum of Art, the New Mexico History Museum, and the shops and Indian market lining the historic Plaza.
Another morning, we drove to Abiquiu (about an hour away), where Georgia O'Keefe once lived. We also visited nearby Ghost Ranch and the area that inspired many of her paintings. On our last afternoon, we signed up for a wonderful culinary tour in downtown Santa Fe led by the Santa Fe School of Cooking.
When we had questions about what to do or needed directions, knowledgeable staff was always available at the on-premise Clubhouse to provide helpful answers. (Although we didn't have time to use it, it also housed a small gym). Another nice perk: The property has negotiated deals with many local restaurants that enabled us to take advantage of discounts.
The property recently announced two new exclusive offers for guests:
A discovery package for active travelers, called the Santa Fe Mountain Adventures package, that includes walking, hiking and snowshoeing in the Sangre de Cristo Mountains, and
A culinary Feast Your Eyes package for foodies, in partnership with the Santa Fe School of Cooking, which includes a cooking demonstration and meal at the famed cooking school.
Bottom Line
Gosh, it was comfortable and relaxing to nestle in this beautiful home of our own with twice-daily housekeeping services. It offered a perfect base for exploring Santa Fe and the surrounding area.
While this unique property is available on a per-night rental basis, the units are also available for purchase as one-eighth deeded ownership, part of the Fairmont Heritage Place Residence Club, which entitles the owner to a minimum stay of four weeks each year.
Stay two nights and I guarantee you'll be tempted to leave a deposit before you check out!
---
IF YOU GO
Fairmont Heritage Place, El Corazon de Santa Fe
Rates vary according to season, starting from about $500 per night, plus tax, based on double occupancy. A minimum two-night stay is required.
For more information on accommodations, dining, and attractions in Santa Fe, visit the website of the Santa Fe Convention and Visitors Bureau.
---
Disclosure: Our stay at Fairmont Heritage Place, El Corazon de Santa Fe was hosted by the property but any opinions expressed in this post are our own.
---
Also on More Time To Travel: