Madison Beach Hotel CT: A Memorable Stay at the Shore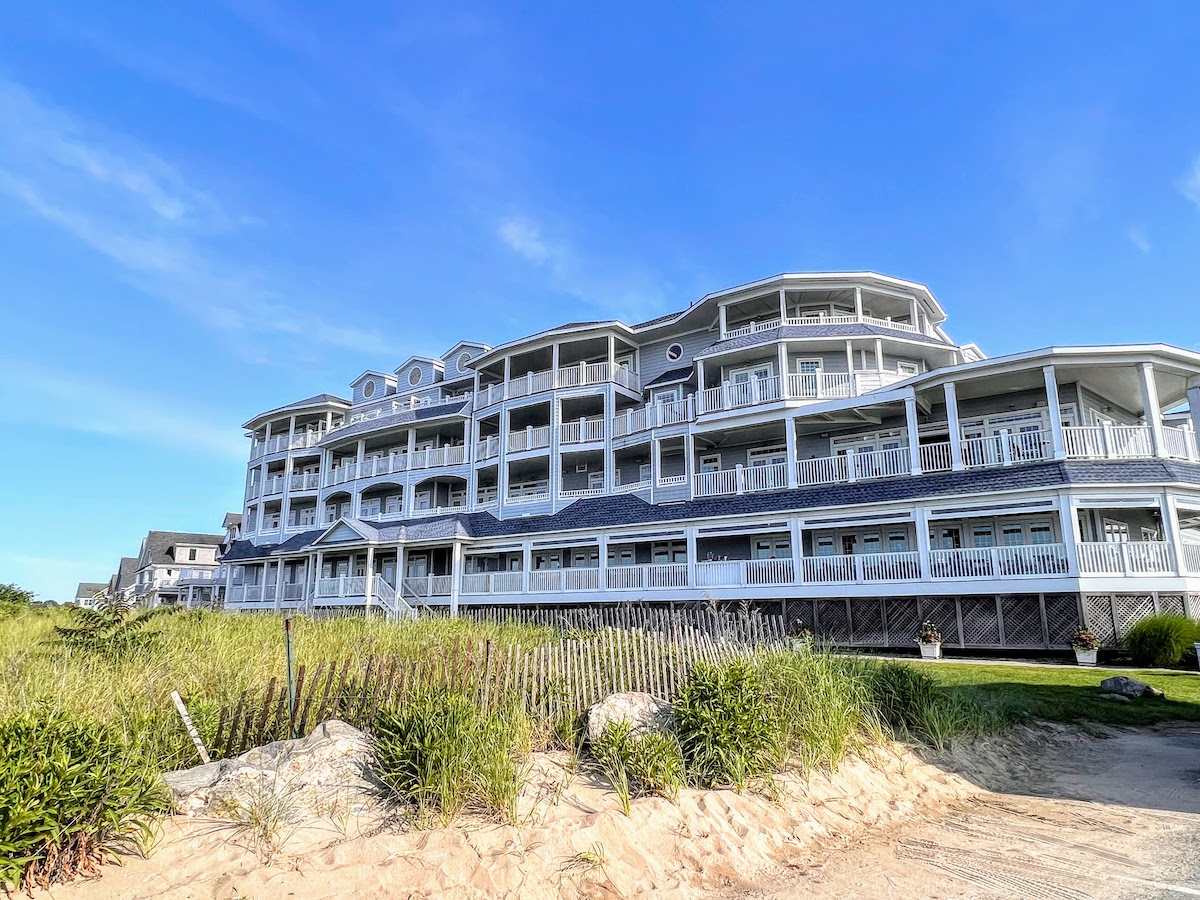 The Madison Beach Hotel CT is an idyllic spot for a relaxing, post-pandemic beach getaway on the northern shore of Long Island Sound.
Having filled our vaccine cards with every shot and booster available, we decided to embark on our first post-pandemic road trip and end a two-year travel hiatus.
With COVID restrictions easing up all over the country (both vaccination requirements and masking) and this being our first toe in the water, our choice of destination had to meet several criteria:
An easy-ish drive from our home in Westchester County, New York
A small-ish, uncrowded hotel, and
A waterfront setting conducive to spending time outdoors, including meals
---
This post may contain affiliate links. This means that I may receive compensation if you click a link, at no additional cost to you. For more information, please read my privacy and disclosure policies at the end of this page.
---
Here are some of the reasons for choosing the Madison Beach Hotel as well as some tips for a memorable overnight, weekend, or week-long getaway in this charming beach town.
Why visit Madison?
About 36 square miles in area, Madison is a small town, rich in history with miles of beaches, several museums, unspoiled parks, and nature trails. One interesting geographical feature of Madison is that the town is very long and narrow, running north to south, giving it an abundant (southern) shoreline on Long Island Sound.
Madison is low-key and relaxed—also a bit off-the-beaten path and less touristy than many other popular East Coast beach destinations.
The town is predominantly residential with single-family homes and a population of about 18,000 year-round that swells a bit during the summer and holiday months. In quintessential New England style, the streets are lined with clapboard and shingle homes. Lovely gardens with daylilies, colorful hydrangeas, and tall grasses are often shielded by huge trees and manicured hedges. Most streets are largely flat, which makes them eminently walkable and great for bicyclists.
Although small, the town center has a number of interesting clothing boutiques, food shops and eateries, and gift shops, most of them off Boston Post Road (Route 1, the major east-west highway that runs through Connecticut).
Where is Madison, CT?
Madison is located in the southeast corner of New Haven County, which is in the south central part of Connecticut. Depending on your point of origin, four major roads lead to the town: I-95, U.S. 1 (Boston Post Road), and State Roads 80 and 79.
Madison is almost equidistant from New York City and Boston, about two hours from each without traffic—which is rarely the case—so it's prudent to take traffic into account when planning a road trip.
Madison CT Hotels: Lodging and where to stay
Unless you're fortunate enough to be invited as someone's house guest, the options for hotels in Madison CT or other overnight accommodations are limited.
In fact, there is only one hotel located in the town itself which—fortunately—is an excellent option: the Madison Beach Hotel, part of the Curio Collection by Hilton. So, for us, where to stay was a no-brainer.
This boutique property with just 34 rooms spread across four stories holds the distinction of being the smallest Hilton-branded property in the world. Guests don't have to worry about busy lobbies. The hotel follows the Hilton CleanStay program in terms of housekeeping and offers a contactless experience through its digital key system, delivered via smartphone.
The spacious on-site restaurant, The Wharf, has a huge wraparound porch that's ideal for dining alfresco with ample indoor seating (with nicely spaced tables) as well. If you're thirsty, you can belly up to one of two indoor bars or the one on the Porch, perfect for watching the sunset.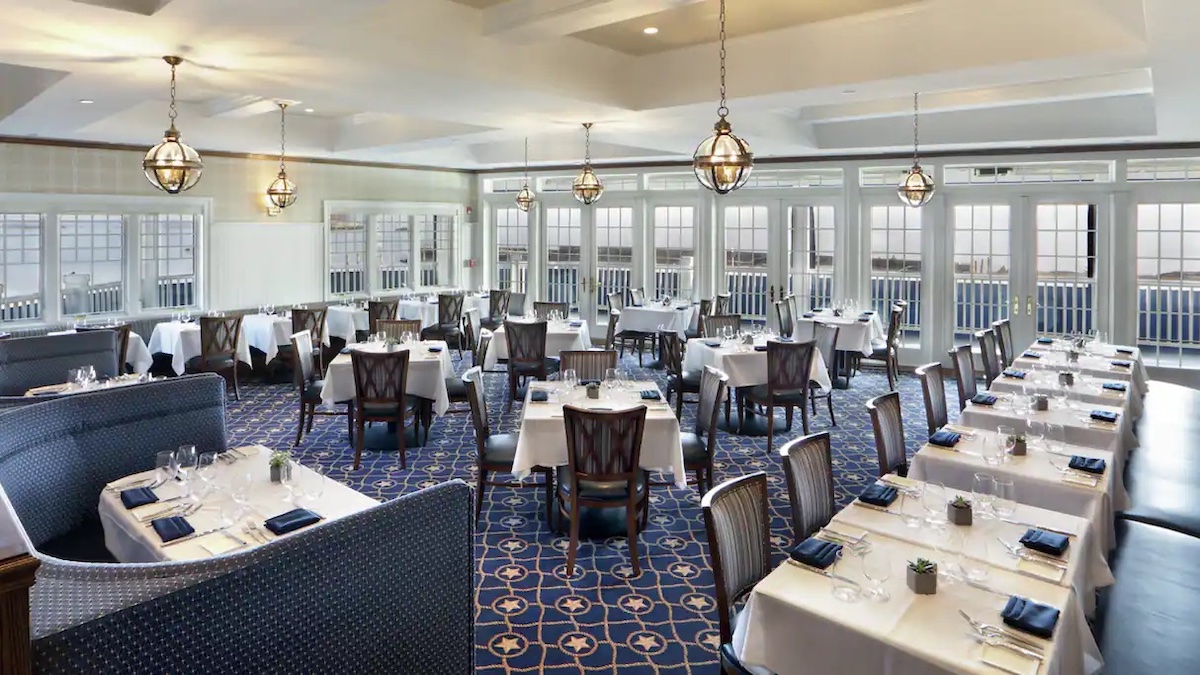 Almost as if it had been built for a post-pandemic world, 33 of the 34 guest rooms have outdoor balconies with floor-to-ceiling French doors that open to unobstructed views of the water and fresh ocean breezes. The Long Island Sound is an estuary of the Atlantic Ocean. Use of the private beach is limited to hotel guests.
Although we didn't have time to enjoy them, the hotel has a fitness center and full-service Sound of the Sea Spa on the third level that offers a variety of massages, facials, and body treatments.
When planning a visit to the hotel, check out the online calendar of special events held at the hotel including the Grassy Strip Music and Art series (concerts that take place on the lawn between the hotel and the water.) Free and open to the public, they offer an opportunity to mingle with locals who come to enjoy music, food, and beverages.
For more details about Madison Beach Hotel CT, read my recent article published in Forbes.
Other lodging in Madison CT
The handful of BnBs in town would be appealing for those who prefer to stay in an even smaller, more private, and, perhaps, more "authentic" setting. The seven-room Scranton Seahorse Inn is housed in an 1833 Greek revival home, just steps from the downtown business district.
Trained as a pastry chef (after retiring as an engineer), the hospitable innkeeper and chef, Michael Hafford, treats guests at the Inn to a full breakfast, prepared with fresh, local vegetables and produce, some grown in the beautiful garden.
First Stop: The Madison Visitor Center
After you have settled in your room, we highly recommend you make a beeline to the Madison Visitor Center, operated by the Chamber of Commerce. Inside, under the leadership of Executive Director Michele Call, volunteers generously offer insider advice about what to see and do beyond anything you might read in a guidebook.
Shelves of free brochures, publications, and maps detail seasonal attractions and events taking place in Madison and nearby towns. The tiny building housing the visitor center at 12 School Street has an interesting history itself. Once the site of the town courthouse and police station, one of its vaults served as a jail cell.
Tour the Historic District
Just beside the visitor center is Madison Green, the heart of the town's historic district that is also a site for concerts and events. The green is dominated by the Federal-style Congregational Church on its southern border and surrounded by some 33 historical structures and public monuments.
A walking tour of the Madison Green Historic District offers a bird's eye view of the town's history from the colonial period through modern times. When the area was first settled in 1641, Madison was part of neighboring Guilford, Connecticut; it became an incorporated town in 1826.
Be sure to drive or walk slowly up and down the streets to appreciate the colonial and cottage-style architecture.
Madison CT Restaurants: Grab a Bite
Many of the restaurants (as well as boutiques) in Madison are actually housed in former residences with huge porches set along the side streets off the main drag.
One place not to miss is Bar Bouchee at 8 Scotland Avenue, off of Boston Post Road, helmed by owner/executive chef Jean Pierre Vuillermet. We had a wonderful dinner at this French bistro whose name derives from the bouchons of Lyon, France. It meets its promise of serving "simple, traditional, homestyle French comfort food" in a casual setting. In addition to the regular menu, diners can choose from some of the specials on the chalkboard.
A popular meeting spot for locals, a friend told me she had once seen Chef Jacques Pepin (one of Madison's town celebrities) dining there, quite an endorsement for the cuisine. (Seating is limited so be sure to make advance reservations.)
The Lobster Pound is just a short drive away, on the harbor in Guilford. The lure here is the fresh lobster caught by the owner, Captain Bart Mansi. We sat at one of the picnic tables on the deck beside the water, a perfect spot to watch the fisherman and different shorebirds. The heaping lobster rolls were probably the best we've ever tasted; they were filled with succulent lobster with absolutely no filling.
If you arrive before check-in time at the Madison Beach Hotel (4 PM), you'll want to stretch your legs, peek in the shop windows, and stop for a delicious ice cream cone at Ashley's Ice Cream and Yogurt (724 Boston Post Road.) Tucked in a small alley in the U.S. 1 business area. With five nearby locations, Ashley's was voted the best in Connecticut.
Window Shop on Boston Post Road
Both sides of the U.S. 1 (Boston Post Road) business district are filled with interesting shops for clothing, household items, and gifts. Browse both sides of the divided street, where your interest is likely to be piqued by welcoming shopkeepers.
One favorite among locals and visitors alike is the town's independent bookstore, R.J. Julia Booksellers (at 768 Boston Post Road). Named after the owner's mother who died in a concentration camp, the popular shop is well-stocked, well-staffed, and well-curated. You're likely to find at least one book you want to read on the beach or a one-of-a-kind gift to take home for a friend.
Although one of the newest among 151 J. McLaughlin stores, the one at 704 Boston Post Road carries a beautiful selection of casual wear that seems to reflect the unpretentious but tasteful sensibilities of the town. Store manager Laura Noyes or one of her associates will greet you and help you find the special something that's missing from your wardrobe.
New Haven County is a birding hotspot. The Audubon Shop (a bit further down the road at 907 Boston Post Road) stocks a unique selection of bird-related items including books, guides, art, bird feeders and feed, and binoculars. Owned and operated by the Connolly family and located in a historic home, the shop overflows with interesting things.
Should You Stay or Should You Go?
Whether you stay at the Madison Beach Hotel CT for a weekend or longer, you'll be torn between staying put—and reveling in the relaxing rhythms of life on the shore—or being lured to explore the area around you.
One more suggestion: Before you leave, stop at Bishop's Orchards Farm, at 1355 Boston Post Road, close to the entrance to I-95 (the Connecticut Turnpike), a farm that's been in operation for six generations. If you have time, enjoy a seasonal Pick-Your-Own experience on the farm (available mid-June to October) or else stop at the market, famous for its homegrown produce, freshly baked pies and breads, specialty foods, and more.
---
DIRECTIONS TO THE MADISON BEACH HOTEL
Madison Beach Hotel, 94 West Wharf Road, Madison, Connecticut (1-203-245-1404)
By car, take I-95 to exit 61. Check Google Maps for more complete directions.
Amtrak train service is available from New York City to Old Saybrook or New Haven, connecting to Shoreline East, a regional train service.
---
All photo credits (unless otherwise noted): Jerome Levine
Disclosure: We were guests at the Madison Beach Hotel.
---
Save to Pinterest!!