The Cape, a Thompson Hotel: Views from every vantage point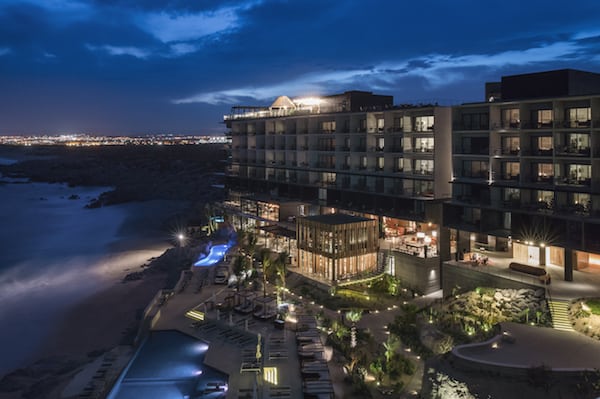 The opening of The Cape, a Thompson Hotel adds a new dimension to the Los Cabos Corridor.
Imagine relaxing on a swinging daybed on your balcony overlooking a white sandy beach with sweeping views of the Sea of Cortez. It would probably be hard to leave. And yes, it was.
After Cat-4 Hurricane Odile slammed into Los Cabos, Mexico in 2014, there have been a series exciting hotel launches and rebuilds. However, one of the most heralded of these openings was that of The Cape, a Thompson Hotel, which received its first guests only seven months ago.
This boutique luxury property offers unobstructed views of El Arco (the dramatic rock formation at Land's End) from each of its 161 guest rooms and all its public spaces, including the restaurants and its sensational spa. The design and engineering feat is even more amazing because celebrated architects Xavier Sanchez and Benedikt Fahlbusch faced the daunting challenge of the hotel's natural footprint, which is surrounded by beach, desert arroyo and giant boulders.
The property
After entering through a private gate, a concierge met us in the open lobby for our check-in over a refreshing welcome drink. On the ground floor of The Cape is a massive open-air lobby bar with pit-type seating; this space is a virtual outdoor living room and gathering place that is lively on weekends. Attached to it is another more intimate, but equally dramatic, lounge encased in a glass cube (also overlooking the ocean), perfect for reading or sipping a drink.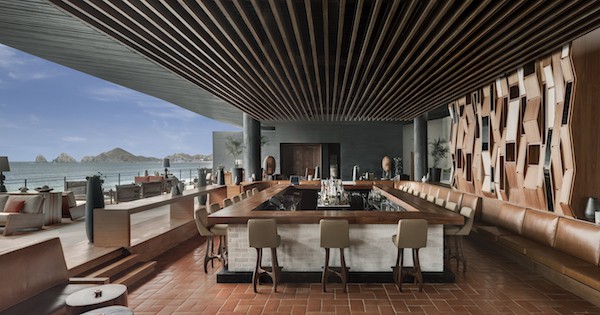 Just beyond the bar is the resort's signature restaurant, Manta, overseen by Chef Enrique Olvera best known, perhaps, for his restaurant Pujol in Mexico City, which ranks third on the list of the world's 50 best restaurants.
Manta's romantic dining room is glass-enclosed with a wraparound outdoor terrace. It is dimly lit so nothing detracts from the spectacular night views of the sea, El Arco and downtown Cabo San Lucas. Chef Olvera has created an innovative fusion menu (with Mexican, Peruvian and Japanese influences) that is artfully presented and successfully melds unique textures and tastes.
We enjoyed a 4-course tasting menu (priced at $66 per person) that enabled us to share many of the interesting dishes on the menu; each was light and delicious. (Uncharacteristically, we weren't able to photograph the dishes because the lighting didn't do them justice.)
Our guestroom
Room #402 was a well-appointed sunlit Deluxe King on the fourth floor of the five-story elevated building that even had a pair of binoculars available for whale-watching. The complimentary welcome bottle of Mezcal was another nice amenity.
The décor by Mexican interior designer Marisabel Gómez Vázquez was also a fusion: Furniture and accent pieces were a mix of California, Latin-America and mid-century modern styles. White and blue floor tiles felt like a Mexican carpet leading to our private balcony with the swinging daybed.
Instead of a stall shower, a sybaritic "shower room" with two rain shower heads divided the sleeping area from the bathroom, also with ocean views. Another focal point in the room was the elegant copper-leafed bathtub, perfectly positioned to offer privacy along with a direct line of sight to the sea.
As one might expect, no luxury touch was overlooked including the wonderful bed linens that complimented the warmth of the leather headboard flanked by furniture and lamps in various woods.
Bottom Line
With a style that is as unconventional as its architecture and décor, The Cape offers a sophisticated vibe unlike any other resort on The Corridor—contemporary, arty, edgy, sexy, and urban. It is also located less than 15-minutes from lively downtown Cabo San Lucas for those who want to enjoy its vibrant nightlife, bars and restaurants.
My only regret was not having enough time to experience Currents, the full-service spa nestled next to a giant rock formation. Like the rest of the property, it coupled indoor and outdoor areas to relax and restore the mind and spirit.
---
IF YOU GO
The Cape, a Thompson Hotel, Cabo San Lucas, Mexico
Disclosure: Because of a storm that hit the East coast, we were only able to spend one wonderful night at The Cape. We paid a media rate for our room and dinner at Manta was on our own dime.
---
Considering visiting The Cape? Read my colleague Janice Mucalov's review of The Cape, a Thompson Hotel on Sand in My Suitcase.