Spas for Men: No Longer An Oxymoron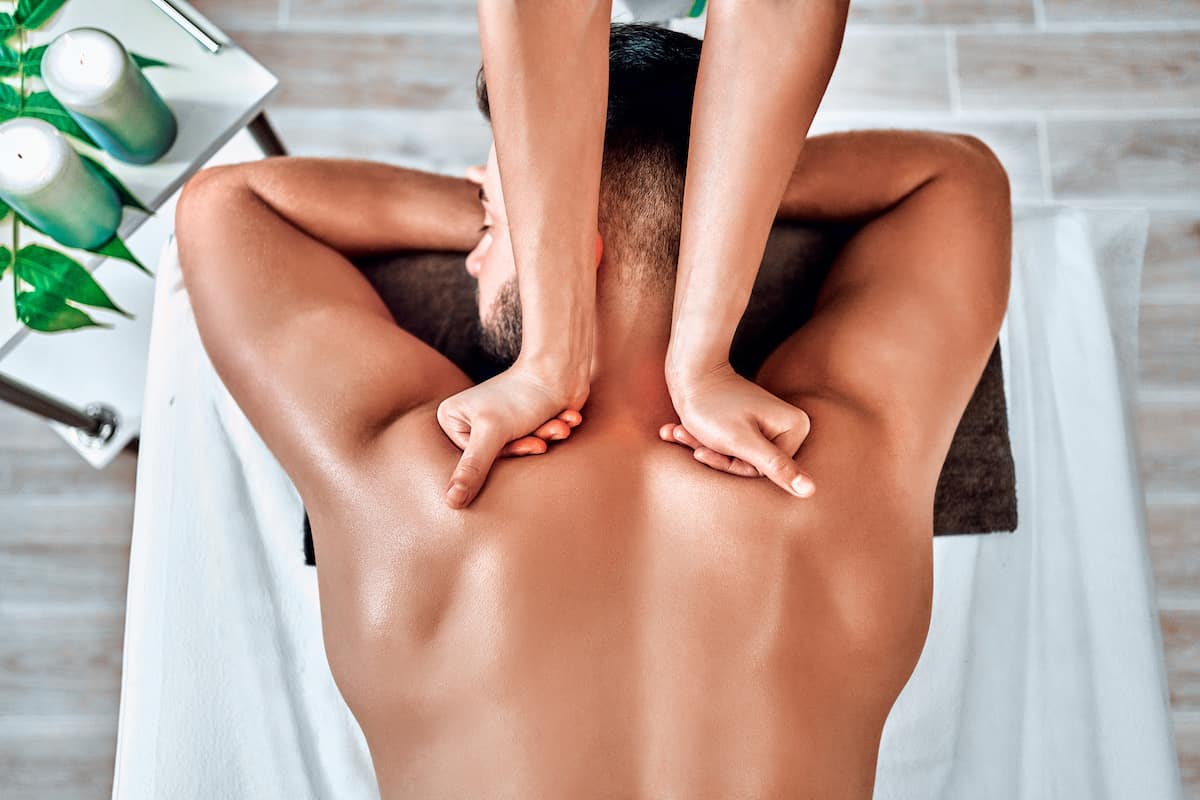 Contributing health and spa writer Sheryl Kraft writes about the increasing popularity of spas for men.
Men have come a long way from limiting their beauty and wellness routines to barbershops for no-frills haircuts and beard trims. Today, they're more interested and invested in their overall well-being, venturing out to spas to find their bliss.
For many men, the word "spa" still conjures up images of pristine shiny white sanctuaries layered with lavender, brimming with abundant, overflowing plates of fresh fruit.
Robe-clad women float through the premises, green tea shakes in hand, planning their next new-age treatment while eschewing anything gluten.
For men, spas can seem like a frilly, forbidden, foreign territory filled with mystery and females.
But stop right there. The times are changing.
Men are finally experiencing and understanding what they've been missing from their lives. The number of men going to spas is growing.
---
This post may contain affiliate links. This means that I may receive compensation if you click a link, at no additional cost to you. For more information, please read my privacy and disclosure policies at the end of this page.
---
What brings guys to spas?
The unplugged and get-pampered male is a growing segment of spa-goers, accounting for almost 47 percent of the total, says the International Spa Association (ISPA), which reports that the number has been rising steadily through the years.
It seems like men have had their 'aha' moment: Aware of the benefits that live behind the doors of a spa, from food to fitness, while embracing the opportunity to not only pamper but to pump up their wellness worlds.
Self-care has replaced "I-don't-care" with indulgences like massages, hair removal, manicures and pedicures, facials, and body scrubs, among the more popular services used by men at spas.
Spas for Men Only: Few and far between
The number of specialty spas for men is still somewhat limited. But to meet the growing demand for self-care and wellness services, most, if not all, spas make the same services available to both men and women.
Men can essentially book any treatment that's featured on the spa menu, and while most treatments and products are gender-neutral, some spas choose to gear the marketing of some of them specifically toward men. For example:
One spa renamed its Deep Tissue Massage, calling it a Deep Tissue Sports Massage.
Another, in Indonesia, offers a

Snake Massage

using – yikes! – giant pythons to slither over you.
And then there's the Bourbon Massage that incorporates Kentucky bourbon into a body scrub, ending with Cheers!–

a glass of single-barrel bourbon.
What types of services do popular destination spas offer men?
Here are some examples of what men can look forward to at destination spas.
Men at The Lodge at Woodloch
The Lodge at Woodloch, a destination spa resort located in Hawley, Pennsylvania, has long attracted a male clientele (they have a 60/40 female/male ratio) due to its rustic-rather-than-than frilly vibe that "speaks to both genders and is intended to reflect the nature around us," says Brooke Jennings, Woodloch's public relations manager.
"We tend to see men who like simplicity, like a quick and easy skincare routine or all-in-one product line," says treatments manager Amanda Clabaugh. (As such, the spa carries OM4 Organic Male, a line designed to address the differences in men's skin.)
Among their more popular men's spa services is their Gentleman's Beard Treatment, which consists of a gentle exfoliation followed by a deep conditioning treatment focused on hydrating and taming the beard. The treatment concludes with a relaxing scalp massage.
Men at The Golden Door
Golden Door Spa in California, located north of San Diego, has accumulated accolades too exhaustive to list (But we'll give you this one: #1 Spa in the World by Conde Nast Traveler).
The resort, which is frequented mainly by women, opens its doors to men a few times each year when it goes co-ed.
And one week each year is strictly for men only. Men's Camp Week is a cross between camp and spa, offering relaxing spa services interspersed with their legendary daily hikes plus competitive and fun games like volleyball.
Actor Liev Schreiber, one devotee, praises Golden Door for its "sense of openness and community; a truly authentic culture of generosity and compassion."
Appealing spa services/treatments for men at hotels and resorts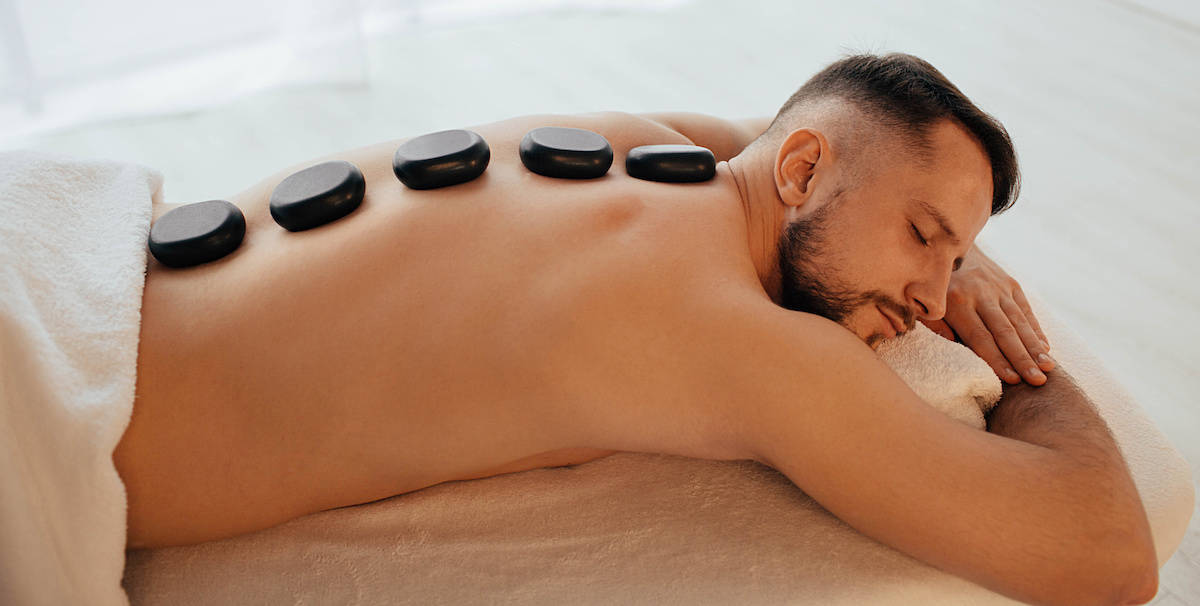 Here are some examples of spa services specifically geared to men:
The spa at Caesars Palace in Las Vegas offers male-only sections. Reserved for high-rollers, men can take a break in and indulge in a dry sweat in the Laconium Room or hang out in the Crystal Body Art Room. With a nod toward the ancient days of men-only Roman baths, they can also disrobe amongst themselves in the Men's Zone while enjoying a Roman bath.
The Seagate Hotel and Spa

in Delray Beach, Florida, offers a Perfect Gentleman's Facial

designed to

help eliminate blocked pores, accelerate skin repair, and remove impurities.
Kohler Waters Spa at Lincoln Park, a day spa (an offshoot of their popular destination spa) offers a variety of treatments for men only, including On the Green CBD Massage (for pre- or post-golf), a Gentleman's Hand Renewal (a manicure which includes a hand and arm massage) and Rain Man (a shower experience including a full-body exfoliation).
The Gentleman's Back Treatment at The Spa at Palms, Las Vegas includes a deep exfoliation followed by a warm thermal mud mask and message with firming oil to refresh the back and remove any impurities.
The Solid as a Rock Treatment at the Spa at the Hard Rock Hotel and Casino in Atlantic City, NJ, is focused on the use of deep tissue massage to relieve pain and enhance peak performance.
Visits to day spas close to home are also popular.
"Men are reserving grooming treatments regularly, making their appearance a priority," says spa director Jasmine Warren of the day spa at the Opus Westchester Hotel in White Plains, New York. "Day spas tend to be convenient for walk-in appointments and quick in and out."
Spas for Men: A new awakening
Couples treatments have always been—and still are—popular options at spas. One reason, perhaps, is that they help ease men into the spa experience.
But today, men are just as likely as women to be seen entering the doors of a destination or day spa.
Men are even claiming the spa experience as their very own.
---
Photo credits: Pin photo courtesy of The Spa at Woodloch
---
READ MORE
Also on MoreTimeToTravel by Sheryl Kraft:
---
Save to Pinterest!!