What is it like to fly a KLM Cityhopper?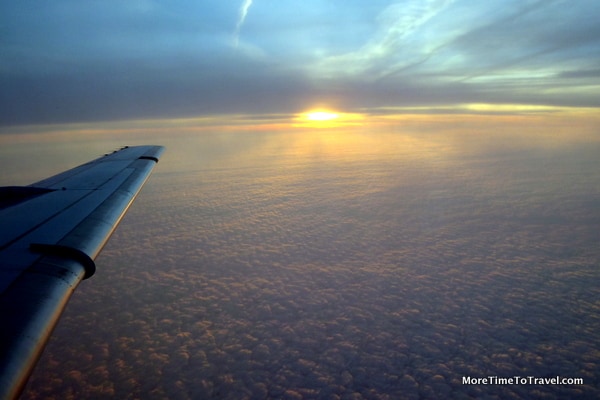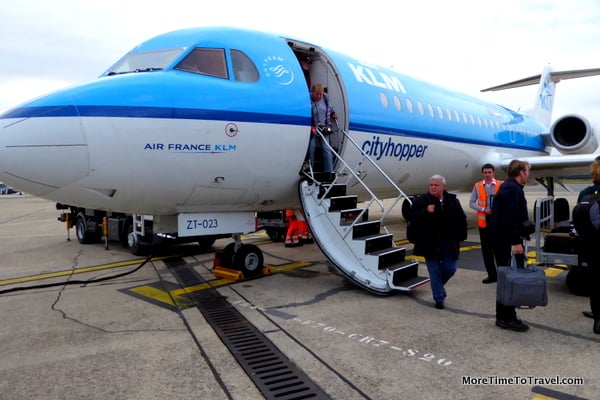 If you are flying between Amsterdam and other cities in Europe, you may find yourself taking a KLM Cityhopper.
A regional subsidiary of KLM Royal Dutch Airlines, the Cityhoppers are a workhorse fleet of Embraer and Fokker jet planes that make some 285 flights daily.
Traveling to and from Bordeaux, we were able to experience both the Fokker 70 and Embraer 190 for the 1-hour, 25-minute flights. We sat in seats 6A and 6C on both flight segments.
Living room (as its called in the trade)
The Fokker 70 is a functional, fairly comfortable plane with five-across seating, two seats on one side of the aisle and three on the other. Our seats (6A and 6C) didn't recline and had only minimal padding but were sufficiently comfortable for the short "hops" these planes make to destinations in Europe including France, Germany, Spain and Norway. Overhead bins offer sufficient space for carryon luggage. Three rows in front of the curtain house first-class passengers.
Our flight attendant told us that the Fokker 70s, the smallest planes in the fleet (which seat a maximum of 80 passengers) are gradually being phased out and will be retired by 2017, when they will be "adopted" by airlines in South America.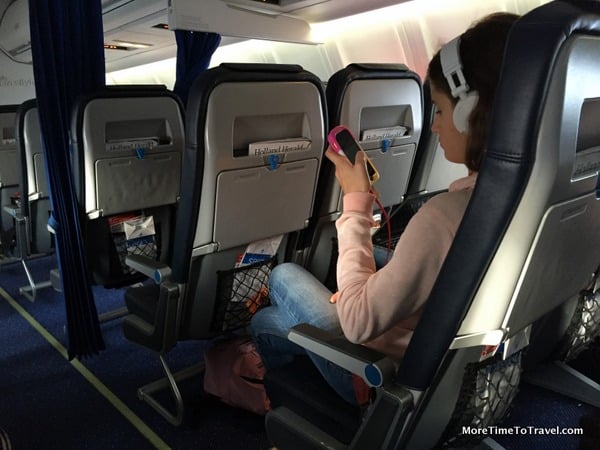 The Embraer 190 (which has a maximum capacity of 100 passengers) is newer, with two seats on each side of the aisle. The seats are better padded and recline.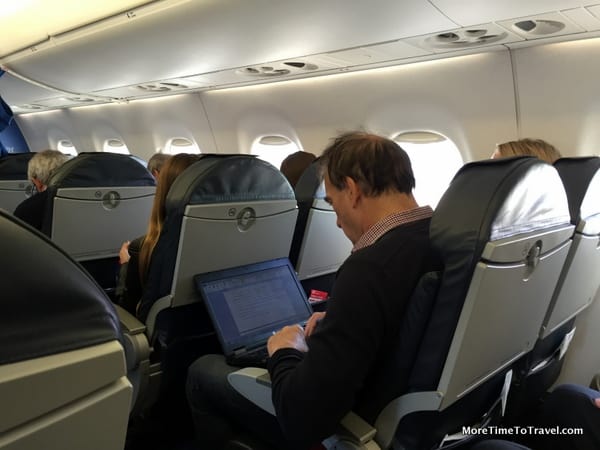 Warning: The overhead bins are roomy but don't allow much headroom so I found myself among a group of passengers who inadvertently hit our heads when standing up to exit our seats.
Entertainment and dining
There is no entertainment offered on these flights (which have no monitors) except for the Holland Herald, the inflight magazine that offers a mix of inspirational travel features, and a choice of newspapers. The stories in the magazine showcase some of the most popular destinations among the 179 countries to which KLM and its SkyTeam partners fly.
However, the complimentary (and quite ample) food service on both flights kept passengers occupied given the short flight time. The beverage service included a choice of juices, soft drinks, beer or wine (even in flights before noontime) as well as a light meal that reflected Dutch products.
On our first flight, a chicken thyme sandwich with lemon mayo on an organic wheat bread was served as a mid-morning snack. It was attractively packaged in a characteristic Delft blue design cardboard sleeve with printed information explaining that the farm producing the chicken had been recognized the Dutch Society for the Protection of Animals. It was accompanied by a Punseli Stroopkoekje, a crispy biscuit with a sweet caramel filling that tasted much like the iconic Stroopwafles of the Netherlands.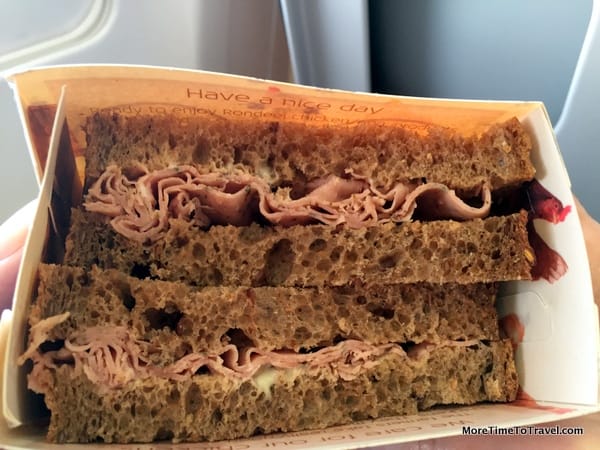 On the return flight, we had a quite simple but delicious sandwich of Beemster cheese (a cheese produced by a cooperative of small artisanal farmers who manually stir the cheese curds) on buttered whole wheat bread. This time, the blue and white sleeve noted that the cheese was made in a polder (low-lying land reclaimed from the sea) that was declared a UNESCO world heritage site in 1999.
The flight attendants were friendly, gracious, and extremely attentive, even offering salt and pepper when my husband ordered a glass of tomato juice. They returned a third time offering beverages and hot drinks after the snack.
The Bottom Line
We paid about $11 extra per seat for additional legroom (available in rows 3-6) , which was well worth the price. Our on-time experience with KLM Cityhopper was better than expected. You know a flight isn't too bad when our major complaint was the uniformly dirty windows. Air France has a similar short-haul product called Hop.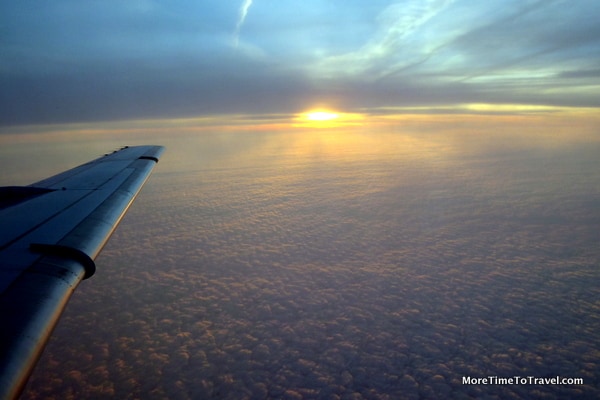 One more warning for the over-50 traveler: The planes we flew used steps rather than jetways for disembarking which can be tricky to maneuver with a carryon bag.
*Additional information about KLM Cityhopper.
---
This is one of a series of posts about my experiences on new-to-me airlines. Surely, each flight is different but it's always helpful to get general impressions of what to expect before you fly. If you fly KLM Cityhopper and have a very different experience, please feel free to comment below.
---
Also on More Time To Travel: