Certified Angus Beef: Making converts one bite at a time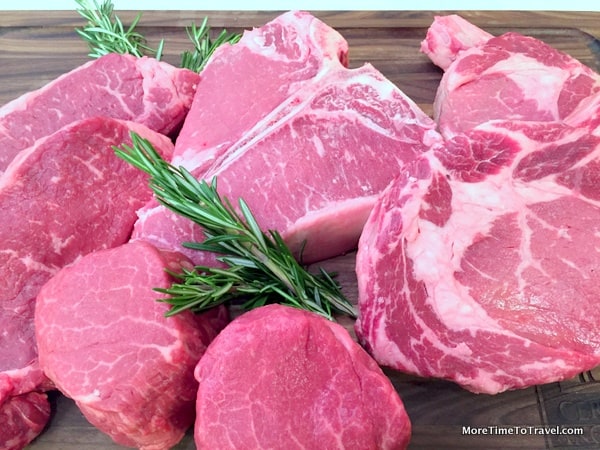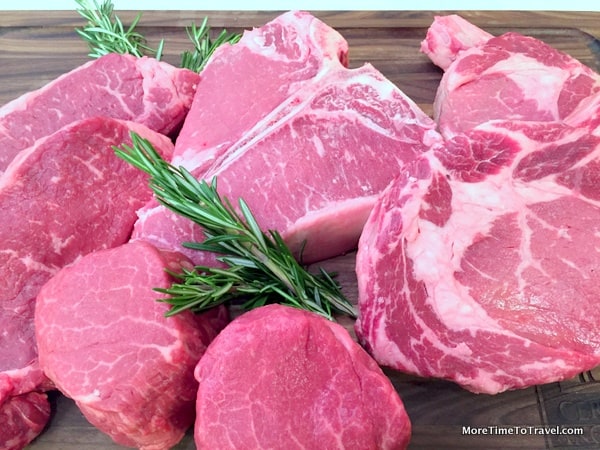 If you think all beef is the same, think again.
We recently spent a few days in Charleston, South Carolina as guests of Certified Angus Beef® brand learning about purchasing and cooking beef from ranchers, nutritionists, chefs and restaurateurs. Our visit will likely change our meat buying, cooking and eating habits forever.
Admittedly, like many health-conscious consumers, we eat meat more sparingly than in the past. Fortuitously, our newly acquired knowledge will help us better select the tastiest cuts to prepare at home or to order at restaurants.
Here's everything we NOW know—and you NEED to know to assure you get the best cut of beef:
Marbling (small lines of fat among the muscle fibers) plays an important role in determining the flavor, tenderness and juiciness of beef. Angus is a breed of cattle known for its particularly excellent marbling.
USDA independent graders inspect cattle and grade cuts of beef as Prime, Choice or Select. Prime trumps other grades.
In addition to meeting USDA standards, less than 25% of cattle meet the 10 quality specifications necessary to be labeled Certified Angus Beef®. This branded beef is fabricated (butchered) at its optimal maturity (about 18 – 20 months), and adheres to stringent standards in terms of internal marbling and limited amounts of external fat.
The certification process was developed by a group of small family ranchers and meat scientists in 1978. The brand is a not-for-profit subsidiary of the 25,000-member American Angus Association®.
Beef is part of a healthy diet, an excellent source of protein, zinc, iron and B-vitamins. But forget chowing down on that huge Cowboy Steak unless you plan to eat it over the course of several meals. The recommended USDA portion size for beef is a 4-6 oz. cut.
We were surprised to learn that the brand is available in many local supermarkets as well as nearby restaurants. This Buying Guide can help you identify sources close to your home by zip code.
When you are shopping and see the C.A.B abbreviation, don't call it CAB. Spell out the letters or your butcher might mistakenly think you are asking for that yummy red wine.
Some tidbits about grilling your favorite cut from professional chefs:
Never bring steaks to room temperature on the kitchen counter before cooking. They won't cook any more evenly and you increase the risk of bacterial contamination.
The best time to season meats is right before you cook them.
When cooking steaks at home, the best taste is achieved by searing the outside at a high heat. Then, continue to roast or grill them at a medium temperature until you achieve the desired amount of doneness.
Ever wonder how professional chefs test for doneness? The only sure way is to use a meat thermometer. Interestingly, it's best to insert an instant-read thermometer through the side rather than the top of the steak.
Allow meat to rest before serving. It allows the moisture in the steak to distribute more evenly so every morsel is juicy.
N.B. Our apologies if any of these photos leave you salivating.
---
Disclosure: Our appreciation to Certified Angus Beef® for sponsoring this culinary experience in historic Charleston. Any opinions expressed in this post are our own.