Popping Your Cork? Consider Four Sparkling Alternatives to Champagne
Purists say there are no real alternatives to Champagne in terms of its rich, complex flavor, celebratory traditions, cachet—and cost—whether the occasion is the christening of a new ship, toasting a milestone birthday or anniversary, or welcoming the New Year. But sparkling wine competitors are gaining traction.
Don't get us wrong. We are crazy about French Champagne! But during our travels, we've met many good alternatives to Champagne that we've come to enjoy at a fraction of the price. The names of these sparkling wines vary according to the region and terroir and where they are produced.
Champagne vs. the Wannabes: What's the difference?
According to VinePair (an encyclopedic online platform with information on wine, beer and spirits) sparkling wines are called that because they're effervescent. Although there is some variation, most are carbonated with bubbles via one of two different methods:
The traditional Champagne method, which is time-consuming and takes at least 15 months. This method creates bubbles by first fermenting the wine in tanks, followed by a second fermentation in each bottle; the bottles also need to be turned by hand or riddling machines.
The Charmat method (also called the tank or Italian method) ferments wines in large tanks, which keeps labor and other production costs lower. The quality of the sparkling wine generally improves with longer fermentation.
Other differences:
To be called true Champagne, a wine can only be produced in the Champagne region of France. But even that gold standard varies in terms of in cost, quality and flavor. Champagnes are labeled in four levels of sweetness, from driest to sweetest: Extra-Brut, Brut, Extra-Dry and Demi-Sec.
The grapes used for Champagne are usually younger and fruitier; the alternatives, drier and less fruity.
Yes, vintage champagnes can be expensive—very expensive—so buyers need to experiment and find out what pleases them. For example, one newer maker, Champagne Jacquart, is producing unique champagnes with bold blends at more reasonable costs. Representing a mosaic of 60 crus, the blends are all consistent in quality. We recently enjoyed an excellent bottle of Champagne Jacquart Rosé Mosaïque that retailed for $57.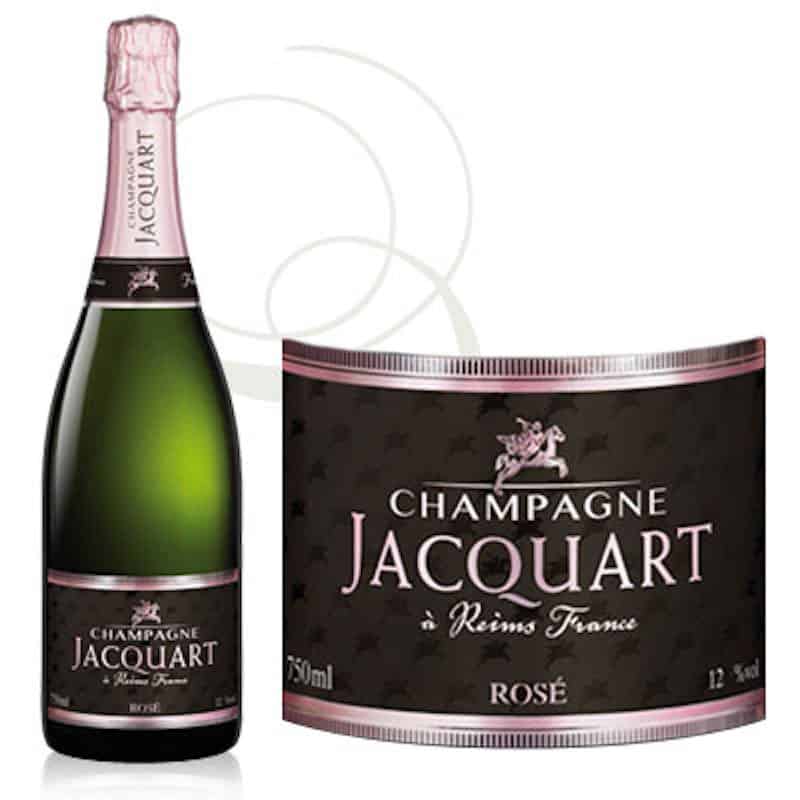 Even more economical: Korbel Brut (marketed as a "California champagne") is a sparkling wine made with grapes organically grown in California. The most popular sparkling wine in the U.S., like Champagne, Korbel is bottle-fermented according to the traditional method. With medium-sized bubbles and retailing for less than $15 a bottle, it's a great alternative for parties and large group gatherings.
---
Sparkling alternatives to Champagne
Here are some of our favorite sparkling wines:
Prosecco
Where we first met: Bologna, Italy
Fermented in stainless steel tanks using the Charmat method, Prosecco DOC (Denominazione di Origine Controllata) is a sparkling Italian white wine produced in nine provinces in northeastern Italy, near Venice. The wine is made with white Glera grapes, although up to 15% of other grapes can be included. Popular as both an apertivo and with meals, Prosecco is wonderful to drink on its own but is also used in cocktails like Bellinis (mixed with peach purée) and Spritzes (often mixed with Campari or Aperol). Over the past five years, the volume of Prosecco sales has soared, markedly overtaking that of Champagne.
Cremants
Where we first met: Barge trip through Alsace, France
Bubbly AOC (Appellation d'Origine Contrôlée) crémants use the same method of production as Champagne (secondary fermentation in the bottle) but are produced in eight other French appellations. Crémant D'Alsace is the most popular supplier of crémant, followed by Crémant de Bourgogne (Burgundy), and Crémant de Loire. Crémants are typically made with Pinot Blanc grapes but can also be a blend with Pinot Gris, Riesling, or Chardonnay grapes. Crémant Rosé is made using Pinot Noir grapes. Crémants are the second most popular sparkling wine in France, after Champagne.
Franciacorta
Where we first met: Cervia, Italy
Franciacorta is another bubbly Italian favorite said to rival Champagne in quality. Produced in Brescia, in the Lombardy region, it's more pricey than Prosecco because it's made using the same method as Champagne. It also uses blends of the same varieties of grapes as Champagne: Chardonnay, Pinot Noir and Pinot Blanc. Compared to other sparkling wines, Franciacorta is relatively new, only having made its debut in 1961 and attaining DOCG (Controlled and Guaranteed Designation of Origin) status in 1995. Because exports are limited, it can be challenging and costly to find outside of Italy.
Cava
Where we first met: Barcelona, Spain
Cava is a Spanish sparkling wine made using the traditional method similar to the one used to make Champagne. Produced in Catalonia, it carries a DO (Denominació d'Origen) status and uses local grapes like Macabeo, Xarel-lo and Parellada. Like Prosecco, Cava is relatively inexpensive and like Champagne, it comes in a variety of levels of sweetness.
What we learned about sparkling wine alternatives to Champagne:
If you enjoy sparkling wines, travel offers many opportunities to find local alternatives that are quite affordable and pair well with a region's foods.
Like Champagne, your sparkling favorites will depend on the producer, the year and the type of flavor/sweetness you enjoy. Sparkling wines are available at a wide range of price points.
Visits to local vineyards and speaking with knowledgeable sommeliers and merchants can help you identify sparkling wine alternatives to suit your tastes.
When you find your favorite alternatives to Champagne, ask whether they are available for export so you can enjoy them at home.
---
Recipe for a Sparkling Holiday Punch
Ingredients:
8 oz. Chambord Liqueur
8 oz. Cranberry Juice
2 chilled bottles Korbel Brut
Cranberries
Directions:
Pour ingredients into a large punch bowl or pitcher and stir. Top with raspberries or cranberries.
---
Also on More Time To Travel
---
Other Resources
---
All photo credits (unless otherwise listed): Jerome Levine
---
Save to Pinterest!
---