Toronto: Friendly, foreign and nearby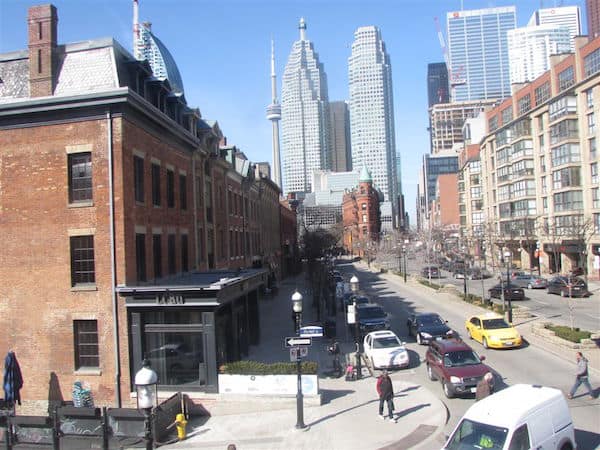 Guest contributors John and Sandra Nowlan describe the sights and tastes of Toronto, old and new. This diverse, rich and bustling metropolis—the largest city in Canada—draws Canadians, Americans and other international tourists.
Toronto, Canada is called Hogtown by some. Rather than a term of derision, we prefer to associate the city with its succulent peameal Canadian bacon and some of the best pork ribs north of Texas.
Over the last decade or so Toronto has become a very sophisticated, exciting and safe city for tourists. Canada's largest metropolis attracts many Americans because of its world class culinary, theatre and pro sports scene, wonderful hotels in key downtown locations and, of course, the very favorable US dollar exchange rate.
The new sophistication of Toronto is first evident in the modern UP Express train from Pearson International Airport to Union Station downtown. Rather than taking an expensive taxi, visitors can now hop aboard a clean, comfortable new train and be whisked to the center of the city in less than 25 minutes. It's cheap too – just $12 (less for students and seniors) for a one-way ticket.
Heading to Four Seasons Hotel Toronto
Once at Union Station, there's an easy connection to Toronto's ultra-efficient subway system. We took the underground route to Bloor station where a short walk brought us to the elegant Four Seasons Hotel, the flagship in Canada's internationally famed luxury hotel chain. Completed in 2012, the lower half of the 55-story high rise has 259 spacious rooms and suites with a level of comfort and service that's unmatched. Our test of a fine hotel is whether slippers are offered in XL sizes for John's big feet. The Four Seasons delivers.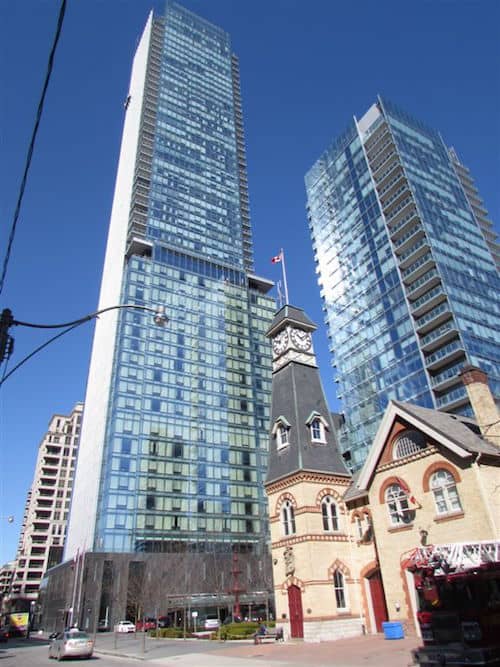 Seeing the sights
The Four Seasons Yorkville location was ideal for our goal of visiting some of Toronto's best-known attractions plus a few of its unique 'neighborhoods'. It's an easy walk to the Royal Ontario Museum – Canada's largest – and its superb galleries featuring dinosaurs, ancient Egyptian mummies, gems & minerals, and Canada's first peoples. A fascinating Tattoo/Body Art exhibit is featured until September. There's a 50-minute guided tour of highlights but it would take a full day to explore everything.
Just steps away from the ROM on Bloor Street is the wonderful Bata Shoe Museum. The only museum in North American dedicated solely (pardon the pun) to footwear. In its present location since 1965, the museum displays over 1,000 fascinating shoes and related artifacts (from a collection of more than 13,000) ranging from ancient Egyptian sandals to a pair of Elton John's high riders. There's a special display called, "The Curious History of Men in Heels" which included a pair of tall, red Kinky Boots from the hit New York and Toronto musical (we saw it while in Toronto, and loved it!).
One other excellent museum in Toronto is the Art Gallery of Ontario (AGO) on Dundas Street. The AGO has a collection of more than 80,000 international works of art and is best known for its wonderful body of Group of Seven paintings by Canada's most famous artists.
Downtown Toronto is rapidly growing skyward with dozens of shimmering glass high rise office towers and condominiums under construction. But it was a treat to visit neighborhoods that have changed little over the decades. One of the biggest and most important is the Kensington Market, a multicultural neighbourhood and, since 2006, a National Historic Site, located just west of Chinatown. Always busy, it's filled with colorful shops and cafes and historic Victorian homes. Every wall seems to be covered with artistic graffiti.
To the east of downtown, the new, hip neighborhood of Riverside/Leslieville along Queen Street is filled with older homes and unique shops. DeGrassi Street intersects Queen and many of the popular PBS series' early episodes were shot here. The street once filled in for a film drama about Chicago and props people added significant litter and trash for authenticity. However, local residents kept cleaning up the trash and security guards had to be posted to protect the garbage!
A visit to the St. Lawrence Market, also to the east of downtown, is a rewarding step back to Toronto's early years. According to official historian Bruce Bell, it was in this spot along the Lake Ontario waterfront (much has been filled in over the centuries) that First Nations people set up camp and fished 1200 years ago. The French came in the 1600s and in 1793 the British started building York, the new capital of the colony of Upper Canada. The first, modest market began here in 1803 and the larger St. Lawrence Market started in 1834. It now has 64 vendors (mainly fresh Ontario fruits, vegetables, fish and meat but with some exotic choices – camel tenderloin and Australian crocodile steaks) and is a huge draw for the neighborhood and the city.
Another area that honors Toronto's past is the Distillery District, a 13 acre site in the east end filled with Victorian manufacturing buildings that housed Gooderham & Worts, the world's largest distillery 150 years ago. Now preserved and protected, it's a pedestrian-only village filled with more than 70 trendy shops, boutiques and restaurants.
Tasting the flavors
One great Distillery District restaurant is the Cluny Bistro, a large French-style restaurant with tile floors and a great menu. Along with terrific bread (roasted garlic foccacia) we enjoyed grilled chicken Marrakesh and carrot salad.
Throughout our Toronto visit, we enjoyed some wonderful dining. At the highest end, Café Boulud in the Four Seasons Hotel offered exquisite plates designed by Michelin chef Daniel Boulud. We were particularly impressed with his creative dessert, Grapefruit Givre, made with a frozen grapefruit shell, sorbet and Turkish delight topped with burnt sugar and fluffy sesame halva.
Ethnic food is usually a standout in Toronto (competition among restaurants is intense) and we enjoyed excellent upscale Mexican cuisine at Los Colibris (next door to the Royal Alexandra Theatre) and the best Chinese food we've ever experienced in North America at Luckee on Wellington Street. Owned by celebrity chef Susur Lee, Luckee's dim sum is outstanding. We also enjoyed Hong Kong style steamed sea bass and Luckeee Shrimp Cheung Fun.
But, being in Hogtown (named for Toronto's proliferation of slaughter houses in the early days), we had to try the pork, especially the famous peameal Canadian bacon. A tradition since 1882, lean pork loin is put in a brine solution, then rolled in cornmeal (it used to be covered in crushed peas – the name stuck – but the green color was a turnoff). The most famous "Back Bacon on a Bun" is served at the Carousel Bakery at the St. Lawrence Market. It was amazing. Also amazing were the pork ribs we enjoyed on our last night at The Carbon Bar on Queen Street. They were fall-off-the-bone tender and quite delicious. A true salute to Hogtown!
*All photography courtesy of John and Sandra Nowlan.
---
IF YOU GO
For more information about Toronto, see:
*John and Sandra Nowlan are travel and food writers based in Halifax, Nova Scotia.
Disclosure: The Nowlans visit to Toronto was sponsored by Tourism Toronto but any opinions expressed in this post are their own.
---
Previously on More Time To Travel: