The Forsyth B&B: A perfect four-season perch to explore the Hudson Valley
Guest contributor Laura E. Kelly visits The Forsyth B&B in Kingston, and discovers a home away from home to explore the an up-and-coming artsy Hudson Valley river town.
While I visited Kingston, New York in early August I heard someone refer to it as "the Brooklyn of the Hudson Valley." After just one night there I soon saw why. Industrial-chic brewpubs, quirky wine bars, gourmet taco and pizza restaurants, young people with creative facial hair and tattoos… all in a beautiful river-and-bridge setting. It really does call to mind a certain hopping borough of NYC.
But Brooklyn can't offer historic wineries, oodles of farmstands, swimming holes, and dramatic fall foliage. Located on the west (non-train) side of the Hudson River, 91 miles north of New York City, Kingston is a prototypical upstate Hudson River town, one that had an illustrious past as a Dutch settlement in the 1600s; served as New York's first capital in 1777 (before being burned down by the British); became a train, river, and canal transport hub in the 1800s; and then struggled a bit in the late 20th century due to big industry and employers like IBM packing up and leaving.
The town is coming back in force now, with its three small but distinct neighborhoods in various states of revival: the Uptown/Stockade area (think Brooklyn style bars and restaurants, with stone government buildings from the 1700s and a Victorian mansion street); Midtown (older shops, a performing arts center, and a medical complex); and the Downtown/Rondout neighborhood next to the Rondout Creek (a Hudson River tributary), with quaint eateries and an artsy, maritime feeling.
A stylish new B&B in town
My travel pal Kate and I were lucky to have the new boutique B&B "The Forsyth"as our Kingston jumping-off point—an uncluttered, bright 4-bedroom inn only a short walk away from the Rondout's main street and marina. The Forsyth has zoomed to #1 on TripAdvisor's Kingston B&B list in the one short year since it opened its doors. No doubt the secret behind its success are its scrupulous and creative innkeepers Tamara Ehlin, a chef and event planner, and her husband Charles Mallea, an architect who works out of New York City.
Unlike the often historically accurate but, dare I say, stuffy inns you often find in the Hudson Valley, in Ehlin and Mallea's hands The Forsyth is a distinctly contemporary and comfortable take on a B&B.
Using local artisans for the building's restoration in 2016, the team kept the historic yellow-pine-plank flooring while updating and opening up nearly everything else, creating four ensuite rooms upstairs under the eaves of their Federal-style building on Abeel Street (a combination residential and commercial side street).
The B&B's public spaces consist of a building-wide front porch, a period foyer that leads into a bright living room, and a large dining room with a communal table, fireplace, and board-game/library nook.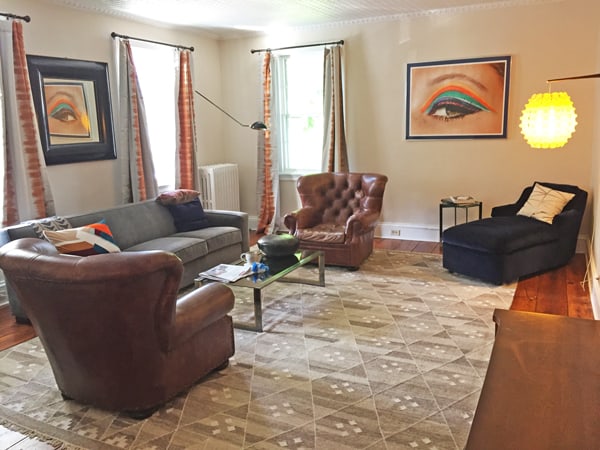 Out back is a garden courtyard hang-out space and a large newly restored barn/loft for hosting wedding receptions and other personal and business gatherings. The owners' private suite of rooms and a cook's kitchen make up the rest of the first floor.
Exploring Kingston starts with exploring the Forsyth
Tamara Ehlin is a wonderful host and an enthusiast—about food, events, and exploring, both Kingston and the world. In fact, you quickly notice the B&B's explorers' motif, with globes, framed maps, travel books, and binoculars showing up in room corners and on walls.
Each of the four guestrooms at the Forsyth is named after an explorer. Kate and I stayed in the "Erden" room, which features a king bed and separate day bed, and is named in honor of Erden Eruc, athlete, mountaineer, and in 2012 the first person to solo circumnavigate the world using only his own power.
This slideshow requires JavaScript.
Scattered around an open shared library space, the other three guestrooms are named after Amelia Earhart, James Holman, and Isabella Bird, each with remarkable explorer credentials. (Ehlin stocks a small library of books in each room among which you'll find a bestselling biography about the room's namesake.)
This slideshow requires JavaScript.
The appointments in the rooms are top notch—with fluffy pillows, Casper mattresses, crisp cotton linens, nice lighting, and some locally made organic toiletries. The idiosyncratic room configurations with original architectural details such as eyebrow windows, brick walls, and low wood-beamed ceilings and posts are complemented by sparkling new tiled bathrooms, room-specific air conditioning and heating units, and free Wi-Fi, giving you the best of old and modern.
Come for the B (bed), stay for the B (breakfast)
We had gotten a taste of Ehlin's baking and hospitality on our first evening when we let ourselves in the house after a light dinner of wine and cheese at the cute Brunette Wine Bar on nearby Broadway, and she offered us some after-dinner drinks and fresh-baked cookies. Nice!
But the real culinary highlight is Ehlin's special three-course daily breakfast (included in the room price), which recently got written up on Vogue.com as "not to be missed." The breakfast menu changes according to what's in season at the time, and since Ehlin is a grad of The French Culinary Institute with a specialty in pastry making, you can bet the offerings will always be tasty and inventive.
The morning I was there we breakfasters enjoyed crunchy warm beignets, organic sliced fruit with fresh creamy goat cheese, a delicious farm-egg dish over a vegetable hash with a sprig of dill, and a to-die-for slice of piping hot plum tart for dessert.
This slideshow requires JavaScript.
It was all served to us by Ehlin starting at 9 am at the common table, along with fresh-squeezed juice and French-press coffee. There were two other guests on the sleepy August Thursday we were there—a friendly couple from Boston who had been staying at the inn for several nights—and we traded tips on sights to see and restaurants to check out.
September's Hudson Valley Wine Weekend
The reason I want to bring this stylish B&B to your attention now is The Forsyth's upcoming Hudson Valley Wine Weekend taking place on September 29, 2017.
Christina Pickard, professional wine writer and educator, will host a delicious and educational weekend in her role as personal wine expert. From bubbly tastings to vineyard visits, it's sounds to me like a great way to taste your way through the gorgeous Hudson Valley. It's all coordinated by the Forsyth B&B folks. Find out more here: http://theforsythkingston.com/our-events/
Whether wine, architecture, food, history, or nature is your cup of tea, explorers will find something to enjoy while walking and driving around this quietly beautiful mid-Hudson Valley area. I'm looking forward to going back in a year or two and seeing how much has changed in this quickly developing town.
---
IF YOU GO
---
Related links:
---
Disclosure: Our overnight stay at The Forsyth was hosted by the B&B but any opinions expressed in this post are our own.