Exploring the Prosecco Wine Road in Veneto
If you love Prosecco, you'll want to explore the 50-mile Prosecco Wine Road (La Strada del Prosecco) in the Veneto region of Italy.
The road connects the two towns of Valdobbiadene and Conegliano, the latter best known for its school of winemaking. And whether traveling the route by car, bicycle, or motor scooter, the host of wineries along the way welcome tourists (usually by appointment).
In addition to wine tastings, tours, and vineyard visits, the 15 charming towns and villages on the wine route offer slow-travel opportunities, allowing visitors to savor local dishes and delicacies; visit cultural, religious, and historical sites; and meet producers, wine growers, merchants, and other locals steeped in the rich hospitality and traditions of this less touristed part of Italy.
This area is an ideal growing terroir for producing Prosecco, the sparkling white wine made from the Glera grape, and an intriguing place to visit. As a result, this relatively small (about 50-square-mile) but prestigious Conegliano-Valdobbiadene growing zone is home to more than 150 wine producers, large and small.
Most families living here are involved either in growing the grapes or the production of wine. Plots of land tend to be small and the vineyards cover steep slopes that are challenging to cultivate, requiring manual rather than mechanical labor.
A UNESCO World Heritage cultural landscape
To safeguard this unique cultural landscape, in 2019, the hills and valleys of the Conegliano and Valdobbiadene wine region were designated a UNESCO World Heritage Site.
Covered with vineyards, the area offers breathtaking landscape views that look like they were painted in a checkerboard-like mosaic in varying shades of green.
The Consortium for the Protection of Conegliano Valdobbiadene Prosecco DOCG (Consorzio per la Tutela del Prosecco di Conegliano e Valdobbiadene) works closely with area producers to protect the quality of the wine, boost the local economy and encourage tourism.
(To be classified as Prosecco, the sparkling wine must be made with at least 85 percent Glera grapes grown in the Veneto and Friuli Venezia Giulia regions of Italy.)
Sipping Prosecco at the Valdo winery in Valdobbiadene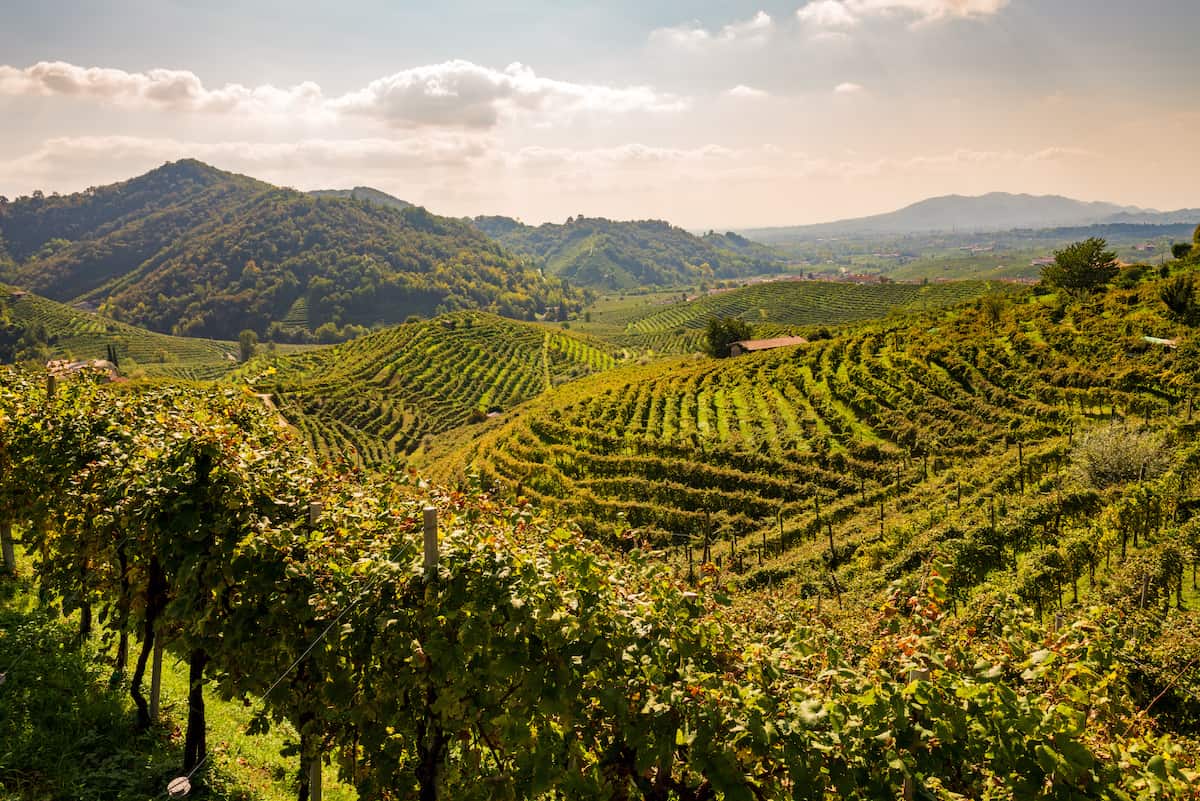 Of course, if you are here, you'll want to sip Prosecco. The Valdo winery (Cantina Valdo) is a great place to visit and learn about the region, the wines, and their producers—and, of course, to taste them in their terroir.
Located in the town of Valdobbiadene, Valdo is a leading producer of sparkling wines and also one of the oldest wine producers in the region. The company produced more than 20 million bottles of wine in 2021; about half of that production was exported, including 800,000 bottles to the U.S.
A winery with deep roots
The Bolla family purchased what is now the Valdo winery in 1938 from its founders, the Societa Anonima Vini Superiori, who began producing wine in 1926.
Remarkably, more than 90 years and three generations later, it is still family-owned, with Pierluigi Bolla, the son of the founder, at its helm.
The winery's name (Valdo) derives from a shortened version of the town's name (Val-dob-bi-adene), which is a mouthful to pronounce even with practice.
The company's success is due, in no small part, to its working partnership with the 70 local grape growers who sell their grapes to the winery. Valdo supports these growers, providing them with technical expertise in agronomy, including advice on the best timing for harvesting. To preserve its reputation, Valdo maintains quality control of the entire production process—from choosing the grapes to bottling to packaging to marketing.
Valdo has instituted a number of sustainability initiatives aimed at reducing CO2 emissions from fossil fuels, reducing consumption of both water and paper and eliminating the use of the herbicide glyphosate. The company also recently installed a new system of photovoltaic panels that promises to reduce energy requirements by 70 percent.
In short, the company aims to balance innovation and technology with regional winemaking traditions—to maintain and improve the quality of their wines while protecting the environment for future generations.
Valdo wines
The winery produces an impressive range of wines but some of its most popular sparkling wines include:
Valdo Marca Oro Brut NV is made with 100% Glera grapes. This age-worthy, easy-to-drink Prosecco DOC isn't overly dry (it has 12 grams of sugar per liter). Straw-yellow in color with fine perlage, it has a balanced structure with the fruity fragrance of lemon and grapefruit. It makes a perfect aperitif with starters or seafood dishes.
Valdo Numero 10 Metodo Classico 2019 DOCG, more recently launched in the U.S., is also made with 100% Glera grapes but is a bit more yellow in color. The wine goes through a second fermentation in the bottle for 10 months, adding to its body. It offers tasting notes of mature pears and peaches with hints of honey and figs. Pairs well with fish and white meats.
Valdo Marca Oro Brut Rosé DOC is a blend of Glera and Pinot Noir grapes with a persistent perlage, delicate notes of raspberry and a long-lingering finish. Pink Prosecco DOC was only approved for export in 2020. The Floral edition bottle makes for a standout gift. Pairs well with pasta and fish dishes.
Follina: A place to stay on the Prosecco Wine Road
Follina is a commune about 20 minutes from Valdobbiadene that is nestled in a valley surrounded by green foothills. Especially noteworthy is that the town holds the distinction of being named I Borghi più belli d'Italia, one of Italy's 1000 most beautiful hamlets that promise authentic, slow tourism.
The town is quite small—including its surrounding area—with a population of around 3,800 people.
On the hill high above the information point is The Abbey of Cistercian Santa Maria of Follina, now the seat of the town parish and a place with rich historical, artistic, and spiritual significance. This structure with a Romanesque-Gothic facade dates back to the 11th to 12th century. Monks built the Cistercian Monastery and adjacent cloister atop an earlier Benedictine building.
Historically and until the present day, Follina has played a seminal role in the production of wool. It was processed by the monks in the monastery as well as at the town's Paoletti Wool Mill, a tenth-generation Made in Italy company since 1795.
Villa Abbazia: A 5-star Relais & Chateau property
Nestled in the historic center of Follina in a valley surrounded by green foothills, the 5-star Villa Abbazia is an idyllic base for exploring the surrounding Prosecco region.
This intimate, 18-room, five-star, family-owned and operated hotel is located off the main square. The property features two buildings overlooking a verdant garden courtyard filled with flowering plants, leafy orange, lemon and magnolia trees, and eye-catching topiaries.
If you listen closely, you can hear the waters of the nearby Follina River, the shortest river in Italy.
An 18th-century palazzo houses the hotel's reception area as well as 12 guest rooms; a brimming gift shop; La Corte, an elegant fine dining restaurant; and La Cantinetta, a more informal bistro. The other six junior suites are located in an architecturally stunning Art Nouveau villa.
Each one-of-a-kind, light-filled room in Villa Abbazia has its own ambiance and decor, swathed in a melange of toile textiles and Laura Ashley stripes, ginghams and florals. The furnishings are an eclectic mix of both antique and vintage. Patterned drapes hang from the ceiling to the floor. The tchotchkes on the tables and walls hint that you may have mistakenly entered a Nonna's home.
But the spacious, fully updated, and renovated rooms are thoroughly modern with every amenity, including automatic window shutters, individually controlled air conditioning and heating, and Jacuzzi tubs.
Walking to local bars, restaurants, and the few small shops in town is easy from the hotel's doors. Local taxi service is virtually nonexistent, so to visit some of the other towns of the Prosecco Hills with historic castles and Palladian villas—and the nearby vineyards and wineries where outstanding sparkling wines are produced—it is essential to rent a bicycle or car.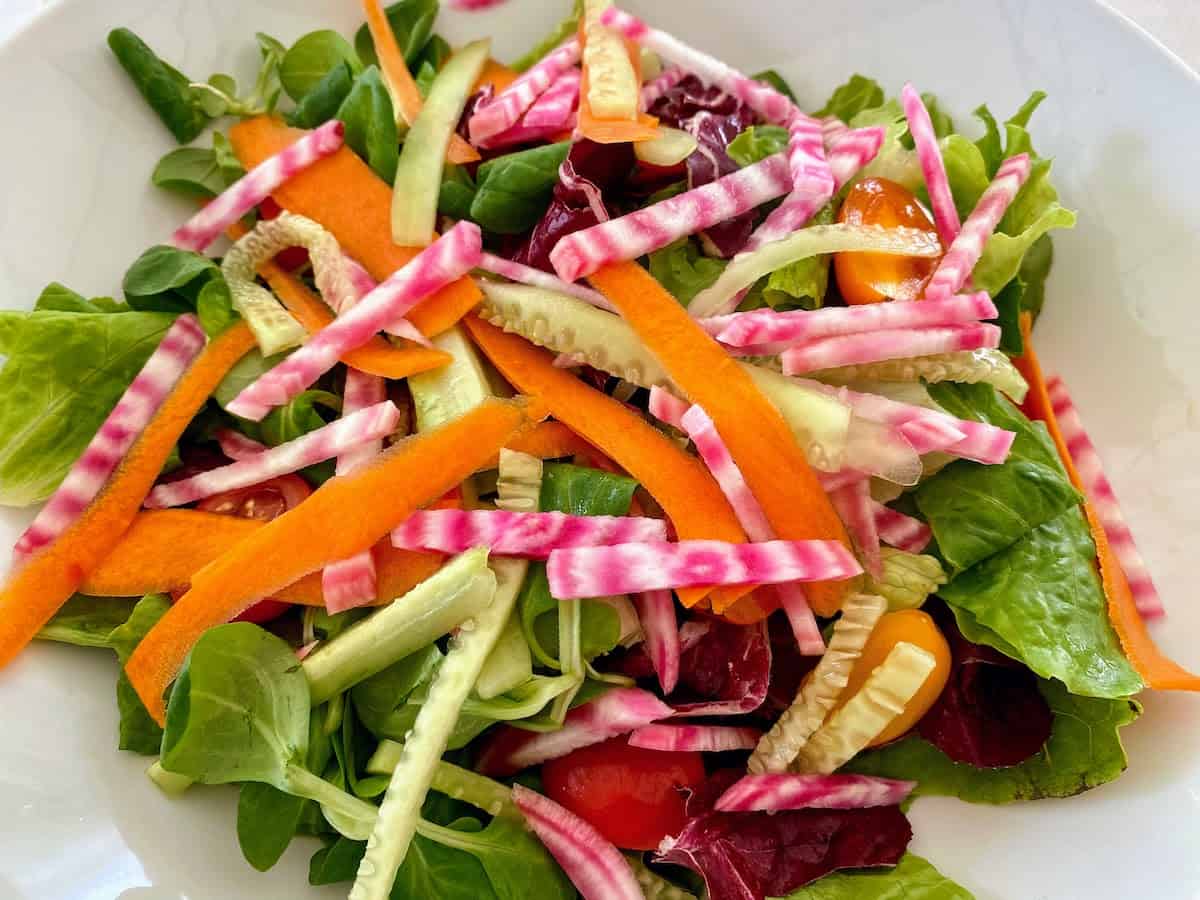 Giovanni Zanon, owner of Villa Abbazia and a passionate cyclist, arranges both transportation and other unique experiences for his guests.
---
IF YOU GO
For additional information on visiting the Prosecco Hills
https://www.getyourguide.com/venice-l35/veneto-prosecco-wine-tour-from-venice-t194738/?partner_id=7REBNUA&utm_medium=online_publisher
---
This is an updated version of two stories previously published on Forbes.com
---
Save to Pinterest!!