New Brunswick, Canada: A Tasty Trip to Fredericton and Saint John
Contributors John and Sandra Nowlan take a culinary trip to New Brunswick, Canada
The province of New Brunswick, Canada—with safe streets, friendly people, and fine dining—has become an attractive destination for U.S. travelers.
Fredericton, the leafy, laid-back provincial capital, and Saint John, the bustling port city, are the two cities in New Brunswick closest to the U.S. border in Maine. The two small cities are 70 miles apart by car.
In recent years, both cities have developed reputations for high-quality, innovative cuisine, craft beer, and imaginative cocktails, both alcoholic and non-alcoholic.
Summer and fall are the best seasons for a visit to New Brunswick. Because it's inland, the weather in Fredericton is similar to that of Western Massachusetts or Bangor, Maine.
Saint John is adjacent to the Bay of Fundy and the Atlantic Ocean, so it offers cooler weather, sometimes foggy, more like Boston or Portland, Maine.
Visiting Fredericton
Fredericton, known as the City of Stately Elms, is built along the banks of the Saint John River and is the cultural center of New Brunswick.
With a population of just 65,000, it boasts two universities, a Playhouse, a lively music scene including a Symphony Orchestra, and, most remarkably, the world-class Beaverbrook Art Gallery.
The Beaverbrook Art Gallery showcases major works by British artists Turner, Constable and Gainsborough as well as a rich Canadian and Indigenous art collection. The gallery's masterpiece is probably Salvador Dali's Santiago El Grande, the massive 13- by 10-foot painting created for the Spanish pavilion at the 1958 Brussels Worlds Fair.
We were fortunate to stay at the Quartermain House B&B during our three-day visit, just a ten-minute walk from downtown (see photo at top). Built along the river in the 1840s, the three-bedroom property with beautiful gardens has been rated the best Bed and Breakfast in North America.
Host Debra Quartermain takes great pride in her comfortable rooms, luxurious amenities (including TV, wi-fi, air conditioning, fridge, and large, luxurious bathrooms). Her creative, substantial breakfast included fresh berries, yogurt, an omelet with aged cheddar and asparagus, a blueberry crisp and a Virgin Mimosa.
Where to dine and drink in Fredericton
Our goal on this trip was to find the best food and drink (both alcoholic and non-alcoholic) the two cities had to offer. Dinner on our first night in Fredericton set a high standard.
The 11th Mile Restaurant on York Street is owned by Jennie Wilson and her Chef/Husband, Peter Tompkins. They promote locally sourced ingredients and offer modern Canadian cuisine in small sharable portions on vintage family china.
We particularly enjoyed a scallion pancake with tangy dipping sauce, a chilled shrimp salad with cucumber ribbons and crispy pork tacos on homemade tortillas. Most impressive was a crispy roasted half cauliflower with creamy miso cashew dressing, topped with drizzles of guajillo chili sauce and pickled onions. A vegetarian dish hearty enough for a main course! Our dessert was a tender almond torte topped with whipped cream and rhubarb.
Here, we had our first taste of the craft cocktails (both alcoholic and non-alcoholic) for which New Brunswick has become well known.
Another meal we particularly enjoyed was at the Feel Good, a café with its own smoker, turning out a delicious croque monsieur (smoked brisket, mornay sauce, old cheddar, Korean BBQ sauce, and brioche bread) and Cubano sandwich featuring pork shoulder and mojo sauce (citrus and cilantro).
We also enjoyed the unique flavors at the Hana Ethiopian Café and the Wolastoq Wharf Seafood Restaurant (an indigenous-owned restaurant serving outstanding lobster and salmon dishes).
One evening we discovered that the bar manager at the Marriott Delta Fredericton Hotel (just named "Hotel of the Year" by Marriott International) made wonderful-looking and wonderful-tasting cocktails beyond the usual standards. Sandra enjoyed a Lemonade Ukranian Mule (vodka, lemonade, ginger beer, lime and mint) while John had a colorful Blueberry Mojito with blueberry syrup, lime, club soda, mint and fresh blueberries.
Our most interesting and complex Fredericton cocktails were prepared by talented mixologist Kanye Eustache at the Provincial Bar and Lounge. Using fresh squeezed juices and several locally distilled spirits, his drinks were complex and very satisfying. Sandra had an "Internal Imagery," vodka, pisco, strawberry syrup, red pepper syrup, fennel, lime and rhubarb bitters while John's non-alcoholic cocktail called "Mo Money" included granny smith apple juice, celery juice, lime and cardamom syrup.
Visiting Saint John
Saint John is the oldest incorporated city and the third-largest port in Canada. Notables Louis B. Mayer, Walter Pidgeon and Donald Sutherland were born here.
Called a "city of neighborhoods" it's known for its diversity and natural attractions. These include 2,200 acres of nature parks, open green spaces, wilderness trails, and Reversing Falls Rapids that can be viewed from an observation deck or on a zip line excursion.
For accommodations in the city, it's hard to beat Hilton Saint John, located directly on the waterfront near the famous Reversing Falls and adjacent to the modern cruise ship terminal. The hotel is linked via pedway to many shops and services. It's an ideal venue from which to enjoy all the city of 75,000 has to offer.
Where to dine and drink in Saint John
Kanye Eustache (of Fredericton) admitted that his main competition as a mixologist who invents and prepares outstanding mixed drinks comes from New Brunswick's largest city, Saint John.
Eric Scouten runs Kakuteru Lounge, a small Japanese-inspired cocktail and conversation venue with just 12 seats and furnishings from a decommissioned Baptist church. Small snacks are always available but Eric, the winner of a national mixologist competition, specializes in unique cocktails—house-made simple syrups, fruit leathers, fruit compotes and ingredients he forages.
He uses five high-end non-alcoholic spirits for cocktails without liquor and delights in his creativity. He makes drinks to order (Sandra wanted something not too sweet made with dark rum and fruit) and often uses smoke to add an extra flavor element. It works especially well with non-alcoholic cocktails.
With thirteen microbreweries, cideries and distilleries in Saint John, it's not surprising that numerous excellent restaurants are located here. Always popular is the Saint John Ale House where celebrity chef Jesse Vergen offers upscale pub food and a wide variety of locally brewed craft beer.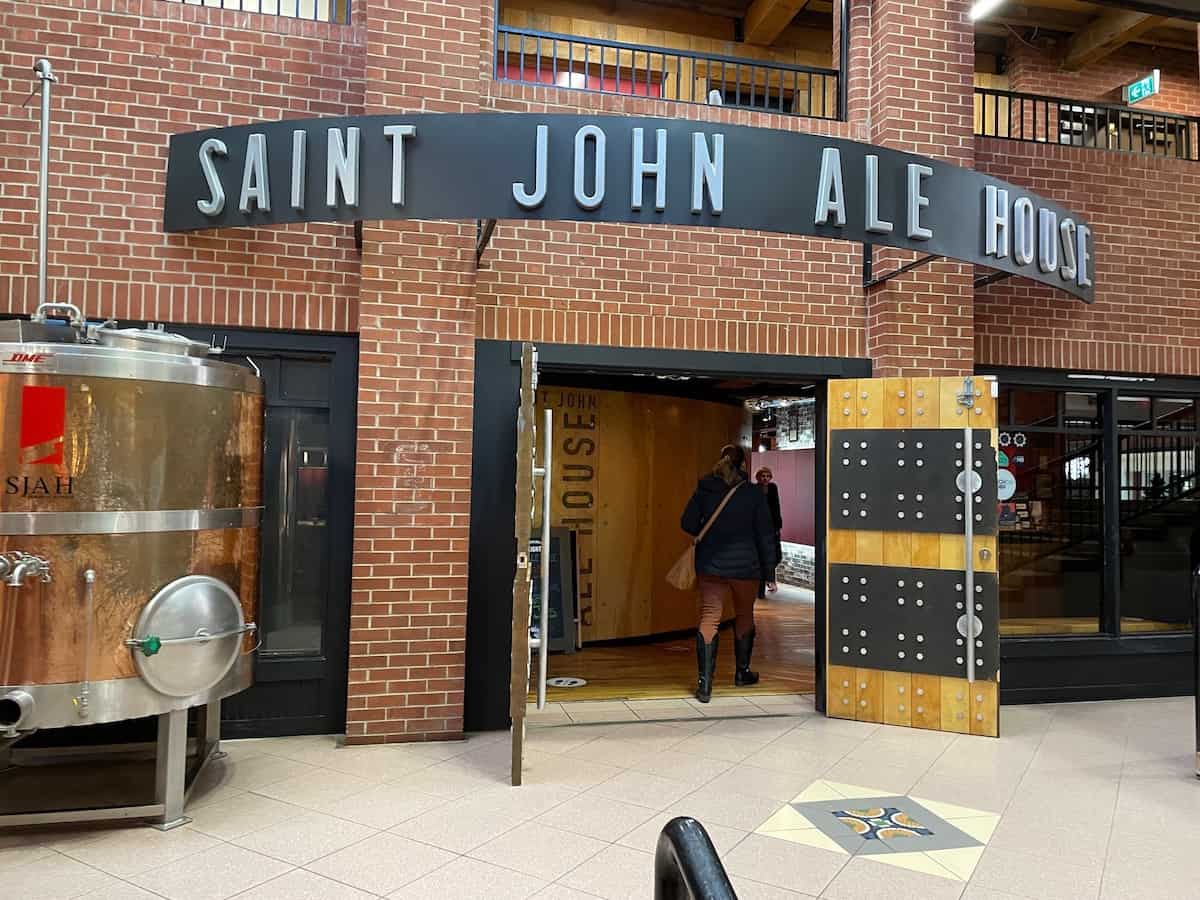 The Italian By Night restaurant includes a kitchen-side Chef's Table where the chef can prepare a custom menu.
But the most popular restaurant in Saint John is, surprisingly, a vegetarian and vegan venue. VEGolution, located next to the historic City Market, is TripAdvisor's top restaurant recommendation in Saint John and, in fact, all of New Brunswick.
Keith Broome, owner and Executive Chef at VEGolution, has wanted to be a chef since age 16 and, after training at several local restaurants, took polls to discover a strong local appetite for a high-quality vegan eatery.
As omnivores, we were skeptical about an all-vegetarian meal but were delighted with Chef Broome's talent and creativity. His Korean Sticky Soy Bits tasted just like pork in a sweet sauce and customers love his Revolution Cheeseburger (brown rice, mushrooms and walnuts).
---
All photo credits: John and Sandra Nowlan
---
IF YOU GO
By car, the distance from Houlton, Maine (terminus of Interstate 95) to Fredericton is 75 miles by a four-lane highway.
The distance from the Canadian border at Calais, Maine to Saint John is 60 miles, also by excellent divided highway.
Both Fredericton and Saint John have efficient airports served by Air Canada and other airlines.
U.S. visitors will need a passport (or Nexus card) at the Canadian border. Visitors are welcome and crossing by car is usually routine. Guns and drugs must be declared (marijuana is legal in Canada but cannot be brought across the border without a doctor's prescription).
---
Save to Pinterest!!