What is Tequila? A Crash Course for National Tequila Day
What is Tequila?
National Tequila Day in the U.S. falls on July 24 each year. If you want an introduction to tequila, this is the perfect time to hustle to a tasting someplace close to home.
Tequila tastings have become increasingly popular at bars, restaurants, hotels and resorts throughout the year, but especially on National Tequila Day.
Here's a little background so you can hold your own with any tequila master!
A product of Mexico
All authentic tequilas come from Mexico, where many people consider it the national drink. In fact, this distilled spirit, which is usually 70-80 proof, can only be called tequila if it is grown in Jalisco (near Guadalajara) or other surrounding states: Guanajuato, Michoacán, Nayarit and Tamaulipas.
Tequila is distilled from the juices of the blue agave plant, a succulent that was first planted and harvested by the Aztecs. Tequila is sold either 100 percent pure—or mixed (mixto), containing at least 51 % agave. The flavor of the latter is less complex.
What is Tequila? All tequila isn't the same
Based on data from the Consejo Regulador Del Tequila (the Tequila Regulatory Council ), there are some 1000 different brands of tequila. Depending on the length they've been aged, they fall into four distinct classifications:
Blanco (unaged), also called white or silver
Reposado (aged between 2 months to less than a year)
Anejo (aged between one and less than 3 years), and
Extra Anejo (aged more than five years)
Depending on individual tastes, people prefer one type over another.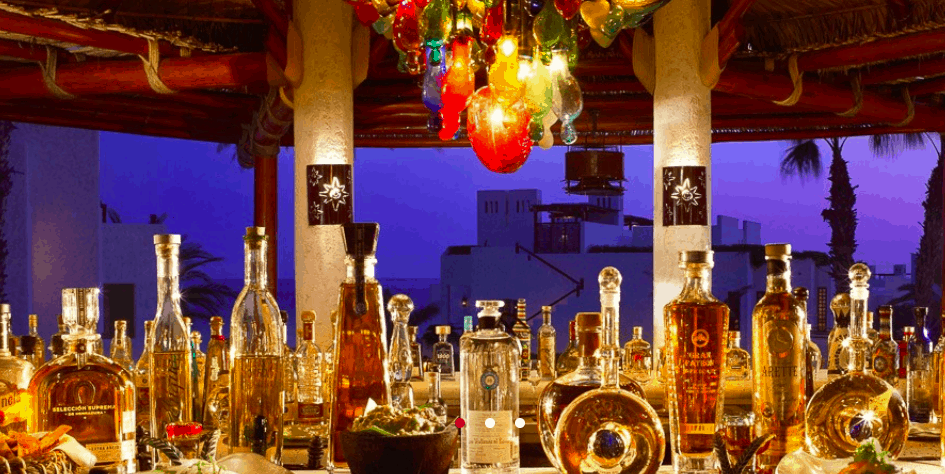 Tips for tasting tequila
When you're drinking high-quality tequila, forget the shots! (People use cheap, chilled tequila for that.)
Like fine wines or brandy, good tequilas are complex in flavor and meant to be sipped slowly.
The mixology team at historic La Fonda on the Plaza in Santa Fe, New Mexico offers some additional tasting tips:
1) Avoid shot glasses, which don't provide sufficient space for aeration. Instead, use a brandy snifter.
2) Similar to a wine tasting, taste tequilas in order of the lightest to the heaviest. If you're not sure which is which, check with your bartender or liquor merchant.
3) 100% tequila should not only be sipped slowly but should be served neat. The drink stands on its own without ice, which can numb the palate.
What else?
The flavorful taste of tequila is often used in recipes for cooked dishes (e.g. as a glaze for grilled poultry).
Of course, the most popular mixed tequila-based drink is the traditional margarita, made with tequila, Cointreau, and lime juice. At Rosewood Mayakoba in Riviera Maya, Mexico, the drink is prepared in these proportions: 1-½ ounces of white tequila, 1- ounce Cointreau, ½ ounce simple syrup and 1 ounce lime juice. First, rub the rim of the glass with lime juice and dip in salt. Then shake all the ingredients with ice, strain into a glass and serve.
If you do prefer a more simple tequila cocktail, it pairs beautifully with Squirt (or any other grapefruit-based carbonated drink). For a refreshing summer drink, we fill a tall glass with ice, pour 1-½ ounces of tequila over the ice, fill the rest of the glass with Squirt, and then mix.
---
Pixie Margarita Tequila Cocktail at the Ojai Valley Inn
Spread across a coastal valley on 220-oak studded acres, the AAA Five-Diamond Ojai Valley Inn "combines the region's spirituality with modern luxury." The property offers seven unique dining outlets with settings that range from fast-casual, poolside, to fine dining. One of the Inn's signature drinks, the tequila-based Pixie Margarita. is served in-season at the Wallace Neff Heritage Bar.
Recipe for the Pixie Margarita
Yield: For one
Pixie Margarita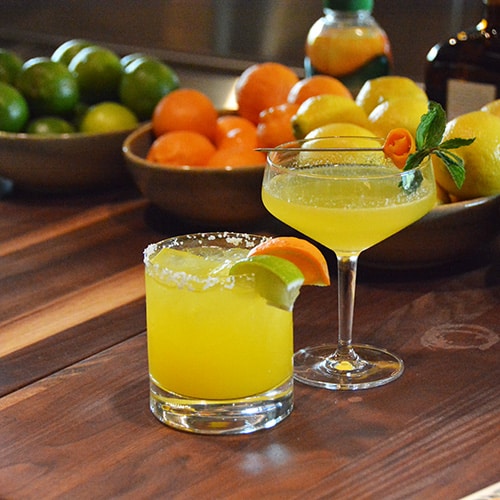 Pixie Tangerines, a citrus hybrid fruit indigenous to Ojai Valley, blooms ONCE a year beginning mid-spring. Try this specialty cocktail that celebrates the Ojai Valley.
Ingredients
1½ oz Codigo Blanco Tequila
1 oz Cointreau; 2 oz fresh squeezed Pixie tangerine juice
½ oz fresh squeezed lemon juice
½ oz fresh squeezed lime juice
Instructions
Add all ingredients to a shaker tin full of ice. Shake vigorously.
Wipe the rim of a rocks glass with a Pixie tangerine wedge, dip into kosher salt, then fill with ice.
train cocktail into glass and garnish with lime and Pixie tangerine wedges.

---
Save to Pinterest!!
---